Editor's Note: These are the 12 days of Christmas, Whistler-style so strap in and get ready for a week and a half of snow, excitement, twinkling lights, good times, great food and fantastic winter enjoyment. No Partridges, no pear trees (although there may be some tree skiing.) Happy Holidays.
Santa arrives in Whistler tomorrow! Not for Christmas, but to get a few laps on the ski hill. Saturday, December 22 is the annual "Dress like Santa Day" on Whistler Blackcomb. That morning, the first 75 people to show up at the Garibaldi Lift Company dressed as Mr or Mrs Claus will receive a free lift ticket. Those early risers will then meet up with a bunch more seasonally clad rippers and upload the Fitzsimmons Express chair at 8 AM. Once they reach the top the Santa-posse will gather and ski en-mass down to the Emerald Chair.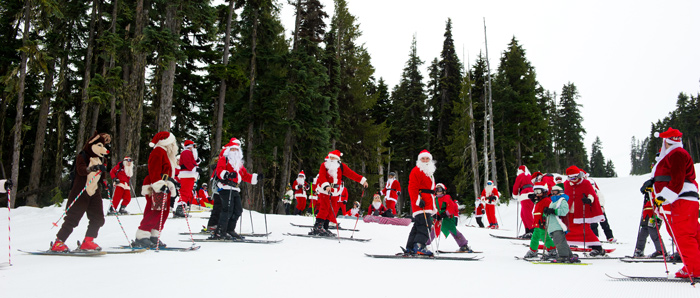 While 100+ Santas bombing down the slopes together may require some explaining to the younger spectators, the event is a lot of fun and the perfect way to "out-Christmas" your friends back home. "Oh you got a photo sitting on Santa's knee at the mall?… Cute, now check out this shot of me and Santa throwing 360's in the terrain park."
IMPORTANT NOTE : Even though this post is up today (Friday) the Santa Ski Day is tomorrow, Saturday December 22nd. So go get find your outfit and get a good night's sleep as it's only natural to expect there to be a bit of friendly competition to see which Santa rips the hardest.
Ho ho ho (or should it be Snow Snow Snow?)

Last-Minute Gift Idea #8
When it comes to skiing and riding in Whistler wax is important. Nobody likes to wait around for a slowpoke to arrive (especially on a big pow day) so keep your sticks slick with Chocowax. This stuff is made right here in Whistler and is therefore inherently perfect for the local snow conditions. With four different waxes to choose from, Chocowax is also made out of more eco-friendly materials than traditional flourocarbon-based waxes. (Because really, waxing your boards shouldn't be a health risk.) Pick up a bar of Chocowax at TMC Freeriderz in Whistler Village.