Editor's Note: This post was originally written in 2020 and has been updated with the help of writer, Jessie Boyd.
Whistler likes to take things to new levels. Big mountains, big snow, big adventures. And when it can fit an extra pump of adrenaline in, it does. Just take a look at these Whistler adventure dining options with a unique, mountain twist.
Our biggest tip for dining in the winter season is to book early to avoid disappointment and that hangry feeling. For more tips, read our Know Before You Go Guide on dining in Whistler.
Snowmobile-Powered Eats
Like your morning coffee with a side of adventure? The early snowmobiler catches the bacon with Canadian Wilderness Adventure's (CWA) Yukon Breakfast. Heading out at 8 AM, this backcountry tour on Sproatt Mountain takes you up to a rustic cabin overlooking a snow-covered lake for a skillet-style breakfast. Sizzling on the wood-fired stove is Canadian back bacon, Yukon gold taters, scrambled eggs with sauteed onions, bell peppers and cheddar cheese melting on top. And don't forget the pancakes with real maple syrup served with cowboy coffee.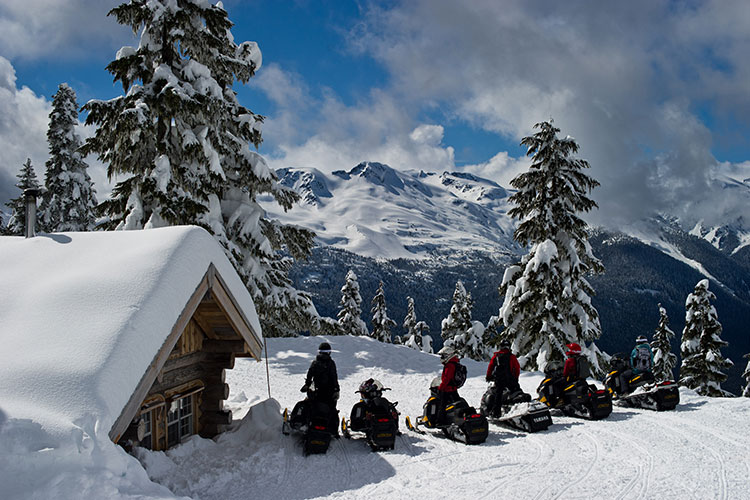 You can also journey up to the cabin on Sproatt at dusk for a decadent, three-course steak dinner cooked on an old-fashioned wood stove by CWA's wilderness chef with a feature dessert prepared by the Bearfoot Bistro. Heading out at 5:30 PM, you might even catch the alpenglow as you begin your journey. Dinner at the cabin is a warm and cozy affair – they also do private tours for anyone looking to ask any life-changing questions by candlelight.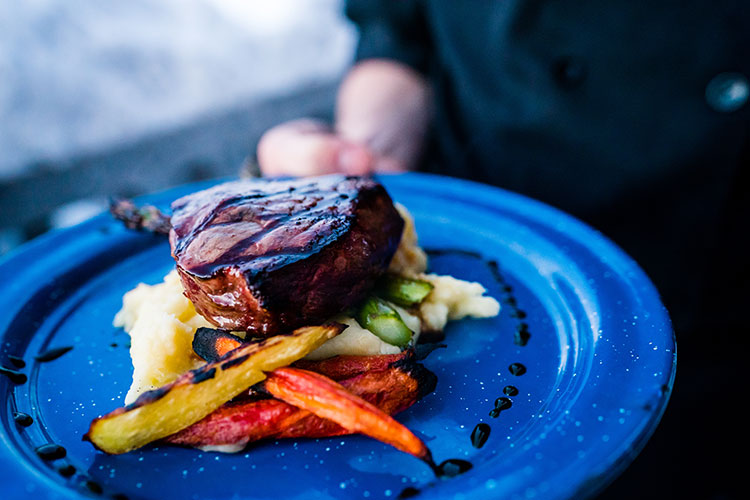 Like cheese? There are two machine-powered fondue tours in Whistler; one goes up Blackcomb Mountain to the Crystal Hut and the other out into the backcountry of the Brandywine Valley. The first offers views of Whistler Village, twinkling 6,000 feet below you as you ascend, while the other offers the serenity of the wilderness – both have incredible fondue menus. Imagine doing this adventure dining option for a special occasion, New Year's Eve or Christmas – what a gift.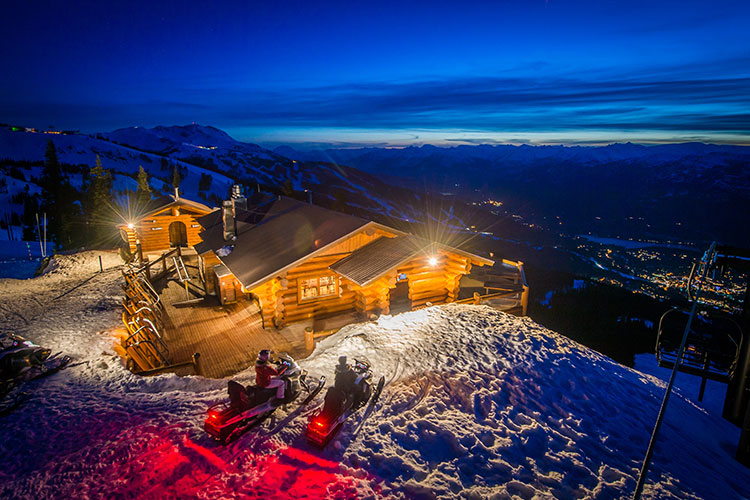 You can also choose whether you head out via snowmobile or snowcat. What's a snowcat? Imagine a small cabin set atop a pair of tracks, the going's slow but it's a novel experience. It's a good option for families, or for those who might struggle with handling a snowmobile.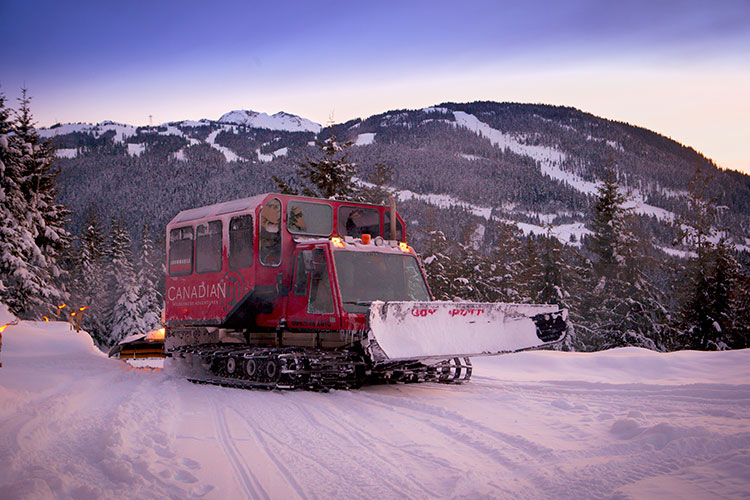 If you're considering these tours with children, just bear in mind the timing, as it means a bit of a later start to dinner (unless you're European, and then it's probably perfect). Blackcomb Snowmobile actually has an early seating that sets off at 4:30 PM, which might be a better option for those with younger kids.
First Tracks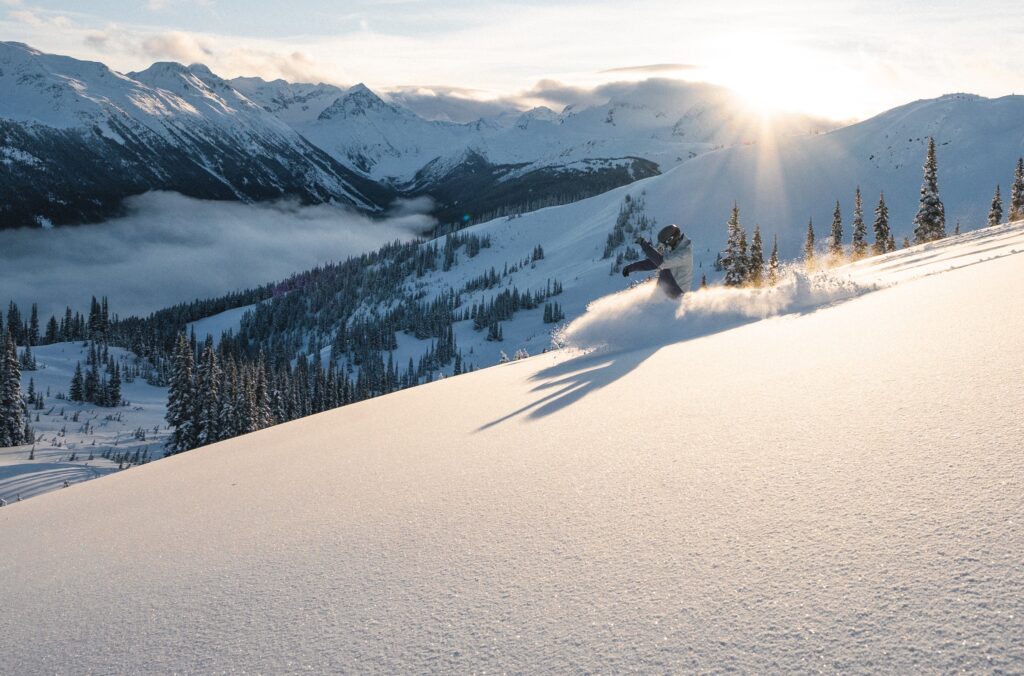 Keen skiers and snowboarders can score an early gondola upload with First Tracks, which will get you up the mountain between 7:30 and 8 AM. You get first dibs on any fresh powder, or the first turns on some lovingly groomed corduroy. This tour is for those who like to get up and go, and includes a food voucher to fuel your early morning turns when you feel like stopping for a snack break.
Lunch at Altitude
Whether you're skiing, riding or sightseeing, you could make the middle meal of the day the feature one at Christine's and Steeps, respectively on Blackcomb and Whistler mountains. You will need to ride the gondola to get to your reservation, but that's all part of the adventure dining fun.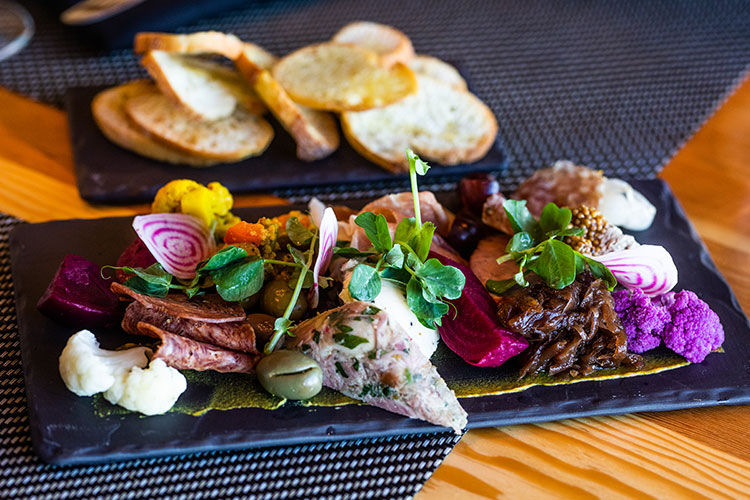 Both of these full-service on-mountain restaurants offer fantastic views and menus that highlight local produce and regional wines. We recommend making reservations as they are popular spots. For Christine's, reservations open on November 7 at 11 AM for booking when they open on November 24. Steeps is due to open on December 1.
Talking of sharing boards, you could also charcute-ski by visiting some of the local grocery stores and packing your own. You can also get a ready-made charcuterie box from the experts at The Deli by Picnic Whistler.
A First Nations Feast
At the Squamish Lil'wat Cultural Centre (located in Whistler), you can blend an incredible cultural experience with your adventure dining at the Spo7ez Fall Feast on November 18, 2023, or at the Winter Feasts over the course of the season (dates still to be announced).
These special evenings combine storytelling and Spo7ez Performers in regalia sharing songs from Squamish Nation and Lil'wat Nation, with a shared feast created by Indigenous chefs utilizing traditional ingredients and food preparation alongside modern techniques.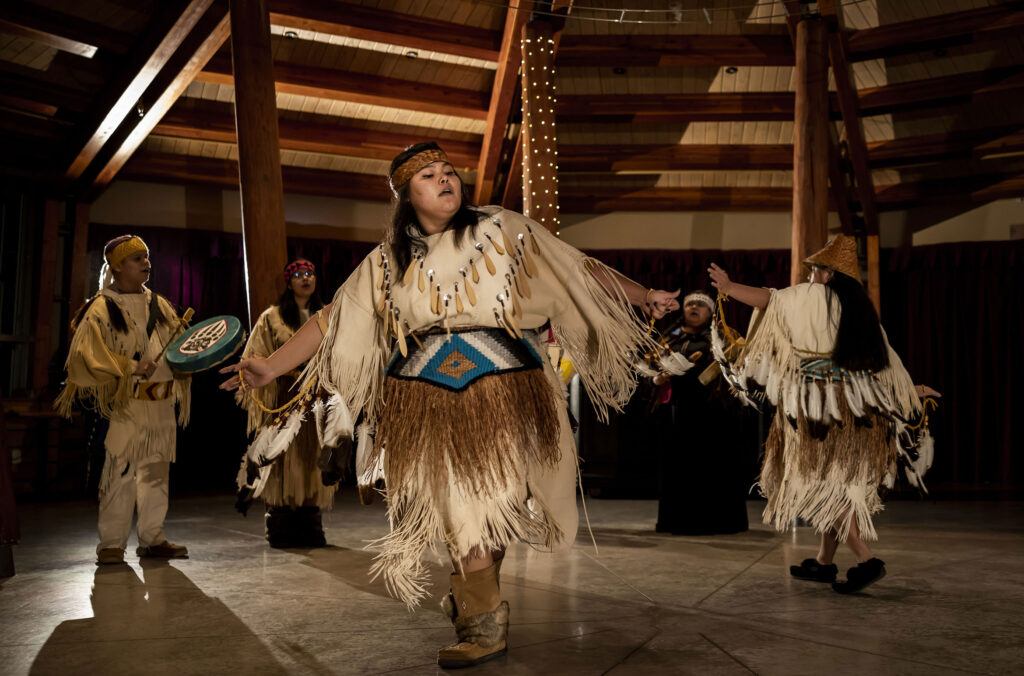 If you can't make a Spo7ez Feast, be sure to stop by the Thunderbird Café, located in the Squamish Lil'wat Cultural Centre, to enjoy delicious, Indigenous-inspired food such as Bannock Tacos, Venison Chili and Salmon Chowder. Or treat yourself to something sweet and freshly baked, liked a bannock donut paired with a great coffee from First Nations owned, Spirit Bear Coffee Company.
Tasting Tours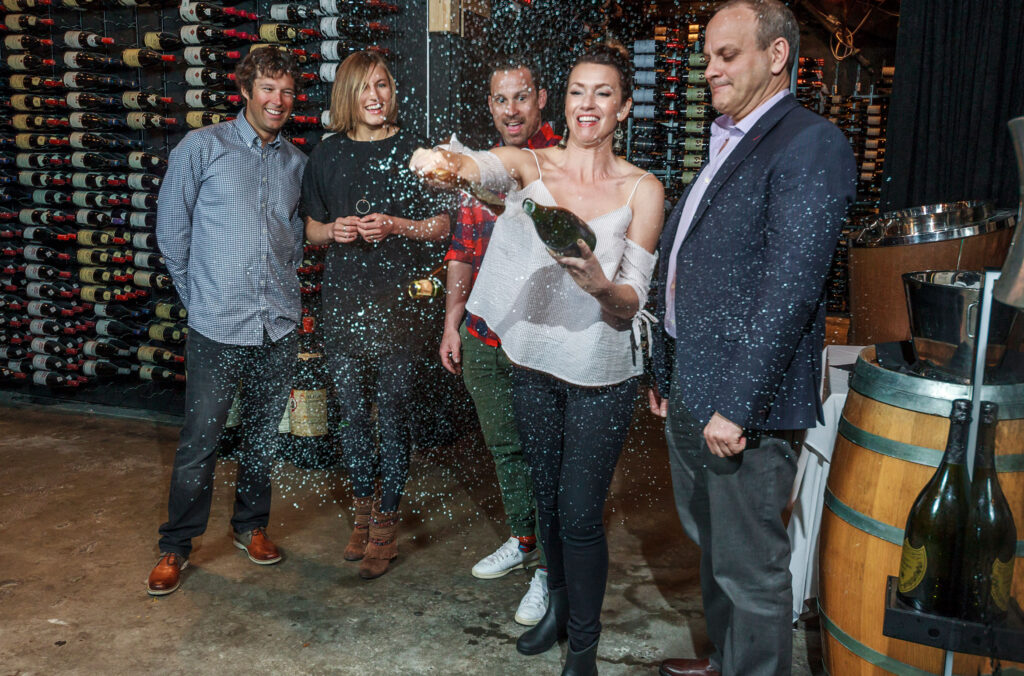 If you're eager to explore the breadth of amazing dining options in Whistler (or if forming a group consensus at mealtimes proves challenging) Whistler Tasting Tours is the answer! These adventure dining tours offer an incredible experience while you are treated to a multi-course meal, with each course prepared by a different restaurant and accompanied by a perfectly paired drink. It's a moving feast that takes you and your taste buds on a delicious journey through Whistler's food scene.
These experiences put a unique, mountain spin on the whole dinner and a show concept. If you're coming over peak times during winter just be aware that dinner reservations in the Village book out fast. Get in touch with the Whistler.com team if you'd like more advice on how to book your trip to Whistler, and some insider tips on where to eat.