The mountains are an inspiration, a place of strength and a source of beauty for many, and there's no right way to experience them. Arts and culture are a part of mountain life, running alongside and underpinning the sports scene that Whistler is famous for, making it a multi-dimensional place to experience.
The arts challenge us to view things from a different perspective, think deeper and explore in new ways. Although Whistler's arts and culture scene is alive all year round, there's a focus on it in the fall and early winter and this blog aims to connect you to just a few of the things on offer.
Audain Art Museum
Right in the heart of Whistler Village, the Audain Art Museum melds seamlessly with its environs thanks to the work of internationally-renowned, Patkau Architects. A recently added larger-than-life sculpture, The Three Watchmen, a collaboration by revered Indigenous artists James Hart (7idansuu), Xwalacktun and Levi Nelson (Svpyan), connects the building to the rest of the Village Stroll and provides a prominent landmark, making it easier to find.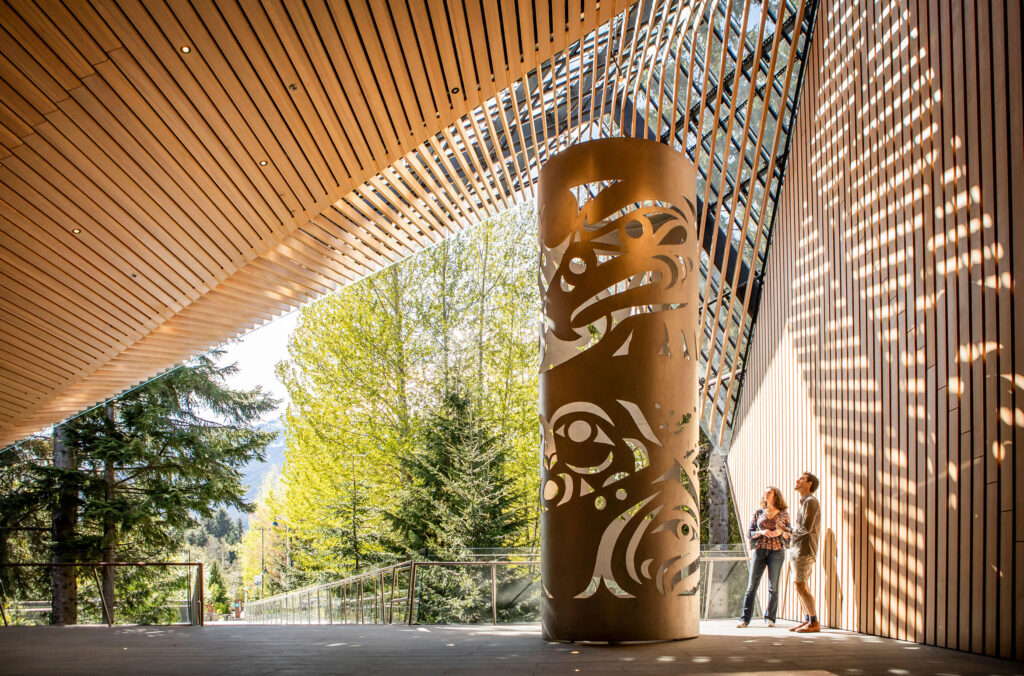 Inside, the permanent collection boasts the world's finest collection of Northwest Coast First Nations masks, an extensive Emily Carr collection and important works from some of BC's most prominent artists.
The special exhibition Out of Control: The Concrete Art of Skateboarding was inspired by the Whistler skate park, located mere meters away from the museum, and reveals the intersection between contemporary art and skateboarding.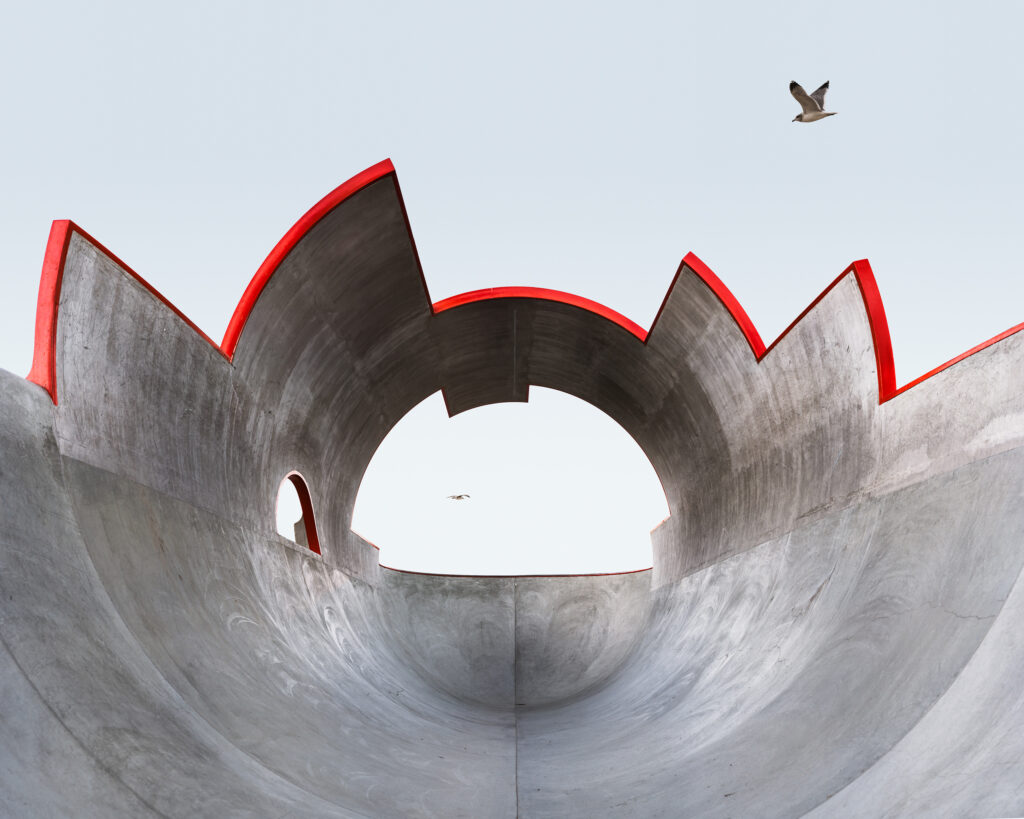 This expansive exhibition will take place throughout two floors of the Museum and runs from September 17, 2022, to January 8, 2023. A small teaser section of the exhibition is already open in the Upper Gallery and features film installations, architectural models and photo-based works from five different artists.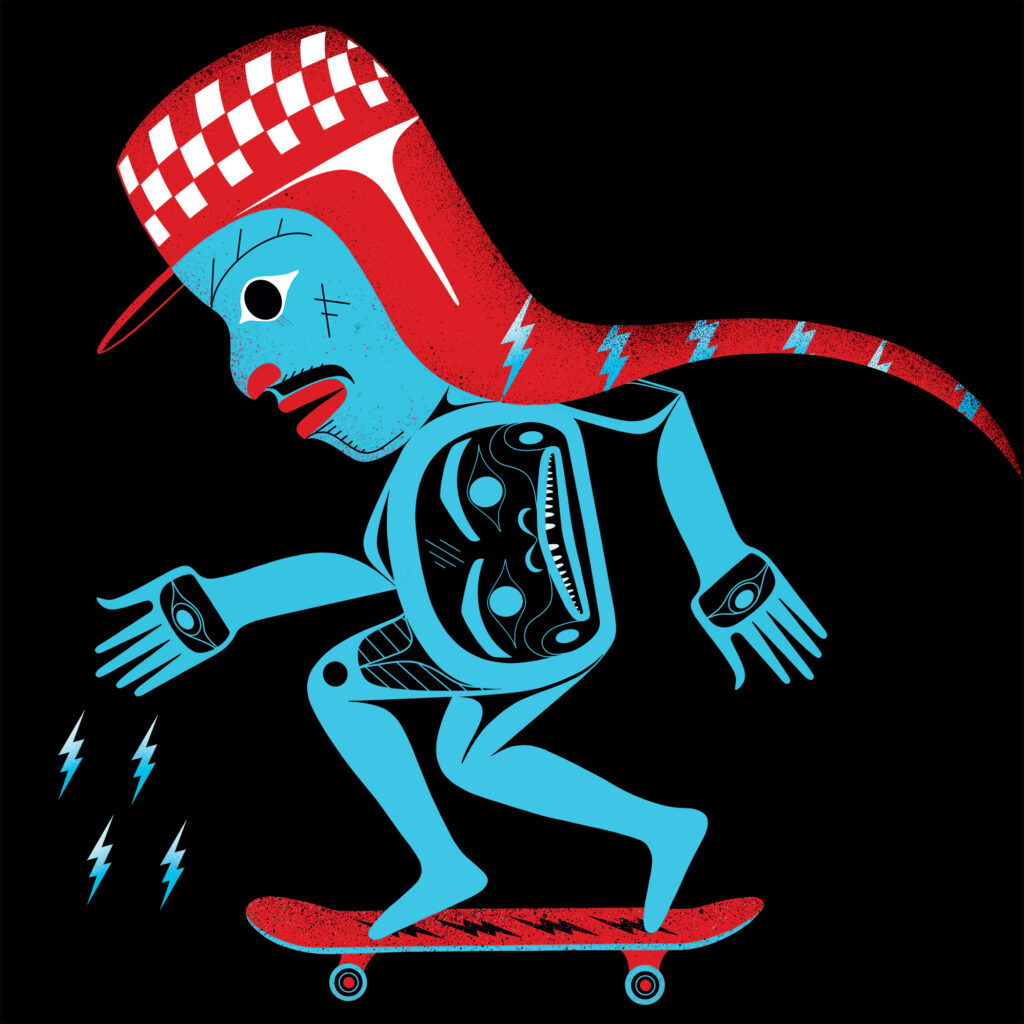 Squamish Lil'wat Cultural Centre
The town of Whistler is located on the shared, unceded territories of the Lil'wat People, known in their language as L̓il̓wat7úl, and the Squamish people, known in their language as Sk̲wx̲wú7mesh. The Squamish Lil'wat Cultural Centre is a place where these distinct cultures meet, grow and are shared. Guided tours run every hour, on the hour, and include a welcome song, short film and guided tour. Recently, I was lucky to have Irene and Delilah of the Lil'wat Nation as my tour guides and they welcomed us with The Groundhog (hoary marmot) Song. Every tour is unique, as each guide draws on their own personal stories and experiences.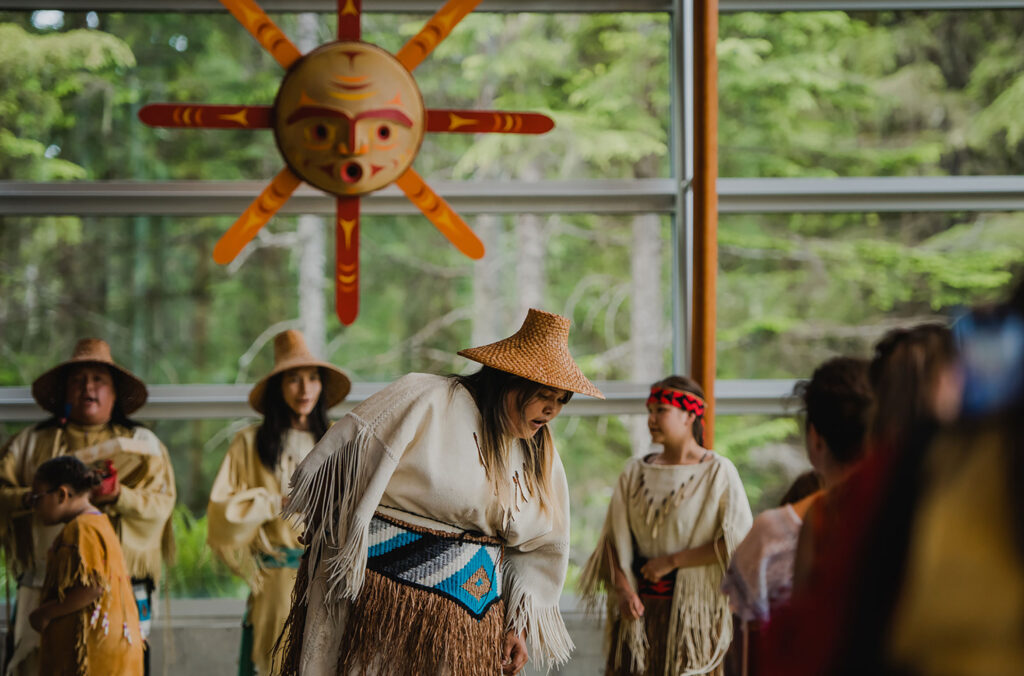 The current feature exhibit, Ancient Medicine: From Feast to Famine to Freedom, showcases the local plants and animals that continue to be sources of physical, emotional and spiritual sustenance. Visitors are invited to learn about these medicinal plants, see them as they are used today and understand how people are managing chronic illnesses caused by interruptions to their natural diet. Interspersed throughout the displays are striking artworks by Indigenous artists reflecting on the themes.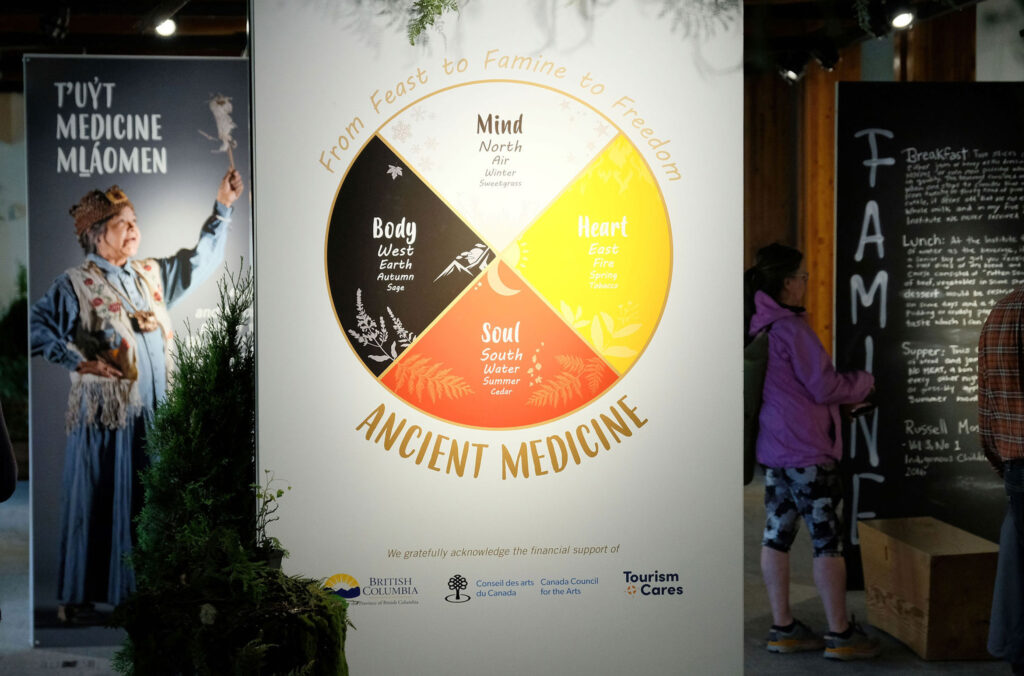 My favorite part of the exhibition was a short film featuring Lil'wat elder Saopalaz (Lucille) Joseph collecting berries and plants to make a salad. I was excited to see people eating and enjoying plants that I'd previously been taught to think of as weeds, like dandelions and pink clover. Foraging can be a great way to connect with the land and the seasons, but as the Ancient Medicine exhibit reminds us, foraging also needs to be done in an ethical and sustainable way.
If all the talk of food makes you hungry, be sure to stop by the Thunderbird Café afterward for the Cedar Plank Squamish Salmon Chowder, Homemade Lil'wat Venison Chili, or the local's favorite, Bannock Tacos. 
Arts Whistler
Capitalizing on the season between sports, Arts Whistler has a variety of fall offerings, kicking off with emhám. Presented in collaboration with the Lil'wat Nation's Ts'zil Learning Centre, emhám is a series of Indigenous performances, music, knowledge sharing and storytelling events happening every Thursday night in September at the Maury Young Arts Centre (MYAC).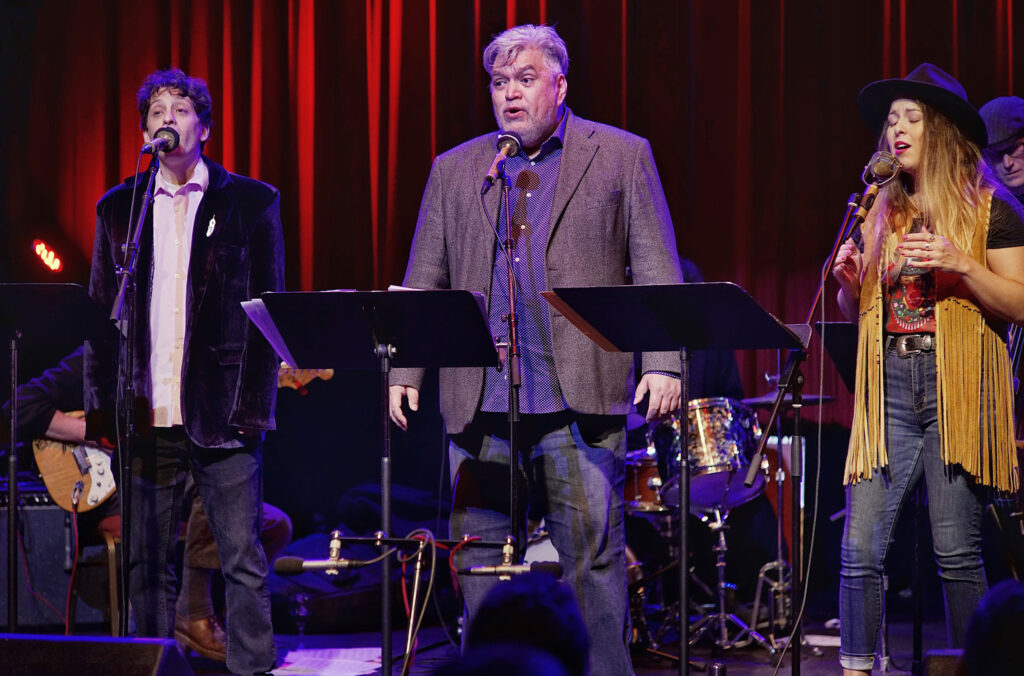 The Teeny Tiny Art Show is back and features over 200 artworks that are sized three inches by three inches or less, by more than 80 Sea to Sky artists. Pop by the gallery at MYAC and scope out your favourite pieces ahead of the Art Party and Buy Night on September 16. These small but mighty artworks tend to fly off the walls, so it's a good idea to have a second, third and even fourth choice ready to go when the buying starts. The show is being displayed at The Gallery until October 29 and is free to visit.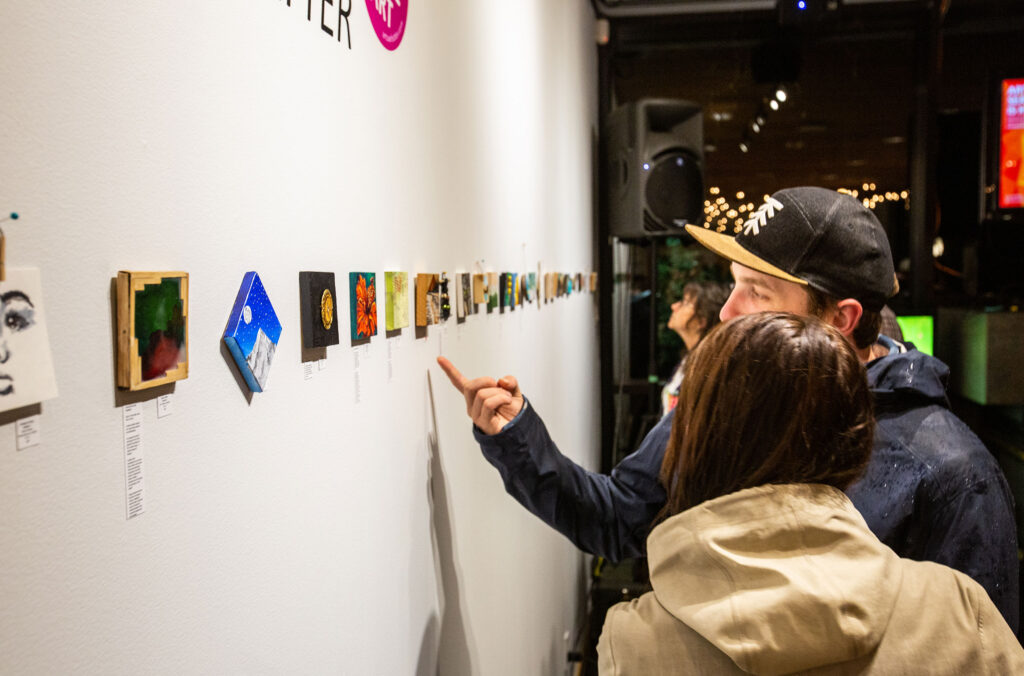 Arts Whistler Live! begins on September 23 with FIREFLIGHT: A Supernatural Circus with VERVE Inspired Circus. Expect to see some of BC's top circus performers take to the "sky" as they transform the Arts Centre into the atmospheric rainforest of the Pacific Northwest.
The series is wonderfully varied, with Raven Spirit Dance featuring special guests, Waganana Aboriginal dancers being performed on October 28, a country-soaked, American rock n' roll night with Trailerhawk on December 10, and a Comedy Double-Header with Julie Kim and Katie-Ellen Humphries on January 28, just to name a few. This series of live music, theatre and comedy acts continues monthly all the way through to May and is guaranteed to light up those long winter nights.
Whistler Writer's Festival
Now in its 21st year, the Whistler Writer's Festival is a multi-venue, multi-artist, multi-day event, offering simultaneous in-person and online options for the majority of the events. Running from October 13-16, 2022 the four-day schedule is jam-packed with workshops, readings, conversations and special events.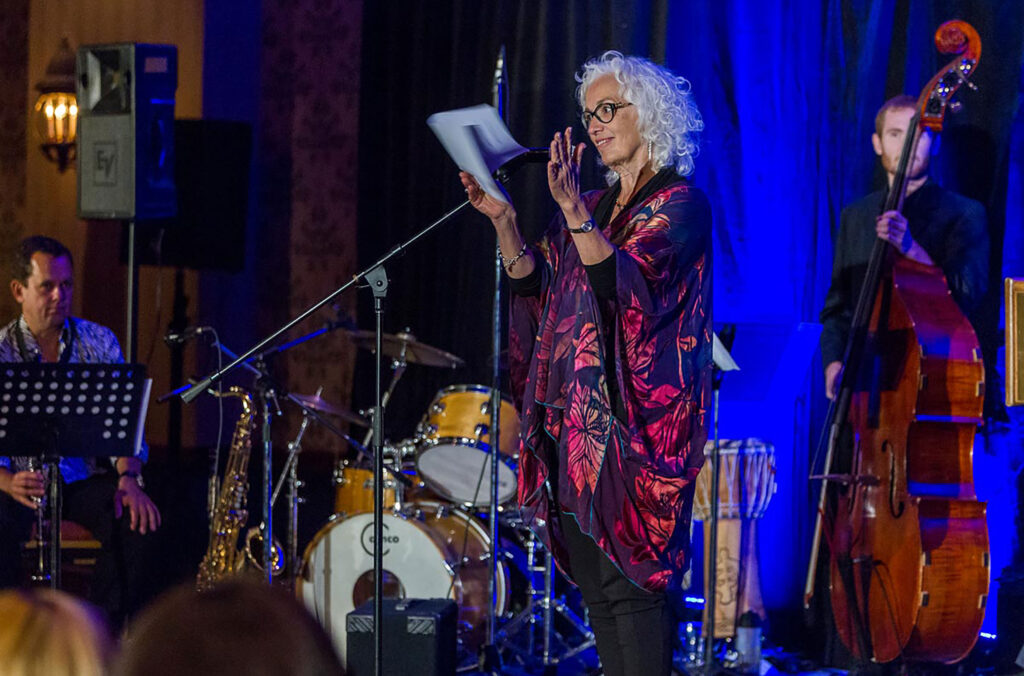 Not to be missed is The Literary Cabaret: We're Back Live Baby! on Friday night, October 14. Combining stimulating author readings with improvised music from The West Coast Front, this magical pairing is sure to elicit all of the feels. There's a Mystery and Crime Writers Panel showcasing four award-winning authors on Saturday afternoon and a new event for this year is the Sunday Book Talk event where you get to sip on your coffee while four authors discuss what makes them tick and how this impacts their writing. 
This year's Saturday Night Gala features Marsha Lederman in conversation with Méira Cook (The Full Catastrophe) and Iain Reid (We Spread) as they discuss the intriguing themes in their latest books. 
Authors will be on hand for book signings and thanks to Armchair Books' pop-up store you'll likely go home with more than you came with! 
Whistler Film Festival
Whistler Film Festival, Canada's coolest film fest is happening from November 30 to December 31 and includes film premieres, industry summits, talent programs, celebrations and special guest appearances by actors and directors. Where else in the world could you ski straight off the mountain and into a red-carpet event?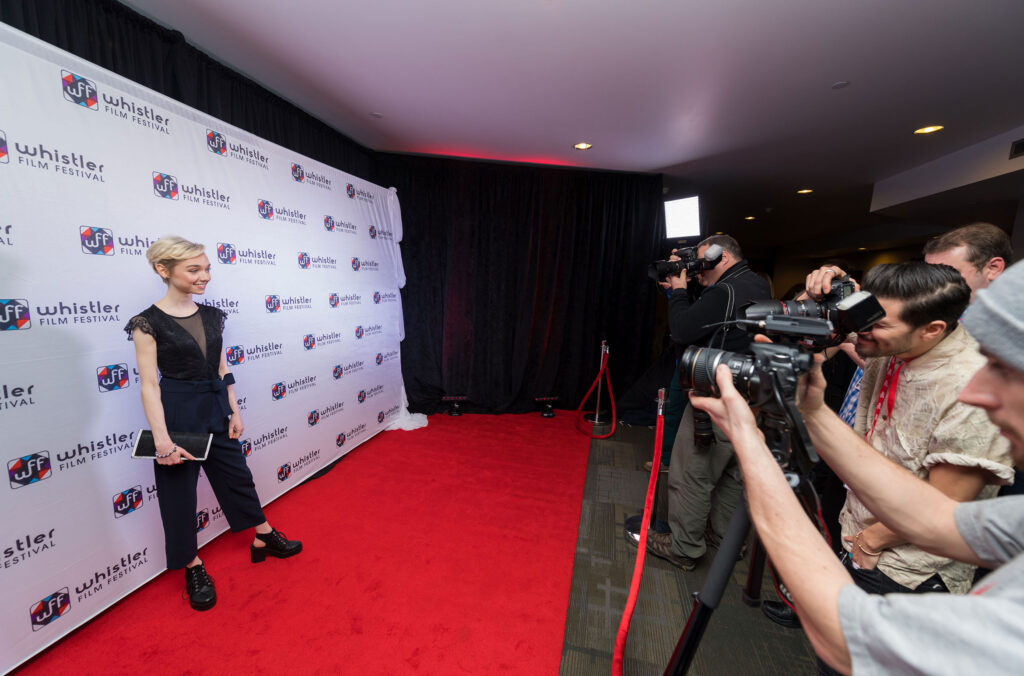 The in-person festival events run from November 30 to December 4 and feature filmmaker events, conversations with top talent at our Signature Series, and networking opportunities. 
 The online component runs the entire month, with up to 100 movies available to stream, as well as access to filmmaker Q&As and a virtual awards celebration.
But that's not all folks…
Wine Walks are happening every Friday in the month of October, combining an art gallery visit with BC wine. A range of Whistler galleries are taking part, with all the self-guided tours culminating at the Audain Art Museum, for more wine, canapes and music.
A runaway hit in its inaugural year last season, Laugh Out Live! is set to make a comeback this winter, but the location is currently TBD. Performing to sold-out crowds every week during their first run, this grassroots improv / sketch / standup comedy troupe has been spotted on social channels recruiting scriptwriters and funny folk for their triumphant return.
The Point Artist-Run-Centre is also another hub of cultural goings on as they typically host a Thanksgiving performance evening and Winter Carnival. On Sunday, November 19 they have C.R. Avery's latest show, Victory on East Hastings, a ghostly, feature film with live narration, performance and musical sections.
"It's as if cinema is about to have an affair with a rock and roll revival show," says the event description. "Boom to the zoom Mo'fo's, here comes the ultimate love letter to East Van, that's also a ghost story that must be witnessed live."
Tickets start at $20 and the show starts at 7 PM at The Point on Alta Lake.
This is just a sampling of the arts and culture events happening in Whistler this fall and winter. With more events being announced all the time, be sure to take a look at Whistler.com's event calendar for the most up-to-date listings and information.
Book a fall stay from $135 per night and receive two Whistler Cultural Passes valid for entry to both the Audain Art Museum and the Squamish Lil'wat Cultural Centre.