"Everybody needs beauty as well as bread, places to play in and pray in, where nature may heal and give strength to body and mind alike." John Muir.
Art is synonymous with the mountains, a place that provides an abundance of natural beauty for inspiration, but also a calmness and peace that helps the mind wander.
Whistler is home to a number of art galleries, displaying work from local talent to the wider Canadian art pool and international artists whose work resonates with curators. One way to explore four of these galleries is to join the Whistler Wine Walk, which happens every Friday in October (that's the 6, 13, 20 and 27, 2023). Not only do you get to connect with gallery owners, curators and artists, but you also get to do so with a glass of wine in hand.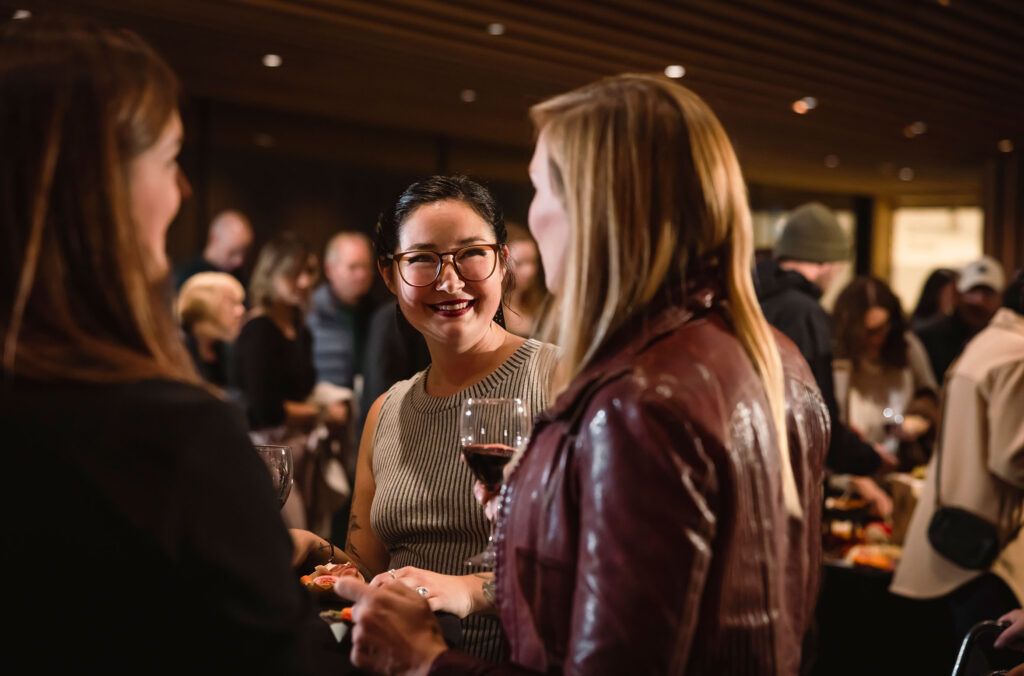 Included in the ticket price is access to four galleries, a three-ounce glass of wine at each one, interactive art experiences and a curatorial tour of the Special Exhibitions at Audain Art Museum along with live music and canapés.
The experience lasts around two hours (6 to 8:15 PM) with walking time taken into consideration. It's the perfect evening activity after an early dinner, or perhaps before a late one depending on how you like to dine. There are three ticket options, each starting at a different gallery but all culminating at the Audain.
The first Wine Walk, on October 6, will feature select bottles from Chilean winery, Montes Wines. Then for week two, October 13, it's a touch of Italy in the mountains with Tenuta Il Poggione. The last two Wine Walks in October showcase two wineries from British Columbia, Okanagan Crush Pad (October 20) and Lillooet's, Fort Berens (October 27).
You will receive an email preceding the Wine Walk with detailed instructions for your selected route, including your schedule, a map and walking directions for each location. Please note, that a Wine Walk Guide will be on-site to help guide you between galleries, and some parts of the tour may utilize minibuses to transport guests.
The Galleries
Adele Campbell Fine Art Gallery
Celebrating 30 years this year, Adele Campbell Fine Art Gallery, located in the Westin Resort & Spa, proudly represents a broad spectrum of Canadian artists in an array of original paintings and sculptures. The pieces reflect the artists' passion for their beautiful surroundings and contemporary influences, and you'll be struck by the variety, power and boldness of the art when you visit.
For over a century, Canadian landscape art has been inspired by the Group of Seven, who bucked the trends of the time and painted with a bold palette and style they felt represented the mass scale of Canada. This has evolved and morphed into the contemporary art of today, which revels in the wildness and freedom of the country they're depicting.
Featuring over 50 established and emerging Canadian artists, you'll find an ever-revolving comprehensive collection of uniquely Canadian art at Adele Campbell Fine Art Gallery. During the Whistler Wine Walk, the gallery will have live painting with some of their featured artists and an interactive canvas for participants to get creative.
Whistler Contemporary Gallery at the Hilton
The white walls of the Whistler Contemporary Gallery are adorned with a diverse range of styles including figurative, abstract and landscape. Featuring Canadian and international contemporary fine art the gallery is home to some unique pieces including paintings, multi-media, glass and sculpture. Some of the art is inspired by the mountain scenes and wildlife Whistler is known for, whereas others evoke a sense of pop culture and urbanity.
During the Wine Walk, guests will be challenged to an Art Scavenger Hunt as well as being given the chance to win a gift basket. It's also good to note that they have a second location at the Four Seasons Resort Whistler if you want to connect with more of their artists.
Mountain Galleries at the Fairmont
The focus at Mountain Galleries at the Fairmont Chateau Whistler is on post-war Canadian landscape art. Mountain vistas, lush forests and winding rivers pepper the walls. The gallery is also home to some incredible pieces of sculpture with serpentine stone bears, bronze eagles and intriguing wood and resin furniture. It's really a treasure trove of Canadian art that takes time to explore.
Audain Art Museum
The Audain Art Museum hosts special exhibitions throughout the year and Wine Walk goers will be treated to a short, curatorial tour at the end of their evening along with their fourth glass of wine, canapés and live music.
For the first Wine Walk on October 6, you'll be taking a look at Manabu Ikeda's exhibit, Flowers from the Wreckage, and for the rest of the month, it will be Karin Bubaš's Garden of Shadows.
If you've not visited the Audain before this will definitely make you want to come back and explore. Its permanent collection is a visual journey through the history of art from coastal British Columbia. It spans the late 18th century to the present day, and features one of the world's finest collections of Northwest Coast First Nations masks; a large collection of works by Emily Carr, and art by important post-war modernists such as E.J. Hughes, Gordon Smith and Jack Shadbolt.
In addition to these historical works, it showcases art by internationally renowned, contemporary British Columbia artists including Jeff Wall, Dana Claxton, Marianne Nicolson, Rodney Graham and Stan Douglas, among others.
For more information on what a trip to this museum is like, read Culture Up: How to Get the Most From a Visit to the Audain Art Museum in Whistler.
INSIDER TIP:
Whistler's restaurants always roll out the
dining deals
in the fall, and this year is no exception. From five-courses at award-winning restaurants like
Araxi
, to four-course sushi feasts at
Sushi Village
and three-courses at one of our newer eateries,
The Raven Room
– there are many choices to get your belly rumbling.
Whistler Wine Walk Tickets
Wine Walk tickets are limited and must be purchased in advance. Ticket holders will receive an email preceding the walk with detailed instructions for their selected route, including a schedule, map and walking directions for each location. A Wine Walk Guide is on-site to help guide guests between galleries and some parts of the tour may utilize minibuses to transport guests.
The Whistler Wine Walk is a chance to engage with gallery curators and artists, learn more about Canadian art and perhaps find something for above the fireplace back home.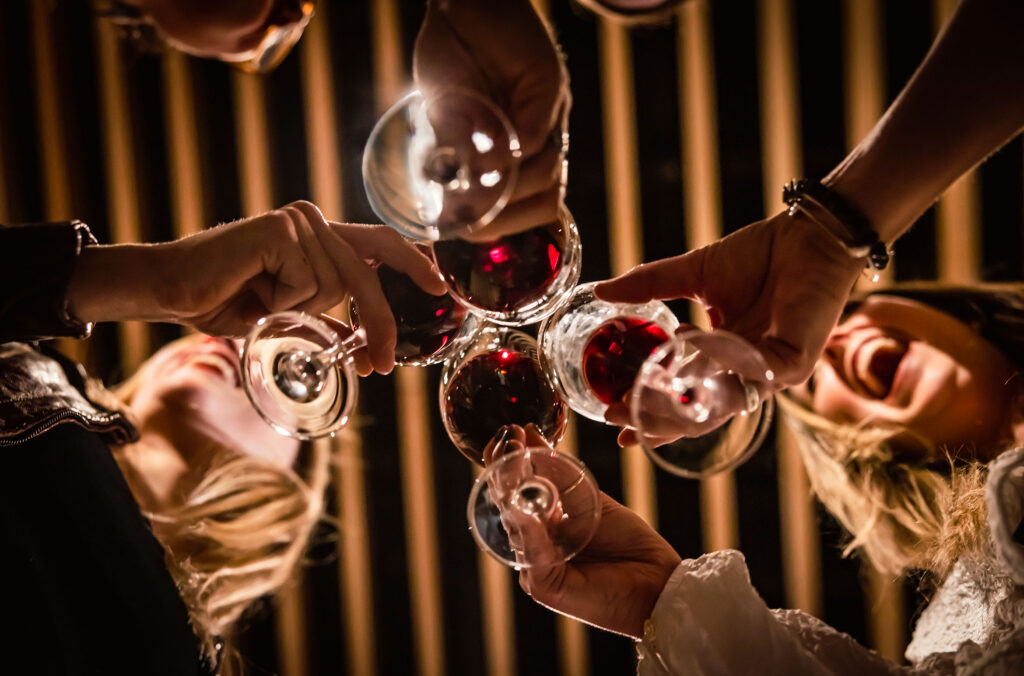 Stay 3+ Nights and Receive a Free $100 Whistler Dining Voucher
Secure your lodging for Whistler Wine Walk with rooms starting at $149 CAD per night on Whistler.com. Extend your stay to 3+ nights and receive a free $100 Dining Voucher.
For more ideas about what to do in the mountains in fall take a look at When Seasons Collide: 12 Quintessential Whistler Experiences.