Whistler is a place where bad-ass and world-class are not mutually exclusive. The experiences here have been designed to thrill in a heart-thumping, fist-pumping, adrenaline-inducing way. It's all about that euphoric state you reach when you've done something just a touch outside of your comfort zone and Whistler is uniquely qualified to deliver on that over and over, and over again.
Although what you're actually doing to get that thrill will differ from person to person, the feeling is universal. Here are 10 Whistler challenges to set you up for a summer of all thriller and no filler, but trust me, that list could go on and on, and on – you get the picture.
1. Walk Amongst the Clouds: Cloudraker Skybridge and Raven's Eye
Perched on top of Whistler Mountain, the Raven's Eye viewpoint is a cantilevered platform that extends 12.5 metres out from the rock face, allowing 360-degree views of the valley below. Rather than being solid, the platform is constructed from a latticework of metal that allows you to look between your feet and down the side of the mountain.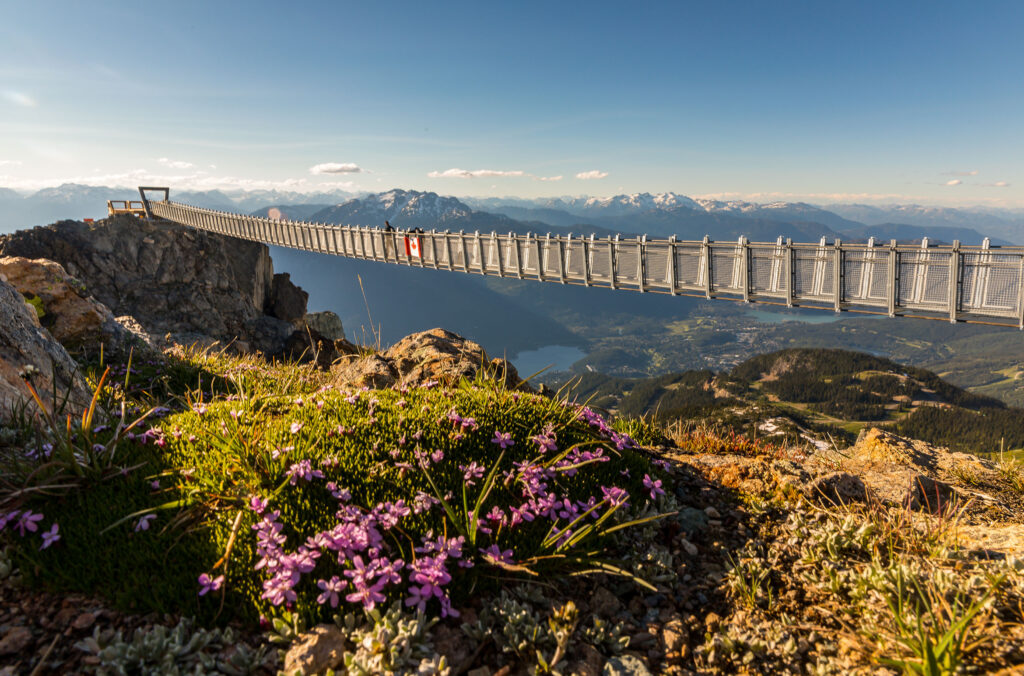 The exposure is heightened once you step off the fixed platform and onto the swinging bridge. Spanning 130 metres from Whistler Peak to the West Ridge, the Cloudraker Skybridge is constructed from the same see-through metal panels, with the added bonus of swaying while you walk. If you're not bothered by heights, try engaging those core muscles for the extra challenge of walking in a straight line!
2. Make Like a Mountain Goat: Whistler Via Ferrata
Bridge not scary enough? Consider booking a guided via ferrata tour on the top of Whistler mountain. Translating literally to iron way, via ferrata are a series of metal rungs and cables fixed to a cliff-face to assist climbers. They were famously used in the First World War by Italian soldiers who had to carry heavy supplies dangerously high into alpine camps.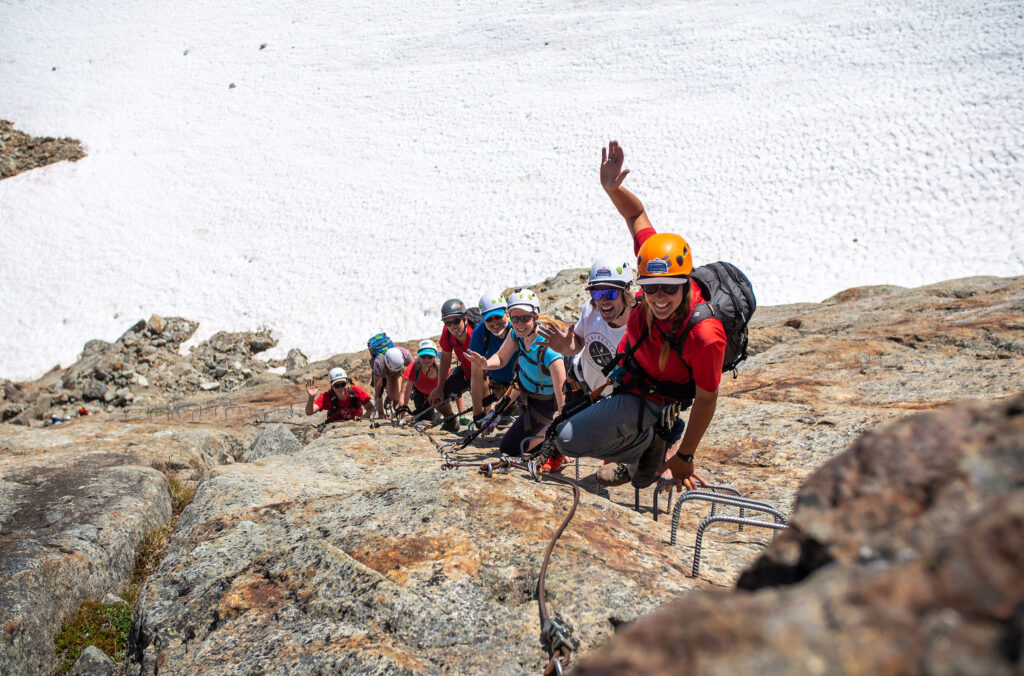 As a modern climber, you will be provided with backup safety equipment, however, you'll still have to rely on your own hands and feet to avoid falling off the mountain. If you make it to the top in style, your guide might even give you the option of glissading back down. Read a first-person account of this experience in Climbing Out of My Comfort Zone.
3. Reach New Hiking Heights: Alpine Hiking on Whistler Blackcomb
Both Blackcomb and Whistler Mountains have a variety of lift-accessible trails, but that doesn't mean the hiking is always easy. A PEAK 2 PEAK 360 Experience ticket gets you access to Whistler Blackcomb's gondola system and terrain with over 50 kilometres of hiking trails.
High Note, the longest trail on Whistler Mountain, technically begins at the top of the Peak Express chairlift, but for an extra burst of cardio, you can skip the chairlift and walk uphill from the Roundhouse along Mathew's Traverse. The rocky, but well-defined trail, leads around the back of Whistler Mountain and features panoramic views of Black Tusk, the Garibaldi Ranges and the stunning green waters of Cheakamus Lake. With little shade, the trail often bakes in the afternoon sun, so either get going early or take plenty of water. Check out the Insider's Alpine Hiking Guide for what to expect.
INSIDER TIP: The three to four-hour estimated hiking time is for the High Note section of the trail only and does not include Mathew's Traverse, or the hike back up to the Roundhouse along the Harmony Lake Loop.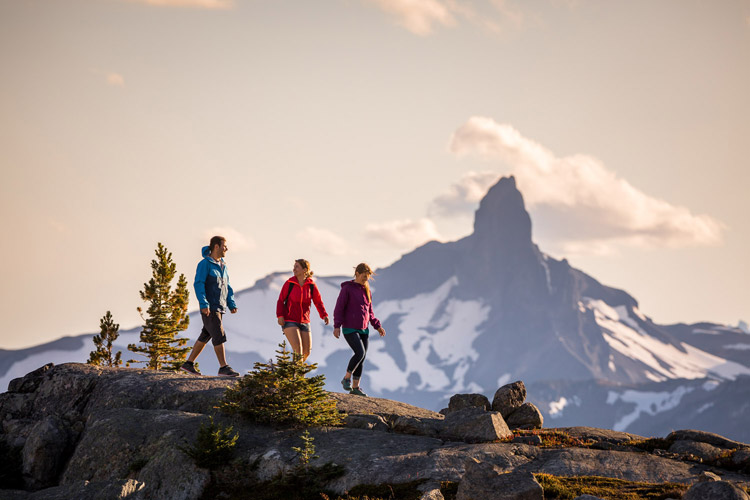 Decker Loop on Blackcomb Mountain is similarly challenging but also features a long, intense climb up an exposed ridge. Once above the treeline, be prepared for a good amount of rock-hopping and scrambling, and marmots lazily sunbaking on the tops of boulders.
Whichever combination of hiking trails you choose make sure you know, and can be back by, the gondola closing times. It's also a good idea to have the patrol phone number with you in case of an emergency (1-604-935-5555). As with all outdoor adventures you need to be prepared so take a look at AdventureSmart BC for trip tools and gear lists.
INSIDER TIP:
The high alpine trails on Whistler Blackcomb usually still have snow on them until mid-July. Make sure you
check what's open
when you plan your hike.
4. Conquer the Climb: Blackcomb Ascent Trails
Are you a fan of the Grouse Grind? Want to get more steps in your day? Rather than riding the gondola to the alpine, try hiking the forested sequence of Burn trails; aptly named Little Burn, Big Burn and Heart Burn. One of our Insiders breaks down what it's like to do all three stages in Time to Burn and for a more general list of Whistler hikes take a read of our Insider Guide: Summer Hiking in Whistler. Wondering what to take with you? Check out our gear post for hiking.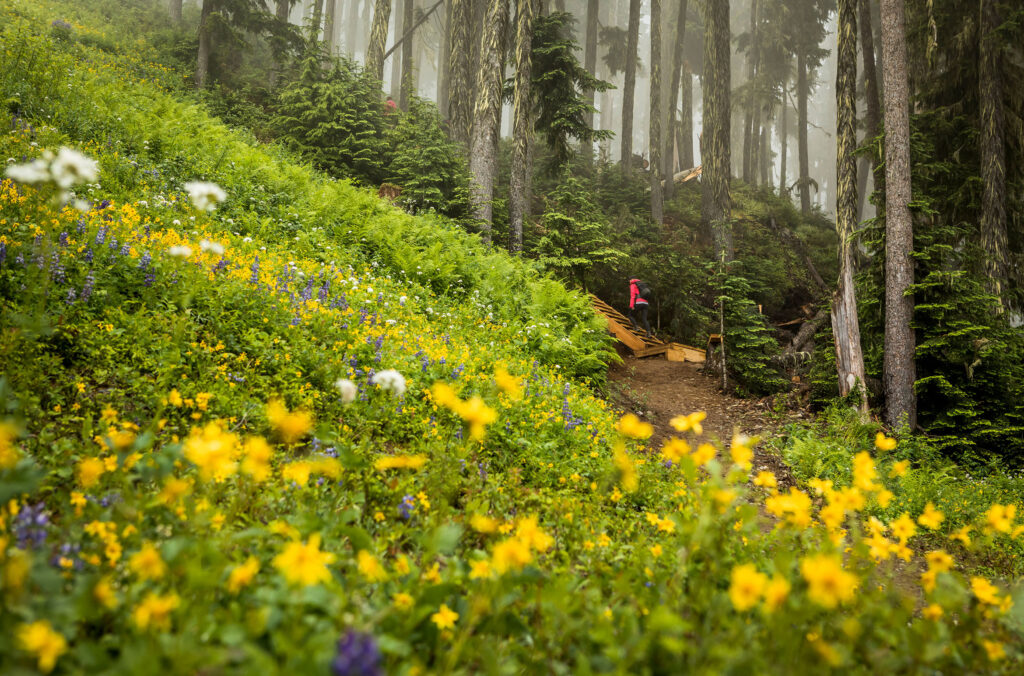 INSIDER TIP: There's a tap-out option at the end of Little Burn, allowing hikers to catch the lift either up, or down, the rest of the way. Download passes must be purchased in advance.
5. Bike Top of the World: Whistler Mountain Bike Park
If you're new to mountain biking, just showing up at the Whistler Bike Park (and successfully loading the lift) will be more than challenging enough. Check out the sage advice in our 101 guide for what to expect.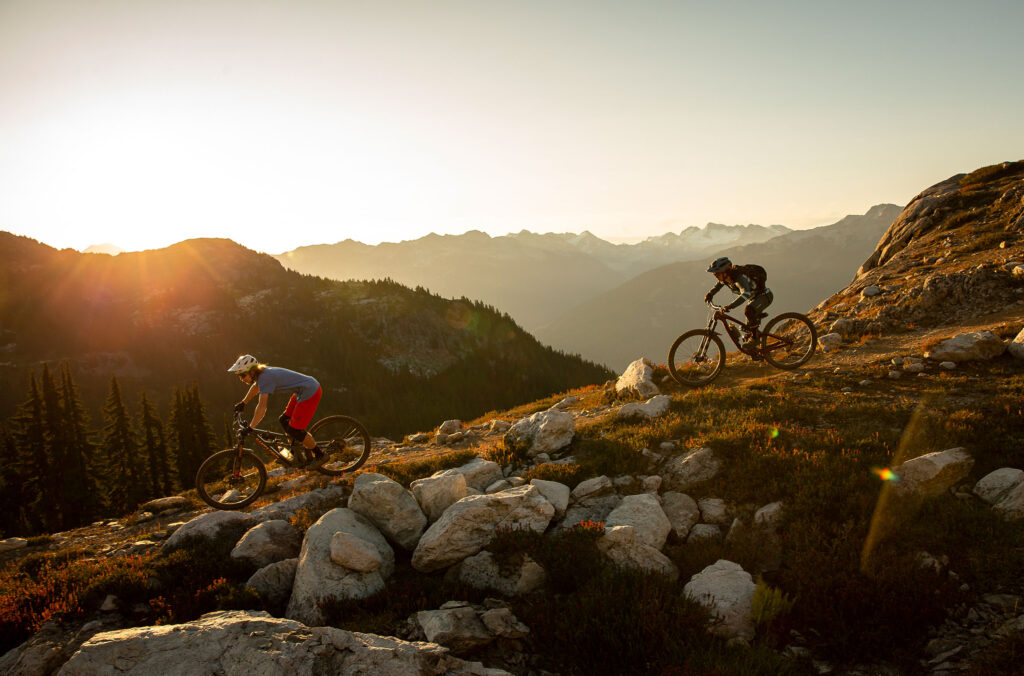 If you're a seasoned downhill rider AND you're physically and mentally prepared, the technical black diamond Top of the World trail is a must. The narrow, rocky single track descends 1500 metres all the way from the peak of Whistler Mountain to the valley floor.
6. Ride Like a Local: Join a WORCA Toonie Ride
Named for the two-dollar (toonie) entrance fee, the Toonie Rides are held by WORCA (Whistler Off Road Cycling Association) every Thursday over the summer. The course changes each week and participants can race hard at the front of the pack, or ride the course at their own pace with family or friends. There's also a virtual Toonie Ride challenge for anyone who can't make Thursdays, or who prefers a quieter trail.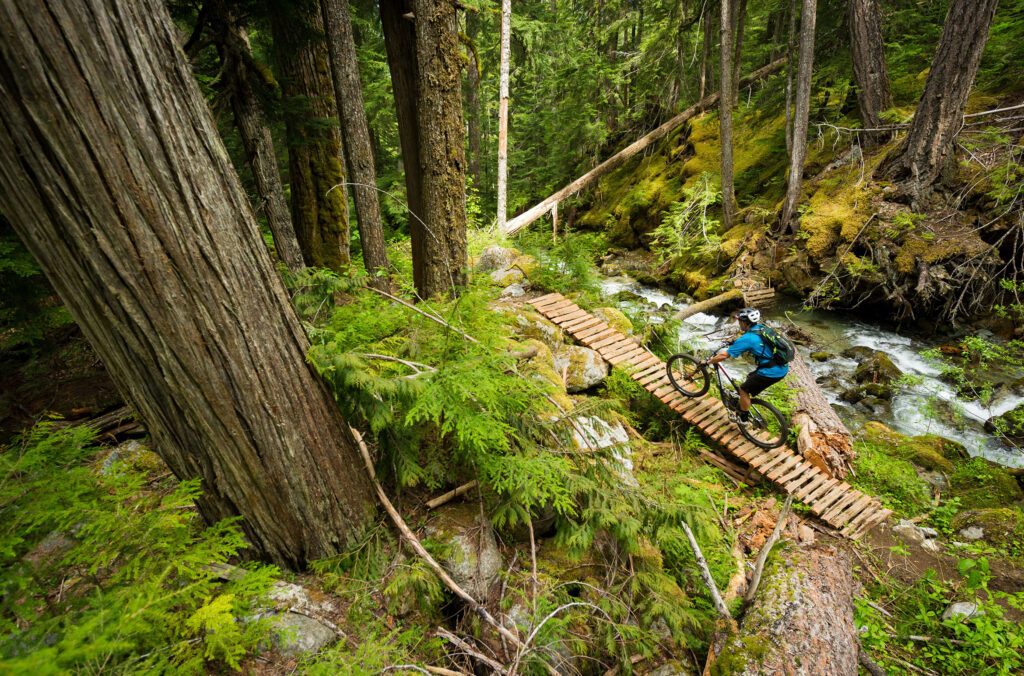 INSIDER TIP:
You need to be a WORCA member to join these rides, which you can do online when you book your
Toonie Ride
ticket, which saves you time on the day. Take a look at our
bike story archives
for more posts specific to riding.
7. Get Some G-Force: Summer Bobsleigh – Rolling Thunder
If subjecting your body to gravity appeals, check out the summer bobsleigh at Whistler Olympic Park. Reaching speeds of up to 90 kilometres per hour, Rolling Thunder is the concrete and rubber adaptation of the four-man winter bobsleigh. Read how this feels in Rolling Thunder: Whistler's Summer Bobsleigh Experience.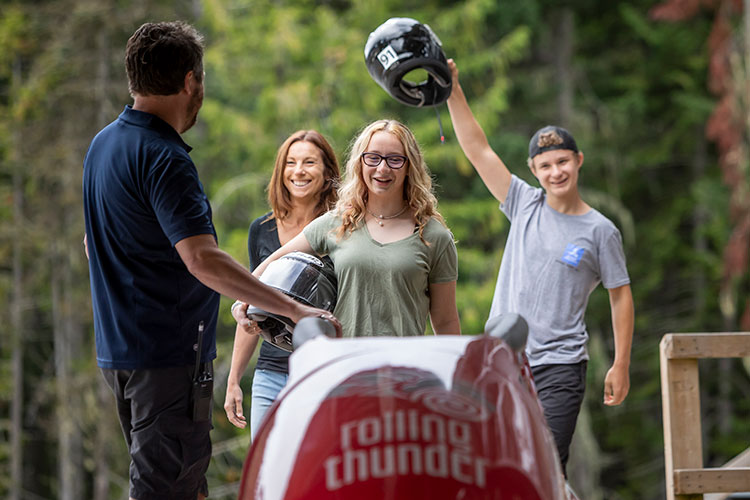 INSIDER TIP: If you have older kids with a love of all things speedy then it's good to know that youth (12 to 18) ride free with a paying adult.
8. Raft a Raging River: Whitewater Rafting
Looking for a step up from floating down the River of Golden Dreams? Why not make the most of the snowmelt and book yourself a spot on some white-water rapids? There are lots of different tours to choose from, but for the biggest waves and the stickiest boilers opt for Canadian Outback Rafting's Wet and Wild Elaho Exhilarator. Expect many moments of, "Down!"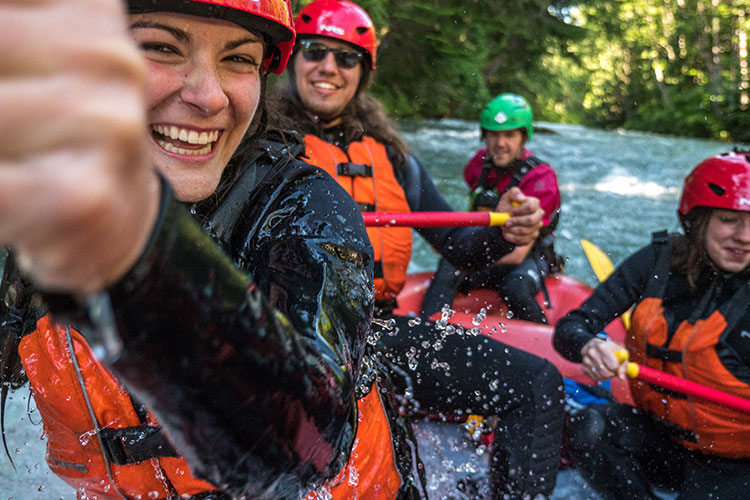 INSIDER TIP: Secure a spot at the front of the raft for the most extreme highs, lows and water punches to the face.
9. Plan Your Own Triathlon
For a tailor-made, people-powered adventure, try creating your own door-to-door triathlon challenge. All of Whistler's lakes are connected by a myriad of trails, but Lost Lake and Alta Lake really stand out as swimmer-friendly. For a short circuit, try biking to Lost Lake beach, swimming a lap of the lake, running around the lake (or on the trails surrounding it), then bike home for a shower, a beer, or advisably both.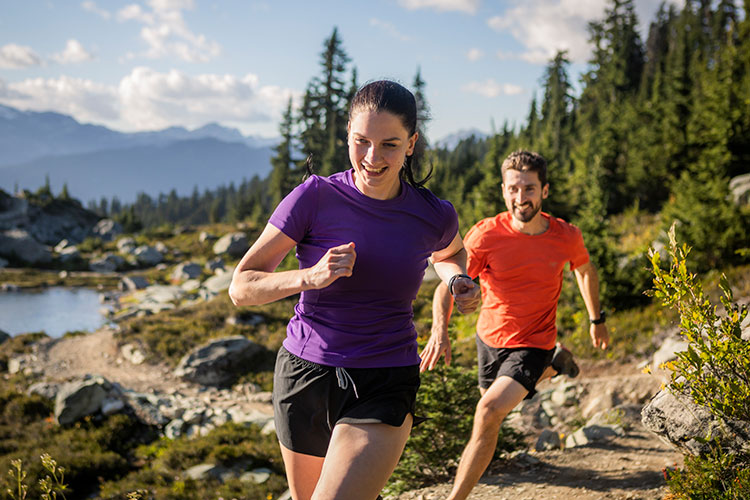 10. Earn Your Après
Pedal the Whistler Valley Trail in order to try some of our locally brewed beer right from the source. If you make it as far as Function Junction, the reward is a plethora of food and drink options, including Whistler Mountain Brewing, Coast Mountain Brewing, Montis Distillery, Camp Coffee and Functional Pie. You could always make it an e-bike! And make sure to drink and ride safely.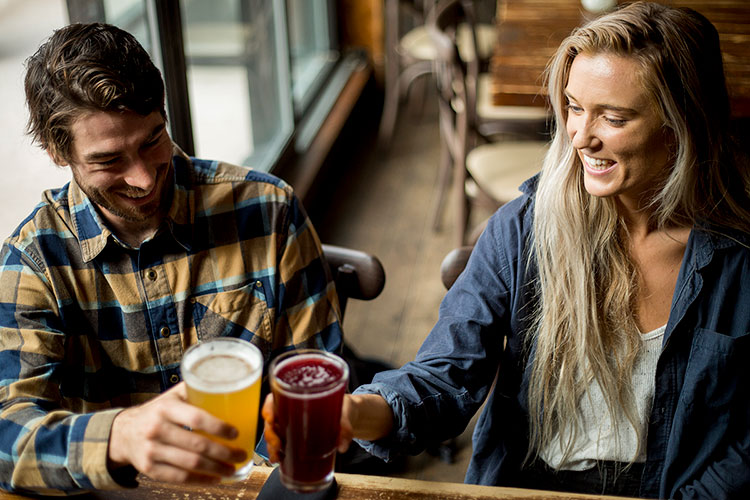 The summer sun won't be with us forever, so make your Whistler challenge list and see what you can tick off this season. Good luck, and whatever you do, have fun!
For the best rates on accommodation for the late spring and summer, plan a longer stay or consider staying midweek. Stay 3+ nights to receive a free $100 Activity Voucher and up to 25% off. It's easy to book your vacation when you have the freedom of Whistler.com's Flexible Cancellation options backed by their Book With Confidence program.