Updated May 6, 2022 to reflect the change of the Whistler Mountain Bike Park opening from May 13 to May 19. Editor's Note: Whistler Blackcomb's plans are subject to change due to weather and ongoing staff shortages. We will try to update this blog when changes occur, but please bear this in mind when making your travel plans and consider checking with Guest Services at Whistler Blackcomb.
From Whistler's unmatched alpine landscape, breathtaking glacier-fed lakes and lush forests of towering trees to the world's premier mountain bike park and the valley's endless network of trails, Whistler's rugged, West Coast beauty will inspire a whole summer's worth of adventure.
You can easily spend a whole day or more exploring Whistler Blackcomb, with its 50+ kilometres of hiking trails for all levels. There's also the Cloudraker Skybridge, Raven's Eye lookout and PEAK 2 PEAK Gondola to experience, and you could always add a mountain-based activity tour into the mix like ziplining, ATVing or climbing. To celebrate a day well spent in the mountains enjoy a picnic at altitude, indulge at one of their Summer Feast events, or at the Umbrella Bar with its incredible views (and great Caesars).
Here's what you need to know before you embark on your adventure to Whistler Blackcomb and Whistler Mountain Bike Park this summer.
What's Open at Whistler Blackcomb This Summer
The iconic Whistler Mountain Bike Park is set to open May 19, with hiking and sightseeing launching on May 21. The Cloudraker Skybridge and Raven's Eye lookout are back and not to be missed (more details below), and you can raise a glass above the clouds at the Umbrella Bar this summer too!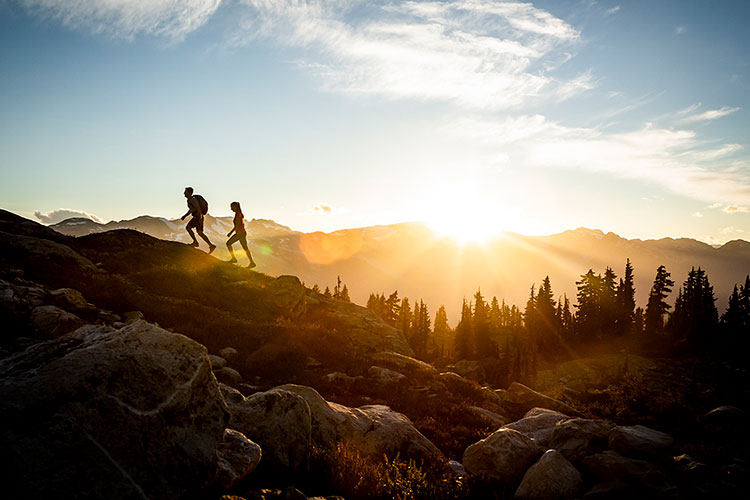 General Information for Whistler Blackcomb Adventures
You are not required to wear a mask.
There is no reservation system for sightseeing, hiking, or bike park.
You can purchase your PEAK 2 PEAK 360 Experience ticket on arrival in Whistler, either at Whistler Blackcomb Guest Services or the Whistler Visitor Centre (these tickets do not sell out).
It's best to purchase bike park tickets online, ahead of time.
It's cashless transactions only at Whistler Blackcomb.
If you have purchased, or put a deposit down for a winter season's pass for 2022 / 23 then summer sightseeing on Whistler Blackcomb is included.
 If you plan on visiting Whistler Blackcomb more than once this summer season, consider purchasing a Summer 360 Experience Pass through Whistler Blackcomb (early booking rates until June 12, 2022).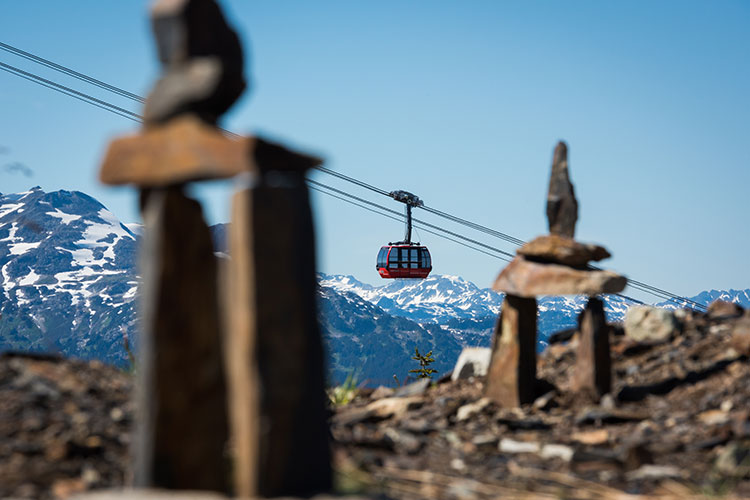 Sightseeing and Hiking on Whistler Blackcomb
The summer PEAK 2 PEAK 360 Experience includes access to the Whistler Village Gondola, PEAK 2 PEAK Gondola and the Blackcomb Gondola. All three gondolas operate until September 5, and then it switches to Blackcomb Gondola running daily and the PEAK 2 PEAK operation at the weekends only until October 10 (Whistler Gondola closes on September 5, 2022). The last day of sightseeing and hiking for summer 2022 on Whistler Blackcomb is October 10, 2022, but always check the hours of operation page for up-to-date information.
Many of the high alpine trails will have snow on them until mid-July so if there's a certain trail you're wanting to do make sure you check it's open.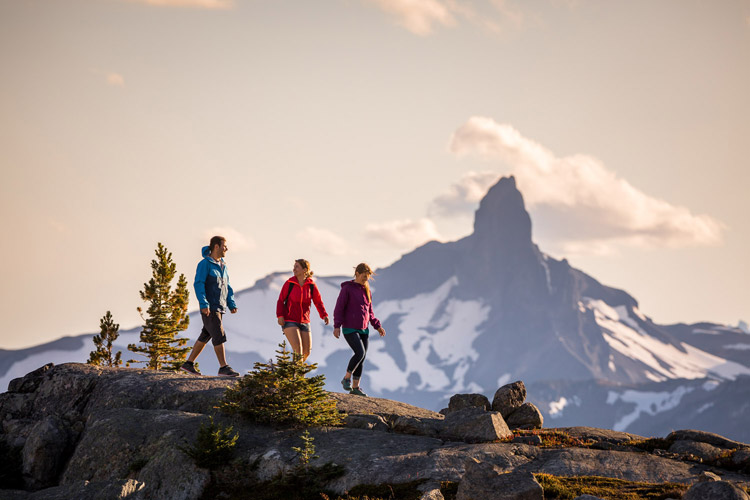 Cloudraker Skybridge and Raven's Eye Lookout Return
The Cloudraker Skybridge, a 130-metre alpine suspension bridge that gives you incredible views out over the Coast Mountains, is back after a two-year hiatus. At one end you'll find the Raven's Eye Lookout, a phenomenal viewing platform that gives you 360-degree mountain vistas. Make sure you check what's open before you book your tickets.
Read more in our Insider's Guide to the Whistler Peak Suspension Bridge.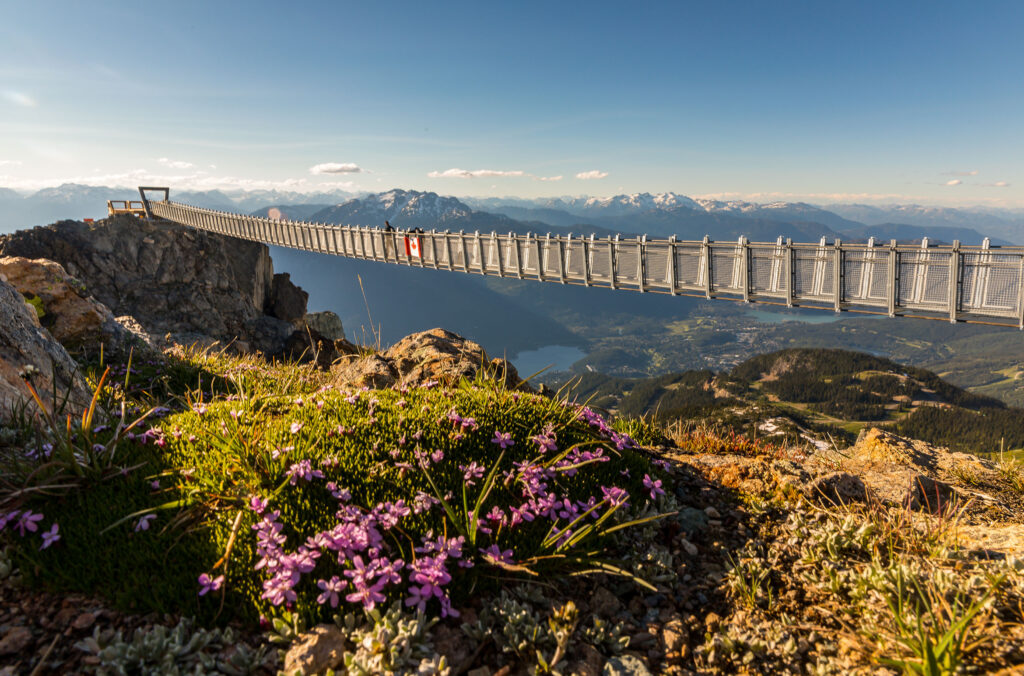 Look out for the new Cloudraker Interpretive Loop signage featuring Coast Salish art by Squamish Nation artist James Harry and stories from the Skwxwú7mesh Nation and Líl̓wat Nation, on whose unceded territory the mountains sit. There's also explanations of the mountain's man-made engineering feats and natural magic with detailed descriptions of the flora, fauna and alpine landscape viewpoints.
Dining on Whistler Blackcomb
The Roundhouse Lodge (Whistler Mountain) and Rendezvous Lodge (Blackcomb Mountain) are both open this summer and the Umbrella Bar (Whistler Mountain) open daily until September 12 when it switches to weekends-only until Oct 10. Christine's is open on Blackcomb Mountain this summer, but not Steeps on Whistler Mountain.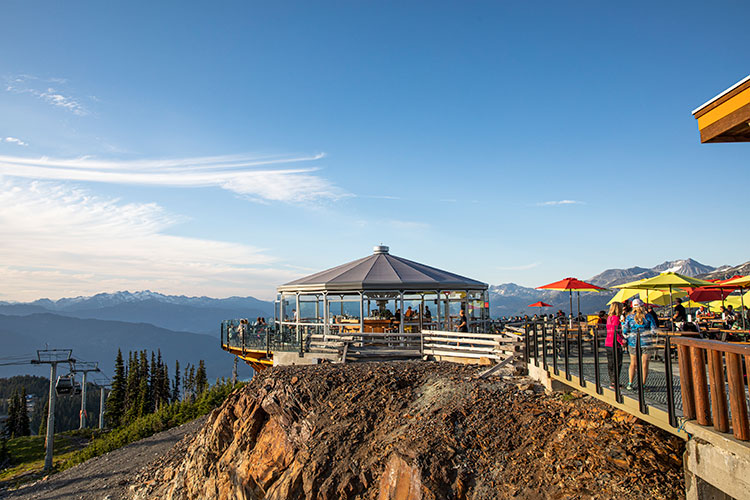 Whistler Mountain Bike Park
The Whistler Bike Park opens on May 19, 2022 (snow clearing dependent). Park Zones will come into play as the snow melts, so keep your eyes on the hours of operation page and check Whistler Blackcomb's trail page to see what's open before you come.
This year, there's increased capacity in the Bike Park with earlier uploads in the Garbanzo Zone (the Garbanzo Express is due to open June 11) and more cabins dedicated to bikes on the Whistler Village Gondola. Weekend extended hours will also come into effect as the season progresses, so again keep an eye on that hours of operation page.
Take a look at Whistler.com's Stay & Bike Park Package for a deal when you book accommodation and Whistler Bike park tickets together.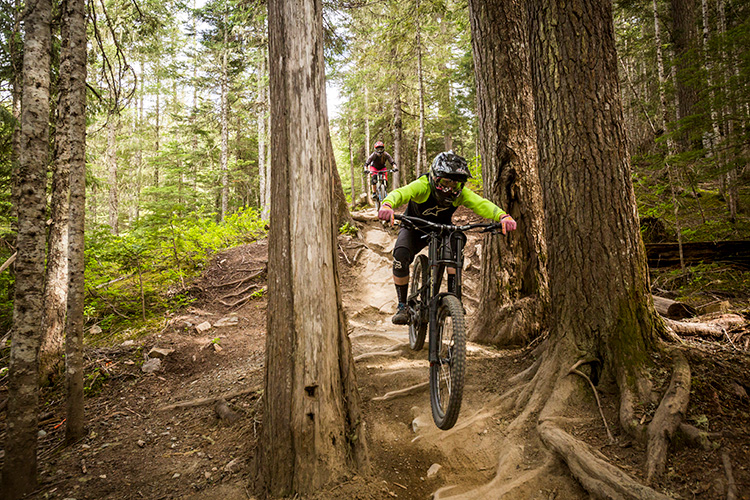 Top of the World
It's been two years since mountain bike enthusiasts could experience the Peak Zone's Top of the World bike trail (daily) to shred the 1500-metre descent to the valley below against the breathtaking backdrop of the snowcapped Coast Mountains, but now it's back! Keep your eye on Whistler Blackcomb's social media and trail page for updates.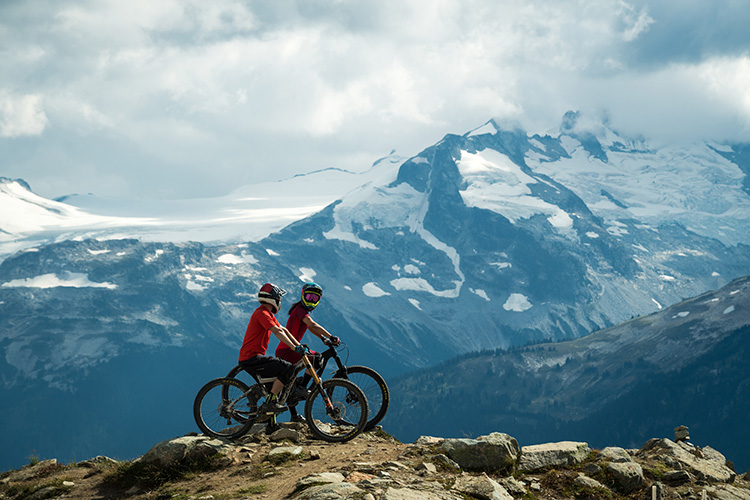 No Creekside Zone
The Creekside Zone will be closed this summer season due to upgrades to the Creekside Gondola and Big Red Express Chairlift, both set for completion before the 2022 / 23 winter season (exciting!). The project is part of the $320M Epic Lift Upgrade by Vail Resorts, which will allow for the growth of the Creek Zone trail network in years to come (read: more trails for bikers).
Level Up With Lessons
Both Men's and the GT Women's Nights are back on and Whistler Blackcomb is offering two new lesson types; Progress the Park and Elevate the Park, aimed at helping adult riders safely advance their skills on both flow and tech trail riding. These are in addition to their Daily Adult Clinics (some experience needed), Intro to Park (no experience needed) and Privates (no experience needed).
For the kids, DFX is back with their club and daily group lessons, along with the three-day, Summer Gravity Camps for the tweens, teens and adults. And, the Phat Wednesday presented by Kokanee race series is also back! Find out more about Whistler Blackcomb lessons on their website.
New to the Whistler Bike Park?
Any beginners planning to visit the Whistler Bike Park for the first time are strongly encouraged to take a lesson and take it from us, you're going to want the proper equipment. Check out Whistler Blackcomb Bike Park 101: A First-Timer's Guide for a full rundown on what you need and what to expect.
Whistler Blackcomb has put up progression signage in the park this summer to allow riders to safely figure out which trail to try next as they improve their skills. The team at the Orientation Centre (located at the top of the Fitzsimmons chairlift) can also help riders navigate the area and get riding tips.
Crankworx Mountain Bike Festival
The Crankworx Mountain Bike Festival makes a return this summer and you can catch the gravity-fueled, two-wheel action from August 5 to 14. Whistler Blackcomb has confirmed that the Enduro World Series and legendary Red Bull Joyride will be back and we can't wait!
6 Not-to-Miss Summer Experiences on Whistler Blackcomb
The mountains are always a hot stop for a cool summer escape and with all of the signature experiences back, there's no better time to get into the alpine.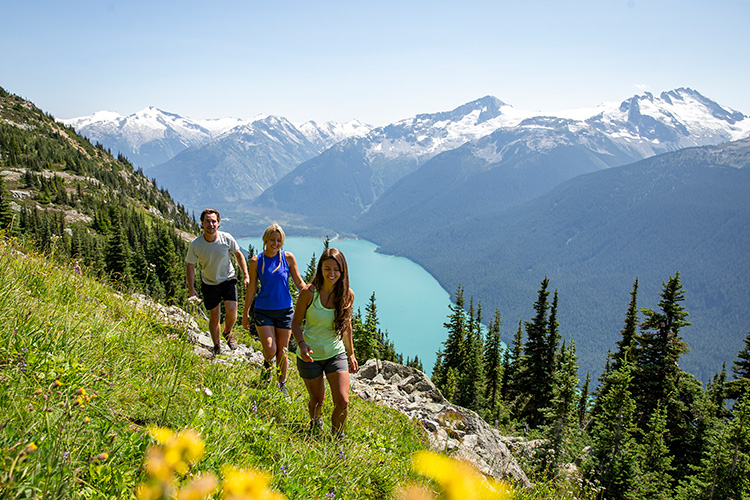 1. Snow Walls
Mid-June is when you can typically experience the snow walls on the way to Peak Chair on Whistler Mountain. They obviously melt, so time is of the essence if you want to feel the coolness of this frozen pathway carved into the snow.
2. Picnics with Altitude
Pack a picnic (have fun visiting Whistler's take-out dining options, bakeries and grocery stores) and find a secluded and cool spot to dine in the alpine. Read some of our suggested spots in Picnics With Altitude.
3. Alpine Wildflowers
From the end of July until mid-August is when to experience the full bloom of Whistler's alpine wildflowers. Take a read of Alpine Wildflower Season in Whistler for more info on what you'll see and where to go.
4. Ascent Trail Challenge
Hike the Ascent Trail, which goes from the base of Blackcomb Mountain all the way to the top in the shade of the old-growth forest. The full trail is a 6.2-kilometre journey with 1,200 metres of elevation gain, but there are options to break it into two smaller sections. Read about the options in Insider Guide: Summer Hiking in Whistler.
5. Summer Feast Mountain BBQ's
Celebrating the day at The Summer Feast, a BBQ / buffet style dinner event that takes over the Roundhouse Lodge in the evenings on Fridays, Saturdays and Sundays (these might switch locations to Blackcomb Mountain for dates after September 5, 2022). For dates, times and tickets visit Whistler.com.
6. Tours on the Mountains
Play in the mountains by taking a guided hike, bear viewing, riding an ATV or climbing on a Via Ferrata tour.
This summer will be one that sees Whistler adjusting to the after-effects of COVID-19 and the global staff shortage. Make sure you know what to expect before you arrive and pack your patience!
Book your winter holiday with Whistler.com by November 15 to secure the best rates for the winter 2022/23 season (save up to 40% on lodging and 60% on lift tickets). It's easy to book your vacation when you have the freedom of our Flexible Cancellation options backed by our Book With Confidence program.