Every spring, Whistler Blackcomb opens for sightseeing after taking a short pause to service the gondolas and lifts that have been running hard all winter. As you plan for your sightseeing trip be sure to check the hours of operation page to make sure you know what's happening on Whistler Blackcomb before you book.
For the 2022 sightseeing season (May 21 to September 5), the PEAK 2 PEAK Gondola and Whistler Village Gondola are both open (Blackcomb Gondola has a small closure window from May 23 to June 17).
While the valley is mostly melted, the high peaks up top are still blanketed in snow. Early season sightseeing means the alpine hiking trails are still covered, but Whistler Blackcomb clears the access road to the Peak Chair (typically in early to mid-June), leaving canyons of snow for you to explore on your walk to the Peak.
This unique sightseeing experience won't last long, so check out these tips and get up to Whistler to see the snow walls for yourself before they're gone.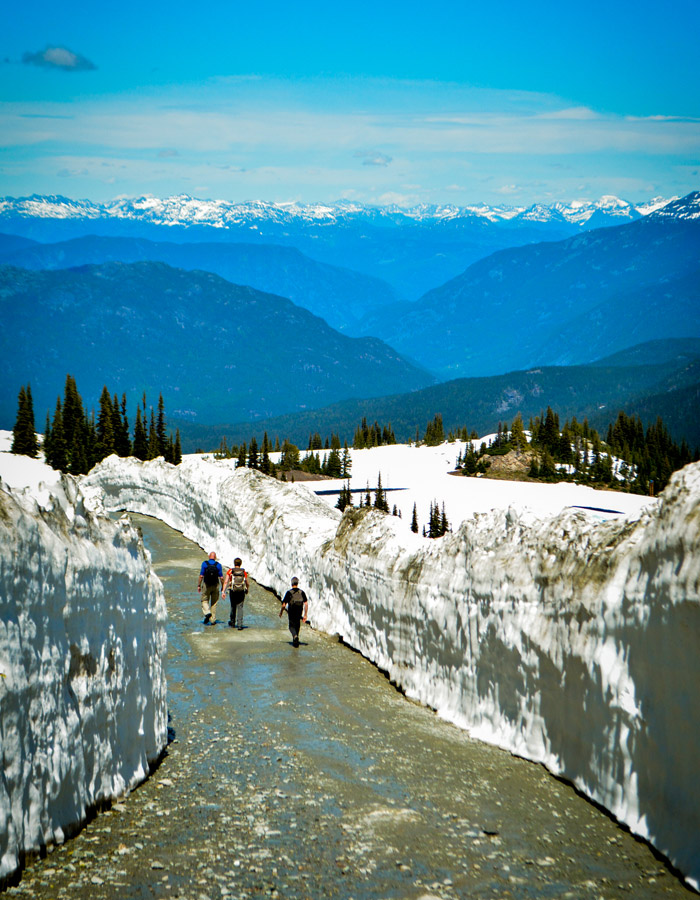 When to Go
The best advice I can give you when dealing with snow and hot weather is the sooner the better. The exact date varies by year and they're usually announced on Whistler Blackcomb's social channels as well as Whistler.com's PEAK 2 PEAK page. The walls will get smaller every day with the late spring and summer heat, so if this experience is on your bucket list get up there as soon as it opens!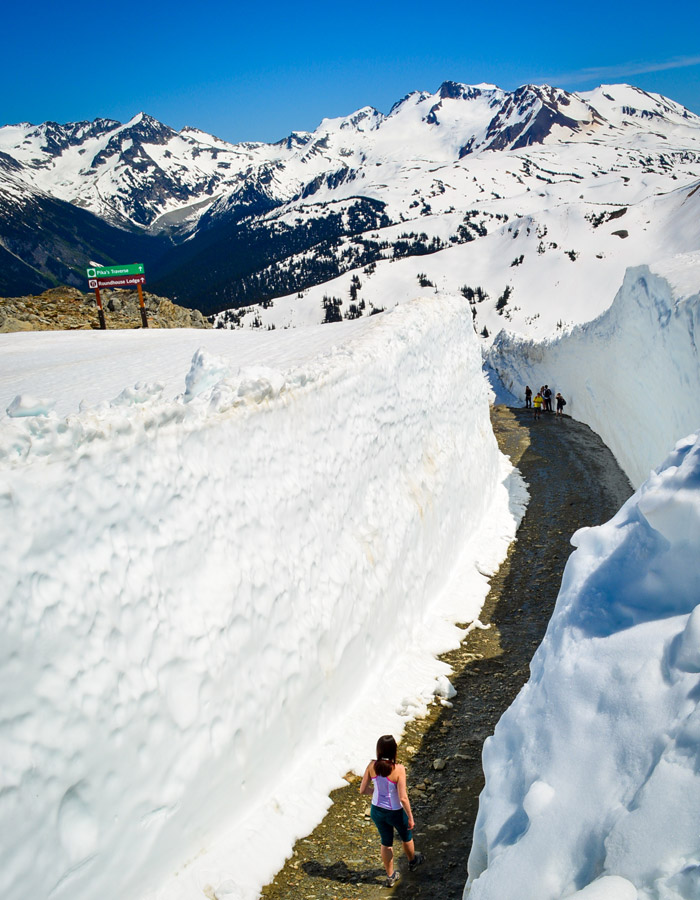 How to Get There
Access to the snow walls is included in the PEAK 2 PEAK 360 Experience. You can buy tickets for just the day, the full season (opt for this if you're planning on doing more than one day as it's cheaper), or use an Epic Pass for access (it must be a 2022/23 pass).
How to Plan Your Hike
The snow walls are on Whistler Mountain, so head up via the Whistler Village Gondola. The ride up the gondola to the Roundhouse Lodge takes about 25 minutes, and there's plenty to see – keep an eye out for bears and deer, as well as stunning mountain views on the way up. When you get off at the top, stop by the Roundhouse Lodge to use the washroom and to stock up on water and food.
On Foot
From the Roundhouse Lodge walk uphill towards the top of the Emerald 6 Express. The trail you are looking for is Pika's Traverse Road to Matthew's Traverse Road, which is a distance of 3.8 kilometres (one way). To help you navigate, there are printed maps available on the mountain, or you can see a digital version here with distances and suggested times.
Via Peak Chair
The snow walls extend all the way to the top of Peak Chair but be warned, Peak Express Chair lift access does not start until mid-June which, depending on the year, could be after the snow walls are gone. For the 2022 sightseeing season, the Peak Express Chairlift is due to open on June 18, but please check the hours of operations page in case of any changes.
If the snow walls are still around when the Peak Chair opens be aware that there is a short, 0.6 kilometre hike down to the chairlift, which takes about 10 to 20 minutes. If you choose to download via the Peak Chair remember that you will have to hike back up that same path, which has an elevation gain of 63 metres.
If you're travelling with kids, note that the height requirement to ride the Peak Chair is 40 inches (3.3 feet / one metre) and that you can't ride the chair with a child in any form of carrier. Depending on the fitness levels and age of people in your group, this may be challenging after a day of adventuring. Make sure to take water and snacks, leave plenty of time and energy to walk back, and take lots of breaks on your way out.
What to Wear
Wearing the right clothes is key to having a great day exploring the snow walls. The weather at the top of the mountain is typically a few degrees cooler than the valley, and wind through the snow walls acts like a natural air conditioner.
When planning your hike make sure to pack layers for cooler weather, including a warm midlayer, and a windproof outer layer. You can always put them into your pack if you get too warm on the hike up, and you'll be grateful to have them on the cooler hike down.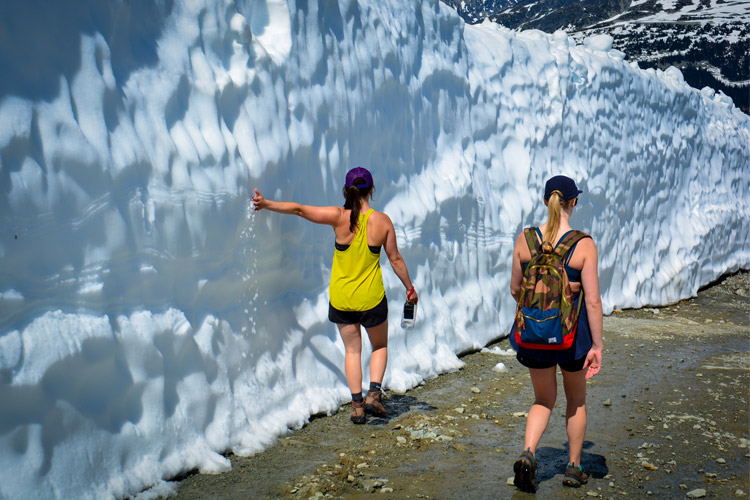 Another key to being a happy hiker is good footwear. At a bare minimum, you should wear a pair of running shoes. They don't need to be fancy, but they should have decent grip, and be sturdy enough that you can't feel rocks through the soles when you walk. I've seen people wear all kinds of footwear worn on this hike including sandals and heels, and those wearers looked miserable. Don't be that person. Ideally, wear good, supportive hiking boots.
Where to Take the Best Photo
The snow walls are interesting from start to finish, with photo opportunities all along the way, but there are some points that are particularly photogenic. You can find the tallest walls between the Harmony Inukshuk and the top of Harmony Chair. Not only are the snow walls tallest there, but there is also a line of sight that looks down the snow walls and through to Blackcomb Mountain. Don't forget to tag your pics with #OnlyInWhistler to share your shots with fellow adventurers.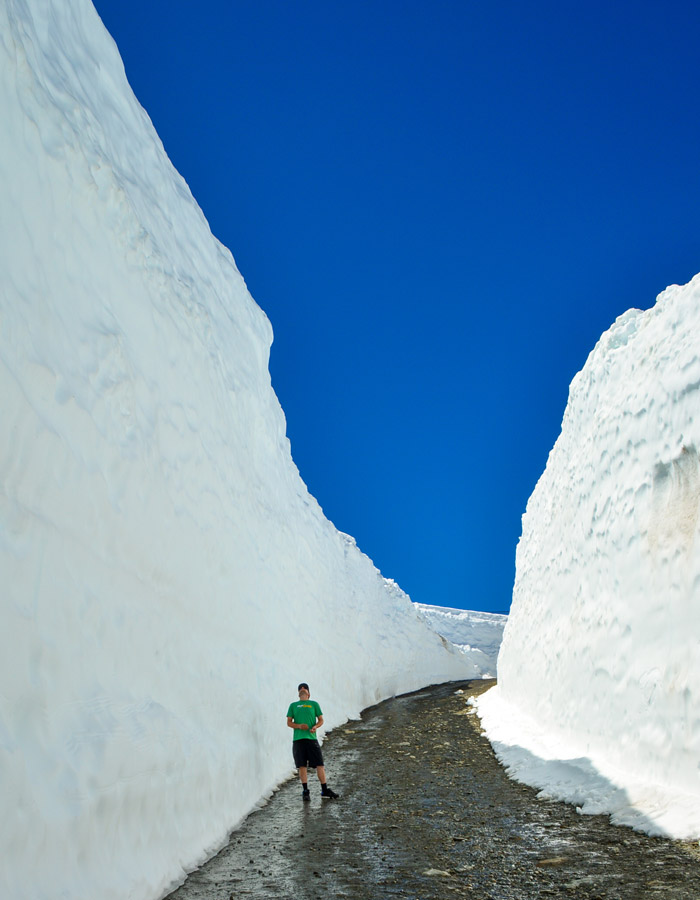 For more information on all things outdoors from hiking to paddling to golf, visit Whistler.com.
If this post has you dreaming of Whistler, enter our Go Big This Winter Contest for a chance to win a trip.
Stay longer and save more with up to 30% on Whistler winter lodging with Whistler.com. For every third night you book between March 1 - April 30, 2023 receive a free $75 CAD Whistler Après Voucher. Enter promo code SPRING2023 when booking online or call 1.800.944.7853 and mention the offer to one of our Travel Consultants.
It's easy to book your vacation when you have the freedom of our Flexible Cancellation options backed by our Book With Confidence program.