Updated September 2023
We come to the mountains to marvel at the pristine vistas, revel in the ancient forests and refresh in glistening glacial lakes. This land is precious and we can all play a part in protecting it.
Be a steward for the land you love and follow these tips for some simple ways to make your stay in Whistler more environmentally friendly.
1. Bring a Bottle and a Bag
Whistler water is alpine fresh and safe to drink right out of the tap (always let the water run a bit before you fill your glass/bottle). Tap water throughout the resort is continuously tested and monitored, so there's no need to buy bottled, especially when we also have multiple refill stations in Whistler Village and at the parks. If you forget your reusable bottle, they're always a lovely memento to buy while in town.
Bring a reusable bag with you or opt to buy a Whistler tote for a little reminder of your mountain stay the next time you're at the shops.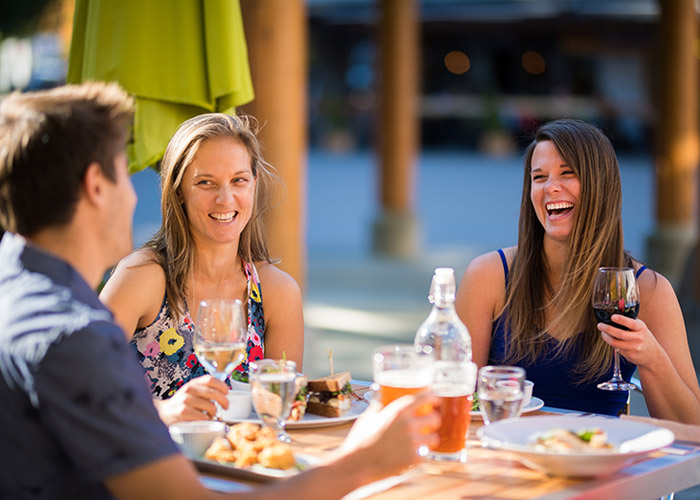 Your ice-cold pop or craft cocktail might not come with a plastic straw as Whistler's restaurants and bars try to transition away from these too. They might have a paper-based alternative you can ask for, or you can purchase reusable straws in some of the shops in Whistler Village (try Whistler Kitchen Works in Marketplace or Get the Goods in Creekside).
We've had an increase in popped floaties and blow-up boats building up in our waterways (rivers = rocks and branches). If you're bringing your favourite floaties to use on Whistler's lakes and rivers, please make sure you take them home with you. Better yet, opt for a more solid water toy like a canoe, kayak, or paddleboard that you can rent right at the lake. Not only does this mean less plastic and reduced chances of invasive species spreading (see Tread Lightly below), but it also supports local businesses (plus, you don't have to lug it to the lake).
2. Recycle and Reuse
Whistler has bear-proof bins located throughout the Village, along the Whistler Valley Trail and at its parks and lakes. Please take a good look at the bins before you dispose of your waste, as there are options for mixed recycling, compost and general waste. If you're visiting over a busy weekend there might be a chance that the bins become full. In that case, please take your waste with you for recycling at your hotel or accommodation (don't leave it next to the bin).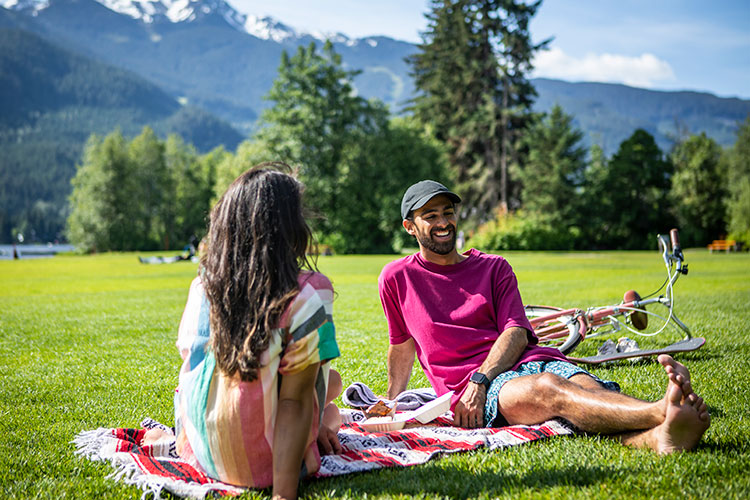 If you're eating al fresco, consider packing reusable cutlery, only take what you need in terms of napkins and packaged sauces / seasonings, and make sure you look at the packaging as you dispose of it as many Whistler restaurants have invested in compostable options.
If you're looking for clothing while you're here, you could consider picking up some pre-owned items. Whistler has a selection of vintage stores, Vula Vintage & Modern Market and The Oracle in Whistler Village, and The Velvet Underground and Deja Vogue Boutique & Consignment Store in Function Junction. And if you have a few things you don't need or want to take home, then the Whistler Re-Use-It Centre, which is run by the Whistler Community Services Society, is the place to drop them (please check what they accept).
3. Be Part of the Active Transport Movement
Park and play! You don't need a car to get around Whistler, as there are plenty of fantastic environmentally friendly options instead. We have a 46-kilometre Whistler Valley Trail system that's car-free and weaves around lakes, parks and neighbourhoods. We suggest bringing your bike, or renting a bike when you're here as it's the easiest way to get around. Whistler even has complimentary bike valet services at some of the most popular locations in the summer, so you can drop your bike and explore on foot (more details on the Resort Municipality of Whistler website).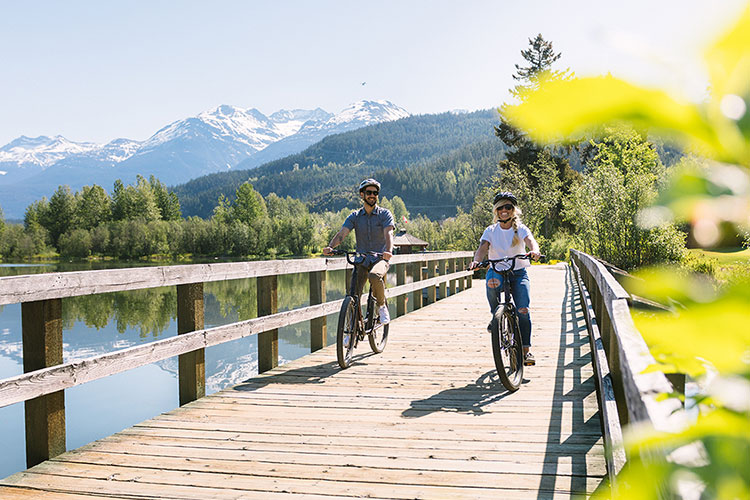 Whistler also has a robust transit system and a free summer shuttle program to some of Whistler's most popular parks. Pay parking is being introduced at Whistler's most popular parks and lakes this summer, with the money collected going into the summer shuttle program; so there's another reason to opt for biking, walking or skateboarding instead!
4. Tread Lightly
In Whistler, we pack out what we pack in. This means not leaving anything on the trails, at parks or lakes. If you can't find a bin, or they're full, take any waste with you until you can dispose of it properly. Speaking of trails, please stay on them. Some of our alpine plants take decades to grow just a few inches; they're sensitive – don't step on them. This short video by Whistler's environmental society, AWARE, gives you some great pointers:
Invasive species like to travel, so before you hike, bike or paddle in Whistler with your own gear, make sure it's clean. Wildfires are a very real threat to Whistler in the summer when the weather is hot and dry. Whistler's fire rating is updated daily by BC's Wildfire Service, but it's typically high or extreme in the summer months which means fires of any kind are banned – always check it before you light one. If you smoke, always dispose of your cigarette in the proper manner and never throw one out of a car window or drop one on the trail.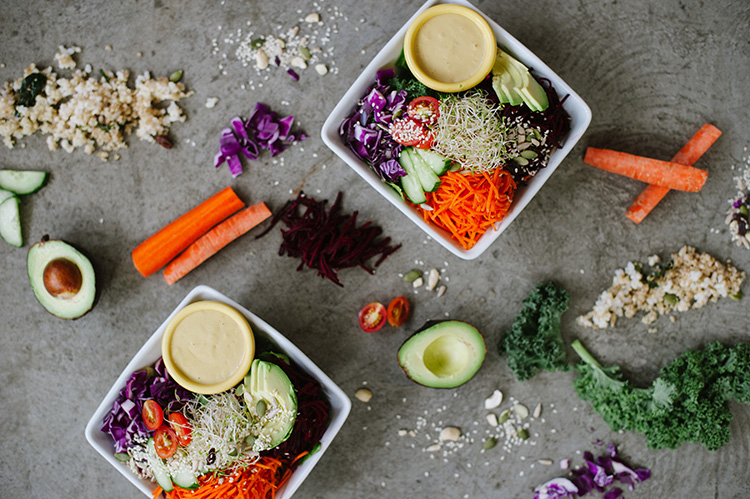 Did you know that another way to reduce your footprint is through your belly? Take a look at some of Whistler's vegan and vegetarian options, and consider weaving them into your dinner choices; Insider's Guide: Vegan and Vegetarian Eats in Whistler.
5. Be Bear Aware
Bears are one of Canada's most iconic animals and seeing one in the wild is incredible. Let's keep them wild and free by not approaching them, feeding them or leaving food in accessible places (like in a car or by an overflowing garbage bin). Unfortunately, a fed bear is a dead bear. We're not being overly dramatic; once it becomes a habit for a bear to forage for human food it increases the chance of human / bear conflict, which doesn't end well for our furry friends.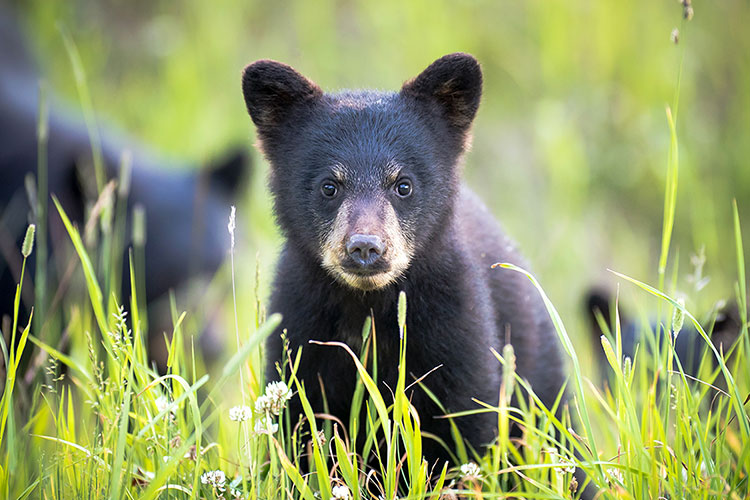 One way to get a deeper connection with these amazing animals is to take a bear-viewing tour. Not only are they a safe way to see Whistler's bears, but the experts that guide them know where to go and can answer all your bear-related questions.
For more tips on how to be environmentally friendly during your stay, visit Whistler.com.
Book your winter trip now to secure up to 25% off lodging, 65% off lift tickets and 45% off rentals. Come experience Whistler Blackcomb's extensive terrain and adventure at every turn to see why we're known as one of the best resorts on the planet. Secure your winter getaway with Whistler.com for Flexible Cancellation and our Price Match Guarantee. Want to win a winter trip for two to Whistler? Check out our Drop In to Winter contest.