Why Whistler? A question that Whistler locals get asked all the time. And, although there are a variety of responses to this question, you can be sure they'll answer with passion, pride and a fun story.
What is it about these mountains that seem to empower people? How are they a cultural conduit that can bring about social change? What gets under people's skin and embeds itself so deep that Whistler becomes part of their soul?
We ask a variety of Whistler locals Why Whistler? In Video 5, we chat with Siginaak (Blackbird in the Anishinaabemowin language), Court Larabee, Indigenous Relations Specialist at Vail Resorts and Executive Director of Indigenous Life Sport Academy. We talk about building cultural bridges, mountains and mental health, and why it's important that we all fall once in a while.
How Did You End up in Whistler?
I'm originally from Thunder Bay, Ontario and I've been in Whistler for 16 years. I came for the love of snowboarding, but also because of the mountains; to be humbled by something greater than yourself is a beautiful experience.
As soon as I arrived I fell in love with this place, with the community, it was the first place where I thrived rather than just survived. I also found a purpose here, which is to bond communities and create recreational opportunities for youth that our ancestors never had the chance to experience.
What's the Indigenous Life Sport Academy?
For the first 16 years, we were the First Nations Snowboard Team, but we recently rebranded to the Indigenous Life Sport Academy. We focus on unstructured sports and training, and we create mentorship programs for youth in the Sea to Sky Corridor.
It's important because we're creating opportunities and breaking down access barriers to sports in the mountains, like snowboarding. We also offer skateboarding, which we run in West Vancouver all the way up to Mount Currie, for Indigenous youth and children in the foster care system. Skateboarding is nearly a year-round operation for us, we give kids free skateboards and run clinics; it's a very fast-growing program.
As a non-profit, we raise money through community sponsors and private donors, and we're working our way towards charitable status, which we hope will enable us to secure more funding for the future.
My grandmother has always told me it's important for kids to play, she didn't get a chance to, but kids today can and should. I didn't have someone doing this for me when I grew up either, but I can be that person for others.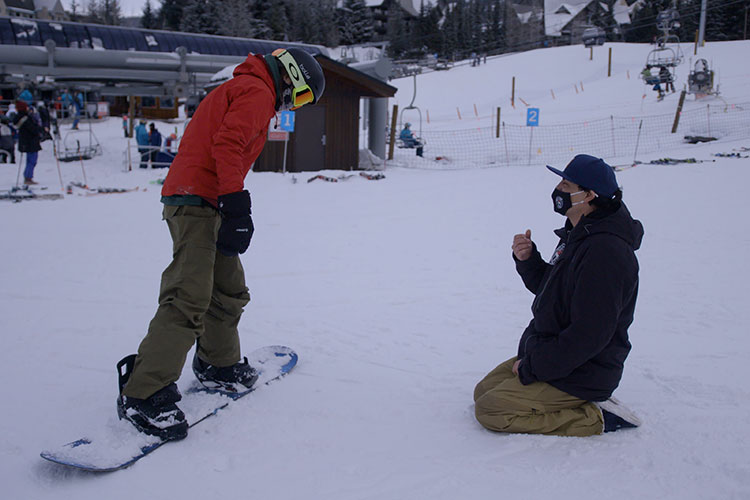 What Do You Do as the Indigenous Relations Specialist at Vail Resorts?
I'm a bridge between the mountain (Whistler Blackcomb / Vail Resorts) and the Nations. I run cultural competency training sessions in group, and one on one settings for the team. Alongside the ambassadors at the Squamish Lil'wat Cultural Centre, I lead guided tours to give historical context to our employees to help them better connect with Whistler's Indigenous people.
As Whistler Blackcomb is on the unceded territory of the Squamish and Lil'wat Nations, I lead land negotiations and conversations where we need to consult with the Nations. I also develop recreational opportunities for Indigenous youth, adults and elders in hopes of reconnecting them with the mountain.
Before the pandemic hit last year, we brought elders on a tour of Whistler Blackcomb. They did storytelling at the Roundhouse and travelled across the PEAK 2 PEAK, which many of them had never done. We learned that a major issue for them to come to Whistler Blackcomb more often is transportation, so I've been in talks with the local government about solutions to remedy that.
Part of my focus is to connect visitors with our Indigenous culture while they're on the mountain. We have developed employment and training opportunities for Indigenous people who wish to be part of the team; having them represented on the mountain is very important. In a visual sense, we've worked with local artists on Indigenous designs that can be seen wrapped around some of the PEAK 2 PEAK gondolas, and in terms of auditory connections, I've been teaching our team how to say thank you and welcome in our local First Nations languages. We're working on additional signage and stories which will be added to the Cloudraker Skybridge and Raven's Eye, and along some of our hiking trails. The work is ongoing.
Where Can People Go to Find Out More About Indigenous Culture in Whistler?
If I could tell people the one place they should visit on a trip to Whistler, it would be the Squamish Lil'wat Cultural Centre. That should be your number one place to meet the people, taste the food, hear the music – it's a beautiful place full of beautiful people.
I helped to build the Spo7ez Trail, which connects to the Stélmexw i7imesh (Salish Stroll), a few years ago. It features interpretive panels and examples of fauna and flora that have been utilized by the Squamish Nation and Lil'wat Nation. I shared this knowledge with the Indigenous Youth Ambassadors and taught them how to groom the trail in a way that it can keep its natural beauty. This small area holds many stories for our ambassadors to tell about the gifts of the forest and how Indigenous people use them for food, medicinal purposes, clothing, building materials and utensils. It's a special place.
INSIDER TIP: The Spo7ez Trail and Salish Stroll are full of plants from April to August each year and the SLCC typically runs Forest Walk tours with their ambassadors, although the details for this season are still to be determined and will be dependent on public health orders connected with COVID-19.
You Do a Lot of Things, How Do You Manage Burnout?
I manage stress by implementing self-care into my daily routine. I have to put myself first because if I don't love myself, I can't love the community at my fullest. I believe everyone should do this, and after a while, self-care should just be life.
One of the best self-care rituals that I do is hydrotherapy at the Scandinave Spa. The whole process rejuvenates my entire body and preps me for the busy workload – it just washes it all away.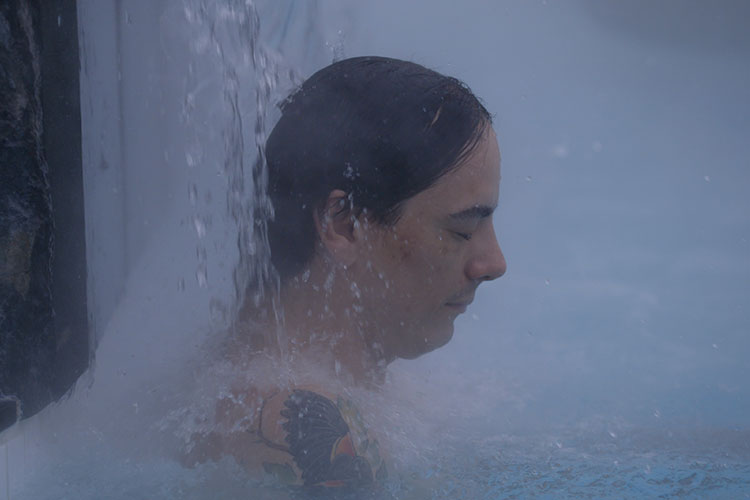 What Do the Mountains Do for Your Mental Health?
It's that humbling feeling; it's being by something of such grandeur, beauty and strength. In the past, the Indigenous people would send their youth to the mountain to gain strength so that when they came back they'd grow into strong adults. The mountains have always been part of our self-care and self-development.
What's It Like Working on Reconnection With Youth?
It's so beautiful bringing the youth back to their land. This is a reconnection point.
It's an amazing feeling when the youth get to experience something they maybe thought was unattainable for them. When you see them complete their first day on the snow, whether it's skiing or boarding, you see the biggest smiles on their faces. They're radiant. It's self-confidence; it's a positive energy that they take to school the next day, and when they come back to practice the following week they're excited to do more.
What Do You Love About Whistler?
I love the community through and through. I love the people who find themselves here. I love the spirit that seems to sing through the mountains and the valleys. I am so blessed to call Whistler home. No matter where you are in Whistler, there's outstanding nature that can wash away your worries. You can be in something greater than yourself within two steps.
We've all come here under different, but similar, pretenses. We all come here for adventure, we all have a certain spice for life. I like to surround myself with these like-minded people and I'm thriving within this community.
I'm proud to call Whistler home because out of all the places I've travelled to across Canada, it's the first place where someone has asked me about my culture in a positive way.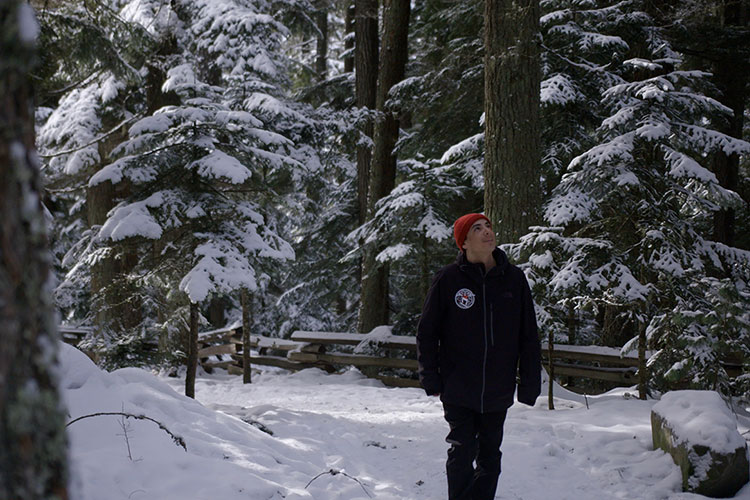 Has Living in Whistler Changed or Influenced You?
Absolutely. Living in Whistler has revolutionized my entire life. I went from a state of mind that was just survival to a state of mind that was thriving. From running a non-profit to being an entrepreneur to helping the mountain (Whistler Blackcomb) work closer with the local Nations, and just having fun myself. It's given me opportunities, purpose and love – my cup is overflowing with joy and support from this community.
What Do You Mean By Thriving and Not Just Surviving?
I grew up in a place that's been called the hate crime capital of Canada. Living in fear and judgment was normal, everyday life. Walking around a mall you'd be followed instantly, going to an interview you'd be judged immediately, and that is no place for anyone to grow and have a healthy attitude towards life, and that's why I love Whistler – it's the opposite.
What Do You Do For Fun in Whistler?
I love to get on my snowboard. I'm learning about how to go into the backcountry safely.
I also love just floating on the lakes and relaxing. There's so much to take in and experience in Whistler, from the lake culture to snowboarding to skiing to biking – I try to dabble in all of it.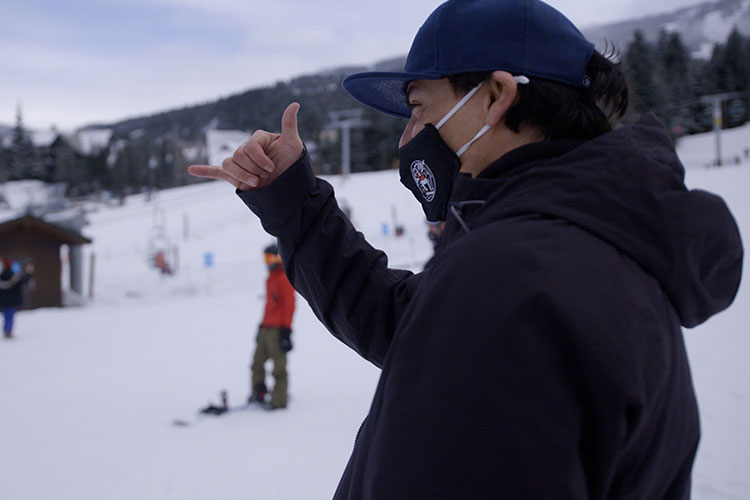 What Are Some of the Challenges of Living in Whistler?
Most of us are away from our families. We're a young town, a young community and everyone is writing their own stories here. For most of us, our families are back home. My culture is back home, it's separate from the culture here, although, in many ways our Indigenous cultures overlap, I still find it a challenge to be away from my own people.
What's Whistler's Heart and Soul?
The land that it sits upon. It's what attracted the initial Indigenous people, people who have lived here for millennia, and then later on, when settlers came, they fell in love with the same vibe that we've found.
What Does the Future Hold for You?
The future for myself is bright, but the future for our non-profit, the Indigenous Life Sport Academy, is even brighter. Not only do I see us serving the Sea to Sky Corridor, but also growing and expanding our divisions, offering more activities, keeping the youth active throughout the year and expanding our borders to help more youth, help more communities and enact positive social change.
One of the mottos on our team, which the kids and coaches abide by, is that if you're not falling, you're not learning. That's something we're trying to instill into all of our youth, all of our instructors, to all of our leaders; because it's so imperative to just get out and try and experience, and to be humbled by that experience and get up and start again. These life lessons are not only transferable to sports and the outdoors but to career challenges – it's okay to fall because you're going to make it.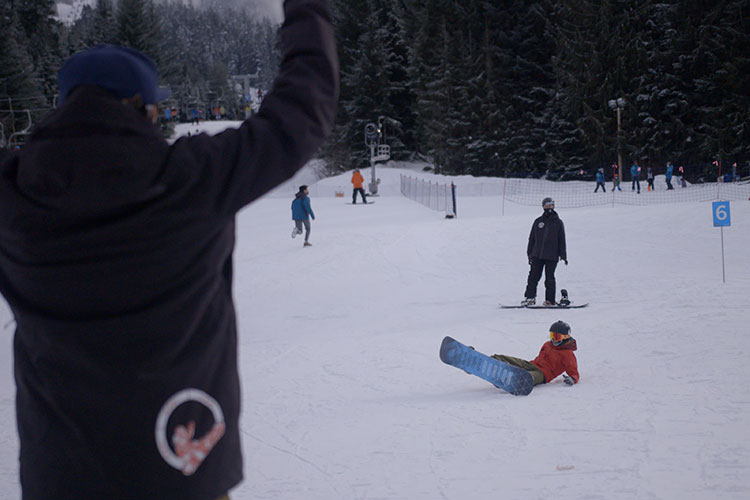 Locals, like Court, are the beating heart of Whistler, which is made up of passionate entrepreneurs, tireless workers and small business owners, who all love to revel in the mountains. This is #WhistlerNice.
You can hear more from Court in this week's The Whistler Podcast hosted by Mayor Jack Crompton. If you're a snowboard fan then you will also hear him at the start of the Natural Selection Tour highlights coverage on March 19, when he represents Indigenous youth from across the country with a land acknowledgment at the highest echelon of competitive snowboarding. For more information on the Indigenous Life Sport Academy visit their website at LifeSportCanada.org and on social look for #ilsacrew.
Follow GoWhistler on social media to get the next installment of Why Whistler?. To meet more Whistler locals, take a look at the rest of the video series, we're adding more as we go!
If this video has you dreaming of a trip to Whistler, enter the Winterscape Contest for a chance to win an incredible Whistler travel package (for the future). It's essential travel only at the moment, but if you're local and heading up the ski hill, please take a look at Ski Well, Be Well for best practices for low risk recreation.
Ross Reid is our talented videographer on this project. To see more of his work visit his website.