One aspect of our lives that hasn't changed much in 2020 is how thirsty we are. We can't travel as far or get together in large groups, but enjoying a glass of BC-brewed craft beer is one luxury we can still afford. With three breweries and dozens of pubs serving delicious craft liquid, Whistler is a must-stop for any craft beer enthusiast exploring BC's Ale Trail.
Whistler's also celebrating Craft Beer Month this October, so there are lots of sud-filled events to check out all month long including exclusive tasting flights and tap takeovers, Oktoberfest-inspired food and beer pairings, even zipling and bear viewing has been given a sudsy twist for the month. 
As we transition to the fall season, so does the beer. Light, crisp and fruity beers make way for darker porters and hoppy ales. The kind of beers made for drinking in jeans, not shorts. Whistler's brewmasters like to plan accordingly for the seasonal change, so the Insider took a look at what they have in the tanks for the Fall 2020 season, as well as what they're doing to celebrate Whistler Craft Beer Month. 
High Mountain Brewing Co. (Brewhouse)
Brewmaster Derrick Franche is honest about what beer he likes to brew, and more often than not that means he's not following industry trends. The Brewhouse only sells its beer on-site, which allows Franche to brew smaller batches and experiment with his seasonal offerings. This fall that comes in the form of his Tart Farmhouse Ale, a blend of his saison and barrel-aged sour.
"It was quite sour to start with, but after blending it with the saison it's more subtle," says Franche. "It goes down more like regular drinking beer, kind of a dry finish with a hint of tartness. It's also a blonde colour, which makes it approachable visually."
Franche has a few more hops in storage than he normally would after the Brewhouse shut for a couple of months earlier in 2020, but he's already found a good use for them.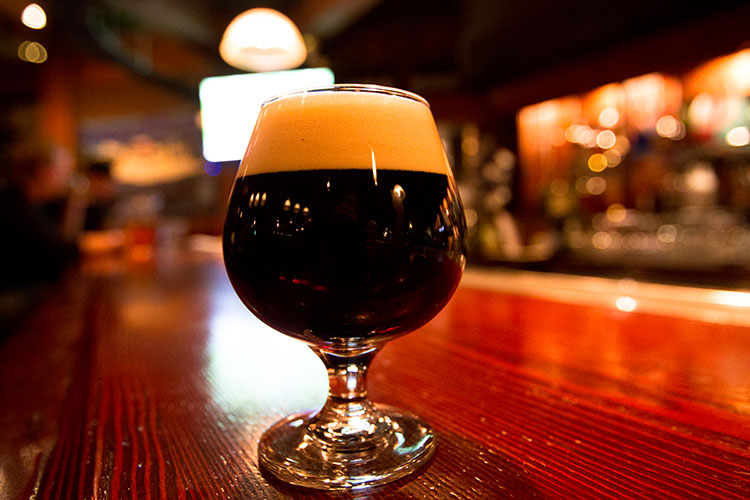 "I'm also going to make something like a Cascadian dark ale as well," says Franche. "Normally I'm short on hops in the fall, while we wait for the hop harvest to come in, so I'd brew malt-forward beers. But, with this hops surplus I want to make something I don't usually make. Cascadian dark ale combines malt-forward beers with a hoppy character."
For Whistler Craft Beer Month, High Mountain Brewing Company is offering a Flight and Fare experience. Enjoy three limited edition, unreleased 4-ounce beers with three signature snacks paired to compliment each brew.
Read more about Derek in Whistler's Masters of Craft Beer: Derek Franche of The Brewhouse.
Coast Mountain Brewing
The youngest of Whistler's breweries, Coast Mountain Brewing stormed out of the gate in 2016 much to the celebration of local craft beer fans. The crowd favourite, Day Dream IPA, can be found in bars and liquor stores throughout the Sea to Sky Corridor alongside other hits such as the Crystal Chair Pilsner and Magic Carpet IPA.
Never one to rest on his laurels, owner and head brewer Kevin Winter decided to invest in 60 wooden barrels for aging his beers, and a few of those are coming out this fall.
"Most of those barrel beers are lengthy projects that will come of age in another year or so," says Winter. "But we have a few that are ready to go now, or will be very soon. Our team is really passionate about these beers and we're firing on all cylinders as we transition to the fall."
One of those barrel projects is the Wild Sour Cherry, which was aged on sour cherries for about a year and was packaged in May 2020. It's been conditioning in bottles since then and should be on sale by early September.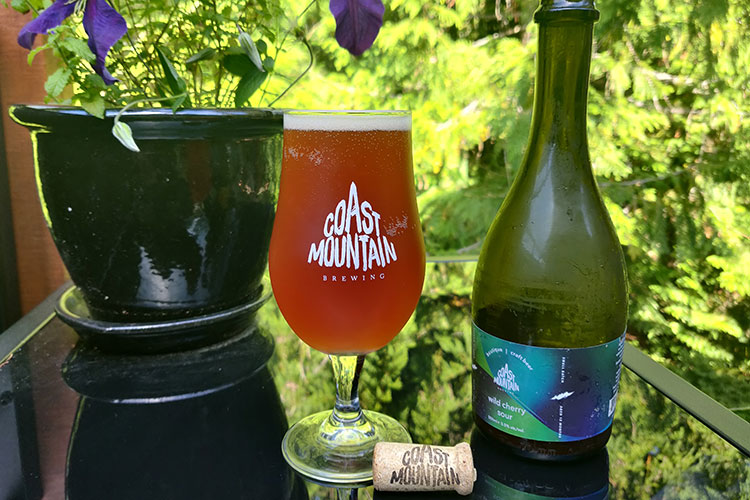 Another fruity concoction in the works is a white wine barrelled sour blonde aged on apricots.  The brew crew at Coast Mountain pitted and mashed over 200 pounds of fresh Naramata, BC apricots and expects this to be one of their proudest fruit beers to date.
Closer to when the snow flies, there will also be a limited release of an Imperial stout aged in bourbon barrels, so keep an eye out! If you're wondering what they're up to for Whistler Craft Beer Month, they're giving beer tasters a chance to win a Burton Custom Snowboard with a ballot for every time you visit. 
Read more about Kevin and the team in Whistler's Masters of Craft Beer: Kevin Winters of Coast Mountain Brewing.
Whistler Brewing Company
Whistler's original craft beer company continues its long legacy this fall with two new additions. The Whistler Brewing x BC Bike Race Singletrack Citra Lager celebrates this brewery's partnership with the BC Bike Race, a collaborative brew perfect to be enjoyed post-ride. A crisp and refreshing lager with plenty of Citra dry hop character.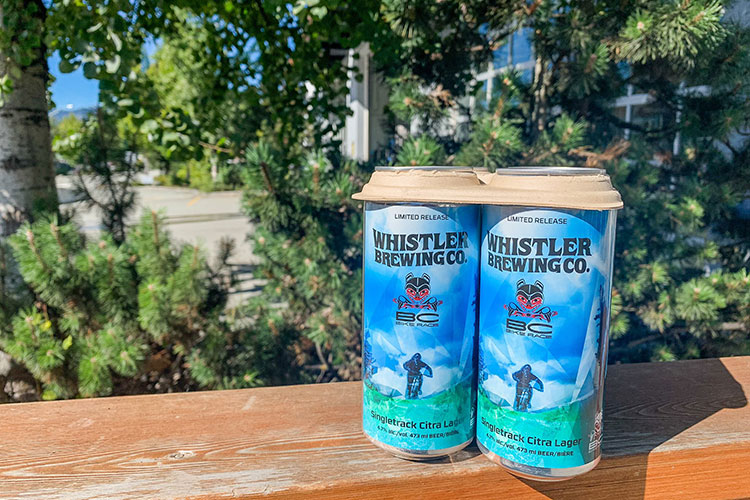 The new Black Cherry Marzen is a malt-forward, Bavarian-style lager with amber tone and reddish highlights. Spicy characters and juicy black cherries pair with a touch of hops for a perfect complement to cool, crisp autumn days.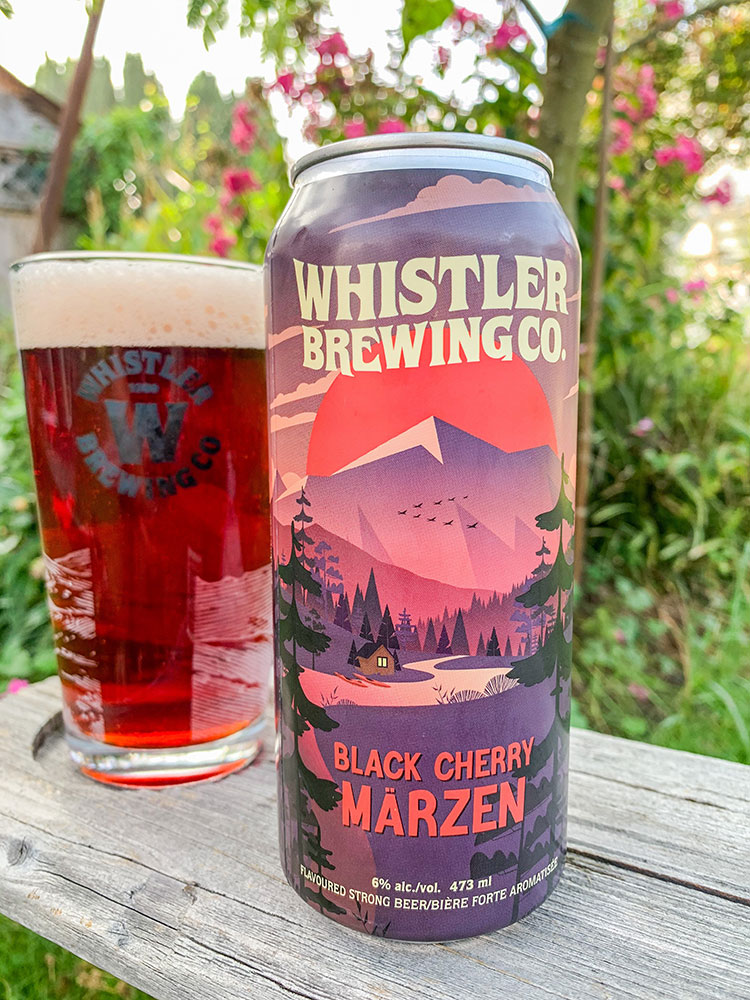 Also, don't miss the fall favourite Chestnut Ale, now available in 355 millimetre cans!
Apart from at the breweries themselves, you're able to find a craft brew in most of the pubs in Whistler. Some of our top locales for a craft brew are Hunter Gather Eatery & Taphouse, HandleBar Cafe and Apres and Brickworks Public House.
INSIDER TIP:
Look out for
fall dining deals
in Whistler's restaurants, this is a great time of year to savour some flavour.
Don't miss your chance to Sip 'n Soak during
Whistler Craft Beer Month
, as Whistler Brewing is giving brewery goers the chance to win passes for two to the
Scandinave Spa
every week (four chances to win this October). Want to visit all three breweries, plus others in Squamish and Pemberton? Jump aboard The Whistler Brewery Bus! A great options for private groups who want to dig deep into the Sea to Sky beer world.
Whistler Village Beer Festival
While the Main Event of the Whistler Village Beer Festival (WVBF) is cancelled for 2020, there will be three days of peripheral events throughout Whistler. Over the usual event weekend (September 18 – 20), beer lovers can enjoy a Tap Takeover at Longhorn Saloon & Grill, Beer N' Brunch at Stonesedge Kitchen and a Battle of the Sours at Black's Pub & Restaurant. The latest details can be found on the WVBF Facebook page.
While summer might be behind us, breweries are getting ready for fall and winter. That's one of the great things about beer, it pairs with every season. And if you've been revelling in the brewskis a little too heavily (please drink responsibly), then you could always try a brewcovery at Hundo-P The Smoothie Bar, who are offering people 15 percent off when they mention BREWCOVERY15 for the month of October.
Keep an eye on the Whistler Craft Beer Month page for beer-related events happening this October. Want to learn more about craft beer in Whistler? Check out our Insider's Guide: Craft Beer Breweries in Whistler.
Fall offers great value on accommodation with rooms from $139 and a free $25 Dining Voucher when you book a stay of two nights or more. You could also consider staying midweek for even more savings and a quieter village. For more ideas about what to do in the mountains in fall take a look at When Seasons Collide: 12 Quintessential Whistler Experiences and check out this video below.