Jack Crompton has been coming to Whistler since the 1970s but he didn't make the move to living up here full-time until 1998. "My grandparents built a cabin here in 1964 so it's always been a very special place for me," Jack says. "And my wife and I decided, this is the community where we want our kids to grow up."
That unique sense of community also inspired Jack to run for municipal government, and after serving two terms as a councillor, he was elected mayor (by acclamation) in 2018. "The people here are special," Jack says of his desire to work as a public servant. "This town is full of people who will give up some of the comforts of life to be here, people who have made a conscious decision to opt out of the rat race and chase their dreams in the mountains. People who value the natural beauty all around us. I find that very inspiring."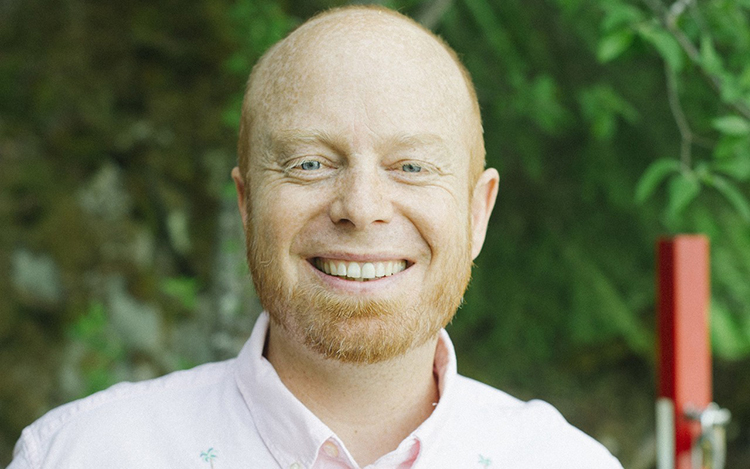 The Insider caught up with Jack to talk about some of his favourite places, people and things in the town he leads.
Favourite Whistler Patio:
"A tough call right off the start! In the spring I like the GLC [Garibaldi Lift Co.], I can ski right there and watch my daughter compete in the King / Queen of the Rail contest. But this time of year, I usually just head to the picnic tables at Whistler Olympic Plaza. We usually bring a soccer ball and some lunch, it's good simple fun.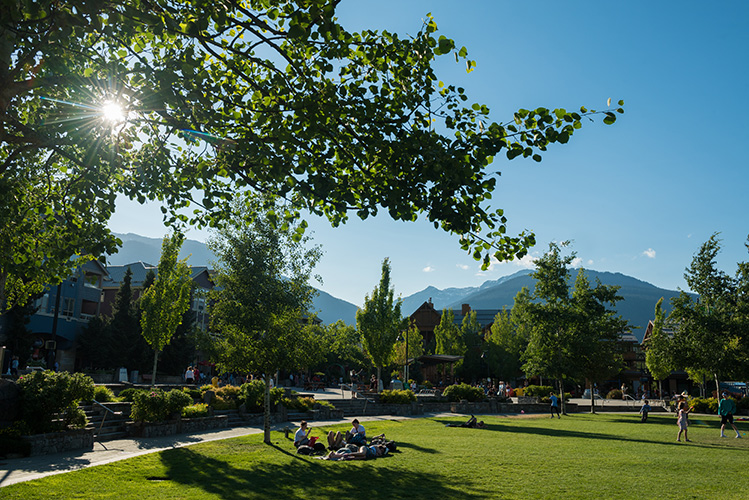 La Bocca and La Brasserie are great spots to watch the world go by. I have a predilection for sitting on patios and luring people in to come sit with me. Those spots are great for dragging people off the stroll."
Favourite Morning Coffee Spot:
"I like the Bread Bunker, downstairs at Nesters. There's always good people in there and really good coffee. It's also my wife Carolyn's favourite spot. 
In the Village, Mount Currie Coffee Co. is one of the best places in the world. I love when local entrepreneurs deliver interesting concepts and owner Chris Ankeny has really done it. This is the spot to go to if you want to get sidetracked by running into your friends. 
I also go to purebread a lot. Even just to take a look at all the beautiful baked goods. It's like an art gallery in there."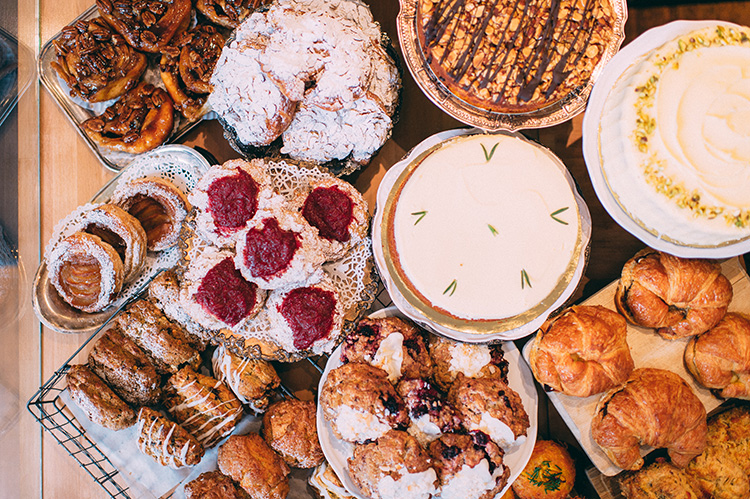 Favourite Breakfast
–

Sit Down:

"The South Side Diner has also been going as long as I've been eating breakfast in Whistler. I used to go in there as a kid and get the B.E.L.T.C.H (bacon, egg, lettuce, tomato, cheese and ham) sandwich. It's still a classic."
Favourite Breakfast
–

Grab and Go:

"If it's a big snow day, or we're on the move somewhere I will head to Ingrid's. Chuck one of their sausage rolls in your pocket and it keeps you warm for a while and will sustain you later. Ingrid's has been there since I was a kid so it's always nice to stop in." (Editor's note: Sadly, Ingrid's has since closed down!)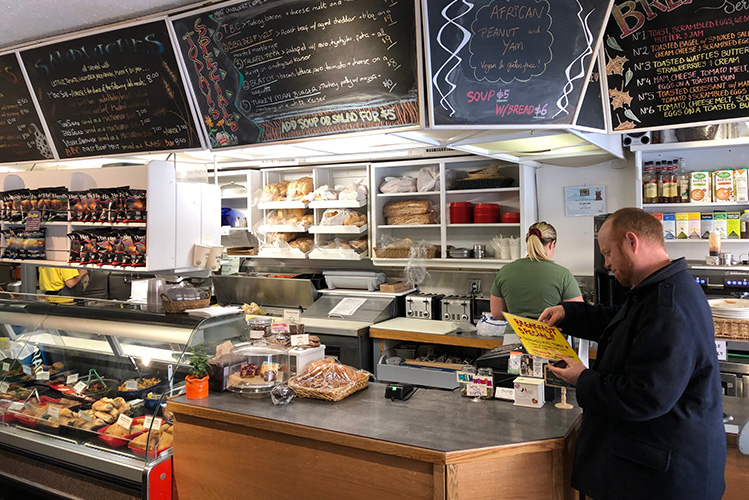 Favourite Dinner Spot:
"Carolyn loves Negroni cocktails, so we have a monthly date to go out and try some of the fancier places in town. Everywhere is so good but for real special occasions like our anniversary we go to the Rimrock, if we can get in. 
Otherwise, for a family night with the kids we like Splitz Burger and El Furniture Warehouse for great food and affordability or Stonesedge for a mellower sit-down meal. My kids are also pizza fans so we  go to Functional Pie, a killer pizza spot in Function Junction, or to Creekbread in Creekside. When the pizza is that good who can blame them?
Favourite Place to Take Out
–

of

–

Towners:

"When we have company visiting in the summer I love taking them to the MacLaurin's Crossing suspension bridge over the Cheakamus River. The Whistler Interpretive Forest and the trails out there are such a great way to show off the nature here. I also love to get people out hiking to Flute, summer or winter—that route really shows the beauty of these mountains."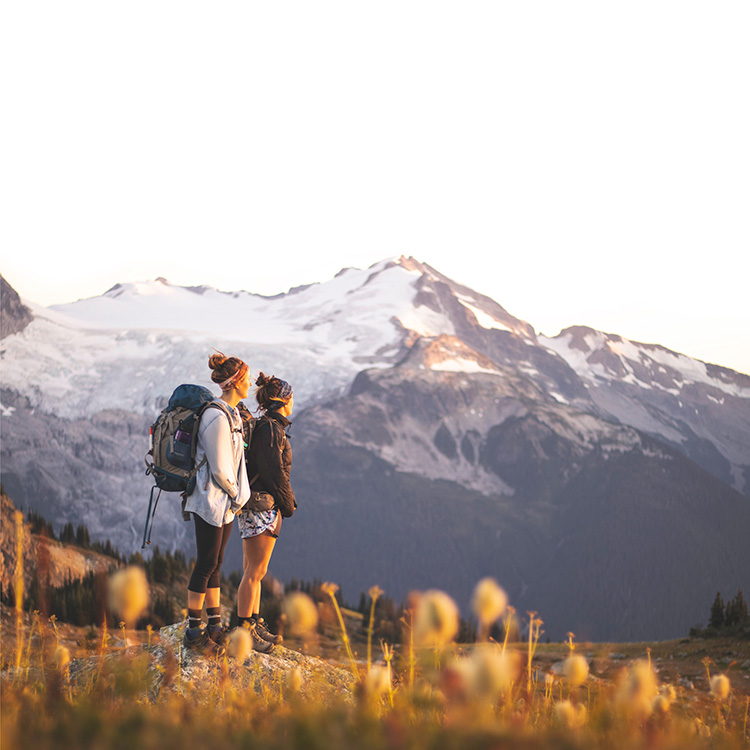 Favourite Whistler Ski Run:
"I might not give up all my favourite spots just yet, but I love going into West Bowl [on Whistler Mountain] because it gives you a really different perspective on the valley that you can't get anywhere else. Plus, it gets the kids out of the comfort zone a bit but it's still totally ski-able."
Favourite Whistler Summer Activity:
"Mountain biking for sure—it's amazing how much the trails have changed in the last 15 years. I like A River Runs Through It and Danimal.  I do have a new love for lift-accessed alpine hiking too though – head out to Russett Lake and you will have an incredible day. One thing I do that is a bit unique is I will swim out from Lakeside Park into the middle of Alta Lake and just stay there and soak in the views. I think that is the best view in town, from the middle of the lake."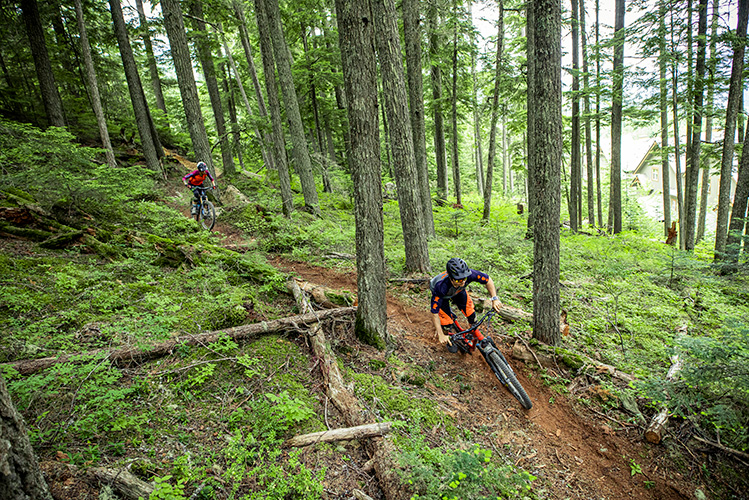 Favourite Whistler Locals (Past or Present):
"Everyone here is amazing, but I have a lot of respect for the old timers. Stefan Ples was this classic mountain man / craftsman / creative force who worked on the mountain for years and also was an incredible woodworker. He built our family dinner table and it's just this huge long wooden table that is my favourite place in the world. Or someone like Karl Ricker, who is still a legend. One of the first people to complete the Spearhead traverse and he has been measuring the local glaciers for the past 30 years, just always paying attention to the natural world. It's characters like these that can inspire the rest of us to live well and take care of everything we are so fortunate to have in this valley, and that includes each other."
Now that you've seen Whistler through the Mayor's eyes it's time to discover it for yourself! Start your exploration at Whistler.com.