How to get your Festive Spirit on in Whistler
You would think that after nearly a decade of living in Whistler, the most unapologetically festive place I can imagine, I would become a Grinch around the holidays. And yet, every year when the trees get decked in holiday lights, and the festive music seems to pour from every open door, I feel my heart grow three sizes. Whistler is the ultimate place to get into the festive spirit and it seems to last longer in the mountains with celebrations happening all month long. Let me show you a few ways to get into the festive spirit this December in Whistler…
Dashing Through the Snow
Skating at Olympic Plaza
Watch any Christmas movie, and without fail at some point the main characters will lace up for a dreamy spin on the ice. You can star in your own magical holiday movie at our outdoor rink at Whistler Olympic Plaza. Between the pumping holiday music and twinkly lighting, it's the perfect setting to get in the holiday mood. The ice itself is free to use, and they have rental skates available for $6. The rink is open from December 8 to March 31 (weather dependent), 11 AM – 8:30 PM.
Family Après
Also in Olympic Plaza, Family Après is the place to be after a day on the slopes. This event is essentially a mini winter carnival held twice a week with tobogganing, live entertainment, and even hot chocolate to keep you toasty. Stop by and enjoy the fun on Mondays and Wednesdays (3 – 6 PM) from December 17 to March 27. Best of all, it's free!
Whistler Holiday Experience
Over the holidays the Whistler Conference Centre is transformed into a kid's playground paradise. The venue is stocked with holiday crafts, games, and even bouncy castles for your little ones. As much fun as the kids seem to be having every time I go past, the happiest people I see are the parents in the lounge enjoying a moment of peace over a hot coffee. Who knows, after all the running around you may even get to enjoy a silent night as well.
Sleigh Ride Jingle Bells
Straight out of a Christmas carol, what can be more quintessentially festive than going for a ride in a one (or two) horse open sleigh? Bring your family for an unforgettable holiday experience or go with your significant other for an insanely romantic date night. This winter's season of sleigh rides is scheduled to start December 16 (weather dependent), but you can lock in your holiday booking now.
Walkin' in a Winter Wonderland
Nothing puts me in the holiday spirit quite like walking down the Village Stroll on a snowy evening. Between the light-covered trees, the quaint shops, and the dreamy snow falling from above, it's pretty easy to feel like you've stepped into a snow globe. It seems like there must be elves working around the clock to get the Village to peak twinkle, but reality is much more interesting.  Learn all about How Whistler Becomes a Twinkle Town.
Hangout with Santa
Whistler Gingerbread House
This winter we have our very own Santa's workshop. Located on the stroll in Creekside, just down the stairs from Creekside Market, the Whistler Gingerbread House is pure holiday spirit from the inside out. Stop by for photos with Santa, gift wrapping, and tasty holiday treats. It's open from 12 PM to 6 PM on weekdays, and 8 AM – 8 PM on the weekends.
Ski with Santa
Dust off your best Santa or Mrs. Claus outfit and you could ski for free. On December 16, hundreds of Mr. and Mrs. Clauses take to the slopes for Dress Like Santa Day. Whistler Blackcomb gives complimentary lift tickets to the first 100 people dressed in full Santa attire. I've never dressed up myself, but I do make a point of getting to the Roundhouse Lodge on Whistler Mountain for the mass Santa run down to Emerald Chair. Doing a hot lap with that many people filled with the holiday spirit is contagious, and always puts me in a festive mood.
Story Time with Santa
The jolly old guy will be reading holiday classics for the kids on December 21 from 10 AM-11 AM at the Whistler Public Library for Story Time with Santa. He'll also be available for you to snap a family photo together afterwards so maybe get those festive sweaters on.
Santa's Sleigh and Boot Drive with Whistler's Firefighters
Combining Santa and firetrucks, photos with the big man on this unique "sled" are by donation. Join our local firefighters in raising funds for the BC Firefighters Burn Fund on Friday, December 21 in Mountain Square from 3 to 6 PM.
Mingle and Jingle Over Dinner
Nothing brings everyone together over the holidays like a good meal. Being away from home doesn't mean missing out on a traditional holiday dinner. You can enjoy a full dinner with all of the fixin's at a restaurant, or take it to-go to enjoy from the comfort of your accommodation. If you're sick of turkey, we also have a wide range of world-class restaurants throughout town. Wherever you decide to dine, you're going to want to lock in your reservations early to avoid disappointment.
Warm Yourself by the Yule Log
Full disclosure, I'm not 100% sure what a yule log is. My general sense is that it's a very cozy fire to warm yourself by and we have lots of those in Whistler. For the best intel on where to go for a cold drink around a hot fire check out Après in Whistler: Firepit Round-Up.
Shop for your Nice List
Do you still have some people to tick off your holiday shopping list? Instead of fighting the crowds at your local mall, the shops on our Village Stroll are a fantastic place to pick up some unique mountain gifts. Shops like Ruby Tuesday, 3 Singing Birds, and the lobby of the Maury Young Arts Centre stock gifts that are made by local artists, so you can give something unique, while also supporting Whistler locals. For more local finds check out this blog featuring Made-in-Whistler Gift Ideas.
Rockin' Around the Christmas Tree
You can really get in the festive spirit while you're here by singing some good old fashioned Christmas carols. Here are some opportunities to either hear them sung, or to join in the fun yourself.
Christmas Carol Service
In it's 35th year, the Christmas Eve Carol Service at the Westin Resort & Spa is a local holiday tradition. Hosted on December 24, this service includes traditional carols, choral music by a choir, and non-denominational holiday readings by community members.
Christmas Tales – Live Theatre
Christmas Tales will have you singing along with traditional carols and inspired by some new ones. These songs form the musical backdrop for author and raconteur Justyn Rees' hilarious and delightful retelling of the first Christmas. You'll meet characters re-imagined in UK dialects and world accents – Joseph, the Inn Keeper, Dick the shepherd and many others. Doors open at 6:30 PM on December 21, at the Maury Young Arts Centre and you can buy your $15 tickets online here.
See the Decked Halls
When the holidays roll around our local hotels spare no expense and become genuine winter wonderlands. You would think that you would have no reason to just walk into a lobby, but Whistler's largest hotels are also home to some pretty amazing bars, restaurants, and shopping. Stop by to get among the holiday spirit and check out some pretty cool local businesses while you're at it.
Fairmont Chateau Whistler
As a historic Canadian brand, the Fairmont Chateau Whistler goes all-in on tradition and the holidays are no exception. Everywhere you turn in this place, there is a huge Christmas tree absolutely dripping with ornaments. As part of their holiday decorations this year the Fairmont is also hosting the Trees of Hope fundraiser auctioning off paintings for Canuck Place Children's Hospice. Enjoy the paintings and put in a bid through their silent auction to get involved. After touring the trees and art in the lobby, the Mallard Lounge is a must stop spot for a festive tipple.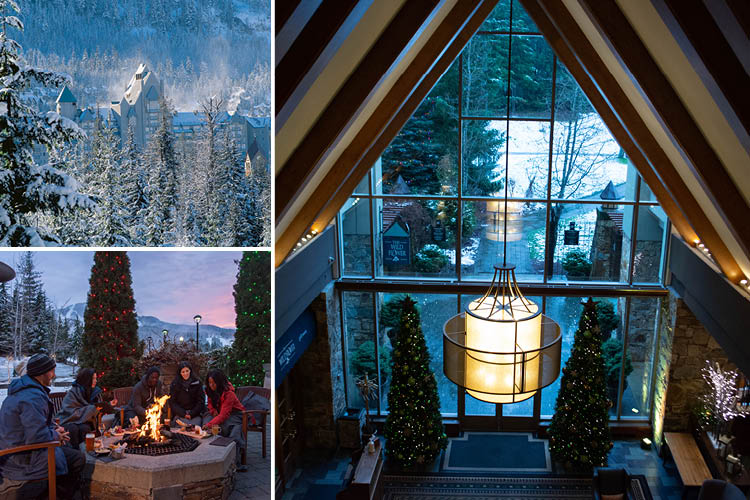 Get in the holiday and giving spirit this winter at the Fairmont. PHOTO FAIRMONT CHATEAU WHISTLER
Westin Resort & Spa, Whistler
The slope-side Westin Resort & Spa is not only an incredible place to stay, but also a prime location for indoor shopping. Their shops range from outdoor retailers like Can-Ski, Helly Hansen, and Black Goat Cashmere, to artistic offerings like the Adele Campbell Art Gallery, and Fathom Stone Art. The best part is that you can enjoy these shops all from the heated comfort and decorated hallways of the hotel.
Four Seasons Resort Whistler
Tucked up in the Upper Village, the Four Seasons is a short walk from the base of Blackcomb Mountain. Stop by to snap a shot for the Gram in their new archway of lights and Festival of Trees,  and enjoy a fireside "Tipsy Snowman" (spiked hot chocolate) at their outdoor, vintage patio camper.
Ring in the New Year
Say farewell to 2018 in style at one of the many celebrations being held in Whistler. With events ranging from family friendly, to raucous parties, there is something for however you want to send it.
Whistler Celebrates New Year's Eve
Somehow it just feels right to ring in the New Year in Whistler while watching skiers and snowboarders do tricks though a flaming hoop. This family friendly event is ideal for parents celebrating with young kids because the early show starts at 7:30 PM with fireworks at 8 PM. The early start makes it possible for the whole family to celebrate while still getting everyone in bed by a reasonable hour. For late night revellers there is also a show at 11:30 PM with fireworks and celebrations at the stroke of midnight.
Bars and Clubs
If your ideal New Year's includes partying, you'll have no shortage of options. Pretty much all of the bars and clubs in town are hosting New Year's events. I recommend not winging it on New Year's Eve. Most events are ticketed with limited space, so if possible make your plans in advance and lock down your tickets. For full listings and to purchase your tickets visit our events calendar.
The festive season in Whistler can be an incredibly magical time and there are still deals to be had for early December bookings – just ask the Whistler.com team. Don't forget that Santa suit and that the festive season lasts all month long up here in the mountains!