Updated October 2019.
Halloween has always been a special holiday in Whistler. Partly because of when it occurs — post-bike season, pre-ski season, and often right smack dab in the middle of torrential rain season. In the old days, this meant there were less guests in town, and the locals (those who hadn't fled to warm-climated surf trips) had more time off to work on their costumes.
And Whistler, as a rule, is a very pro-costume community. Perhaps it's because we spend so much of the year bundled up in snowsuits or downhill bike armour, but when given a chance to express ourselves Whistler steps up and sets the bar higher each year. We love to get wild, get creative and get together so Halloween is kind of like the local's New Years, we even have fireworks.

Halloween falls on a Thursday this year, but in the spirit of party accessibility, Whistler will be gearing up and getting down with Halloween themed celebrations as early as October 19! 
Halloween in the mountains has a unique and special vibe to it but remember you must have a costume to truly enjoy the fun, and bring snow boots! Ullr, god of snow, also loves Halloween and he often hits Whistler Village with the first snowfall of the year on November 1. 
Here's a list of what's happening for Whistler Halloween 2019.
Frightful Family Fun
Arts Whistler Live! – The Howl – A Musical Masquerade
October 19, 2019, 1 PM, Maury Young Arts Centre, Whistler Village
Music, costumes and childish glee come together for this special performance aimed at youth. Juno award winner Norman Foote and the Myrtle Philip Community School Singers take the stage for a performance of costume-clad good times with positive messages for kids of all ages. Mask making workshop starts at 1 PM with the performance set for 2 PM. Tickets are $10.
Spook-tacular at the Britannia Mine Museum
October 19 and 20, and October 26 and 27, 10 AM – 3 PM, Britannia Beach, Hwy 99
Make a Halloween pit-stop on the drive up to Whistler and stop in at the historical Mining Museum in Britannia Beach (look for the giant dump truck). The museum has a legit underground spook train ride, science shows, creepy critters and more. Tickets are $15-$20.
Krafty Kids: Halloween Mask Making
Thursday, October 24, 3:30 – 4:30 PM, Maury Young Arts Centre, Whistler Village
The best Halloween costumes will always be the ones you make yourself (and ditching the store bought ones is good for the environment!) Part of an ongoing weekly series encouraging youth to get crafty and creative, this session is all about spending time with your kids and letting the imagination run wild. No registration required, just bring $5.
Whistler Frights and Delights: Trick-or-Treating in Whistler Village
October 25 – 27, Participating retailers on the Whistler Village Stroll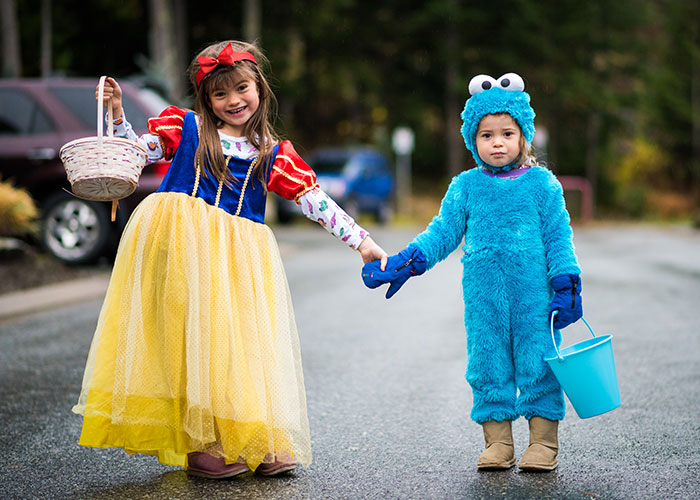 One of the nice things about a pedestrian village is that kids can run around trick-or-treating and there's no need to worry about cars. Grab a free tote from the Whistler Visitor's Centre and visit participating merchants along the legendary Village Stroll for ghostly goodies and tasty treats. Be ready to tell some jokes or perform a bit though, Whistler likes participation!
Whistler Frights & Delights Face Painting
Saturday October 26, 11 AM – 4 PM, Maury Young Arts Centre, Whistler Village
Get ready for the witching hour with a spooky new paint job, on your face! When paired with trick-or-treating in Whistler Village, this can be a great afternoon / evening out with the kids.
Freaky Films and Eerie Events
The Rocky Horror Picture Show
Saturday, October 26, 9 PM, Maury Young Arts Centre, Whistler Village
An annual tradition, this is how the picture show was meant to be seen—on the big screen with a live audience AND a live host actors. People have been yelling inappropriate things at the screen for decades, and it's probably time you joined the fun. Props, costumes and participation encouraged (mandatory really). Tickets are $12.50 pre-sale or $15 at the door.
Heavy Hitting HorrorFest
Wednesday, October 30, 6:30 PM, Function Junction, Whistler
It's probably already sold out, but this local short horror film festival is a Whistler staple and brings in films from around the world to screen alongside the most depraved and debaucherous local flicks imaginable. Then the afterparty starts. This event is 19+ and tickets are $69.
WORCA Halloween Costume Ride at Lost Lake
Thursday, October 31, 5:30 PM, PassivHaus at Lost Lake
A longstanding tradition for the Whistler Mountain Bike community this after-dark ride has been happening for over a decade, and while the trails are not that challenging, the costumes and camaraderie levels are definitely high. Participants must have a WORCA membership to partake.
Alarming Activities
October 26 – 28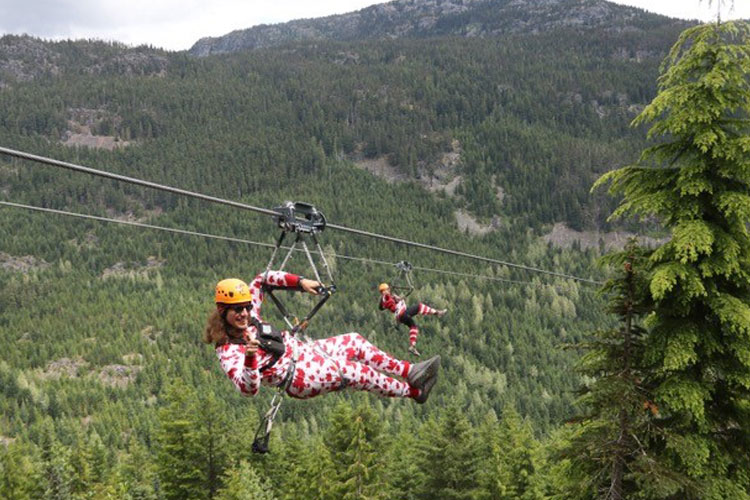 It's time to don that cape and take to the skies! Superfly and Ziptrek are both offering discounted ziplining tours when you go in fancy dress. Is it a bird? Is it a plane? No, it's Dave ziplining.
Ghoulish Gala's and Petrifying Parties
The Masquerade: Zero Ceiling's Fall Fundraiser
Friday October 25, 6:30 – 10:30 PM, Squamish Lil'wat Cultural Centre
Zero Ceiling is a local charity that empowers at risk youth with the opportunity to enjoy life in the mountains and gain career skills. This fundraiser combines costumes, delicious food, drinks, living music and the giving spirit. Tickets start at $59.
Halloween Parties At Whistler's Bars and Clubs
Friday October 25 – Sunday October 27, Whistler Village
Adult's can let their inner werewolves howl and shake it like a skeleton in an earthquake with Halloween themed parties, costume contests and general debauchery occurring all weekend long in Whistler's nightclubs and bars. Most details don't come out until later in October so check the events calendar and local Pique Newsmagazine when you arrive to pick the party that suits you best. Bring a costume!
WAG's Halloween Howl! Fundraiser
Saturday October 26. 7 PM, The Hangar, Function Junction

A fundraising event for Whistler Animals Galore, the local animal shelter. Aimed at families for the first part of the night (7 – 8 PM) there will be a costume contest, food drinks and kid-friendly DJ Ira. After 9 PM things switch gear with three bands, DJ Nat Morel, silent auctions, cocktail and costume contest (win a snowboard) and more. Do it for the animals!
Luminous – Locals' Halloween
Thursday, October 31, 9 PM  – 2 AM, Garfinkel's Nightclub, Whistler

Garf's celebrates the true holiday by transforming into a vivid neon underworld. Enter the dark corridors of dancing mayhem with horrific surprises at every twist and turn. DJ Praiz and DJ NIKKY are on the wheels of steel to keep the nightmare moving. Black Lights and epic nights, embrace the theme by wearing white and watch yourself glow!
The Funk Hunters Day of the Dead Party
Friday November 1, 10 PM – 1PM, Garibaldi Lift Company, Whistler

The GLC has long been home to some of the most epic Whistler Halloween parties and this year they are coming in hot with a Day of the Dead dancing extravaganza that pays homage to the living and the dead. Featuring one of BC's hottest DJ acts with local support from Night Owl. Costumes encouraged. Tickets are $25.
There are always more events coming online as Halloween draws nearer so be sure to keep checking back in at Whistler.com. And don't forget those snow boots!