This time of year can be torture for any true snowsports junkie—the shorter days, the colder temperatures, those so-close-yet-so-far dustings of snow up top. The Canadian Thanksgiving weekend is a turning point in Whistler: it marks the official end of summer (no more bike park laps) and the beginning of 4-6 weeks of intense winter stoke as everyone hunkers down and waits for opening day.
Lookin' good Whistler. Photos taken October 22, 2016.
Official opening day on Whistler Blackcomb is scheduled for November 24, 2016 and because we truly care about your sanity over this next month or so The Insider has compiled this nifty list of safe and healthy ways to get pumped for ski season. Enjoy.
Ten Ways to Get Pumped for Ski/Snowboard Season
1. Watch the Whistler Rituals Videos
Life is grand, and every moment should be cherished and celebrated. It takes a million tiny snowflakes to make an epic pow day, and it's a combination of tiny, magical moments and unique rituals that makes winter in the mountains so amazing. Here's a sneak peek of out winter 'How To' guides and you can check them all out at Whistler.com.
2. Get Your Skis and Boards Ready & Learn How To Wax Your Own Gear
When the lifts start spinning, you want to be sure you are ready to hit the slopes with gear in tip-top condition – our Insider's Guide to getting your skis, boards and outerwear ready is just the ticket.
Professional riders and true diehards are waxing their boards every few days all winter long. Or at the very least they're changing up the wax to adapt to dramatic temperature or weather changes. Waxing is key, not only to how your gear rides, but also to the life and longevity of your equipment. It's unrealistic to get a professional wax every few days all season so with all your free time not skiing this fall why not learn to do it yourself? It's easy. Check out our Insider How To video below and it's also worth watching as the wax-masters from Underground Tuning show you how it's done.
3. Enter Contests
For a lot of us, that epic heli-ski dream this winter is just that, a dream. But that dream can become a reality if you win a contest. It only makes sense to enter as many contests as you can this autumn. Start with this one. Someone has to win; it might as well be you.
4. Go Down the Weather Wormhole
Over the next month nine out of ten conversations in Whistler will include, if not revolve around, some kind of prediction as to what kind of winter we can expect. Everyone has an opinion and more than a few will be based on hunches, knee aches, or late night conversations with Ullr, the Norse god of snow.

Thanks for the good times, Ullr. We like your work.
You could be the person though, who has actual data and meteorological theories to defend your prediction of "the sickest winter ever man!" Whistler.com has a good weather page for what's on the way and a webcams page for what's happening on the mountains right now, The Weather Network is a good resource too but beware: amateur meteorology can become become addictive.
5. Binge on Shred Flicks
Ski and snowboard movies are glossier and more available than ever these days so anyone with an Internet up-link ought to be able to waste at least a couple rainy afternoons watching their snow heroes leap, carve and stomp landings in some of the most beautiful snowspots on the planet. Local favourites this year are 'Full Moon', a lady shred flick by Whistler local and snowboard legend Leanne Pelosi, and on the other side of the gender divide local lads The Manboys have released 'The Manboys Official Movie' – snowboarding at its most entertaining. The latest from Matchstick Productions 'Ruin and Rose' is the pick for diehard skiers – watch Whistler local Eric 'Hoji' Hjorleifson get ridiculous in this athlete edit:
6. Get in Shape
This one sounds like a pain in the…everything, but pre-season exercise can be fun if you are doing it with born and raised Whistler Olympian Julia Murray. She teamed up with The Insider on this neat 80s-styled video with all your key fitness tips. Maximum motivation!
7. Retail Therapy
Sometimes shopping is the best way to soothe an anticipation-addled brain. It's always nice to get new skis or a board but start small: upgrade your socks to merino wool (worth the cost), is there duct tape holding your gloves together (or any part of your ensemble)? If so – the time to hit the shops is now, with plenty of last season's gear on sale and new tech to drool over. Be wary though, retail therapy is a slippery slope: it's easy to go out for some new socks and come home with a boutique locally made board and a booked weekend of cat-skiing!
8. Practise Après
Got a favourite après spot? Now is the time to do your research to find out which watering hole suits your groove and give their happy hour specials a go. Because after an early season day of shredding when your legs are toast and brain fried from faceshots, there's nothing better than having the après-ski decision made.

All time fall time in the Village – snowline stoke, sales and plenty of dining specials just to top it all off.
9. Take Selfies in a Gondola
The Whistler Museum has an old gondola cabin, there's another one at the Whistler RV Park south of town. There's usually some kind of display gondola at the bottom of the Whistler Village Gondola as well. In any case, sitting in a gondola (in full ski gear if you want) and texting selfies to your friends is a good a way to share the stoke and trick them into thinking you are already getting turns.
10. No Really, Get in Shape
We mention this one again because we know you glossed over it the first time. But honestly, early season riding in Whistler can be some of the most fun of the year. Lift lines are nonexistent so you can get lots of laps and amass more vertical than you'd expect. Properly trained and lubricated joints and muscles mean less risk of injury and more sweet glorious snow sliding for you. (Plus hip thrusts are kind of awesome to do at parties, check this video.)
Opening Day is set for November 24, 2016 so patience is a virtue. Until then, keep an eye on those mountain top webcams! Hit up Whistler.com for everything you need to know about skiing in Whistler this season.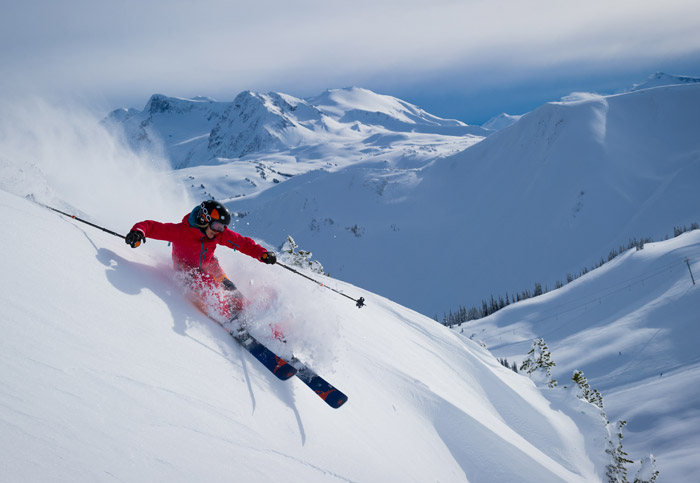 Snow smiles, coming soon!