Excitement was high as the six of us hit the road for our moms' weekend off. Heading up the Sea to Sky on a Friday afternoon, we were captivated by the foggy views and bold fall colours adorning the trees. Autumn in Whistler always seems more vibrantly hued than the Fraser Valley.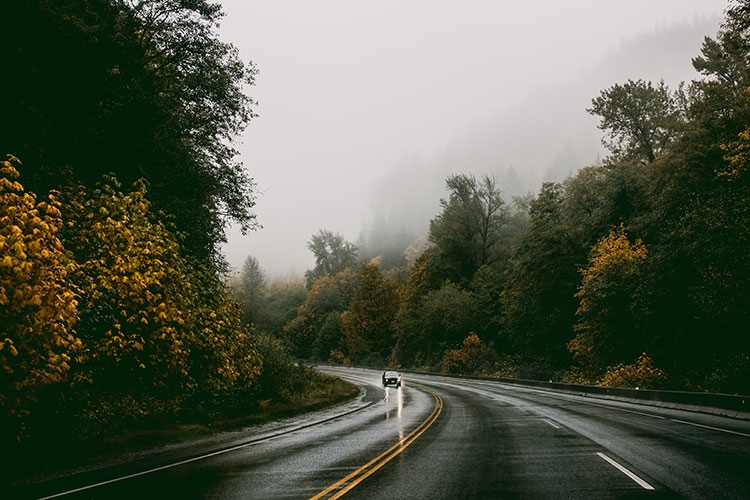 When you envision a cozy, fall mountain getaway with a group of girlfriends, you might imagine us curled up around a fireplace, drinking tea, and although our weekend in Whistler absolutely had moments like that, we weren't ones to shy away from getting a little wet or muddy.
Starting the weekend off right, we stuffed ourselves with the most delicious wood-fired pizza from my long-time favourite, Creekbread. I regularly dream of their Pemberton Potato Pie – thinly sliced potatoes, rosemary cream sauce, garlic cloves, spinach, a mix of fine cheeses and added bacon. It is simply DIVINE.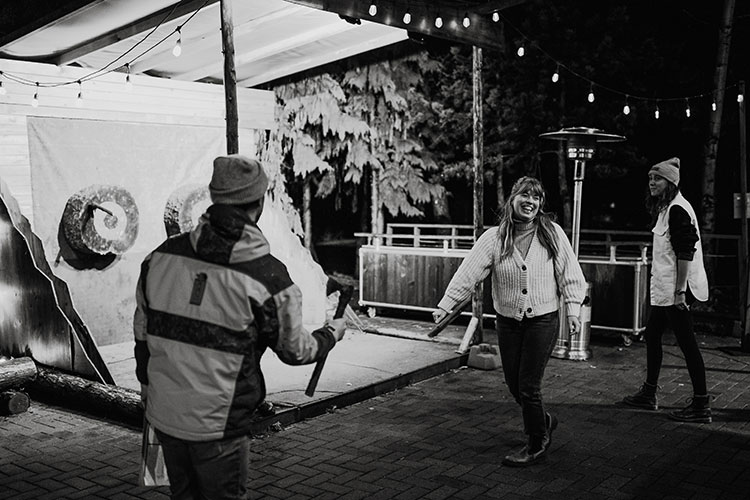 After our stomachs were happy and full, we headed to the Whistler Racket Club to try axe throwing for the first time. With a cozy fire, comfortable seating, more flatbread and delicious mead, the experience was set to be enjoyable even if we never landed an axe in our targets. Luckily, our patient and fun teacher, Jack, coached us expertly, and before we knew it we were all hitting the targets and riding an absolute high. Our competitive sides came out as we faced off against one another.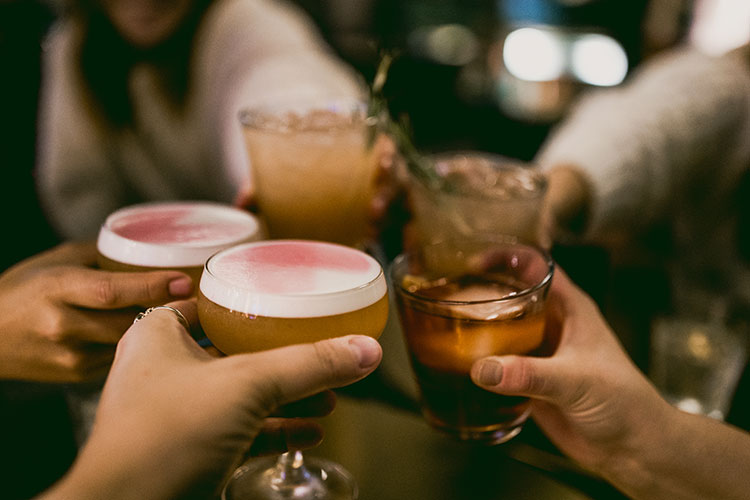 Cheers and taunts and lots of laughter filled the air and before we knew it, it was time to head to The Living Room at the Pangea Pod Hotel for a few delicious cocktails. After jamming with the DJ at Pangea and a few drinks, we made our way to the quieter and cozy Braidwood Tavern, where we munched on delicious parmesan herb fries and the most entertaining cocktails with clouds of bubbles that evaporated into smoke and caused us all to ooh and ahh over the experience. Heading back to our accommodations, we happily hit the hay to rest up for another day of adventure on Saturday.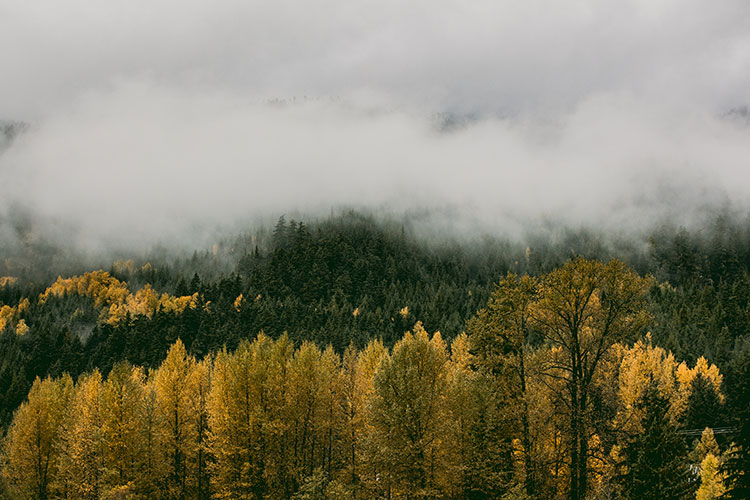 As the house of women slowly woke up, we took turns eating breakfast and watching the clouds and mist dance across the mountains. Wet weather can't stop Whistler from being an absolute jaw-dropper. The misty mountains are captivating and I could easily spend hours just watching the clouds roll over the trees and peaks. Once we all had risen for the day, we took a rainy walk through the forest, complete with an amazing cup of joe from CAMP (located in Function Junction).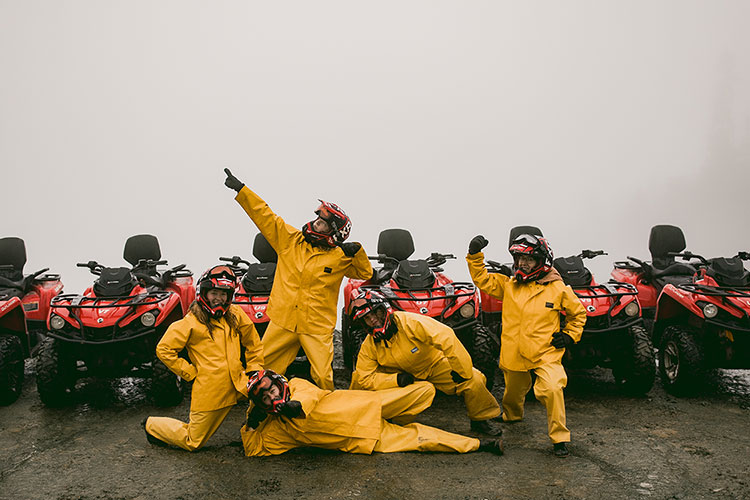 Overflowing with excitement, we then headed to another favourite Whistler gem, Dubh Linn Gate Irish Pub, to carbo-load on delicious pub food before hopping on some ATVs to climb Blackcomb Mountain with Canadian Wilderness Adventures. This experience was easily the highlight of my trip.
Many of the girls in our group felt a tad hesitant and nervous, but after a few minutes of training and getting the feel of our ATVs, we were all ripping up the mountain, gleefully shouting and doing our best to hit every muddy puddle along the way. The mist and cloud enveloped us and added an incredible eerie element to our drive. I would argue it enhanced the experience.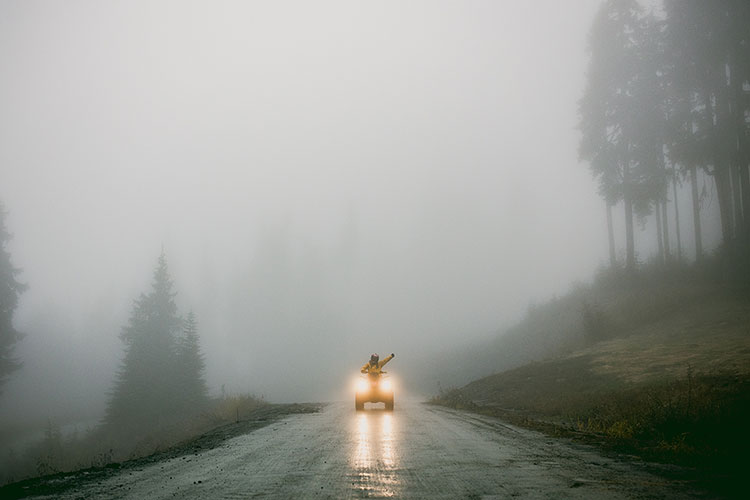 This is the second tour I've done with Canadian Wilderness Adventures, and each time has been a spectacular and jaw-dropping experience. We really enjoyed our instructor, Ron, who was very considerate of the nerves some of us felt, and repeatedly checked in on us to make sure we felt confident and capable. His encouragement and fun energy were the cherry on top of an already enjoyable tour.
Thoroughly invigorated, we then headed back to our accommodations to spend the rest of the night cozy by the fire while we ate tacos and sipped rose together.
Our final day in Whistler was spent slowly relaxing with more coffees from CAMP and incredible pastries from purebread (the peach rosemary tart was a big hit). Eager to return to our families, we packed up and enjoyed another breathtaking drive back along the Sea to Sky Highway in the mist and rain while already brainstorming a return visit.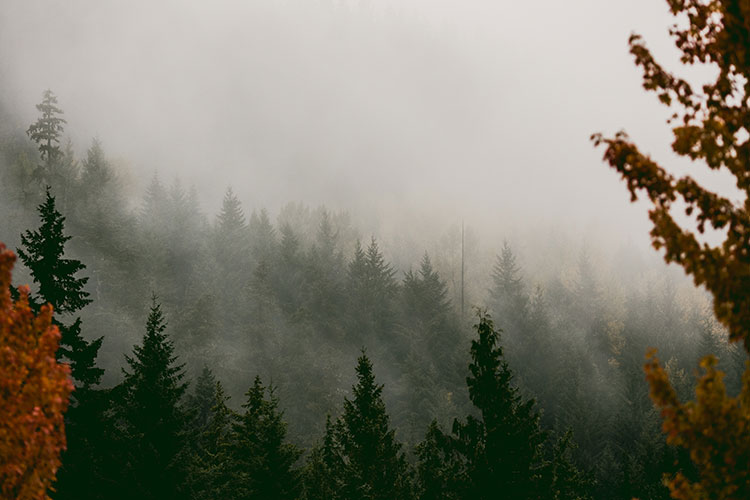 Our weekend was packed with all the things we love- moody autumn vibes, good company, delicious beverages and food, gorgeous views, and new experiences that left us feeling empowered and full of endorphins. Truly the best of all worlds.
If this post has you dreaming of Whistler, enter our Go Big This Winter Contest for a chance to win a trip.
Stay longer and save more with up to 30% on Whistler winter lodging with Whistler.com. For every third night you book between March 1 - April 30, 2023 receive a free $75 CAD Whistler Après Voucher. Enter promo code SPRING2023 when booking online or call 1.800.944.7853 and mention the offer to one of our Travel Consultants.
It's easy to book your vacation when you have the freedom of our Flexible Cancellation options backed by our Book With Confidence program.