Updated October 2023. Knowledge is powder, we mean power, no, actually we do mean powder. There seems to be an app for everything these days and so, we asked around to see what apps for skiing Whistler locals have been adding to their phones to give them the edge for their days on the slopes.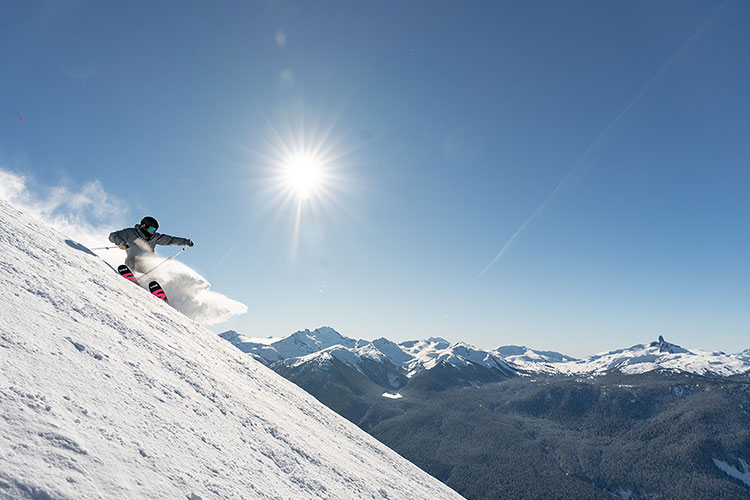 Want to be first in line when the lifts open? There's an app for that. Want to find the best route for your backcountry adventure? There's an app for that. Want to find your friends on the slopes? There's an app for that. Want a detailed forecast? You guessed it. We take a look at six apps that have made it onto the screens of snow enthusiasts in Whistler. 
1. Ullr Adventure Maps
Created by Whistler local, ski patroller and map-obsessed geography geek Alex Hordal, Ullr Adventure Maps is your source for on hill navigation at Whistler Blackcomb. Imagine the classic, foldout trail map that you can pick up at most ski resorts, but on steroids and on your phone (no soggy paper origami involved).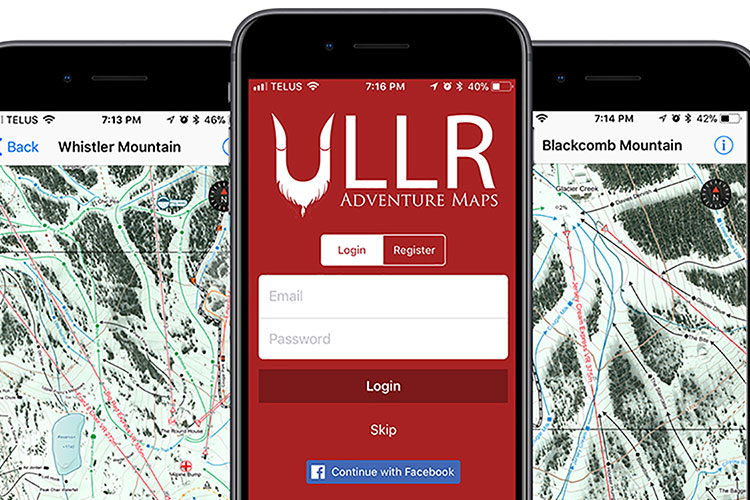 Ullr allows you to move through terrain you're looking at with a great deal of precision, see the resort from different angles (designed in the direction of travel) and makes it easy to find your friends on the hill (location pinpointing within 10 metres).
On top of these features, the map is also available whenever you need it. Once you download it, you don't need service to access it – just make sure to charge your phone. Forget antiquated paper maps, download the app and make sure you give it a test before hitting the slopes.
2. FATMAP
Looking to get into the backcountry this winter? Look no further. FATMAP is your go-to source for detailed backcountry maps, popular descents and trip reports. For the map enthusiasts out there, this app is an absolute dream. It's got unique features such as a layer that reveals the steepness of a slope by using a colour grade showing ideal ski terrain.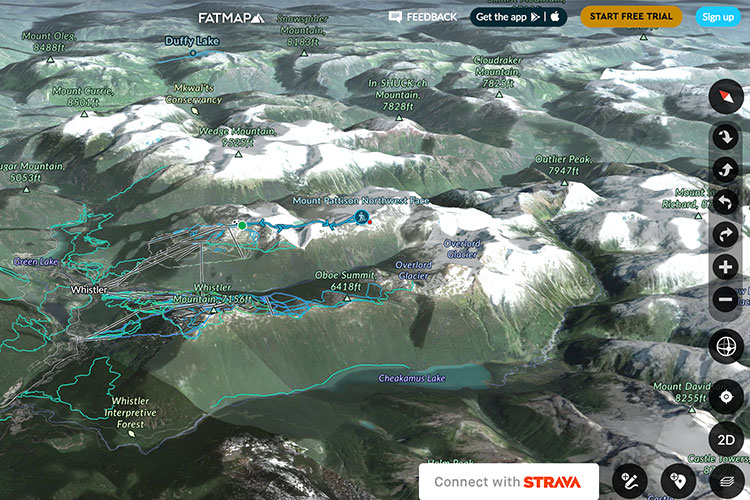 Type in any peak name and you'll get a slew of trips reports from any sport that's possible on the peak. For starters, type in Mount Pattison and you'll find a description of one of the Whistler backcountry's most iconic descents, along with suggestions for nearby terrain to tackle. If you're into tracking your distances and recording activity,  you can integrate Strava into your maps. Start with a free trial and you'll likely be hooked.
3. LivePow
Ok, this isn't an app, but it's definitely a website you're going to want to bookmark. Started by another Whistler Local, professional snowboarder Jonathon Penfield, LivePow is your one-stop-shop for the weather forecast, webcams and historical weather data for a range of areas within the Sea to Sky Corridor. 
"I built it to make checking forecasts and conditions faster and more thorough at the same time", said Penfield. "It's the only site that combines a free 10-day forecast, snow conditions, webcams, lift status and remote weather stations in one place."
If you're a slave to the forecast this website will make your life a lot easier. Instead of checking a number of sites, LivePow puts it all in one place. Bringing in weather data from reliable sources like the National Oceanic and Atmospheric Administration (NOAA), the website has forecasts for nearby mountains so you can compare data throughout the area.
Not only does LivePow have weather data, but it also has Avalanche Canada reports and forecasts for backcountry users. While the graphs and forecasting tools might take a bit of time to understand, it's definitely worth it if you're venturing off-piste. However, if you are exploring the backcountry you should also consider taking an avalanche course, read more about those in Avalanche Skills Training in Whistler and Insider's Guide: Backcountry 101.
4. Snoww
Want to track your days on the slopes? Beat your friend's fastest speed? Surprise them on the mountain? Look no further, if there's a one-stop social media app for skiing on a resort Snoww is it.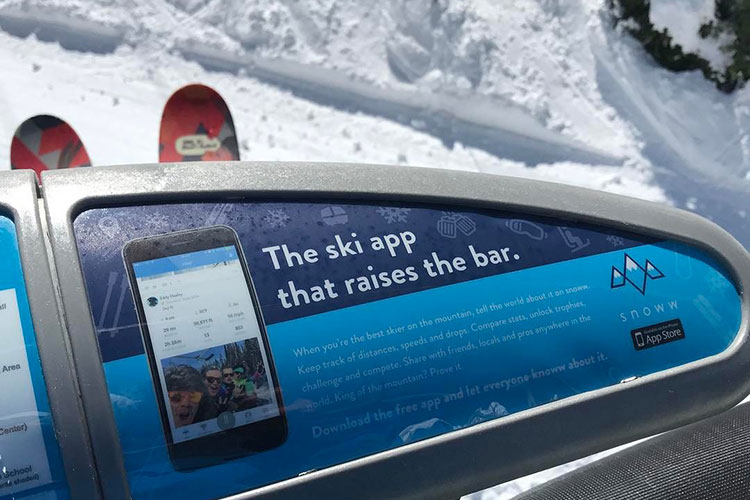 Snoww has a variety of tracking metrics that are helpful for reviewing your day, or just for friendly competition between you and your friends like vertical metres skied, top speed and number of runs completed.
It also has a handful of picture and video-sharing options, and one of our favourite features: you can track your friends on the mountain. Instead of dealing with complicated text message exchanges and playing phone tag, just look at the map and go to where your friend is; maybe even give them a surprise spray before they even know you're there.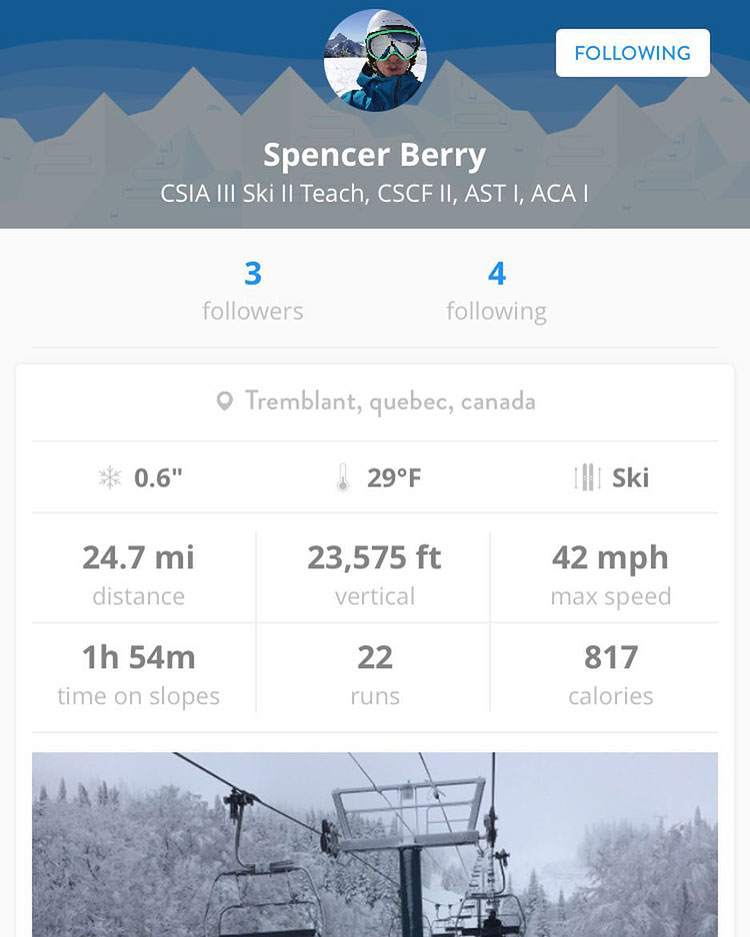 Snoww also connects with Apple Health, allowing you to integrate skiing or riding into your workout information. It runs off of GPS, so no data is required. This social ski and snowboard app is packed with fun features and we highly recommend you give it a go.
5. PowDay
Another local favourite, PowDay was developed and intended solely for Whistler. One of the best features? It gives you the ability to set an alarm for certain amounts of snow that may have you calling in sick to work. Straight from their website:
10 cm – It's going to be good
20 cm – It's going to be great
30 cm – Do you have a pulse?
40 cm – Dude, if you don't move you are obviously not a skier.
On top of that it has another handy feature – push notifications for when certain chair lifts open. Everyone dreams of grabbing the first chair to newly opened terrain and with PowDay you won't be left at the back of the line. 
PowDay combines the alarm and handy notifications with weather forecasts, live temperatures and webcam shots in a simple, easy to use interface. They also send you notifications about your après options, Hairfarmer's gig anyone? 
6. EpicMix
The
EpicMix App
is the official app for anyone with an Epic Pass. It helps you navigate with interactive trail maps, lets you plan your day, forecasts lift lines, keeps track of your friends and keeps you up to date with in-resort updates.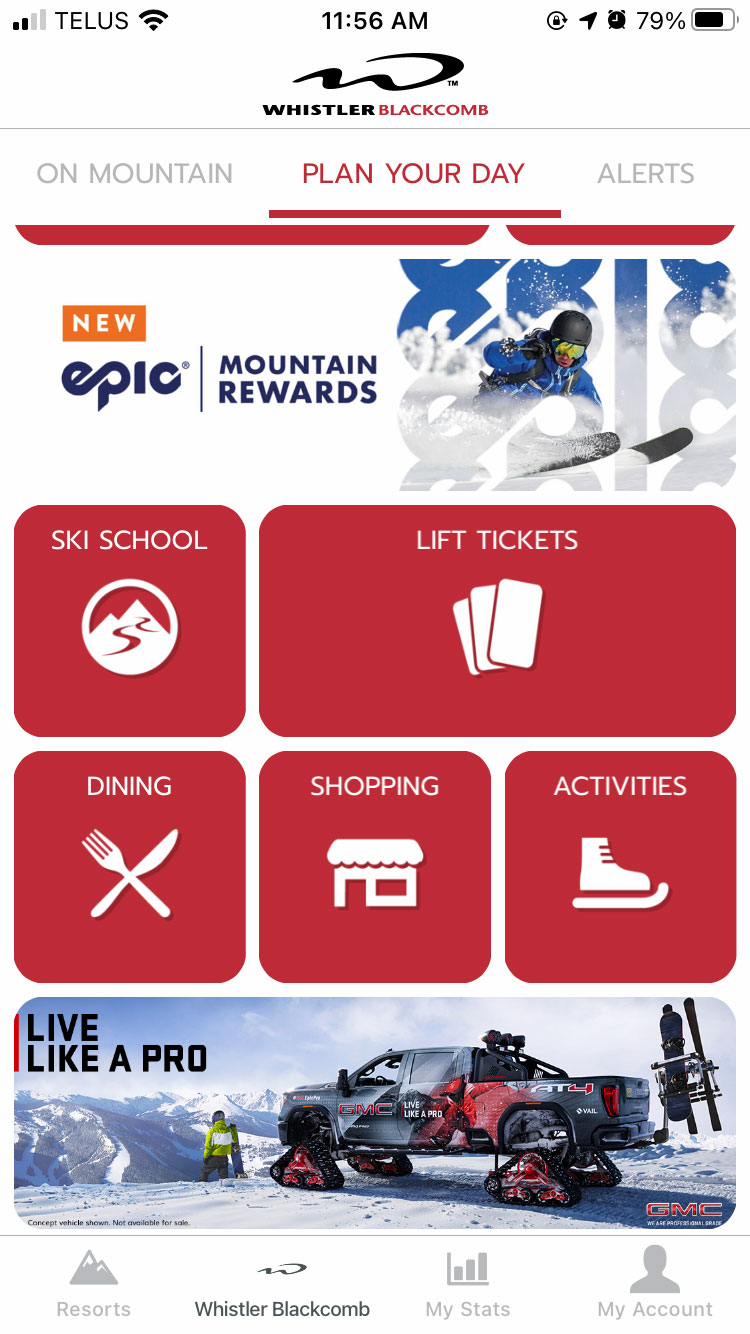 If you're not a season pass holder, the app also gives you the opportunity to book tickets within the platform. On top of those two vital services, it also gives you useful information on snowfall, live temperatures, webcams, ski resort contact information, rental information and trail maps. Download the app and you won't get left hanging even on the busiest day on the mountain!
Get the best deals on lodging and packages with Whistler.com, with their price guarantee and flexible cancellation policy. We'll see you in the lift line, near the front of course!