Editor's Note: This piece was originally written in 2014 by Feet Banks. Although some of the technical information has stayed the same, fashion has moved on, so we've touched base with Whistler's local retail scene to see what's hot in ski jackets this season. We also threw in some winter boot suggestions!
When Pip Brock made the first ski descent of Whistler Mountain back in 1933 he likely did it in a wool sweater and leather boots, so any jacket you buy these days will be a huge improvement. The tricky part will be narrowing down your options.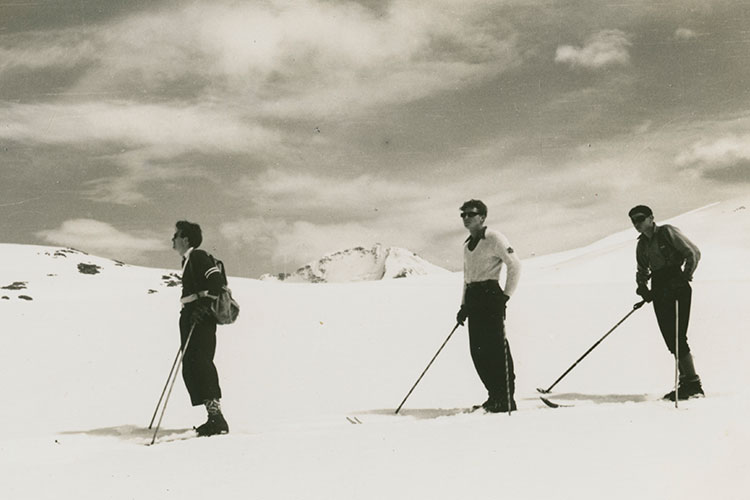 Whistler has dozens of ski / board / outdoor shops carrying everything from a $3,000 plus Moncler ski jacket with faux fur to the hottest new GORE-TEX Burton pullover to a plastic bag with armholes and the vintage Blackcomb logo printed on it. For quality and selection, there really is no better place in the country to shop for a ski jacket or winter coat.
Of course, the tricky part is not finding a good jacket, but finding the right jacket for you. No single jacket is perfect for skiing deep pow, hiking for fresh turns, withstanding alpine winds, repelling valley sleet AND looking super swanky at après.
As a buyer, you need to figure out where you want to stand on the ever-sliding scale of fashion vs. function and find the jacket that works for you. And it's not hard, even that fancy, svelte Moncler option comes with a powder skirt. It's a buyer's market so we hit the cobblestones of Whistler Village to bring you an Insider's guide to buying a ski jacket in Whistler.
Technical Ski Jackets and Mid Layers
Hardcore skiers and snowboarders want waterproof, breathable jackets that will keep the winter out and the warmth in (until they start hiking to get more fresh tracks, then they want to let that warmth out). The good news for the gear / tech-obsessed is that Whistler has flagship stores from all the top "core" mountain brands like Patagonia, The North Face, and Helly Hansen. We touched base with a few Whistler retailers to see what's new and hot on the retail racks this season.
Peak Performance
If you're getting out into the elements this winter it's all about the Peak Performance's Vertical GORE-TEX  Pro shell jacket (for men and women). Worn by athletes on the Freeride World Tour (which Peak Performance sponsors) this jacket hits the trifecta by being completely waterproof while also delivering on movability and breathability. It's also got a storm hood which goes over your helmet, fancy cohesive cord management and pockets, lots of pockets. We're also fans of the slick, understated colour scheme.
I know we just said we liked the understated look, but we're also fans of the purple and pink colour combo of the Gravity GORE-TEX shell, which looks as good on the guys as they do on the girls. Store owner, Miranda Foord tells us the greens and beige colourways are also popular this year. But then we couldn't help but spot a rather distinctive-looking puffy jacket…
"It's called Marshmallow," says Miranda. "In Europe, they actually put them on over the top of their shell when it gets cold, usually in the backcountry. It's super light, like a marshmallow. I actually have one, which means I should really do some backcountry this season!"
You had us at marshmallow.
INSIDER TIP: Peak Performance is opening a store down in Vancouver on West 4th, with the opening party set for November 22 if you're in the city!
Arc'teryx
A Vancouver company done good, some Arc'teryx jackets are still made just down the road in Burnaby, BC. Also, everything from this brand is perfectly designed for the exact kind of mountains and conditions Whistler offers.
What is known by locals as the "Whistler Uniform" consists of a puffy (insulated layer) under a shell (a waterproof jacket – typically GOR-TEX). At Arc'teryx the hot women's shell option is the dual-coloured Sentinal Jacket, and for the guys, the Sabre SV. Talk to the staff there about what kind of outdoor adventures you do as they can help you choose a cut that's going to work best. For example, their flagship Adam Jacket is great for mountaineering as it's wider in the shoulders and has space around the waist for gear.
They've recently added some more relaxed fits (baggier) to their lineup, which might be a sign a few members of their design team could be snowboarders.
Escape Route
Justin and Ollie over at the Escape Route were a wealth of knowledge, a shining example of passionate outdoor enthusiasts who know their stuff.
"We just brought in a mid layer from ORTOVOX which has been really popular," said Ollie. "It's got Swiss wool panels at the front with these fun colours. A good mix of the tech meeting style from a brand that started in avalanche gear."
Reading the garment tag we clocked that this layer choice is climate-neutral, with the whole company aiming for climate neutrality by 2024. Knowing this, we couldn't help but reach for an outer shell option and maybe the pants too…
It's good to note that Escape Route stocks some great lifestyle brands like Ten Tree, Roark and Indyeva (which all have sustainability and / or giveback programs). Indyeva is a women-focused brand by a women-based team out of Montreal, and we loved the look of their puffy jackets, both long and short.
As for winter boots, their go-to would be Blundstones.
"They're bulletproof," comments Justin. "The winter ones have a super-soft insole and are completely waterproof, even the elastic section. They're great for cold feet. If you're walking the dog or exploring the Valley Trail we also suggest the lightweight Sorels. New for this year, and only for women so far is the Vessie brand out of Vancouver. I tried these on and they are super light but completely waterproof. They almost feel like a surf bootie, more of a shoe feel than a boot."
If you are thinking of taking some winter strolls, ask the Escape Route team about their Korkers. These are traction devices for shoes and boots, giving you that extra grip on icy days.
Snowboard Style
Showcase Snowboards, located steps away from the base of Whistler Mountain is a snowboard haven. When we checked in with the sales team they pointed to Burton's [ak] collection, which they love for its technical ability and airtight lifetime warranty.
They also like the Jones Snowboard brand (founded by rider Jeremy Jones) with its design ethos of performance, sustainability and innovation. At a base layer, they'd go for the Airblaster Ninja Suit for warmth.
Over at The Circle Skate & Snowboard Shop, Whistler's other longstanding institution of radness, salesperson, Riz immediately went for the shell and puffy combo (again, the Whistler uniform).
"I'd go for the Volcom L GORE-TEX Jacket," explains Riz. "It's waterproof and stylish. On cold days I'd pair it with a puffy. The powder skirt of the jacket can be zipped to any Volcom pant, which keeps the snow out. The other option is the Burton [ak] 2L GORE-TEX Swash Jacket, which is insulated, so it's a good option if you feel the cold."
The hot colours Riz's seen on the racks this year are pastels, particularly pinks, purples and blues. When asked for her go-to Whistler boot option, she says the GORE-TEX Vans shoes have great soles (as well as style). And for a jacket for off the slopes, she'd go for a Roark bomber-style option in khaki green.
Luxury Jackets
Firmly entrenched in the working class, The Insider had no idea just how luxurious jackets could get. We got educated at Can-Ski, with locations in the Village, Upper Village, Westin, Marketplace and Creekside. They are the exclusive carriers of Moncler, Bogner and their off-shoot brand, Fire & Ice.
"We have Bogner jackets ranging in price from just under a thousand dollars all the way up past $3,000," says Stacey at Can-Ski Blackcomb, Whistler's top spot for high-end shoppers. "Bogner is so out there and original looking, it attracts women who want something more feminine and form-fitting."
The women's range certainly went for it on the neon colours, which are definitely good for spotting you on the slopes, while the men's range had darker options, but with fun accents like corded sleeves (for that professor / skier look).
Their technical go-to brand is Norrøna (a family-run and owned business out of Oslo, Norway), which went for some of those autumnal, natural-looking tones we saw at Acr'teryx (which they also stock). When you look around the store you will spot some fur, but Stacey assured us that it's all faux fur and that there are also lots of synthetic down options alongside the goose down (check out their Save the Duck line).
Talking of our feathered friends, Canada Goose parkas, famous for their warmth in Arctic conditions, are still huge sellers but come up a little toasty for on-slope action given that they're rated to -25°C. Any kind of hiking or exertion and you'll be drenched in your own sweat, as Whistler's temps rarely dip below -10°C (12°F) in the valley and -15°C (5°F) in the alpine during the coldest part of the year.
For the Kids
The Circle Kids is a whole world of cuteness. Laura Woerlee, owner of the store and parent loves a one-piece for the kid's ski gear. A lot of the brands have what they call room-to-grow technology, which means you can loosen a seam, unsnap some poppers or zippers and voila, that sudden growth spurt doesn't mean a whole new outfit. The Airblaster brand even comes with a zipper in the rear for when the kids need to go, which is always at the worst possible time.
The forest greens and blush pinks of Burton's line caught our eye, but it was the WeeDo animal one-pieces that we fell in love with.
When asked about shoes for getting around Whistler, Laura says that Sorels are a go-to, but the lighter-weight See Kai Run brand is better for little kids who maybe aren't as sure on their feet. She also mentioned that the EMU sheepskin booties are waterproof and super warm, a great option if you're coming in January and February.
Mountain Kids Outfitters says that Spyder jackets are always hot sellers because kids think spiders are cool (and I guess they kind of are). This is the place to come for everything your kids need for the slopes including things you didn't realize you need like stick-on ears for the top of their helmets.
"I love Helly Hansen gear. It's technical, wears well and comes in some fun, bold colours," says Magdelna. "We also carry Patagonia, Spyder and Burton GORE-TEX, which is always a good seller – I just love the lavender purple they came out with this season."
The team at Mountain Kids Outfitters rates Hestra gloves at the top of the line for little hands, as well as BOGS boots for ease of pulling on for the younger ones, while the latest Sorels have some great colours and patterns for bigger kids (we'd go for the pink cheetah print for sure).
Ski Jacket Science: Breathability, Waterproofing and Warmth
Making sense of all the numbers, ratings and ratios can be a bit overwhelming when shopping for a jacket. As well, testing processes and standards seem to vary from manufacturer to manufacturer. Luckily, the staff in Whistler shops are experts and they can help explain things better than any blog post can. But even so, we had to try.
Waterproof – 10k or 20,000mm or huh?
Generally (but not always) the waterproof number will be rated in the thousands (or k's) of millimetres (mm). What this means (and this is so random it's awesome) is that if you take a 1-inch by 1-inch square tube and place it over the fabric, you can fill the tube with water to this height before the weight of the water will push some through the fabric. So a 10k waterproofing rating means you could fill the tube with 10,000 millimetres of water before it leaks through.
Basically, the higher the number the more waterproof your fabric is.
It's kind of random that this process uses imperial measurements (a 1×1 inch wide tube) combined with metric (millimetres) but that's North American science for you. The basic rule seems to be that anything under 10k (10,000 mm) is not really that waterproof if you are dealing with wet snow or rain and 20,000 mm seems to be as good as anyone can get. Registered GORE-TEX garments are always a safe bet.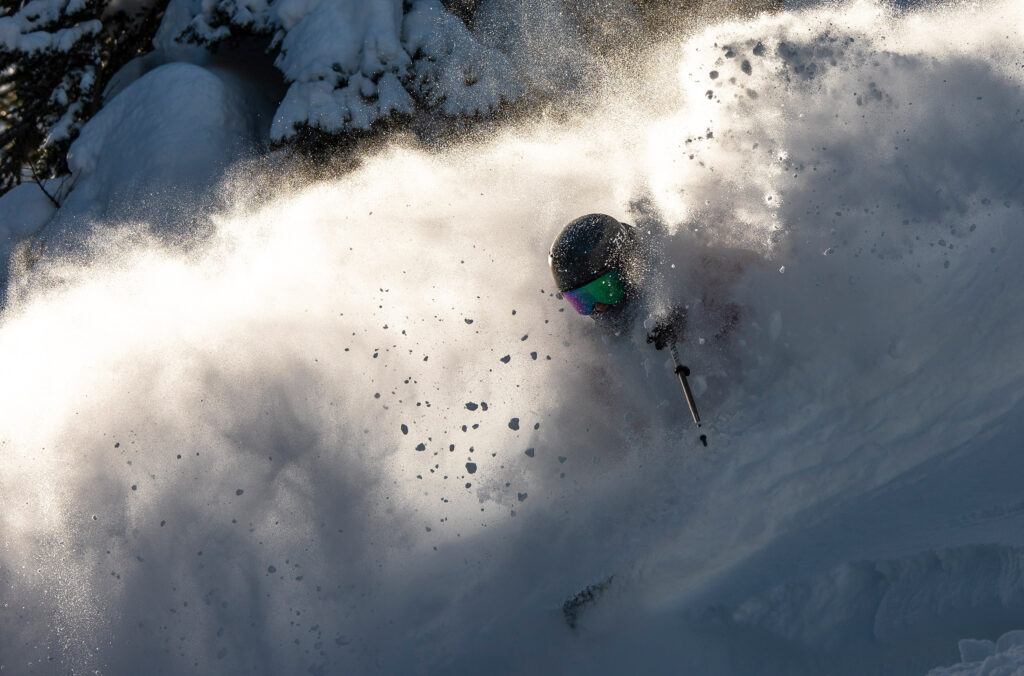 Breathability– Grams per Metre per Wha?
The reason we don't just use totally waterproof rubber rain slickers is because our bodies also create moisture that needs to escape through our clothes to prevent us from getting soaked from the inside. Do a 10-kilometre run wearing a green garbage bag if you want to see what I mean.
Breathability ratings are usually based on how many grams of water vapour can escape through a square meter of that fabric in 24 hours. As always, higher numbers are better and a 20K (20,000) g/m2 rating seems to be on the higher end of the breathability spectrum.
Seam Sealing – What is it?
Water can penetrate the tiny needle holes in a jacket's seams so seam sealing is a process that runs either waterproof tape or glue over the seams to ensure moisture can't squeeze in. Jackets will be either fully taped with all seams sealed or critically taped where only seams on the high exposure areas like the neck and upper torso are sealed. The more sealed the better though.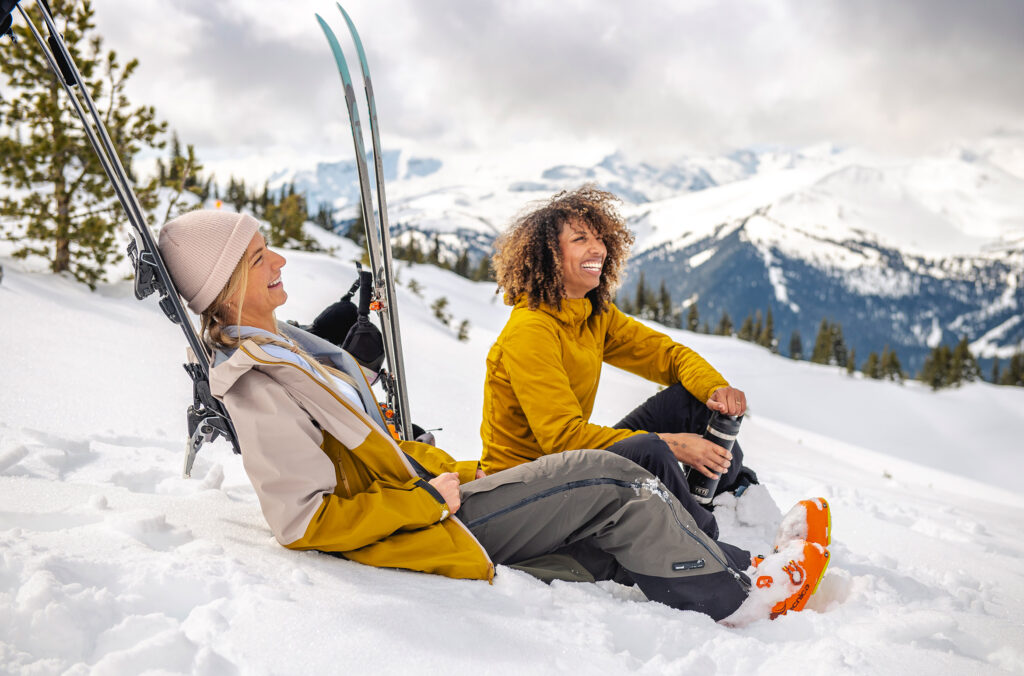 Warmth – Down or Synth?
Staying warm is different than staying dry (although they are obviously related). Being warm is all about keeping warm air close to your body. Jackets can have insulation built in or they can just be a shell and the insulating layer is a separate garment. The latter is more diverse if you are going to be hiking or exerting yourself. The best insulation these days is either down or synthetic.
Down jackets and vests are rated on their fill power. This means an ounce of the down is placed in a standard graduated cylinder and however many cubic inches the feathers fill is the loft rating. For winter jackets it's usually in the 300 to 700 range. To climb Mount Everest I'd look for 900+. Simple enough, except to keep things interesting, the down from older ducks and geese actually have tiny little hooks on them that allow them to cling together better (and provide more insulation) so now source-goose age is a metric you can ask about (and some companies will be able to answer that).
Synthetic insulations are rated in gram weights. A 1-metre by 1-metre piece of the insulation is weighed and that is the rating, usually between 40 to 120 grams.
Heavier weight = higher rating = more insulation.
There are 8 to 10 main synthetic insulation brands and the best ones can be as warm as a 500 to 550 fill goose down garment.
Sounds like a lot to remember? Don't worry, you can fall much deeper into the wormhole when you start investigating base layers and other warmth. Fleece vs. polypro vs. wool vs ???? Just talk to the salespeople in whatever stores you hit up, these kids are pros. And remember, Pip Brock did it in a knit sweater, so don't be so soft and get up there where the good pow is.
(Huge thanks to EVO Sports for their excellent Understanding waterproof ratings and breathability guides which served as an essential resource for this blog).
We hope this is a helpful guide for your ski jacket shopping. Remember to leave some extra room in that suitcase for a few Whistler purchases. See ya on the slopes!