Editor's Note: This dining with kids post was originally written in 2019, but we've updated it and reposted it because it's definitely a popular one!
I remember a time when my two-year-old, Ella, would eat broccoli, she would even ask for "mini trees" when I'd start dishing out her dinner. However, a few months on and it's sometimes a battle of wills, ingenuity, and cunning to get her to eat her veggies. I know I'm not alone when it comes to fussy eaters.
It's not only what they eat, it's when they want to eat it, and finding that oh-so-delicate balance is a practiced parenting skill. Throw in ski school, après activities, trying to get to cool stuff like the Fire & Ice Show (winter) or the Summer Concert Series and you need a plan of action for dinner time when you're visiting Whistler.
A hangry child can be a tantrum-throwing nightmare so to avoid that we've put together a list of our favourite Whistler spots for dining with kids.
Head to Main Street
Located in Village North, Main Street is tucked behind the Marketplace Shopping Centre. This is a whole street of family-friendly dining options from Australian meat pies to French crepes, sushi to pasta, and noodles to burgers. Note — these places are small and none of them take reservations, but if you keep an open mind (and belly) you can see which one appeals on the night or has the smallest line-up.
INSIDER TIP: If you are faced with a bit of a wait, you're really close to Whistler Olympic Plaza where the kids can burn off some energy (winter and summer) before heading in for some eats.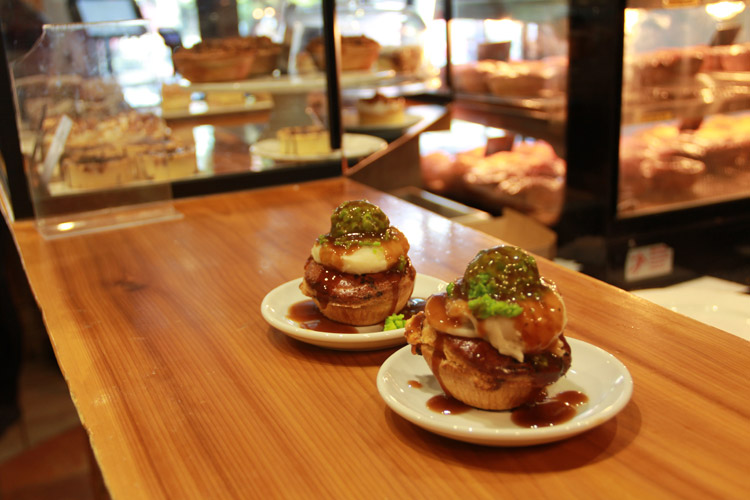 Good for breakfast, lunch and dinner, Peaked Pies is a fast and easy option. You'll find a glass case full of savoury pies (meat and veggie options) as well as slightly lighter choices like a sausage or spinach and ricotta roll. You'll be asked if you'd like your pie "peaked", which means a dollop of mashed potato, mushy peas and gravy is added to the top. The portions are generous so bear this in mind if you have little ones who could take a nibble of yours. There's a small dine-in area, or you can opt to take out and eat picnic-style outside or take it back to your hotel or condo. If you have room for a Lamington we highly recommend these for dessert!
Splitz Grill's tagline is "A burger worth skiing for" and that's what they deliver. They make their patties fresh, daily, and have over 40 house-made sauces and toppings. Although we know that kids tend to prefer a more simple approach to sauces (ketchup), a few dunks into Dad's garlic aioli might broaden their dipping horizons. It's also good to note that they have a kids' menu with grilled cheese, chicken fingers and mini burgers. Note, they do have gluten-free buns, lentil patties and a new "Beyond Meat" vegan option.
There's nothing like fresh pasta with a tangy tomato sauce and kids know it. Pasta Lupino is a great option for pasta-loving families, and they make it simple with their "pasta & sauce" option (they do a half-sized, under 12s portion). The chicken parmigiana, lasagna and pizzas are also great options for teens and adults out for a carb load. If you're looking for another pasta-based option that's good for families try the Old Spaghetti Factory on the Village Stroll, it's between Mountain Square and Village Square.
From simple ham and cheese all the way to a lobster and scallop option, there are crepes for all levels of eaters at Crepe Montagne — not to mention some incredible dessert options. Space is pretty tight, but they do have some booth-type seating which is great for wedging the kids into. This is a good option for breakfast and lunch too, and if you're visiting in the summer months, their patio is a lovely sun trap.
Another option close to Main Street is La Cantina at Whistler Marketplace. They're famous for their authentically-Mexican tacos and burritos. It's quick, tasty food and the atmosphere is relaxed and friendly. Given that there is a bit of spice involved, this option is typically popular with older kiddos.
Close to Olympic Plaza
The fact that it has five in-house beers on tap will sell The Brewhouse for a lot of people but other assets include lots of kid-approved menu options and a large (newly-renovated) sunny patio right beside Whistler Olympic Plaza that makes it possible to watch the kids as they play near the Olympic Rings. There's also a little train track that runs in the rafters, which is definitely entertaining for the little ones.
El Furny is a hit with families because of its good value prices, a menu full of kid favs and a casual, fun atmosphere. El Furniture Warehouse is also co-owned by local ski and snowboard pros and staffed by a lot of longtime local servers which can mean a bit of a rowdier and louder scene after 7 PM, but it also means older kids might get a chance to sit next to one of their ski / snowboard heroes.
Base of the Mountains / Après Vibe
If you're still looking for that après vibe, but have the kids in tow the GLC is the place to go. Situated right at the base of Whistler Mountain it's the kind of place that embraces the kiddos also dancing in their ski boots. Their kid menu includes grilled cheese, chicken bites and pizza, which are served with their legendary waffle fries.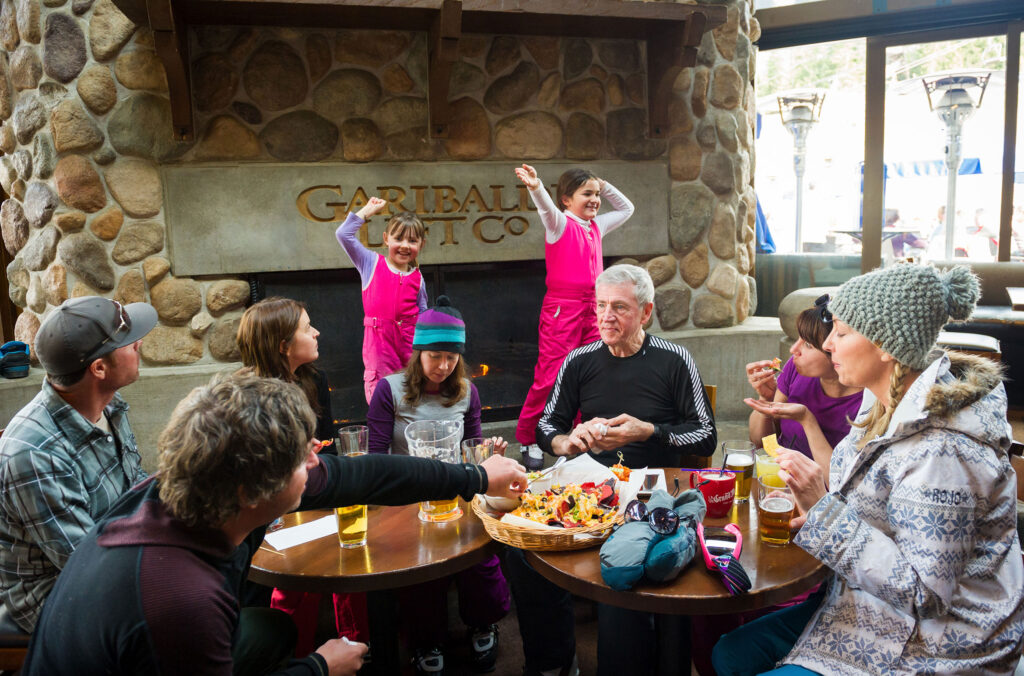 The Dubh Linn Gate is another classic Whistler après option for the family who enjoys hearty-Irish fare along with their Irish fiddle music. Their kids' menu has a few more interesting options on it than other places, including one-piece fish and fries, and POGO (battered hotdog) and fries.
If you're in the Upper Village / Base of Blackcomb we suggest heading to Milestone's or Portobello with the family. For Creekside, Dusty's would be our pick.
Perfect Pizza
Pizza is another kid-friendly favourite and we have some great options for you to try that range from take-out and super casual to a more formal setting where the menu has a few more adult-friendly options on it too.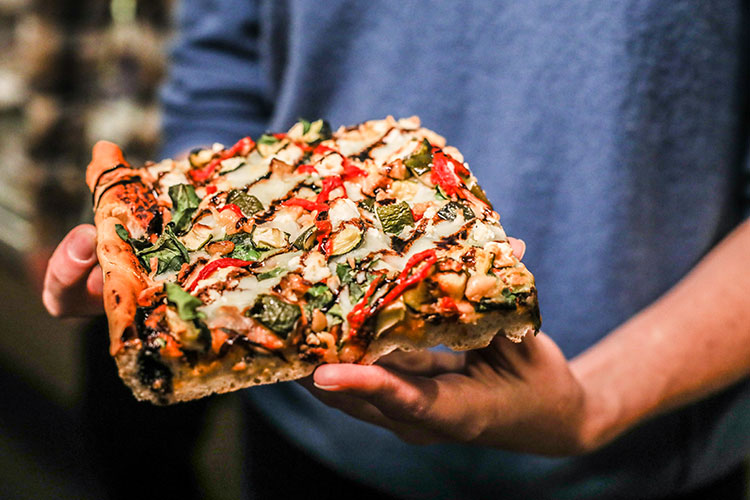 Another thinner, Neapolitan-style pizzeria, Pizzeria Antico is a funky option with a great craft beer list for Mom and Dad. Some of the base pizza options are very simple, but you have the ability to add toppings. This makes it a good option for fussy eaters who will refuse to consume anything that might be "contaminated" with mushrooms or peppers! They take reservations over the phone and in person.
Caramba! pizzas are of the slightly thinner, wood-fired variety which is a bit easier for little ones to chomp through. They also do a gluten-free crust if needed. Take note that their happy hours (5 – 6 PM Tuesday to Friday, and 3 – 5 PM at the weekends) coincide with the earlier nature of eating with kids — very handy. The atmosphere is friendly and relaxed, and they're used to having the kid crowd join them in the earlier part of the evening. They take reservations online, over the phone and in person.
Located in Whistler's Creekside area, a five-minute drive south of Whistler Village, Creekbread is a local favourite that's always hopping. They use 100% organic, Canadian wheat, the meat is organic and nitrate-free, and their veggies are sourced locally. Housed in a big wooden cabin-style building, it has an old-school ski-lodge feel that's relaxed and fun. Kids can watch as their pizza gets put in the wood-fired clay oven, and there are some funky flavours like the Pemberton potato pie and Mopsy's Kalua pork to choose from. At this time, if you want to dine-in you need to make a reservation.
Sushi and Ramen
I moved here from the UK over ten years ago and sushi was not something I grew up with. As a child, I think I would have likely shunned the idea of raw fish, but it's an intrinsic part of the cuisine here on the West Coast and it's something we've introduced Ella to at an early stage.
We're big fans of Sushi Village, and the kids love the thrill of a tatami room and the seemingly endless roll options. You can't make a reservation unless you have a group of six or more, so get there early, if you have to wait get one of their frozen sake margaritas. Another place to take the kids that's a little off the beaten path is Ohyama Ramen, close to the Whistler Conference Centre and RBC Bank. Ella loves to slurp up the noodles in the yummy broths and pop the edamame beans.
Soups and Sandwiches
Forecast Coffee is located in the centre of Whistler Village, just off Village Square. If you head to Forecast, go through Armchair Bookstore — they have some great children's books written by local writers with a Whistler twist. Great for breakfast and lunch, Forecast is known for its cozy atmosphere, hearty soups and grilled cheese sandwiches.
View this post on Instagram
Something Special
We recently took Ella for her first fondue experience. We went to The Chalet, by the Fairmont Chateau Whistler. It's actually their golf clubhouse in the summer months, but in winter they turn it into a winter wonderland with fairy lights, lanterns and fire pits. Ella was quickly sorted with a high chair, crayons and her own Egyptian lemonade mocktail in a sealed jungle juice container.
We opted for the full fondue experience with Ella just digging in on our food, although there is a kids' menu if needed. Armed with a three-prong fork we gave Ella the task of getting Mom and Dad bread, while we dealt with the actual cheese dunking. Be aware that the molten cheese contains Emmenthal, Gruyère, white wine (the alcohol cooks off) and kirsch, so it does have a distinctive taste that some kids might not love. We were also busy putting our AAA Alberta beef in the fondue broth, Ella loved to pop the little slivers of steak in her mouth.
By 7:15 PM she was starting to look a bit droopy, and then the chocolate fondue appeared. We had to strap her down in the high chair to stop her from simply putting her face into the lightly, bubbling mixture of milk and dark chocolate. There were strawberries, pineapple, banana bread, marshmallow and biscotti to dip — she didn't know where to start. While she was distracted we got a nightcap from the Schnapps Wagon, a beautifully ornate wooden cart filled with equally beautiful liquors.
INSIDER TIP: Our server told us that if you lose any food in the pots, you have to kiss the person on your left, so you might want to consider where you sit!
The Wildflower Restaurant, inside the Fairmont Chateau Whistler, is another great option for families in the Upper Village.
Dessert
If the kids just can't stay at the table any longer consider a nice evening stroll, with a sugary kick. The Rocky Mountain Chocolate Factory has glass cabinets filled with toffee apples, fudge, and something called a "bear claw" that I personally think every visitor to Whistler should try. You can smell Cow's Whistler before you see it on the stroll. Known for their yummy ice cream, look out for the new moonan bread and moo malt crunch options.
INSIDER TIP:
  Download the free,
Go Whistler Tours app
and take a look at the Sweet Treats self-guided tour for some ideas of where to take the kiddos for those well-earned hot chocolates, donuts and cookies!
This is by no means a complete list, as a foodie and a mom I could keep going for quite some time, but Whistler.com has a handy dining guide you can also consult. Another good dining post is our guide to comfort food in Whistler, so make sure you check that out!
If you're planning on coming with the family, let the team at Whistler.com do the heavy lifting on the accommodation and transportation front, so you can plan the fun stuff — like fondue!
Book your winter trip now to secure up to 25% off lodging, 65% off lift tickets and 45% off rentals. Come experience Whistler Blackcomb's extensive terrain and adventure at every turn to see why we're known as one of the best resorts on the planet. Secure your winter getaway with Whistler.com for Flexible Cancellation and our Price Match Guarantee. Want to win a winter trip for two to Whistler? Check out our Drop In to Winter contest.