Why Whistler? A question that Whistler locals get asked all the time. And, although there are a variety of responses to this question, you can be sure they'll answer with passion, pride and a fun story.
What is it about these mountains that draw people to them and then won't let them go? How does the balance of work and lifestyle work here? What gets under people's skin and embeds itself so deep that Whistler becomes part of their soul?
We ask a variety of Whistler locals Why Whistler? In Video 10, we chat with musicians Helen Hamilton and Charlie Stenner of Little Earthquakes. We talk about drawing creative inspiration from the mountains, flow state and coffee art.
How Did You End Up in Whistler?
Charlie (C): I'm from a little island called Guernsey, which is in the English Channel. Just after finishing university, I came on a holiday with family to BC and I just loved it so much that I decided to come back, and I stuck around. As everyone says, I came for the winter and stayed for the summer.
Helen (H): I'm from South London, in a place called Epsom in Surrey. I came to Whistler in 2014 shortly after I separated from my ex-husband; it was a getaway, get-over-trip. I stayed with my best friend who eventually convinced me to get a working visa and move out here.
The main reason I stayed here is that I fell completely in love with the town, the scenery. I knew that I wanted to stay because I felt a completely different energy here. I was in London before, working really hard, a little burnt out perhaps, and Whistler was this amazing tonic of outdoor life that I'd never experienced before, and I became absolutely smitten with it.
What's the Vibe of Whistler?
H: It's this mix of this tiny, little mountain town with amazing scenery that almost feels like this enchanted place, but mix that with so many tourists and so many people living here from different cultures that you kinda get that slight buzz of the city. This works for me because, coming from London, I still needed a bit of buzz, a bit of nightlife and big energy, and you get it in Whistler through the people and the tourism, but you've also got the wide-open spaces and this amazing, beautiful landscape that feels kind of endless.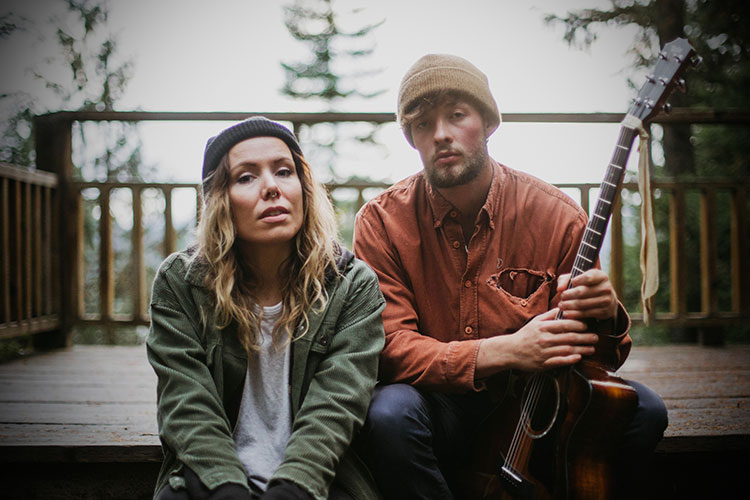 How Did You Get Into Music?
C: I asked for a drum kit one Christmas, my parents said that would be too loud, so they got me a guitar instead. I'm sure I had a tantrum about it, but I decided to give the guitar a go and got really, really into it.
H: I first got into music with my ex-husband; we were in a band together in our early 20s. We performed together for about eight years, travelling all over Europe in an electronic duo, booking all our own shows and leading a very cool, DIY, music lifestyle. Then I went on to play all over Europe in a party band, doing high-end events for people like Google and Asahi Whiskey, which was full-time back in London. Then, moving here, I've been doing music since I landed. I went to the local jam nights and started playing music in different bands and duos.
How Did You Meet?
C: Helen and I have been playing music together for two years. Helen runs vintage pop-up events in Whistler, and we met because she booked one of my previous music projects to play. When the other half of that music project, Ellie, decided to go back to the UK, Helen stepped in and here we are!
H: I saw Charlie play at one of his early gigs at Cranked and I asked him to play at one of my vintage pop-up events, which I run every month in Whistler and Squamish. I loved his sound and when I heard his music partner was leaving, I approached Charlie about making music together and we've been doing that for nearly two years now. Charlie feels like family to me.
How Would You Describe Your Sound?
C: Indie, folk, alternative. It's got quite a mystical melancholy to it. We're going for that enchanting, sad space.
H: Originally styled, cover versions of alts, pop, lofi, R&B, a kind of rocky sound. We love making original versions of quite well-known songs, and we also play some more obscure, melancholy, enchanting songs as well. Someone recently described us as heartbreak and hope, which I really like.
I relate to heartbreak and anything that feels really emotive. I remember watching a singer who said they suffered to sing happy songs, and I really resonated with that. I like anything that goes deep and talks about hard times in life, and I like expressing my emotions, it's almost like writing a journal, getting it all out. It's better to get emotions out rather than keeping them suppressed inside.
What's Your Favourite Thing About Playing Music?
C: Forgetting myself. When I'm completely immersed in what I'm doing, I feel whole and complete.
H: I used to ride my bike when I was six, another reason I love Whistler is the mountain biking, but I used to ride along my street and sing songs to myself and make up lyrics. I stood up at school and said I wanted to be a singer, so it's something inside me that I knew I had to do.
When I write music and when I'm performing, I'm in my complete flow state; nothing else matters and nothing beats it.
I'm inspired by playing in Whistler. We did a show right on the shores of Alta Lake, at The Point Artist-Run Centre, where we watched paddle-boarders and boats go by as we performed in the sunshine; it was absolutely beautiful and I have to pinch myself because I genuinely can't believe I'm living in one of the world's most beautiful places, doing what I love the most.
What's the Music Scene Like in Whistler?
C: Healthy. It's supported by the fact that Whistler is a big tourist destination, to that end musicians can actually make a living here. That has its own traps in terms of where the music territory goes. Artists always have to deal with the tension between pleasing the masses and following individual creativity. It's a difficult balance to strike. There are a lot of venues that want the same, familiar setlist; that doesn't necessarily encourage artists to nurture their own projects.
H: It's buzzing. There are loads of musicians. The first jam night I went to was at Crystal Lounge, I met a lot of musicians that night. There are some old-timers who have been here a long time and there are loads of newbies coming in all the time. It's amazing to see such a merging of different talent and different experiences from all over the world come together and because of that, you have a real mix of genres, musicians, instruments and abilities. Whistler really stands up to a city because of that mix.
Is Whistler Supportive of Its Artists?
C: It's immensely supportive of artists in general. Whistler, and more broadly, Canada, has great funding for the arts; it's valued. But at the ripe, old age of 25, I haven't lived in a lot of places. It beats Guernsey.
H: The community really supports its artists. There are so many bars offering live music. You can possibly be performing a similar set each week as your audiences changes because they're tourists, so that works well for repeat gigs; you can't do the same in London, or many places in the world. The Resort Municipality of Whistler and Arts Whistler really help you out with shows; we just finished a mentorship program which was all funded and was an amazing experience. I've never felt more supported as a musician.
What Makes Whistler a Good Place for Creatives?
C: It's the same thing that the mountain bikers love, the snowboarders love, and it's a different way of them accessing that sense of losing yourself in your practice. That is a different expression of life, and being fully involved in living.
What Makes Whistler Special and Unique?
C: It attracts lots of people who have a lust for life; the community is buzzing with that energy.
H: I've heard this story multiple times here, people say; I've been all over the world, I came here and I stayed. That is the essence of Whistler. I've travelled a lot myself and you stop here, and you don't go anywhere else. As a musician, I used to want to travel all the time, tour and gig, but since moving to Whistler, I don't need to do that. I'm happy to stay in Whistler and play on those patios because I love it here.
What Do You Love About Whistler More Than Anywhere Else in the World?
C: How big everything is and how it makes me feel like a child again. Everything – the trees, the skunk cabbages; nature is absolutely breathtaking here and I am in constant wonder of it.
H: I can combine all the things I love doing with outdoor sports. I can do the bike park, I can snowboard, skateboard, do yoga, but I can also make a living here through lots of different ways, and it's a beautiful place to do that. Whistler is great for anyone who loves the outdoors and loves nature. I was in the bike park a few weeks ago and we saw deer, rabbits and a bear. I love it when people come to visit me because I start exploring Whistler again; it's like you're reliving your first time at Cheakamus Lake or your first time on the gondola and PEAK 2 PEAK.
What Other Things Do You Do in Whistler?
H: I do a lot of things in Whistler, and that's not to just make ends meet, it's to fulfill my own motivations, I'm a very driven sort of person. Alongside music, I run monthly vintage nights because I have a passion for sustainable and environmentally-friendly fashion. I'm also a wedding makeup artist, that's my training, my background, as I trained at the London School of Fashion in editorial makeup, and now I'm busy with weddings all year round.
I also make coffee at Mount Currie Coffee Co., which was voted Whistler's Best Coffee in 2020. I've been making coffees since the day I arrived and I've loved every minute and I've met so many locals. I've really become aware of what a beautiful community Whistler is through the coffee shop, so I still work there part-time. Before I worked there I was actually caffeine-free, not anymore! I love the culture, the creativity; it's a wonderfully social job, and it's an art form. I learned my latte art at Mount Currie, it took me months to get up to scratch, my specialty is a bear!
What Does the Average Summer Day Look Like for You?
C: I will inevitably go to a lake and cool off. Camping in the evening. Spending time with friends. Patio gigs. I've just bought a bike and I'm looking forward to zipping around the Valley Trail on that.
H: I do yoga on my deck in the sunshine. I love breakfast at Alpine Cafe. I will go mountain biking if it's not too hot, or come skating at the Whistler Skate Park. I'll definitely go sit by a lake, maybe do the bike park in the evening and I love hiking too!
Do You Skate?
C: It was my great love before music. I was seven when I got my first board. I fell away from it at university but always came back to it on holidays. The island that I come from doesn't have a skate park, so having a skate park like this one in Whistler is incredible.
H: I learned skateboarding at 32, which is pretty late in life, but I believe that you can pick up any skill at any time. I came to Whistler for six weeks in the winter of 2016 and then went back to London, which I was a bit depressed about because I'd wanted to stay. My best friend taught me how to skateboard to cheer me up. I learned to drop in, some tricks, but it was really to try and cheer me up from leaving Whistler!
Where Do You Dream of Playing in Whistler?
C: I'd love to play a jazz set at the lounge in the Fairmont Chateau Whistler, and I'd love to play up the mountain at the Roundhouse; that sounds like an adventure, you take your instruments on the gondola, zip up the mountain and you're on top of the world, playing music, what more could you ask?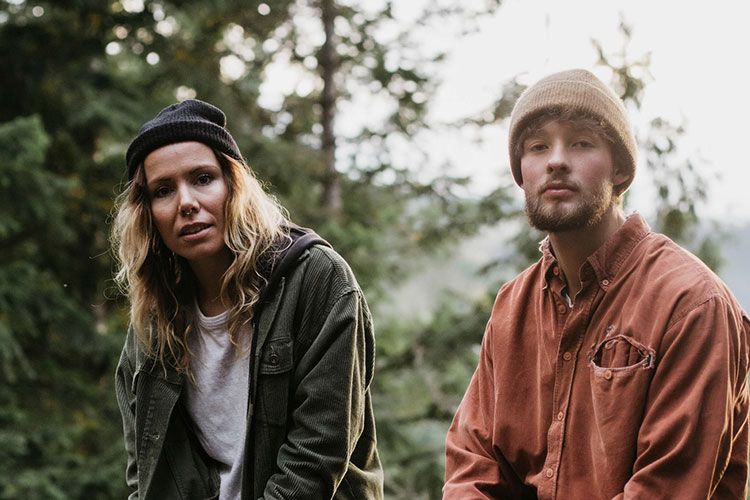 Has Living in Whistler Changed or Influenced You in Any Way?
C: It's opened my eyes to a huge variety of cultures and walks of life. I think it's a place where people of lots of different ages hang out and it doesn't matter because they're inspired by the thing that they're doing, and that generation thing is broken down. I have quite a lot of friends who are older; I think Whistler's an amazing place with a huge variety of ages and cultures, and it's expanded my being.
H: I'm way more in-tune with myself and my emotions. I get outside a lot more, slowing down has helped me become a better version of myself; I've got to know the real me. In London, it was such a fast-paced life that I'd kind of forgotten who I was. Moving to Whistler has allowed me to reconnect with myself.
What Are Some of the Challenges Living in Whistler?
C: Trying to find a solitary spot if you want to have nature to yourself; that's very greedy of me. I think keeping away from mosquitos is a bit tiresome. Paid parking. Having to leave.
H: Housing. There's not a lot of opportunities. I share a house and it's great, but I'd love to find more permanent, secure housing. It's expensive, but you work hard and you make it work because it's a really great place to be.
What Gives Whistler its Heart and Soul?
C: The great community of people here that love the mountains and keep the place running.
H: Whistler's not only an amazing landscape, a beautiful mix of lakes, mountains and forests, but it's combined with this amazing community that has found heaven on earth and has come together for the same reason. There's this connecting vibe that way.
Check out the latest on Little Earthquakes on their Facebook page. To meet more Whistler locals, take a look at the rest of the video series, we're adding more as we go!
Ross Reid is our talented videographer on this project. To see more of his work visit his website.