Editor's note: Whistler isn't actively celebrating Craft Beer Month this year, but you can certainly celebrate all things beer at the annual Whistler Village Beer Festival.
October is Craft Beer Month in Whistler uniting brew lovers, enthusiasts and dabblers all month long, through a series of more than 40 craft beer-themed experiences and events. At this time of year, Whistler is adorned in yellows, oranges and reds, which stand out against the contrasting evergreens, creating a picture-perfect place to embrace a fall patio session and sample the locally crafted, liquid gold – beer of course!
Here are the events that should be on your Whistler Craft Beer Month radar.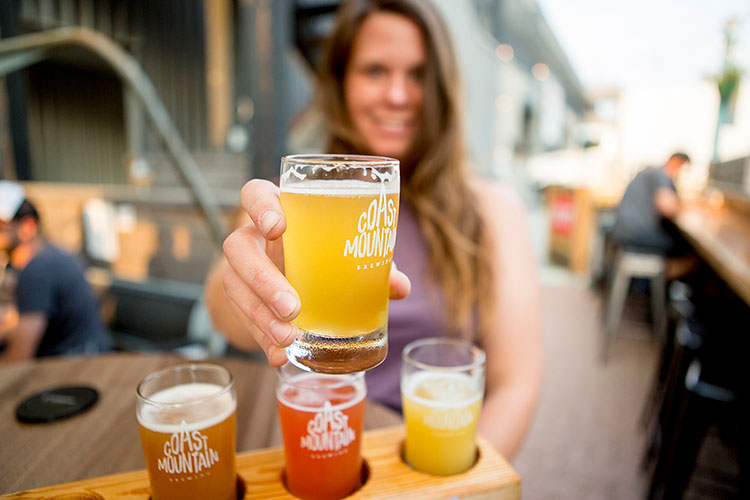 Craft Beer + Activities
Like to earn your après? The Boulder & Beer experience should be right up your alley! Head to the Whistler Core for a climbing or boulder session followed by a beer at nearby Tapley's Neighbourhood Pub for $24 (price includes drop-in bouldering pass and a beer, and is available all month long). 
Whistler Racket Club is hosting Huck it in the Bucket, an axe throwing and beer sipping outing for groups of four or more. Sip on suds from HumbleBee Meadery while testing your hand-to-eye coordination at Axewood's axe throwing experience, which also includes a delicious flatbread from their Courtside Cafe.
Going from brawn to brains, Tapley's will be hosting bingo and trivia nights throughout the month too.
Craft Beer + Spa
Mani-pedi anyone? Cozy up for a sports manicure or pedicure from The Spa at Nita Lake Lodge and enjoy a refreshing cold one from Coast Mountain Brewing and a box of beer-infused sweet treats from BETA5 (an award-winning chocolate and pastry shop based in Vancouver) – yum! 
If you're not looking for some pampering, you can still try a beer and chocolate flight at Nita Lake Lodge's Cure Lounge.
Craft Beer + Tour
All aboard! Did you know there are eight craft breweries in the Sea to Sky? The Brew Bus is a safe, easy and affordable option for private groups of 1 to 12 people to explore them. You can choose from three tour options covering Whistler, Pemberton and Squamish, or contact Whistler Valley Tours to create your own itinerary.
However, you don't need to travel outside of Whistler to taste most of the Sea to Sky brew offerings as the Braidwood Tavern at the Four Seasons Whistler offers a tasting flight highlighting 14 local brews!
INSIDER TIP:
Take a look at the new Craft Beer Tour on the
Go Whistler Tours
app. It's free and guides you around nine locations in Whistler where craft beer is king.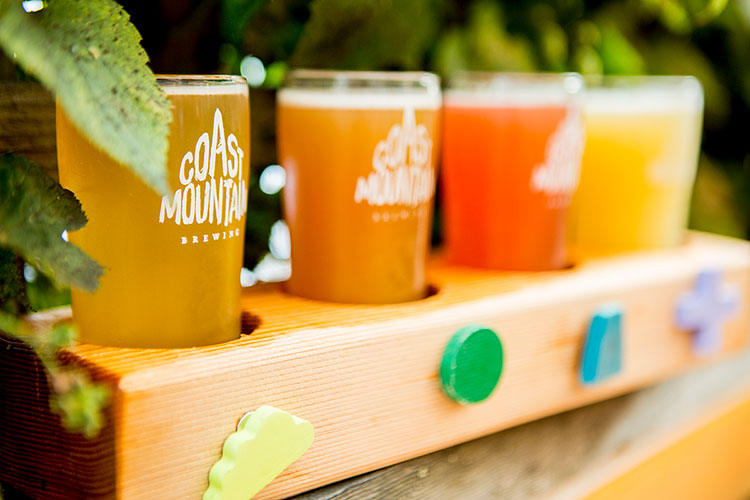 Craft Beer + Eats
It's a Battle of the Beer at The Raven Room where four, local bartending teams will go head-to-head to create the best cocktail using, you guessed it, craft beer. The cocktails will be offered alongside family-style, shared, small plates and you get to judge the winner!
Coffee connoisseur or just need an afternoon pick me up? Longhorn Saloon & Grill is hosting an organic Coffee Blonde Release Party on October 3 from 1 to 5 PM to celebrate Deep Cove Brewing and Distillery's delicious new Coffee Blonde Ale made with Ethical Bean Coffee. 
It's Cluck, Cluck, Brew over at the Longhorn Saloon every Sunday (after 5 PM) with their Beer Can Chicken Dinners, where Chef Frank Sham stuffs whole chickens with a can of Deep Cove Lemon Radler and slow roasts them to juicy perfection. 
These are just a taste of the events on offer, so keep your eye on the Whistler Craft Beer page as more events are being added.
INSIDER TIP:
Want to make beer the focal point of your trip to Whistler this fall? Take a look at the
3-day itinerary suggested by the BC Ale Trail
for more ideas of how to integrate some brews into your trip to the mountains.
What's on the Brewery Taps this Fall
If you're looking for some fall-inspired brews, head to Function Junction and check out what's available at Whistler Brewing Co. and Coast Mountain Brewing.
Back on the taps at Whistler Brewing is their Chestnut Ale; a warming nutty, caramel ale that's light on the hops, with a crisp finish. They also have the creamy Black Tusk Chocolate Milk Ale; a full-bodied ale with rich, dark chocolate notes. Put those in your sampler rack, and take a look at the guest tap, which typically features another fun, locally produced brew.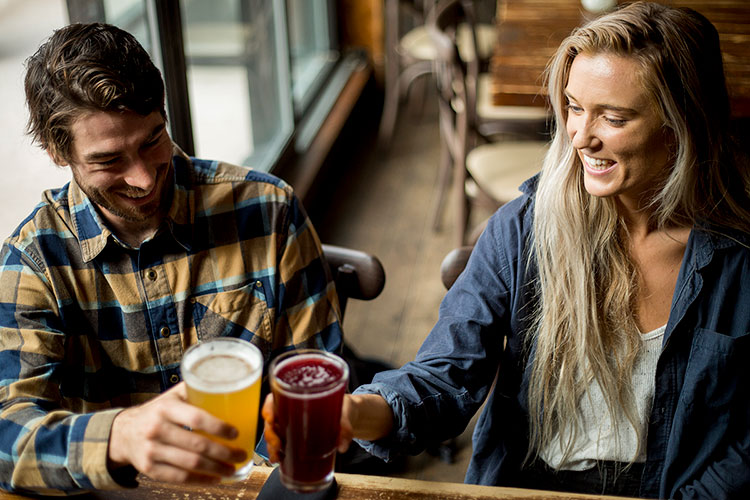 Coast Mountain has their award-winning Woodnutt Brown Ale coming back on the taps at the end of October. Until then, if you're looking for something with a bit of a fall flavour, you'll have to make do with their Rum Barrel Aged Imperial Stout, a smooth beer with notes of caramelized sugars, vanilla, molasses; oh, well, if we must.
[/vc_column_text][/vc_column][/vc_row]
Fall in Whistler means more, like great value on accommodation with rooms from $135 CAD per night, plus a free $100 CAD Dining Voucher when you book a stay of 3-plus nights. Book in confidence with Whistler.com for Flexible Cancellation and a Price Match Guarantee. If you're dreaming of a trip to Whistler, enter our Find Your Altitude contest for a chance to win a six-night vacation with flights, accommodation and activities (including a heli trip) all covered.