Big smiles, less layers and laid-back vibes – it's sunny spring skiing in Whistler! Spring's mild temperatures, combined with a great snow base and an extra dose of daylight make for excellent skiing and riding conditions on Whistler Blackcomb.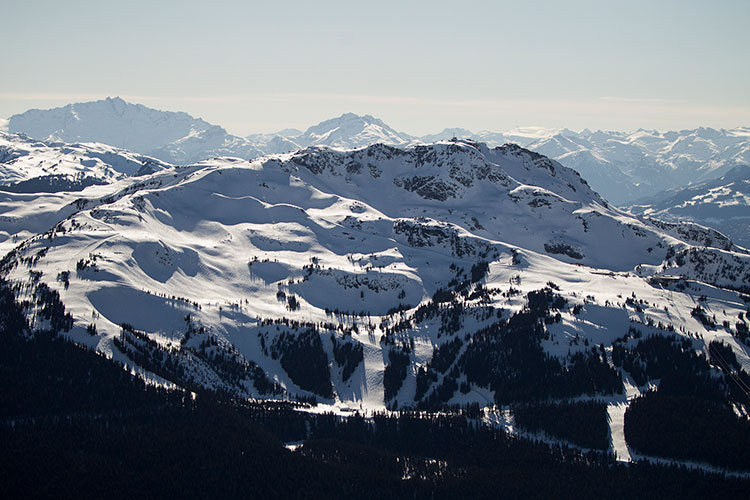 The lifts are open from 8:30 AM to 4 PM, so there's plenty of time to find all your favourite snowy stashes and it's less busy (especially midweek), so you can glide right onto the lifts and have fun on wide-open slopes. There's also a mentality shift as we pack away the puffy jackets and don our sunglasses; things become less frantic and we take the time to stop and savour the moment.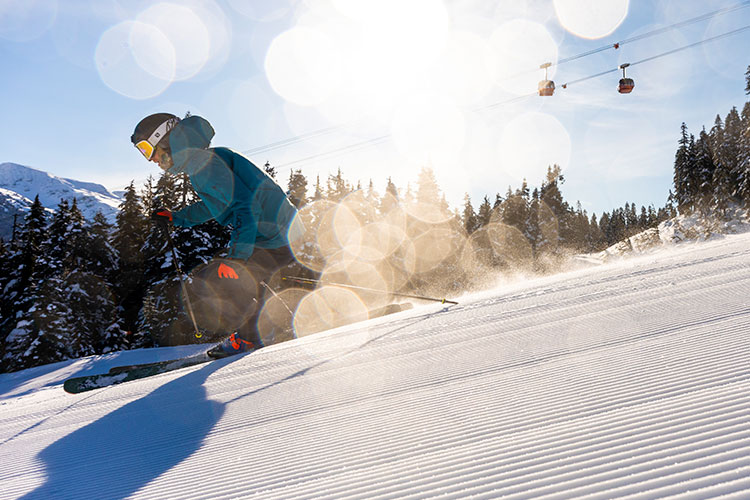 We're big fans of sunny spring skiing, so much so that we've made a game plan for those who want to chase the sun from mountain to mountain, from slope to slope. Here's how to follow the sun when spring skiing in Whistler.
INSIDER TIP: Don't forget your sunscreen. The sun reflecting off the snow will leave more than just a goggle tan if you don't lather up!
Morning Rays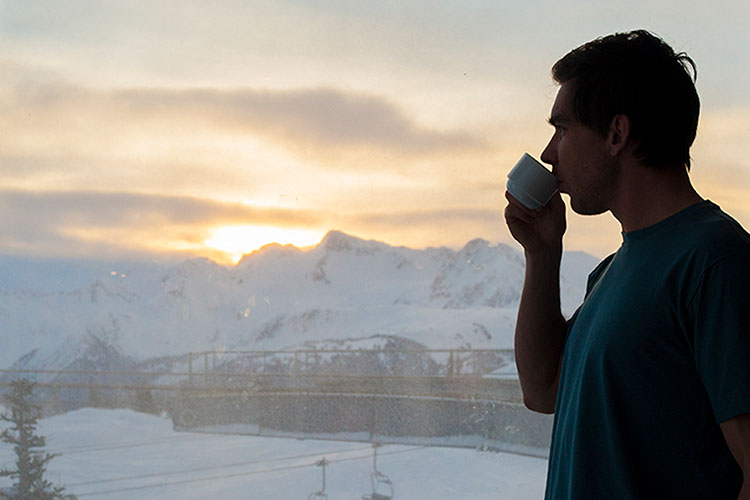 Start your day on Whistler Mountain and head into the alpine. Peak Chair has epic mountain views year-round, but early uploads in the spring provide the perfect perch to watch the sunshine paint the surrounding mountains. From here, go southeast to soak up some rays by lapping Harmony and Symphony Express chairs. 
Ski Runs for First Light: Green – Pika's Traverse, Blue – Harmony Ridge, Black – Dappers Delight (full Whistler Blackcomb Trail Map)
Midday Sunshine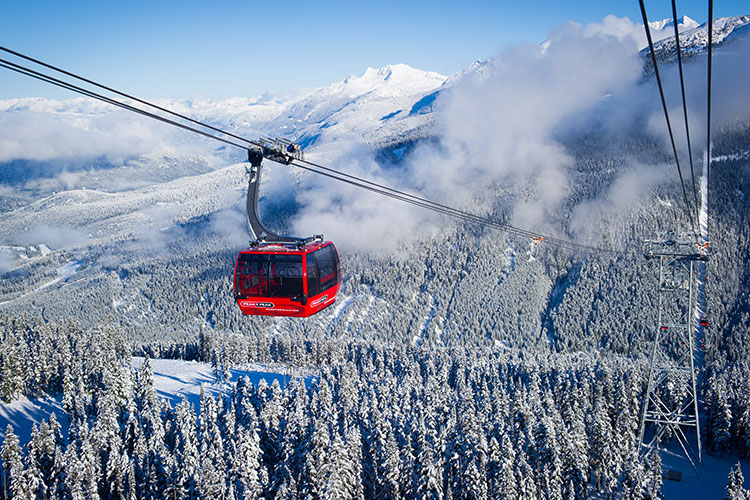 Head to lunch at the Roundhouse Lodge and wrap your morning on Whistler Mountain before taking the PEAK 2 PEAK Gondola over to Blackcomb Mountain for the afternoon. Enjoy views of the entire Fitzsimmons Valley in full light as you make the commute across to Blackcomb Mountain. 
Ski Runs for Midday Light: Green – Green Line, Blue – Upper Peak to Creek, Black – Blackcomb Glacier (full Whistler Blackcomb Trail Map)
INSIDER TIP:
Strategically eat lunch early or late and make the most of the sunniest time of day
–
you'll feel like you're on a private mountain.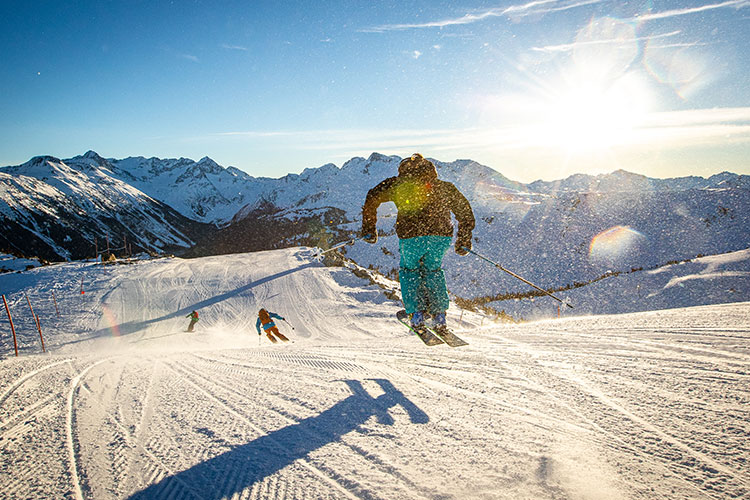 Afternoon Glow
Your sun-seeking strategy will reward you with a sunset of epic proportions if your ski legs last all day. You'll notice the following favourite runs are all accessed from 7th Heaven Express on Blackcomb Mountain – that's because it has the most sunshine in one long, consistent pitch with such incredible views across to Whistler Mountain and in the distance, Black Tusk. 
Ski Runs for Last Light: Green – Sunset Boulevard, Blue – Hugh's Heaven, Black – Xhiggy's Meadow (full Whistler Blackcomb Trail Map)
Pro Tip: Snag the last ride up 7th Heaven and enjoy Sunset Boulevard in all its glory. Riding down to either base at the end of the day via this route will leave your sun-seeking soul fulfilled as you milk the last rays.
Soft snow, warm temperatures and relentless views, there's no doubt that individually those things are worth celebrating, but scoring them all on the same day?! A perfect sunny spring skiing trifecta.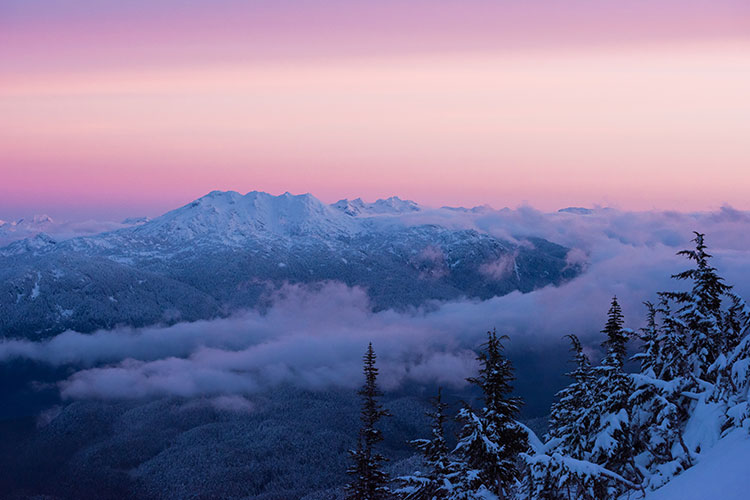 For more information on changes at Whistler Blackcomb this season, take a look at Know Before You Go: Skiing and Snowboarding at Whistler Blackcomb.
Book your winter trip now to secure up to 25% off lodging, 65% off lift tickets and 45% off rentals. Come experience Whistler Blackcomb's extensive terrain and adventure at every turn to see why we're known as one of the best resorts on the planet. Secure your winter getaway with Whistler.com for Flexible Cancellation and our Price Match Guarantee. Want to win a winter trip for two to Whistler? Check out our Drop In to Winter contest.