Updated June 2022.
Today, we'll be looking at a perennial ski resort favourite – the blue run. It falls into an enjoyment sweet spot. Not too easy, not too hard – just right.
The blue run's middle-of-the-road difficulty means that you'll see all types of skiers and riders on one, from beginners taking their skills to the next level, to families enjoying a day out together, and mountain pros carving turns.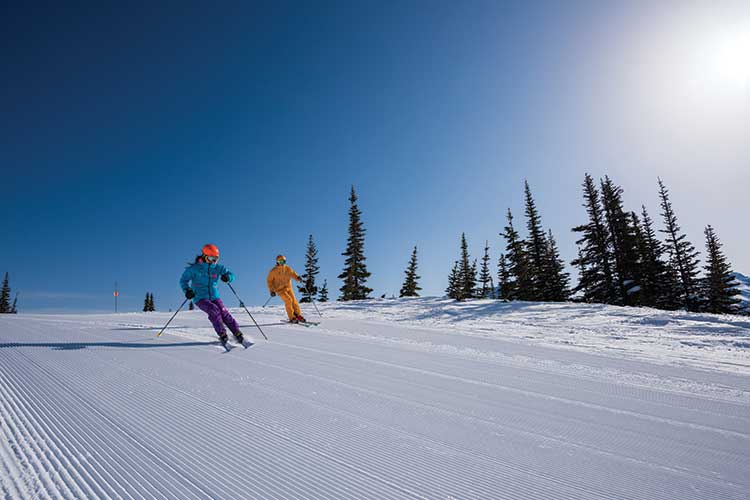 Thankfully, Whistler Blackcomb has a ton to choose from, with 55 percent of the 200-plus runs marked "blue" for intermediate. With so much variety, you could spend all day exploring without riding the same run twice. You'll feel spoiled for choice, but where to start?
I love a good blue run and I've been skiing them for over a decade in Whistler, so to help you on your way, I've put together a list of my favourites from all over Whistler and Blackcomb Mountains.
Intermediate Runs, Advanced Fun: Whistler's Best Blue Ski Runs
Ski runs are rated by difficulty. Each trail poses its own unique challenges, but this system generally lets you know what to expect from a run.
Green Circle: "Beginner" – the easiest trail to ski. It's typically wide and groomed with a gentle slope.
Blue Square: "Intermediate" – steeper than a beginner trail, yet easy enough for advancing beginners and intermediate skiers.
Black Diamond: "Expert" – a more difficult trail for advanced skiers and riders that can be steep, narrow and ungroomed (and all of these combined).
INSIDER TIP:
When I first moved here from Ontario, the scale of skiing in BC's mountains constantly surprised me. Everything felt bigger; the slopes, the changes in visibility and even the moguls. Factoring in the "big mountain effect", a blue run here could ski more like a black at your home resort. I recommend starting your day with a few laps on the green runs to warm up so you can become familiar with local conditions. Here are some of our favourites to get you started – Back to Basics: Whistler's Best Green Runs.
Blackcomb Mountain
When visiting "Whistler" it can be tempting to only ski Whistler Mountain. This would be a mistake. You have a whole other mountain at your disposal and it's got some great blue runs. Whether it's an early upload on the new Blackcomb Gondola or a midday mountain swap via the PEAK 2 PEAK Gondola, take a look at these top blue run suggestions for Blackcomb Mountain.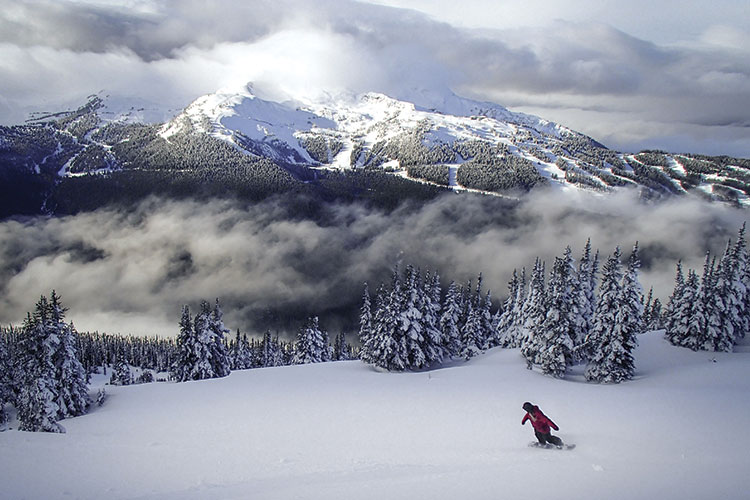 From the Top: Cloud Nine
Is there any chair more aptly named than 7th Heaven? This truly, dreamy zone is home to more than its fair share of amazing blue runs. Cloud Nine, a run divided into upper and lower sections, serves up breathtaking views of Whistler Mountain. This zone gets bathed in the last rays of the day – perfect for sun seekers. Head there for some late day, glowy laps.
Mid-Mountain: Ridge Runner
Whether serving up knee-deep, flowy powder, or fast carve-y corduroy, Ridge Runner is a dependably good time with fresh smooth corduroy most days and flowy powder on the rest. Running the full length of the Crystal Zone, you can get onto this run directly from the top of Crystal Chair and ski it in one continuous lap to the bottom.
Lower Mountain: School Marm
The new Blackcomb Gondola has a mid-station conveniently located for lower mountain laps. My go-to lower mountain run is School Marm. It winds down the mountain with some medium-sized roller drop-offs where you can pick up some speed – if you're into that kind of thing.
School Marm only covers a part of the lower mountain descent, so to make a full run, add Grub Stake and Lower Merlin's. These will take you all the way to the Blackcomb Base where you can upload for more. With everyone spending their time in the mid and upper mountain, you could have these slopes to yourself.
Where to Find Them: Video of Suggested Blackcomb Mountain Blue Runs
Whistler Mountain
The age-old question – Whistler or Blackcomb? Most locals will have a personal favourite and be quite opinionated about it. Whistler, where it all started as the first ski mountain to open in town, draws locals with its abundance of varied terrain and unbelievable views. I love both mountains, but if pressed to choose a favourite I'd have to go with Blackcomb. With fewer skiers and riders on Blackcomb, the slopes tend to be quieter and I love the extra space.
Even though my first love is Blackcomb, when I have friends and family visiting, I always take them up Whistler first. It has a wider variety of intermediate runs directly accessed from the main upload, the Whistler Village Gondola.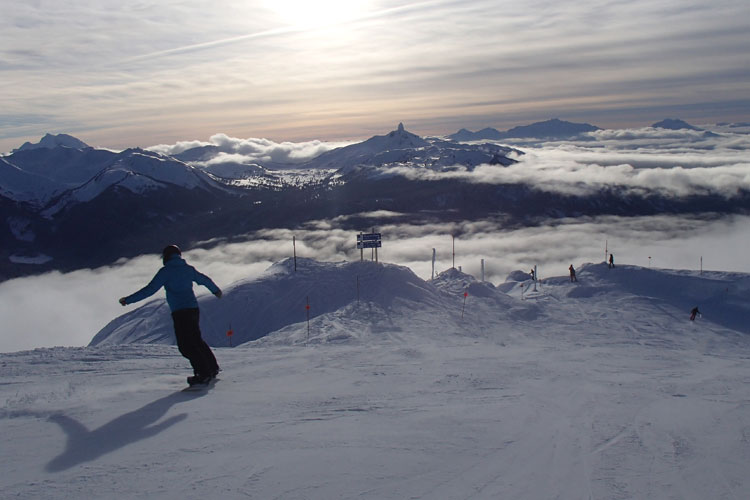 From the Top: Upper Peak to Creek
Pack your camera and prepare for some cold teeth from smiling too much. On a clear day, the views from Whistler Peak are unbeatable. The descent via Upper Peak to Creek is distractingly, beautiful with panoramic views across to iconic Black Tusk. Keep your eyes on the grooming report, as this run is an absolute must-do with freshly groomed corduroy.
On your way down, you can opt to hit Highway 86, which will take you to the bottom of Big Red Chairlift, or continue onto Lower Peak to Creek for a thigh-burning, 11-kilometre run that's a classic whistler bucket list challenge. Don't worry, you can rest and recharge with some lunch in Creekside before uploading for more.
INSIDER TIP: I only recommend Upper Peak to Creek as a must-do on a clear day. In a whiteout or after a dumping of snow, this run can be frustrating or even a little scary for beginner to intermediate skiers and riders.
Mid-Mountain: Family Ski Zone
The Family Zone on Whistler Mountain is a great area to get in some relaxed laps using the high-speed, six-pack Emerald Chair, located just down the slope from the Roundhouse Lodge. From the top of Emerald Chair, or the Roundhouse Lodge, hop onto Cougar and it will link you to the Family Zone run all the way to the bottom of the lift. Upload, and repeat.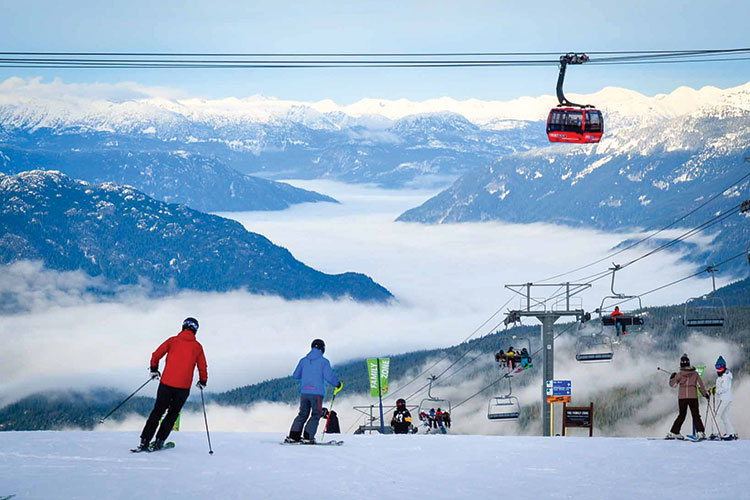 Lower Mountain: Crabapple
When après calls, a great ride out can be the "cherry on top" of your stellar day. At last chair, you won't be the only one calling it a day, so my goal is to find the run with the least amount of people possible. On Whistler, the runs naturally cause people to go skiers' right onto Lower Olympic, but if you keep your eyes peeled as you ski down Expressway, make a turnoff onto Crabapple for a run less travelled with lots of extra room.
INSIDER TIP: Skiing and snowboarding can be tiring. When you need a mid-run rest always make sure to stop at the side of the ski slope in plain sight of skiers coming from above. There are even some benches hidden around the mountains for a scenic rest. If you see one take a moment to stop, rest and admire the view (hint: keep your eyes peeled on Mathew's Traverse, Flute Summit and Expressway).
Where to Find Them: Video of Suggested Whistler Mountain Blue Runs
If you're looking to get a general "lay of the slopes", you could join one of the free mountain tours that depart every day at the top of both mountains by the CIBC Guest Satisfaction Centres. However, progression to blue runs can also be made a little easier with the help of an instructor giving you technique tips and showing you the best spots to test your skills.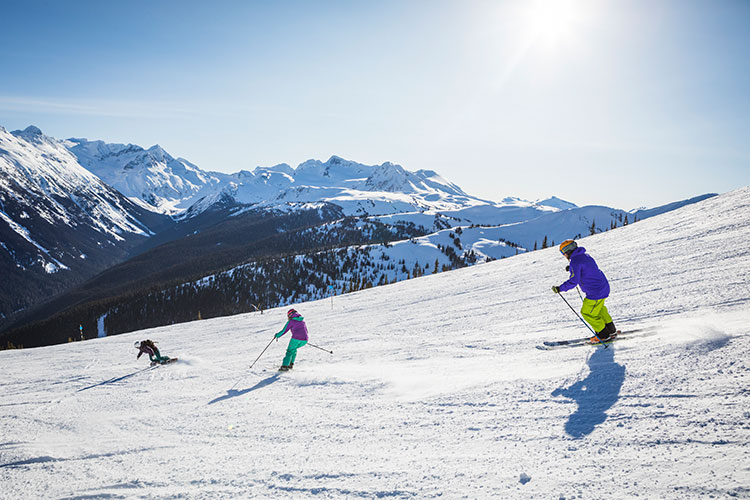 If this post has you dreaming of Whistler, enter our Go Big This Winter Contest for a chance to win a trip.
Stay longer and save more with up to 30% on Whistler winter lodging with Whistler.com. For every third night you book between March 1 - April 30, 2023 receive a free $75 CAD Whistler Après Voucher. Enter promo code SPRING2023 when booking online or call 1.800.944.7853 and mention the offer to one of our Travel Consultants.
It's easy to book your vacation when you have the freedom of our Flexible Cancellation options backed by our Book With Confidence program.