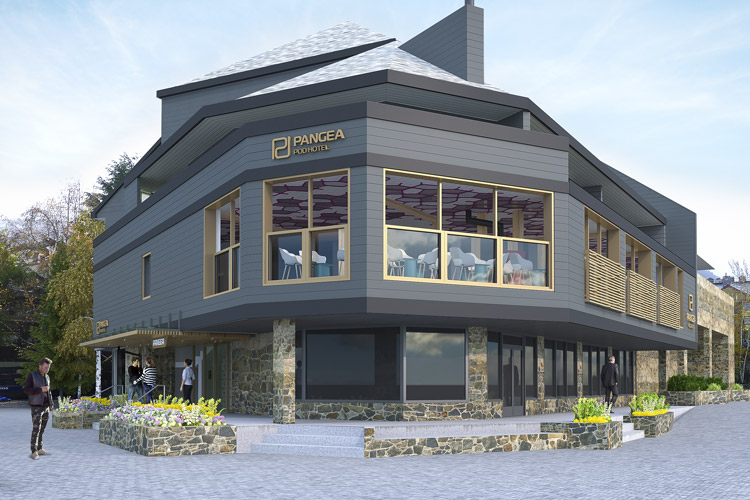 On Saturday, April 14, 2018, right at the climax of Whistler's annual World Ski & Snowboard Festival, Russell and Jelena Kling opened the doors of Pangea to the public for the first time. The event, an open house/sneak peak at Canada's first boutique Pod Hotel, was intended to give Whistler a feel for the Pangea concept. The Klings expected a hundred people, maybe two hundred.
Things didn't go as expected. With a DJ and disco-helmeted gogo dancer holding it down on the rooftop patio, the Pangea open house quickly became an event, drawing scores of festival-goers into line to sign waivers, don hard hats, and enter the almost-completed 88-pod hotel.
"It was super successful," Russell says. "I'd guessed that we would have 100 people, and thought 200 would be amazing as that would mean more than one person checking out the Pod we'd prepared for every minute of the 180 minutes we had the doors open. We had north of 400 people turn out. It was radical."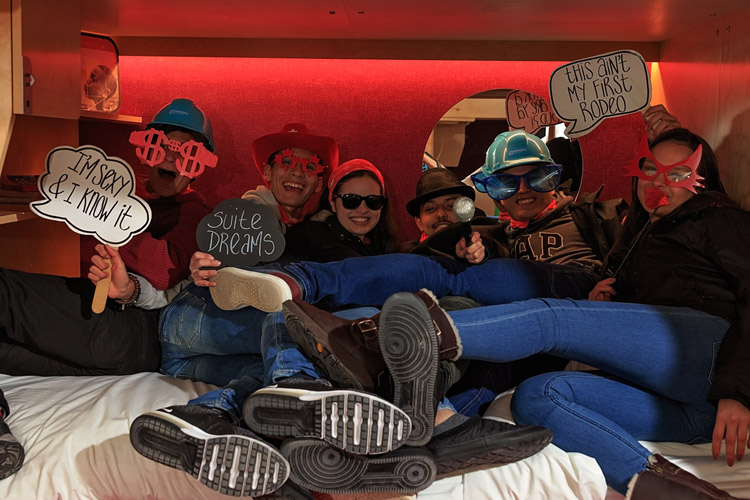 So is the Pangea concept. "I love staying in a hotel with my family," Russell says. "But when I am travelling alone and I get a hotel room, there are a lot of components I don't need. For the single traveller in Whistler, the important stuff is a bed, secure storage, and a washroom."
Russell and Jelena's vision started in 2013, when they began discussions to purchase a run-down timeshare hotel just off the original Whistler Village Square. "People come to Whistler to play," Russell says, "so location was critical – walk to the slopes or bike park, walk back to shower, then back out to the watering hole or restaurant."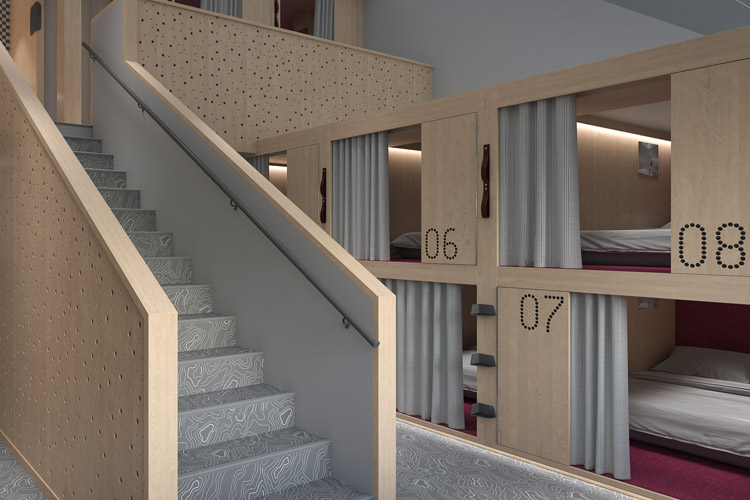 The Pangea Pods are organized into "Suites", clusters of between 6-18 pods that are locked off from the rest of the hotel. There's even a female-only suite for women still getting comfortable with the idea of travelling solo in a shared space.
But don't confuse the Pod Hotel concept with a hostel, not that Russell has anything against them. "Hey, I met my wife in a hostel," he laughs. "I've got nothing against hostels. But what we wanted to do here is build something that fits into that gap that exists between a hostel and a 3-star hotel. Something for active professionals that isn't beyond their price point. Jelena and I were fortunate enough to spend a few years travelling together and we stayed in tons of properties that inspired us. We tried to bring over the best ideas we saw over those three years on the road."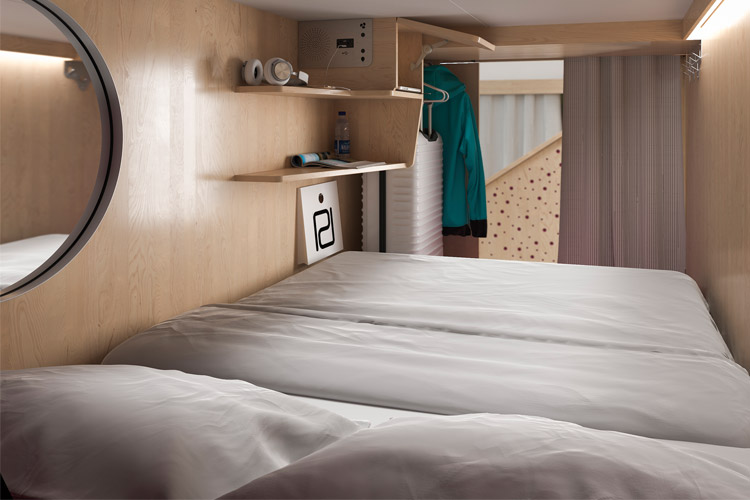 Those "best ideas" are on full display. The attention to detail at the Pangea is incredible. From the tiles to the windows to the drainpipes along the rooftop patio, everything has been carefully considered for style, functionality and economy of space. The Pangea pods on display at the open house featured a double bed, a fan, clothes hangers, secure storage, a mirror, and USB and standard charging points.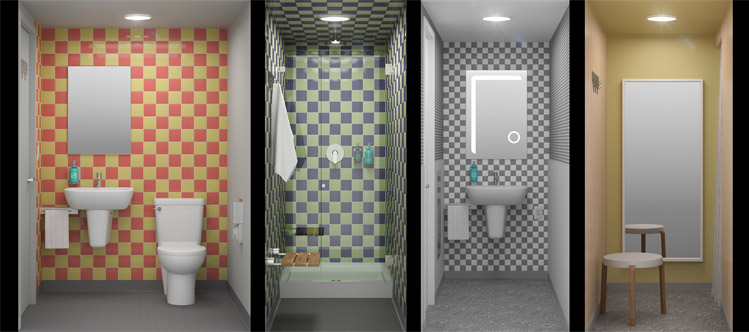 For the Whistler-essential outdoor gear, Pangea has a space called The Toy Box, a secure room of private lockers and gear racks for skis/bikes/boards/whatever.
For socializing, an ultra-swanky bar/lounge/coffee shop called The Living Room dominates the second floor of Pangea and looks out over the Village Stroll. The Rooftop Patio is unlike any other spot in Whistler, a little bar set high above everything with clear sightlines to the Village Square and the ski hills.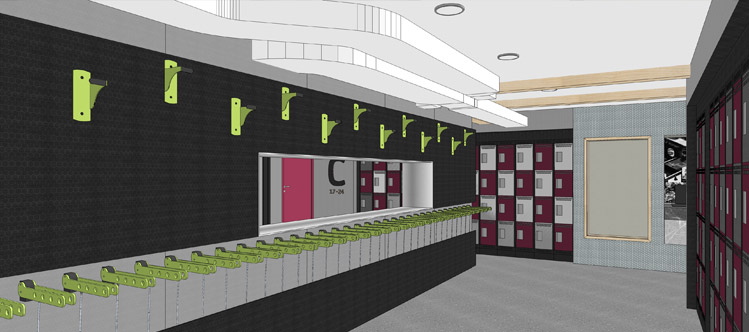 Shuffling through the interested participants of the open house, listening to the Klings respond to the litany of questions, it's easy to see the Pangea concept working in Whistler. This place is an outdoor paradise with enough natural beauty and adventure to fill any length of stay (or a lifetime).
"I think there is a new understanding and acceptance of shared spaces these days," Russell says. "People come here to play, I think there is a good sense that you don't need 10,000 square feet to be happy."
Designed exclusively for single travellers, The Pangea Pod Hotel will open their doors sometime this summer. Until then, the team at Whistler.com can help you find the perfect accommodation or package to suit your needs.
[pi_ifg data_shortcodeid='pi_ifg' data_shortcodeid='pi_ifg' data_shortcodeid='pi_ifg' data_shortcodeid='pi_ifg' data_shortcodeid='pi_ifg' data_shortcodeid='pi_ifg' data_shortcodeid='pi_ifg' data_shortcodeid='pi_ifg' data_shortcodeid='pi_ifg' data_shortcodeid='pi_ifg' data_shortcodeid='pi_ifg' data_shortcodeid='pi_ifg' data_shortcodeid='pi_ifg' data_shortcodeid='pi_ifg' pi_image_ids="14043,14046,14039,14040″ pi_insert_urls="https://www.whistler.com/blog/wp-content/uploads/2018/04/solo-traveller-accommodation-whistler-150×150.jpg,https://www.whistler.com/blog/wp-content/uploads/2018/04/travelling-solo-whistler-150×150.jpg,https://www.whistler.com/blog/wp-content/uploads/2018/04/whistler-pod-hotel-solo-traveller-150×150.jpg,https://www.whistler.com/blog/wp-content/uploads/2018/04/whistler-remote-working-options-150×150.jpg" pi_type="custom" pi_style="tiled_gallery" pi_slideshow_limit="20″ pi_maximun_width="" pi_slideshow_autoplay="" pi_slideshow_auto_height="false" pi_slideshow_single_item="0″ pi_slideshow_items="5″ pi_slideshow_items_desktop="5″ pi_slideshow_items_tablet="2″ pi_slideshow_items_mobile="2″ pi_tiled_gallery_limit="20″ pi_rowheight="200″ pi_maxrowheight="200%" pi_fixedheight="true" pi_lastrow="nojustify" pi_showcaption="true" pi_randomize="false" pi_margin="10″]