Whistler is great for little kids and big kids alike, with the obvious winter activities being ski school, skating and sledding at Whistler Olympic Plaza, and grabbing a hot chocolate to warm up afterwards. However, if your little one can't walk yet, roll a snowball, or drink anything above room temperature then the winter weather can be a little daunting.
My daughter, Ella, is now 14-months-old and we've had some great mini-adventures as she's grown up in Whistler. Here's what we've been up to from 0-14 months….
Getting Active
If you've got an adventurous spirit then consider rugging up your little one and strapping on some snowshoes or XC skis and taking them with you on the trails in a backpack or chariot. My friend and I went snowshoeing with Ella to Alexander Falls in the Callaghan Valley last winter and it was stunning. If you need to rent equipment you can get fully kitted out with Ski Callaghan, or Cross Country Connections at Lost Lake Park if you want to stay closer to the village.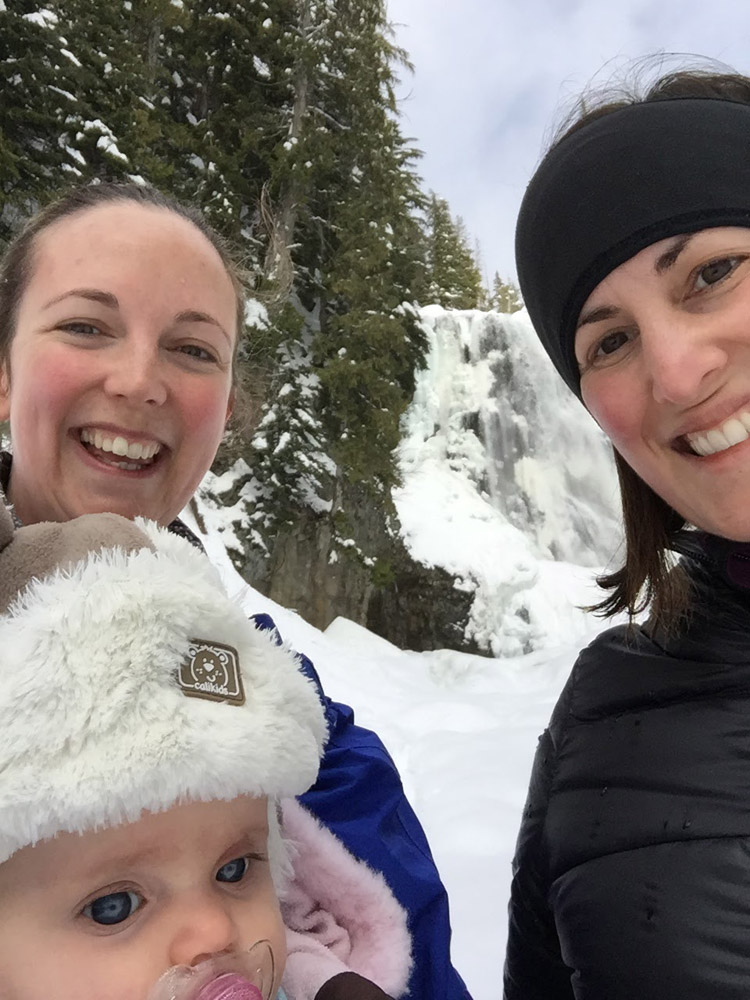 Marmot Meadows at the Library
The children's section of the Whistler Public Library is big, bright, and friendly. We go on either a Thursday for the Parent and Infant Drop-In Session, or on a Saturday for Singing with Babies, but we've also just tucked ourselves in the corner for a little reading session of our own. They also have a large washroom with a change table – always handy.
Cultural Little Critter
When Ella was between 0-8 months old my husband and I would take her with us to the Audain Art Museum. The quiet atmosphere of the galleries was a nice break for us all, and it was certainly a unique experience for me to breastfeed surrounded by the work of Emily Carr. Another art-filled sanctuary is The Gallery at Arts Whistler.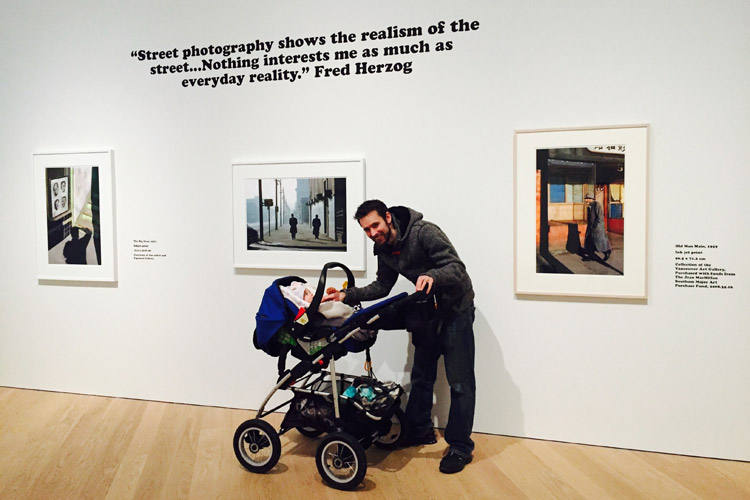 Up the Mountain
What's great about the early stages is that your babe isn't too mobile and likes to sleep a lot so heading up the gondola to tag team some ski laps is totally doable (check out Mike Atkinsons' first ski holiday with a newborn here). We typically set up at The Roundhouse, get settled in with coffee and muffins and then take turns getting some skiing in. As they get older this isn't as easy so take advantage while they're not trying to climb stairs and play chicken with people wearing ski boots. (Editor's note: Kids can start Whistler Blackcomb ski school programs from the age of 3 with a range of camps and programs to turn them into skiing superstars as they grow)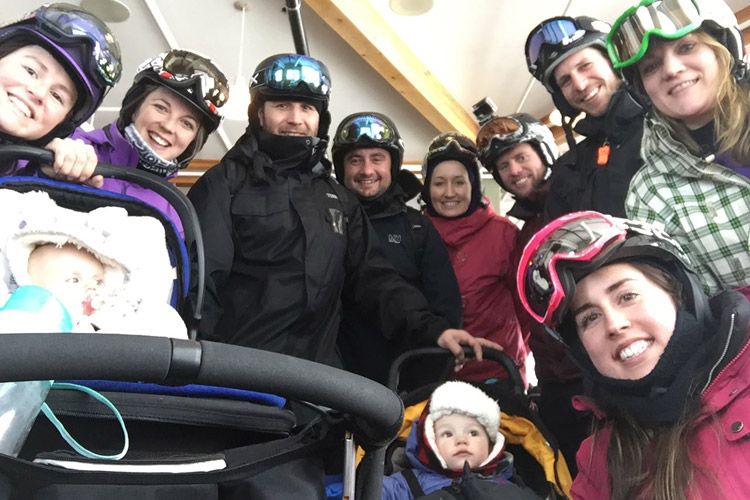 Cosy Eats
One of my favourite places to take Ella for lunch is Gone Bakery, located in the centre of the village by Armchair Bookstore. We stake a claim on a comfy corner booth and strap Ella into a highchair before we chow down on the hearty soups they serve. If we're closer to Olympic Plaza I head to Gnarly Roots where we share a freshly made omelette oozing with melted cheese – a favourite with Ella.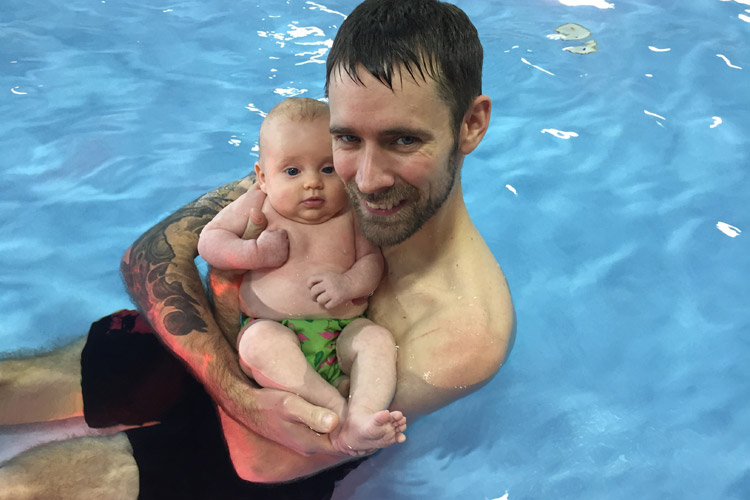 Taking a Dip
Ella is a little water baby so we can often be found at Meadow Park Sports Centre. The lifeguards are very friendly and can lend a hand if you're not super confident with your own water baby just yet. Meadow Park is located about a five minute drive north of Whistler Village, and to add to the experience we often catch the bus. They allow strollers with brakes and the drivers will lower the front part of the bus so you can wheel your little one on and pop up the chairs in the front wheelchair section to squeeze in. The Family Travel program means your little one will travel for free!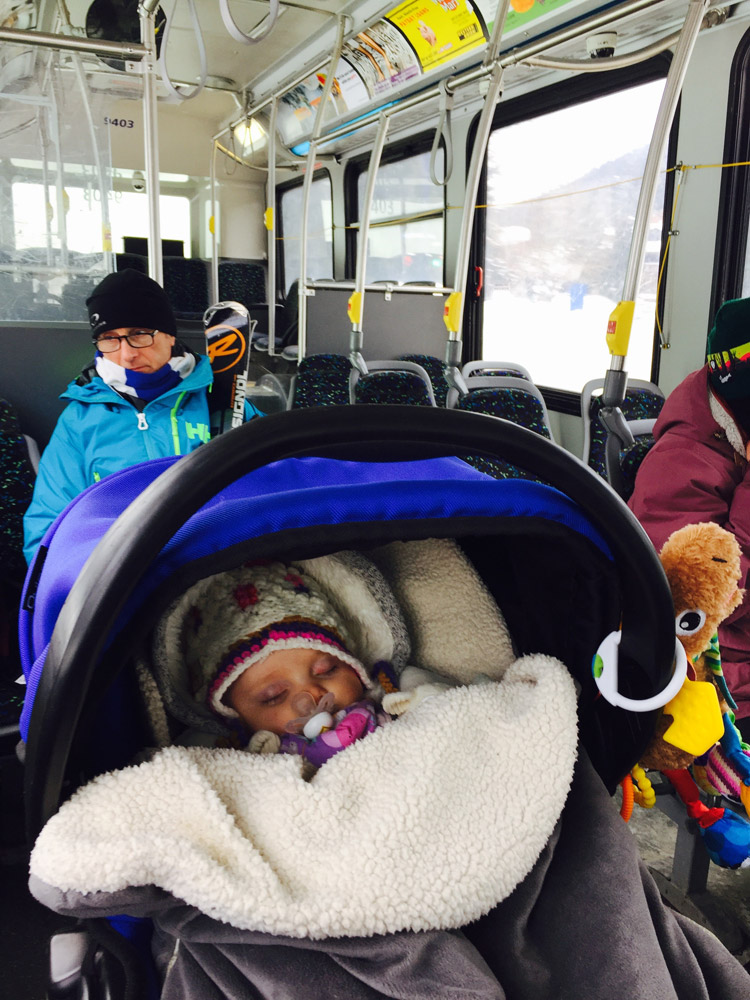 Watching the Big Kids
There's nothing more fascinating than watching the bigger kids have fun so we take a stroll to Whistler Olympic Plaza so that Ella can see them sledding and ice skating. There are bonfires to sit next to keep us toasty warm, the lights in the trees are dazzling, and the whoops and hollers of the kids make her giggle. Next year it will be Ella whizzing down the mini hill, but until then we're happy together taking it all in.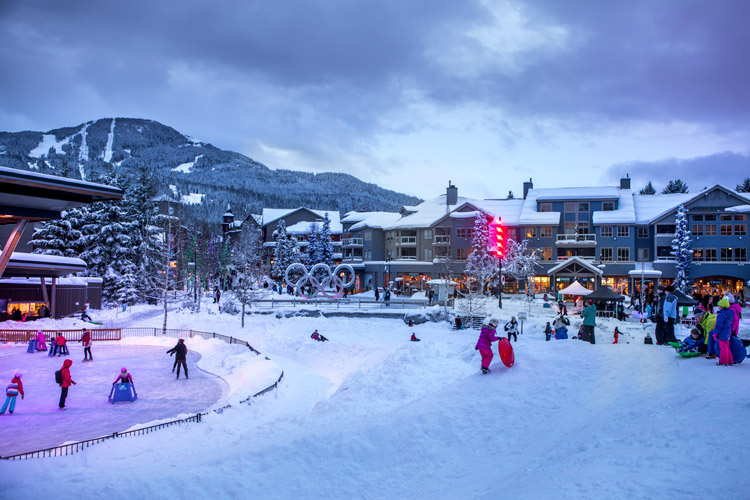 Don't forget – BC Family Day is on the way with discounts for BC residents. Head over to Whistler.com for more information on family-friendly activities, events, childcare and camps