Editor's Note: This blog post was written in 2021, but has been updated with new ways to connect with Indigenous culture in Whistler.
Whistler is known the world over for its festive atmosphere and abundance of outdoor adventures, but we also honour the human connection to the land that dates back thousands of years. Indigenous peoples have thrived in the Whistler area for millennia and their rich traditions, oral history and contemporary culture can teach us a great deal about how to coexist with the natural world – and one another.
The Líl̓wat7ul (Lil'wat Nation) to the north and Sk̲wxwú7mesh Úxwumixw (Squamish Nation) to the south have stewarded this shared territory since time immemorial. The village of Spo7ez, where Rubble Creek meets the Cheakamus River  (16 kilometres south of Whistler), was a communal gathering place for peaceful trade and commerce. Today, the two nations continue their partnership and influence on Whistler and the Sea to Sky through a shared cultural centre and land stewardship.
From ancient mythology to art and cuisine, here are a few tips to broaden your understanding of Indigenous culture in the Whistler area.
Take a Cultural Journey Along Highway 99
You're likely familiar with the drive up Highway 99, but have you stopped at the viewpoints to learn more about how Indigenous Peoples are connected with the land? The Cultural Journey Sea to Sky, which launched in 2010, is a self-guided interpretive tour, featuring traditional place names, viewpoints and informational signage along the Sea to Sky Highway.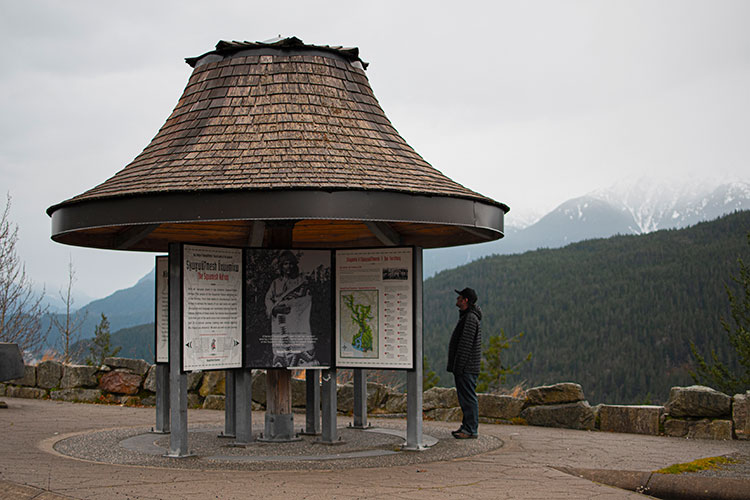 The signature kiosks, which are designed to represent the woven cedar hats worn by Salish Indigenous people of the Pacific Northwest, share fascinating stories of supernatural beings, mythology about important landmarks, and information about how First Nations people lived in harmony with the land. 
There are seven kiosks along the drive, including the popular Tantalus Lookout (which you can visit on your southbound drive from Whistler). At this spot, you can look out over the dramatic Tantalus Range and learn about the high alpine mountain goat hunters of the Sk̲wxwú7mesh people and how they played a role in the formation of this rugged mountain range.  
Download the audio tour online to accompany your Cultural Journey. 
Discover Cultural Exhibits and Indigenous Cuisine
With the Cultural Journey Sea to Sky culminating at the Squamish Lil'wat Cultural Centre (SLCC), it's only fitting that you stop in to learn more about the area's Indigenous history, art and culture.
According to the SLCC, the location of the centre is very intentional as it's nestled into an old-growth forest that contains culturally modified trees that have been preserved for many generations. These trees have been harvested sustainably with only a narrow strip of bark taken so the tree can continue to live. Fitzsimmons Creek, a glacier-fed creek that runs between Whistler and Blackcomb mountains, and along the fringes of Whistler Village, is another area of cultural significance. This is Wolf Clan Territory of the Lil'wat people, who lived nearby and laid their trap line along the creek.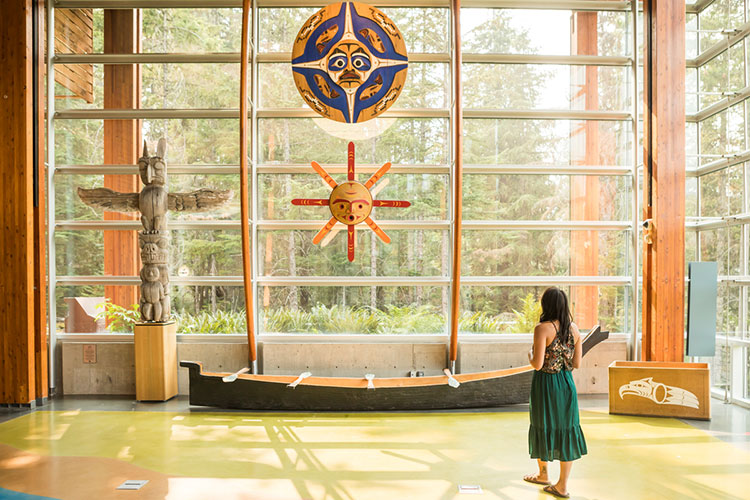 Inside the SLCC you'll find a host of permanent and temporary exhibits that showcase how the two nations have survived and thrived off the land together. Take a tour of the SLCC with a cultural ambassador and experience a hand-drumming welcome, an inspiring film and a guided exhibit tour.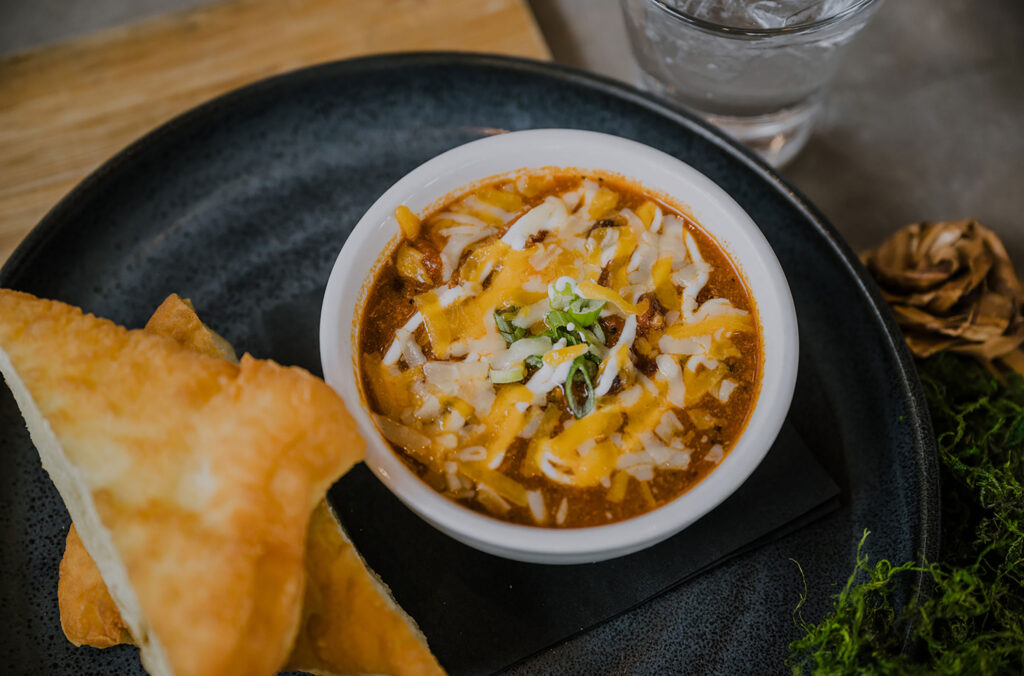 Be sure to pay a visit to the Thunderbird Café at the SLCC, where you can sample Indigenous-inspired cuisine with menu items like Squamish Salmon Chowder, Homemade Lil'wat Venison Chili and Bannock Tacos. 
NEW: Self-Guided Tour of Indigenous Culture in Whistler Village
Developed by the SLCC in partnership with Tourism Whistler, the Art & Storytelling of the Sḵwx̱wú7mesh and Líl̓wat7úl self-guided tour, can be found on the free Go Whistler Tour app. It takes you to nine locations around Whistler Village that are culturally significant to the Sḵwxw̱ú7mesh Úxwumixw (Squamish Nation) and Lílwat7̓úl (Lil'wat Nation).
This walking tour weaves its way through Whistler Village as you listen to stories about the First Nations' connection to the land in Whistler. Voiced by members of the Sḵwxw̱ú7mesh Úxwumixw and Lílwat7̓úl the tour is four kilometres long starting from and ending at the SLCC.
"The tour is an invitation for guests to learn about the unceded territory of the Squamish Nation and the Lil'wat Nation here in Whistler," says Mixalhitsa7 Alison Pascal, SLCC Curator at the Squamish Lil'wat Cultural Centre. "To understand how our art connects our families to our land, and how it transforms our intangible wealth into tangible wealth. Join us in a cultural journey to learn about our homes here in Whistler with stories from our Ancestors."
The tour goes live on June 21, National Indigenous People's Day.
Traditional and Contemporary Indigenous Art
Just down the road, the Audain Art Museum houses an impressive collection of traditional and contemporary Indigenous art from across the province, including one of the world's finest collections of Northwest Coast First Nations masks. The Audain also has a stunning assortment of paintings, installations and carvings by Indigenous artists like Brian Jungen, Shawn Hunt and Fred Davis.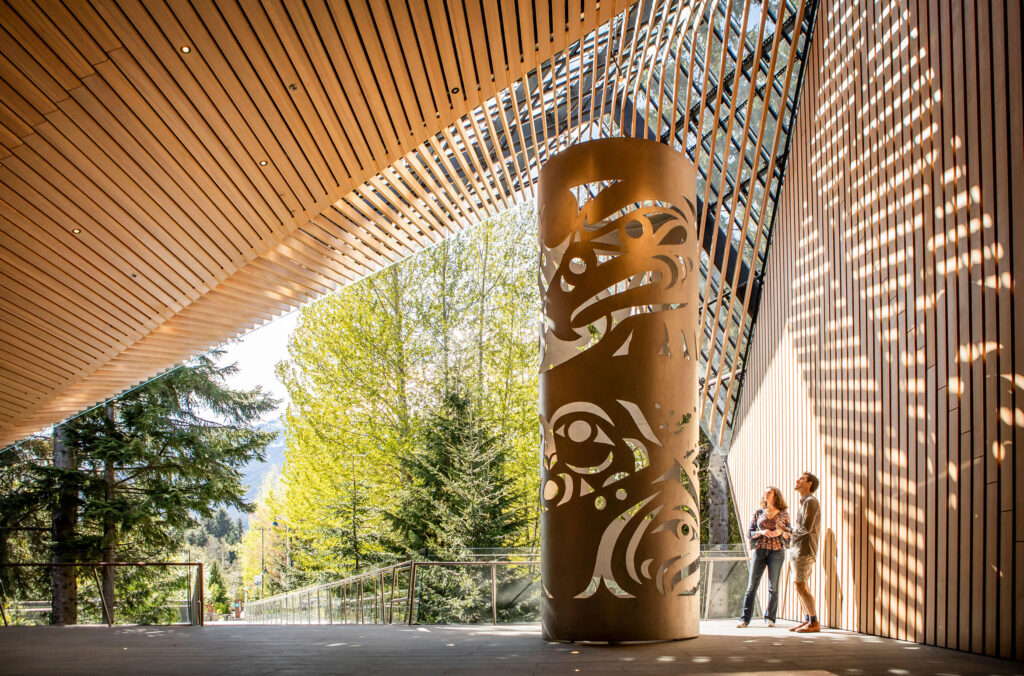 At the entrance to the Audain, you'll be greeted with a glimmering aluminum totem, carved by Xwalacktun (Rick Harry), who is of Squamish and Kwakwaka'wakw ancestry. The piece is entitled "He-yay meymuy (Big Flood)" and references the story of the Great Flood, which swept through Squamish and forced the nation to take refuge on Nch'kay (Mount Garibaldi). 
A newer addition to the artwork outside the Audain is "The Three Watchmen", a cast bronze sculpture by James Hart (7idansuu) that sits atop a concrete base encircled with a carved aluminum band entitled 'The Great Flood (Ti A7xa7 St'ak')', a collaboration by celebrated Squamish (Skw̲xw̲ú7mesh) Nation artist Xwalacktun (Rick Harry) and Lil'wat (Lil'wat7úl) Nation Levi Nelson (Svpyan).
Learn more about art and culture exhibits featured at the Audain Art Museum.
Learn About Culturally Significant Landmarks
The mountains surrounding Whistler were just as inspiring and mystical thousands of years ago as they are today. In fact, according to Indigenous storytellers, traditional Squamish and Lil'wat medicine people discovered healing powers on their solitary vision quests, which took them to the highest mountain peaks in their territory.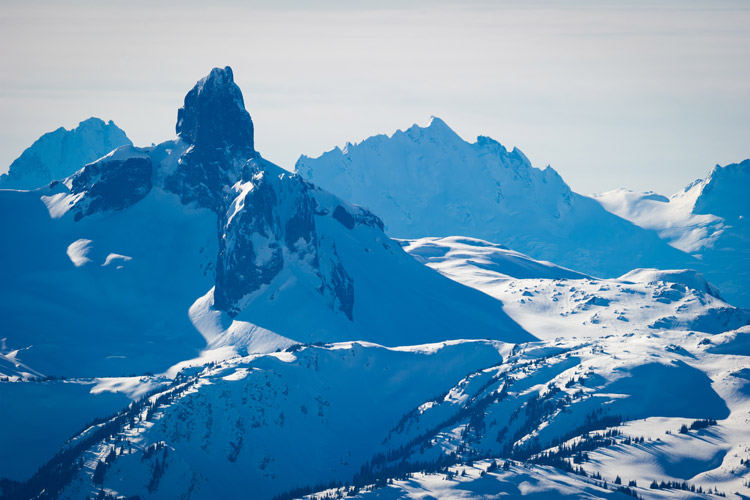 The iconic volcanic cone we call Black Tusk today can be seen from many viewpoints in Whistler Blackcomb's alpine and from Highway 99. This arrow-shaped peak is a place of particular significance for the Squamish and Lil'wat people as it marked the beginning of the shared territory. Its traditional name is T'ak't'akmu'y'in Tl'ain7iny'a'xe7en, which translates to roost of the Thunderbird. The origin story attributes the shape and colour of Black Tusk to the Thunderbird, which is a revered creature said to bring thunder and lightning. The Thunderbird features prominently in a number of Indigenous stories from the Whistler area. 
Take a Tour of Indigenous Public Art
If you look carefully, you'll find a host of Indigenous public art installations sprinkled throughout Whistler. There are intricate displays – each with meaningful stories behind them including totems, carvings and statues.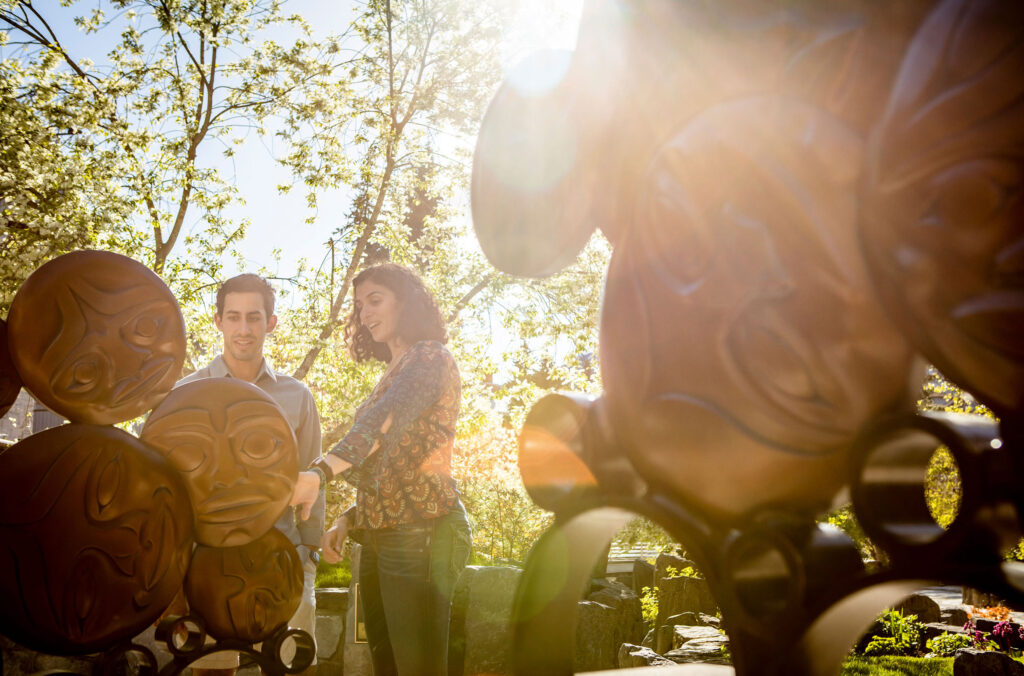 Make sure you pay a visit to A Timeless Circle, a permanent fixture located in the courtyard beside Maury Young Arts Centre that was designed by Musqueam artist, Susan Point. As a legacy of the 2010 Olympic and Paralympic Winter Games, the powerful bronze installation features five fixtures carved with a total of 86 faces that represent the cultural diversity of the 2010 Winter Games and the many generations who have visited and resided on the Whistler lands. 
There are plenty more beautiful pieces to discover. Take a self-guided tour of the spectacular Indigenous art in Whistler.  
Visit the Salish Welcome Figure on Whistler Mountain 
Next time you find yourself atop Whistler Mountain, look up, way up, and admire the Coast Salish welcome figure perched beside the PEAK 2 PEAK Gondola terminal.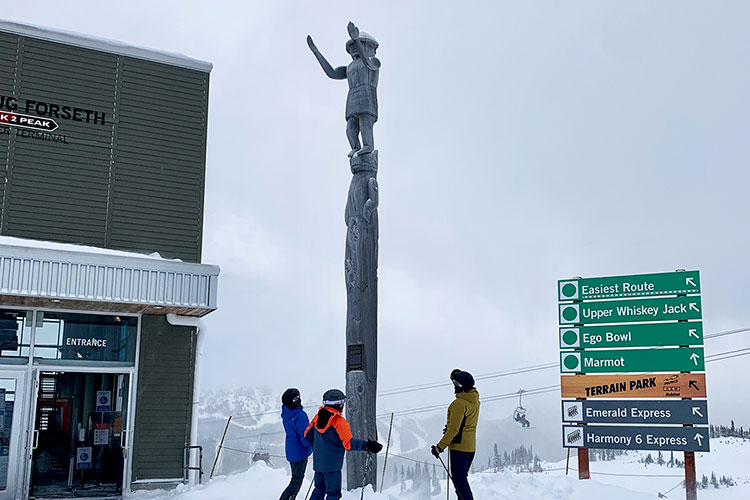 In partnership with the SLCC, Xwalacktun and his son James carved the welcome figure out of a white cedar harvested from the base of Whistler Mountain, using the traditional Squamish carving style. The figure features a human with its arms raised, which symbolizes welcoming people to the territory. The totem also features a marmot, representing the Whistling Marmot (after which Whistler Mountain was named.) The frog at the bottom pays tribute to the Lil'wat Nation, representing transition.    
This year, Squamish Artist Xwalacktun Rick Harry and SLCC Apprentice Brandon Hall will begin the carving of a new 30-foot pole at the Squamish Lil'wat Cultural Centre. It's a feature of the Summer Salish Carving Series and is in honour of the 100 Year Anniversary of the Squamish Nation Amalgamation which happened in July 1923.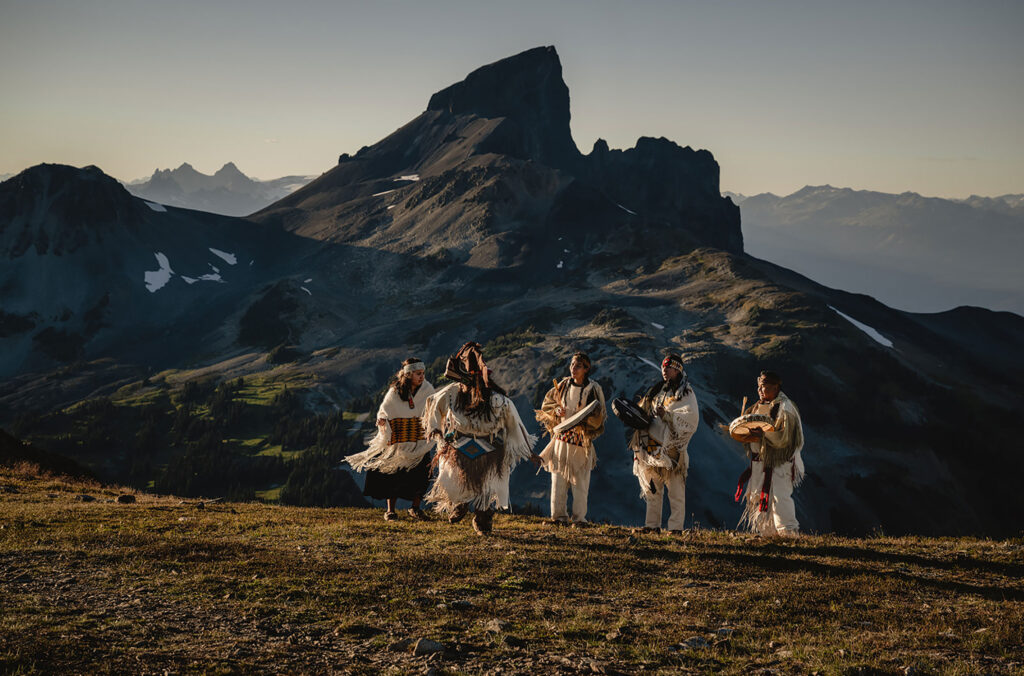 INSIDER TIP:
June is National Indigenous History Month, with
National Indigenous Peoples Day
celebrated on June 21. The
current exhibit at the SLCC
is, UNCEDED: S7ULH TEMÍXW / TI TMICWKÁLHA / OUR LAND – A Photographic Journey into Belonging. It takes you onto the UNCEDED Territories of the Sk̲wx̲wú7mesh Úxwumixw, the Lil'wat7ul and where their territories meet in Whistler, BC in a series of incredible photographs.
It's a great honour to spend time in the mountains upon the traditional territories of the Líl̓wat7ul and Sk̲wxwú7mesh Úxwumixw, whose culture is deeply etched into the Sea to Sky landscape. Immersing ourselves in Indigenous mythology, history, art and contemporary traditions is a great way to see Whistler in a new light, and honour those who watch over this land.
Fall in Whistler means more, like great value on accommodation with rooms from $135 CAD per night, plus a free $100 CAD Dining Voucher when you book a stay of 3-plus nights. Book in confidence with Whistler.com for Flexible Cancellation and a Price Match Guarantee. If you're dreaming of a trip to Whistler, enter our Find Your Altitude contest for a chance to win a six-night vacation with flights, accommodation and activities (including a heli trip) all covered.