Like so many Australians, it was the promise of snow-laden peaks that lured me to Whistler. When I arrived and discovered there was not one, but two mountains of seemingly endless snowy terrain, the decision to extend my trip from one month to three was a no-brainer.
But during that time, everyone I met kept saying the same thing, "You have to stay for the summer." I was intrigued. When I asked what made summer so great, the response was unanimous – the lakes.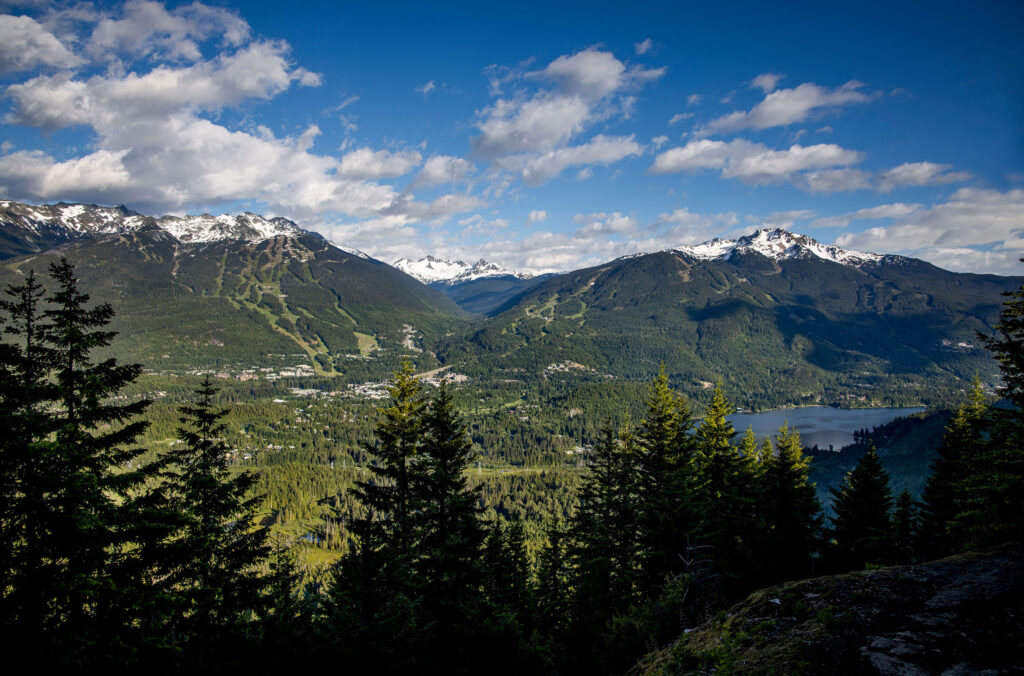 I've always been a water baby. Growing up I spent all year eagerly awaiting my annual family holiday to the beach. Every day I'd swim in the surf as long as possible, trying to make the most of the short time I had, my little brother turning blue with cold on the sand.
At university, I joined the mountaineering club and discovered people who went to rivers and mountains and beaches every Friday night. Why on earth had I only left the city once a year? I never imagined that on the other side of the world there was a town where people could snowboard on their lunch break, let alone mess around in boats for a living.
Five years later…
As I walk to work I see a mama bear and her two cubs enjoying an easy grazing session along the Whistler Valley Trail. Where else in the world is it normal to be running late because a bear was blocking your path?
When I get to the office I add a radio to my guide kit, which today is both a backpack and a drybag, because I'm guiding my favorite tour, the River of Golden Dreams Pedal and Paddle Combo. The five-hour, people-powered tour combines three quintessential Whistler summer activities – biking the Valley Trail, paddling on Alta Lake and floating the River of Golden Dreams.
Whistler Kayak and Bike Tour
I double-check the operations day sheet for any clues about who today's guests might be. It tells me that I'm expecting four adults who want to paddle single kayaks. Are they a group of friends? Two couples? A family with teenage children? Have they travelled a long way? Have they paddled before? Do they know how to ride a bike? I am curious about who I'll be going on an adventure with today.
As a guide, beginner adults are my jam. Having been introduced to mountain sports later in life, I know firsthand how hard it is to be an adult beginner and how much grit it takes to learn something new.  I also believe that helping people connect with nature is the best way to motivate them to protect what's left of our wild spaces.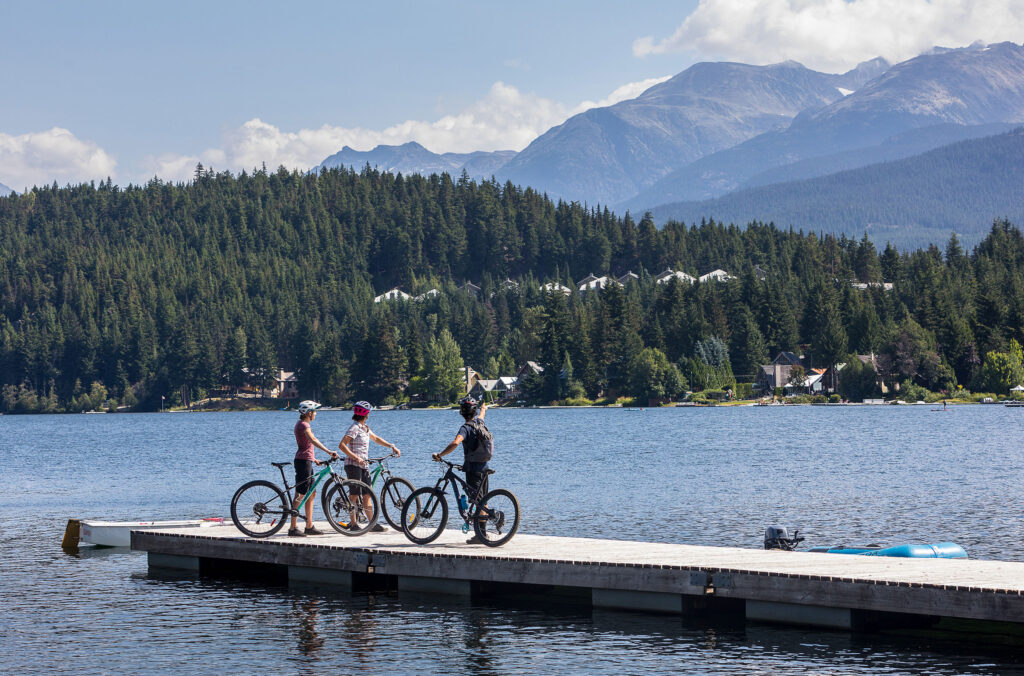 Bike From Whistler Village
The tour starts in the centre of the village and begins with a bike ride along the Valley Trail down to the southern end of Alta Lake. Guests can choose either a cross-country mountain bike or a cruiser with a big, cushy seat. If we're lucky we might spot a bear hanging out on the golf course as we cycle past.
Paddle on Alta Lake
One of the best things about living in Whistler is that you don't have to travel very far to have a wilderness experience. I still remember my first time on Alta Lake, amazed that such a large body of water could be so close to town and hidden from view. There are also sections of Golden Dreams that feel completely isolated.
At Alta Lake, we exchange our bikes for boats. Guests can choose either a canoe, a double kayak, or a single kayak, and have the option of having a guide in their boat.
INSIDER TIP: If you know that you want a guide in your boat, it is best to book a private guided tour. Guided tours can have up to eight guests and the guide will go where their assistance is most needed.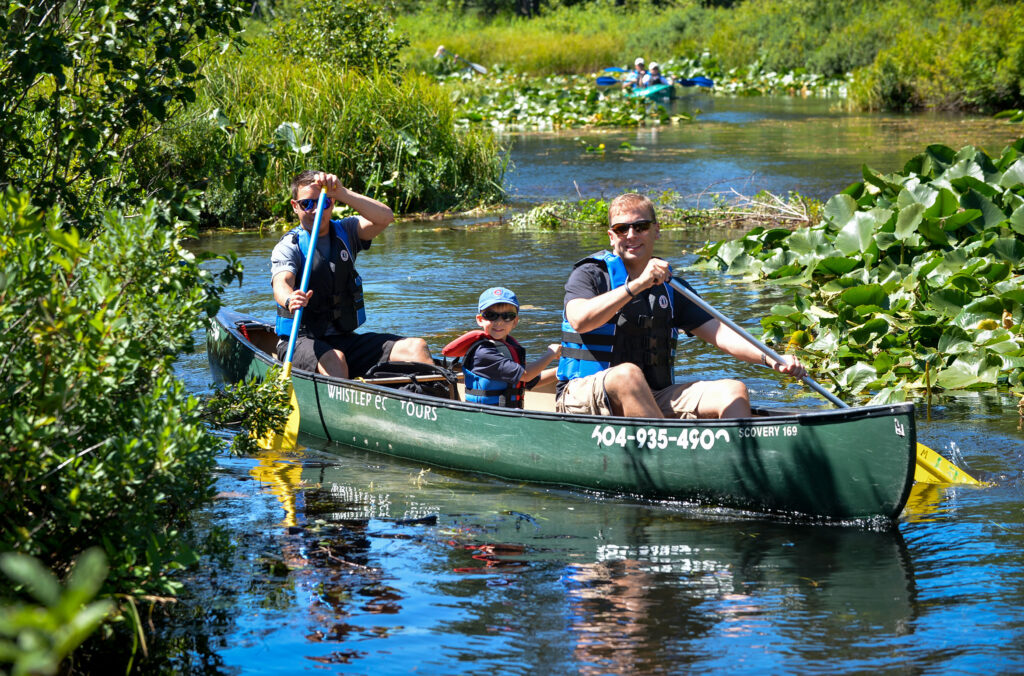 Foggy mornings on the lake can be magical. On a still day, the 1.2-kilometre lake paddle feels effortless, and I can easily share information about Whistler's flora, fauna, geography and history. On a windy day, the lake can be more of a work-out and I focus on guiding the boats safely into the sheltered lily pads.
Along the way, we'll practice different paddling strokes, and learn how to use a combination of draw strokes and sweep strokes to turn our boats. Depending on the day, we might see a great blue heron fishing in the shallows, a bald eagle circling high above, or a family of Canada geese hanging out in the reeds.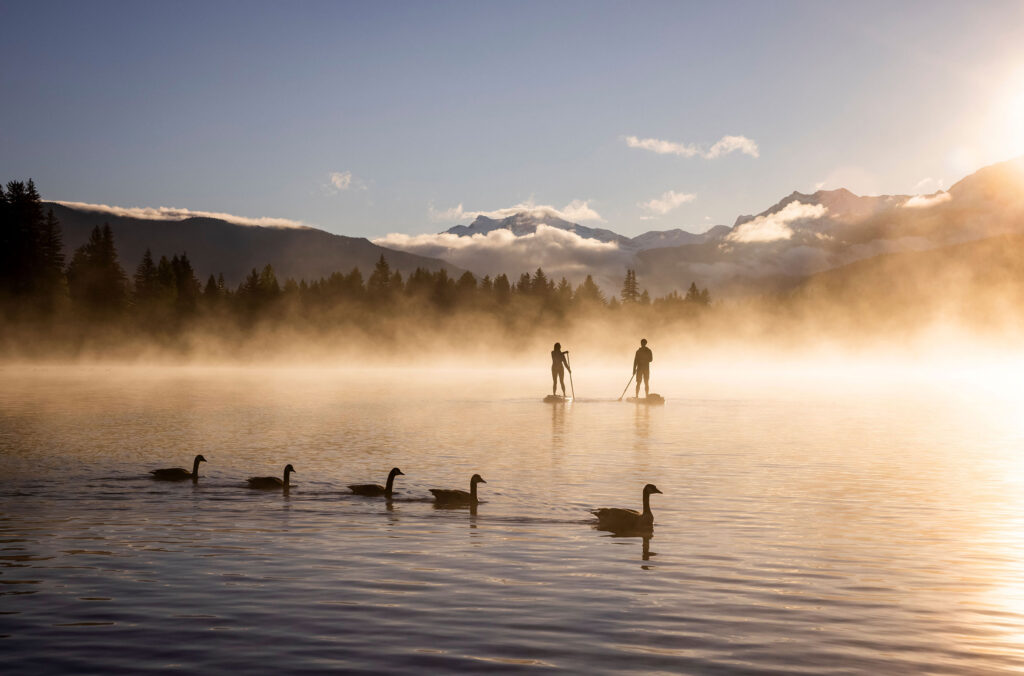 The mandatory mini-portage at the fish weir is a good place to mentally prepare for the river. I encourage my guests to drink water and eat a snack while I explain how to drift around the bends in the river using a stick as a mini-boat to demonstrate the maneuver. All valuables are then safely rolled into the drybags provided and securely attached to the boats. Just in case.
INSIDER TIP: If you put your water bottle inside your dry bag, it is no longer a 'dry' bag. Lol.
Whistler's River of Golden Dreams
A short, skunk cabbage perfumed canal leads into the River of Golden Dreams. The river water is snowmelt from nearby Rainbow Mountain, deliciously clear and clean, but also icy cold! On a hot summer's day, a layer of cool air forms along the surface of the river and feels like natural air conditioning, making the river a great place to be when the temperature climbs.
FUN FACT: The river's full title is The River of Golden Dreams and Romance, and is a reference to the golden dreams of new love. Named by one of Whistler's original entrepreneurs, Alex Phillip, the moniker was a clever marketing tactic designed to attract honeymooners to nearby Alta Lake Lodge, which was located where Rainbow Park is now. Read more about this on the Whistler Museum's website, better yet, join one of their walking tours.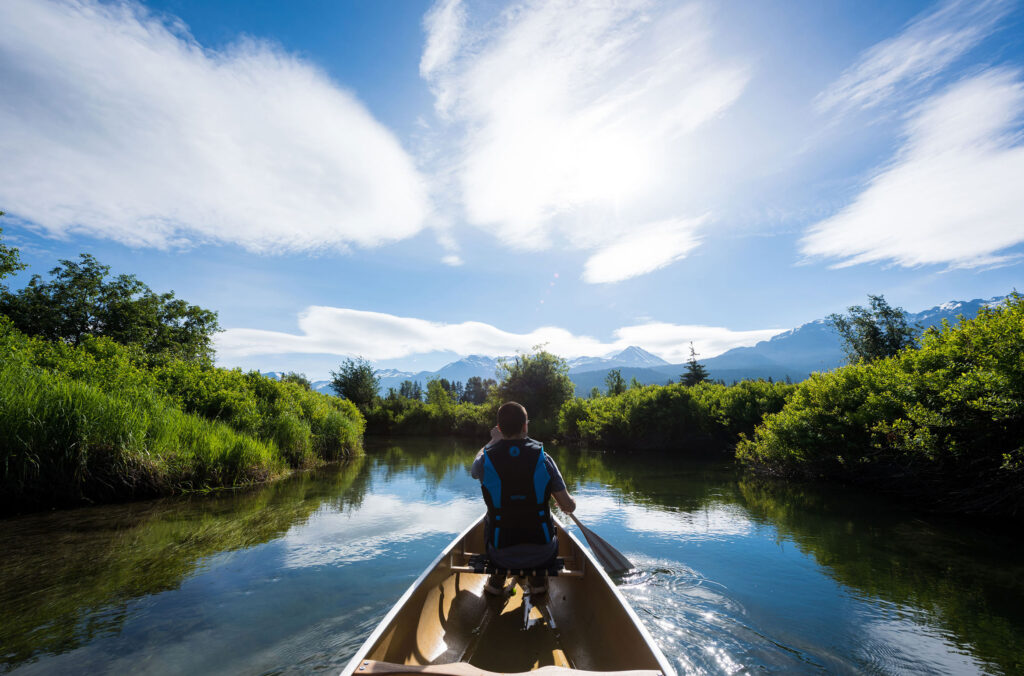 After navigating tight turns, submerged logs and multiple beaver dams, we'll arrive at Meadow Park to find our bikes waiting for us, thanks to one of my colleagues working hard behind the scenes. The second cycle offers stunning vistas of glacial Green Lake and a close encounter with centuries-old red cedars, before arriving back at the start in the village.
INSIDER TIP:
Green Lake is an important stop on the Pacific Flyway and is host to hundreds of migrating bird species throughout the year. Read more about this in our Whistler
birding blog
.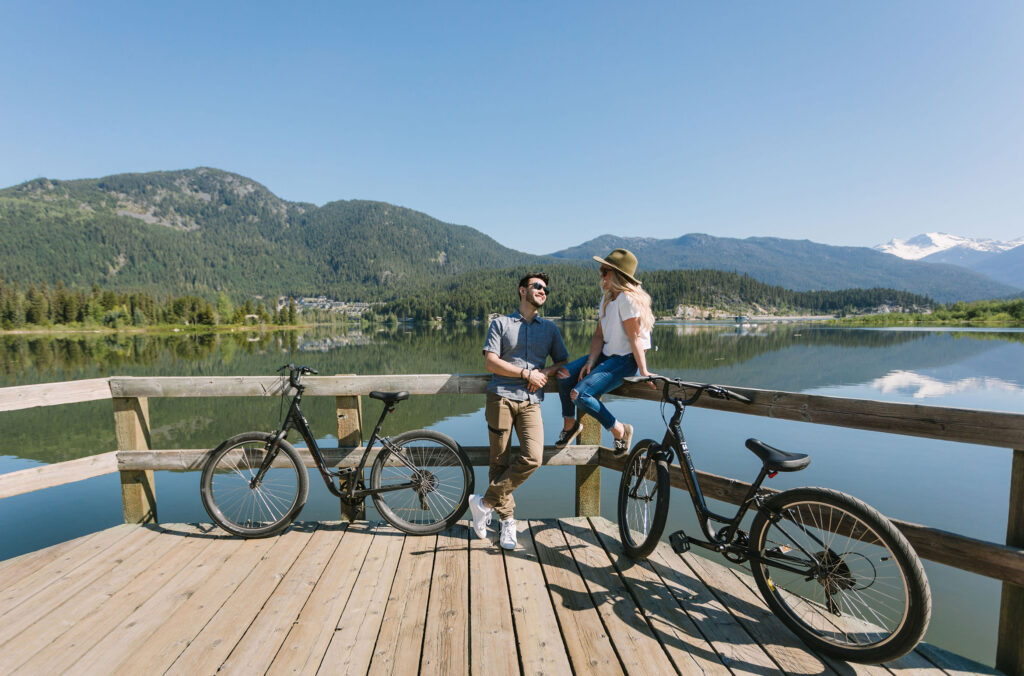 At the end of a guided tour, I feel deeply satisfied to have helped people enjoy themselves outside. If I've done my job right, they'll have learned a new skill and started to notice and appreciate the plants and animals that we are so lucky to share this planet with. Top that off with an after-work swim in the lake and a short bike commute home through coastal temperate rainforest – I can't imagine time better spent.
What to Take on a Tour
Shoes you don't mind getting wet
Raincoat or waterproof outer layer
Water bottle
Snacks (or lunch)
Sunglasses
Sunscreen
Bug spray
A backpack that fits all of the above
A sense of adventure
That last item is important.
Being a naturalist guide in Whistler gives me that rare opportunity to work doing something I love. I meet people from all over the world who share my curiosity and excitement about nature, and I get to teach them paddling techniques that they can use on their next water adventure.
Maybe I'll see you out there?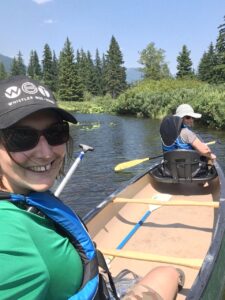 Kate is a guide with Whistler Eco Tours who do a range of adventures available to book on Whistler.com.