Beyond the beauty and the history, the Squamish Lil'wat Cultural Centre (SLCC) is first and foremost a place of learning. And of teaching. To roam the halls and exhibits, to listen to the stories and speak with the Ambassadors is to come away knowing more. Not just more about the culture and traditions of the Squamish and Lil'wat peoples, though that is always the case, but also knowing more about ourselves – who we are, what is important to us, and how we want to fit into the world around us – especially the natural wonders of the Sea to Sky corridor.
The Story of Spo7ez
Built on the shared territory of the Squamish and Lil'wat peoples, the Whistler region of the Coast Mountains was used by both nations as a hunting and foraging area and the two nations shared a village site called Spo7ez, just south of where contemporary Whistler sits. It is said that at some point long ago, the villagers from each nation began squabbling about who was best following the appropriate protocols for hunting, fishing and spending time in the area. This offended the great thunderbird, it is said, and he flapped his wings causing a massive thunderbolt to hit the mountaintops, which scorched the earth and caused a landslide that buried Spo7ez.
Humbled, the two nations agreed to cooperate and share the territory fairly. And the scorched-black mountain above Spo7ez became known as Q'elqámtensa ti Skenknápa, or "Place where the Thunderbird Rests." These days it's also known as Black Tusk.
The Artist
"That is a strong and important marker," master carver Ed Noisecat says of Black Tusk. Noisecat is the creative force behind a new 20-foot house pole recently installed in the Great Hall of the SLCC.
"I don't know many other territories that have such a strong, important marker. This pole is about the Lil'wat and the stories are strictly from that nation. When I get a chance to put a thunderbird on top of a pole, I'm gonna do it. And I carved a portrait of my great grandfather Chief Harry Peters on the bird's chest. I wanted everything on this pole to honour my father's side of the family."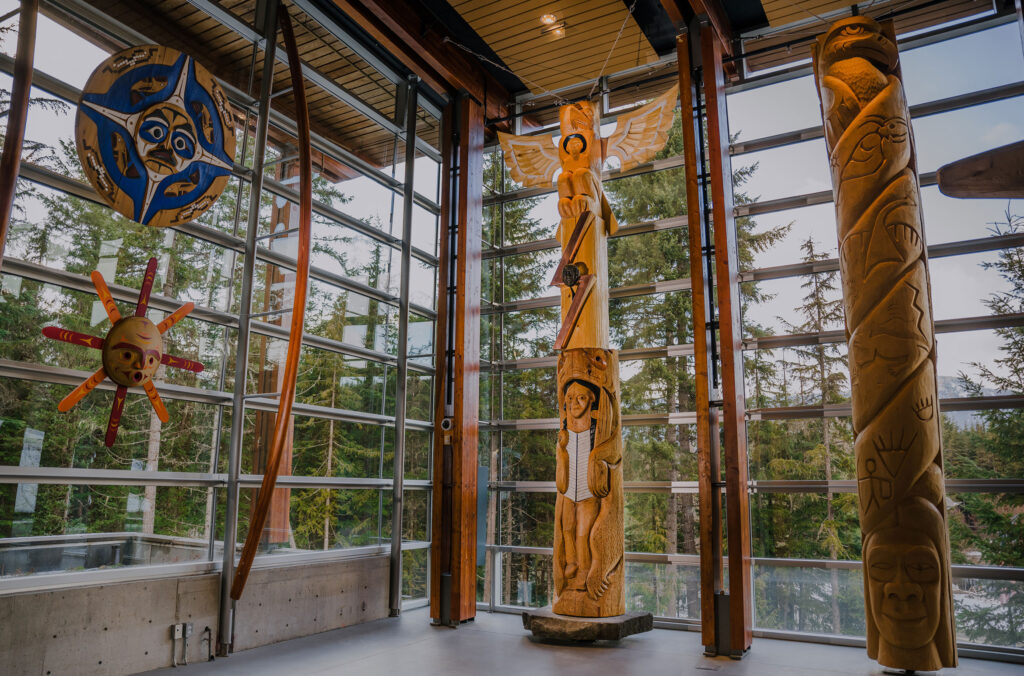 The Pole
Noisecat's pole is constructed of three separate segments of thick red and yellow cedar wrapped around a solid beam of yellow cedar that runs up the centre of the piece. This sort of technique had never been done before, but Noisecat was confident it would work.
"When I looked at the poles in there now, I knew I wanted to do a monumental piece," he says, "but the 20-foot yellow cedar we had available was very small— I could have carved a chopstick up top with some designs on it."
Instead, he designed it as a structural beam he could wrap two larger logs of yellow cedar and one red cedar around, then put a 900-kilogram block of local basalt at the bottom for the base. After piecing together the structural puzzle, Noisecat next had to decide which stories to include on the pole.
Below the yellow cedar thunderbird sits the second block of yellow cedar, carved to highlight a massive thunderbolt made of polished copper. Perched in the middle of the bolt, a glass Black Crawler mask descends.
"The lightning bolt and the Black Crawler mask tell the story of the Woman Warrior Song being delivered to my auntie Martina Pierre. She is from Mount Currie and she is the one the spirit brought that song too, and she brought it to the world through the Black Crawler. That song is sung across the nation, and I have even heard it sung in the US, as far away as New York state."
At the base of the pole sits a Bear Dancer carved from a massive block of red cedar. The dancer wears a necklace of 66 trade beads and holds a frog rattle in one hand and an eagle-wing fan in the other.
"The Bear Dancer is a staple of our culture here," Noisecat explains. "I am a Bear Dancer and so is my cousin Jackie. The frog is a storyteller and while we were carving out in the SLCC courtyard a frog actually came to visit us a few times."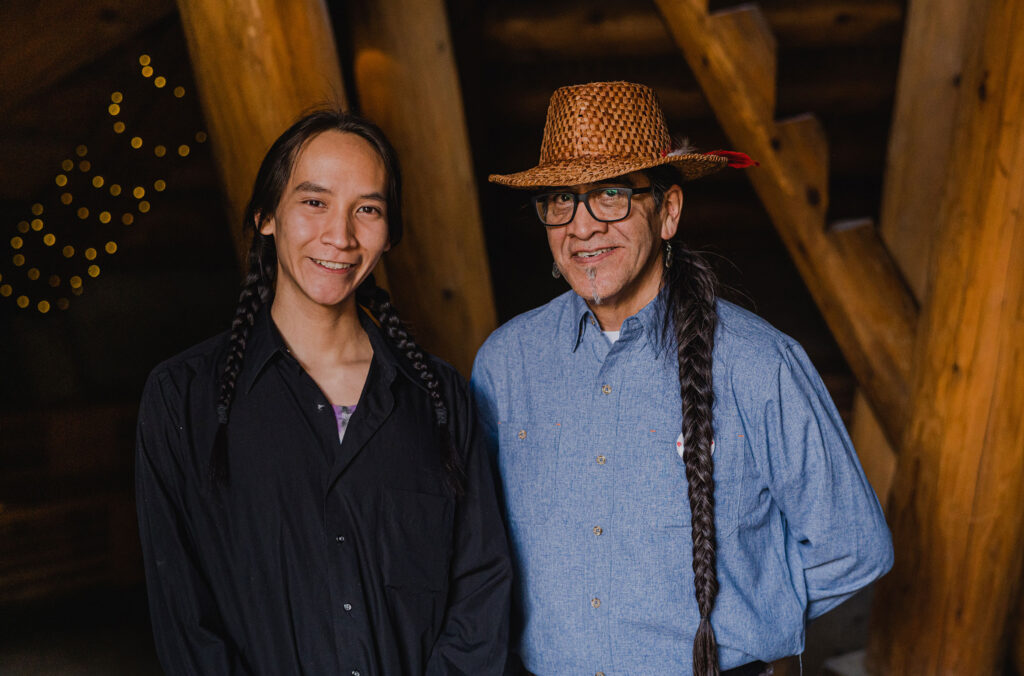 The Apprentice
For this pole, Noisecat worked with a then-24-year-old apprentice named Q̓áwam̓Redmond Andrews, also from the Lil'wat nation. The passing of knowledge, stories, and skills from person to person is hugely important to the Lil'wat (and most every Indigenous culture that predates the invention of the printing press by thousands of years). Ed is the only known Lil'wat master carver, so the value of being able to share his talent and experience with a younger generation cannot be expressed enough.
"There weren't any Lil'wat carvers to study when I was young," says Noisecat, who grew up in the interior of BC and Vancouver but now lives in Washington state. "So I looked to other Nations' artists to learn how to carve. Now I'm able to provide Q̓áwam̓ with skills I've spent my life time pursuing. When I was young there wasn't even a venue to support my work. Projects and places like this are incredibly important."
"It was probably the best summer of my life," says Q̓áwam̓, whose late father was also an artist. "It was my first step into working in three dimensions and felt like the next step into beginning of the rest of my life."
To honour their working together Noisecat based the face of the Bear Dancer off the visage of his apprentice. "He has a good face," Ed joked at the Artist's talk where he explained the pole after it had been erected. "A good Lil'wat face."
The Awakening Ceremony
The artist's talk was supposed to be a pole awakening ceremony. Poles, like canoes, paddles, and drums are considered living beings in both the Squamish and Lil'wat cultures. Once they have been transformed from one life to another (animal to drum skin, tree to pole) they need to be awakened to their new life via ceremony and song.
However, the day before the Awakening Ceremony was set to occur, an important elder from the Lil'wat nation passed away. Out of respect, the pole awakening ceremony was postponed while the nation and families grieved. It's a protocol that goes back to time immemorial.
And although the house pole remains unawakened, Noisecat was still able to explain the stories to us, a collection of his family, friends, and Sea to Sky locals who came to hear a master speak (in 2020 Ed Noisecat's work—carvings in wood, glass, and metal—was featured as a solo show in the SLCC gallery).
I was one of those locals. Back to the SLCC for perhaps my 15th time since it opened in 2009. And, like every time before, I was given the gift of knowledge and perspective.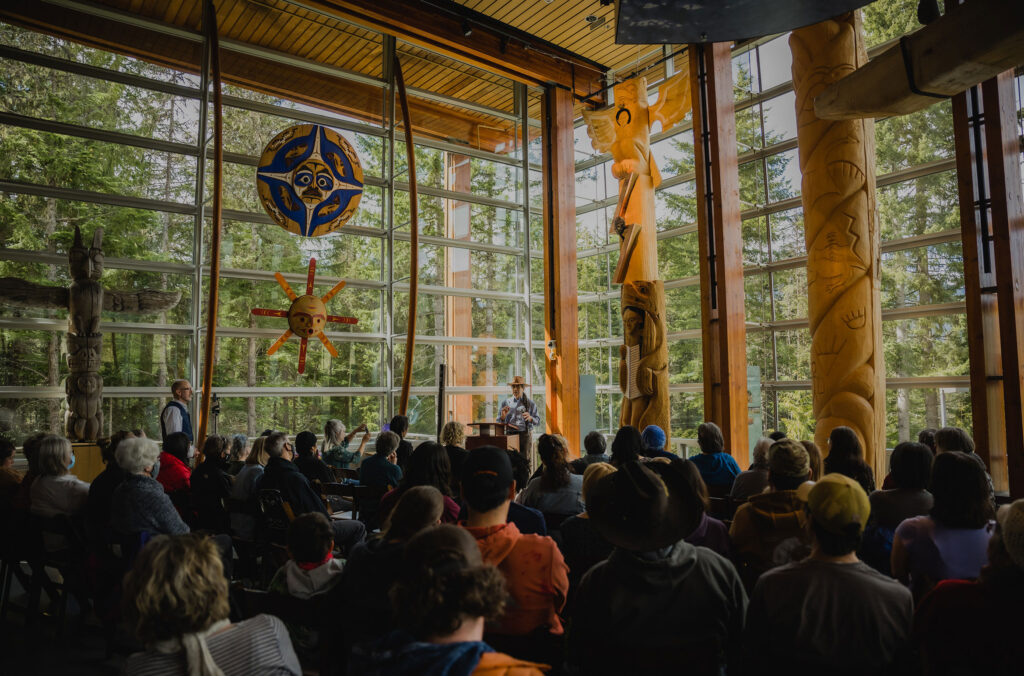 Perspective
Perspective on how we treat our elders. To value them as teachers of knowledge, to respect them, even to the point that to address them, or even speak in their presence is an honour to be grateful for. The older generation, in any culture, is the keeper of wisdom and knowledge. They're living libraries of important stories and practices that the next generation will need to thrive. Indigenous cultures like the Squamish and Lil'wat recognize, cherish, and respect this. It feels like western cultures could learn a bit here…
On how we treat each other – Ed Noisecat had a gift for every single person who came to hear him talk about his pole. He handed them out personally with his son, acclaimed journalist Julien Noisecat, and thanked us all for our time and care. It's been a few decades since I've attended a party and left with a goodie bag that wasn't solely intended to sell me something. It felt nice.
On how we consider the land, and the living things that come from it. In a contemporary western culture so much of what we consider mere "objects" were once living things. And perhaps that should be acknowledged (at the very least). Why not consider treating these "things" we consume with the respect that we give (or should give) to the living things they came from. When I buy something, do I consider its intrinsic value and history of it? Or do I only see the value in what it can do for me in the moment?
Community Reconciliation Canoe
This summer, Qawam Redmond Andrews and SLCC ambassador Brandon Hall will be onsite apprenticing under master carver Chief Sesiyam Ray Nataoro, who will be leading the creation of a 30-foot cedar Community Reconciliation Canoe. Guests participating in an SLCC Canoe tour this summer will be gifted with cedar shavings from the canoe, while some participants will be chosen to join cultural leaders in carving the sacred cedar. If you can make it to the SLCC for either of these things I highly recommend it.
Chances are you will leave a different person.
Book your winter trip now to secure up to 25% off lodging, 65% off lift tickets and 45% off rentals. Come experience Whistler Blackcomb's extensive terrain and adventure at every turn to see why we're known as one of the best resorts on the planet. Secure your winter getaway with Whistler.com for Flexible Cancellation and our Price Match Guarantee. Want to win a winter trip for two to Whistler? Check out our Drop In to Winter contest.