Whistler is situated on the unceded territory of the Squamish (Sk̲wx̲wú7mesh) and Lil'wat (L̓il̓wat7úl) First Nations. Both communities consider themselves caretakers of the land, with their history and culture tied to the ocean, rivers, forests, and mountains of the area. The Squamish People live to the south of Whistler, and Lil'wat People to the north, and in the past, they'd come here to harvest flora and fauna for food and medicine, and to hunt.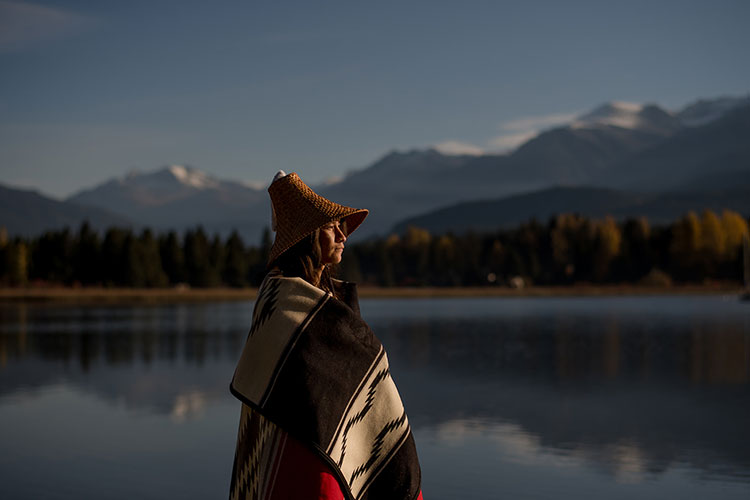 The Spo7ez Story tells of the wrath of the Thunderbird, which brought these two Nations together in the past, but more recently on March 22, 2001, they signed a historic protocol to formally work and live together in Whistler. The Squamish Lil'wat Cultural Centre (SLCC), which opened in 2008, is a showcase of their shared history, culture, and stories and the place to visit if you want to dig into the history of the area before the ski-focused pioneers moved in and named it Whistler.
Like many Indigenous communities, their history and knowledge was passed on orally, often through stories they would tell their children. We caught up with Cultural Ambassador, performer, and carver, Q̓awām (Wolf) Redmond Andrews from the Lil'wat Nation to find out what it's like to be so closely connected with his community, and to pass on its stories to visitors and locals who come to the SLCC.
What's your connection to the Squamish Lil'wat Cultural Centre?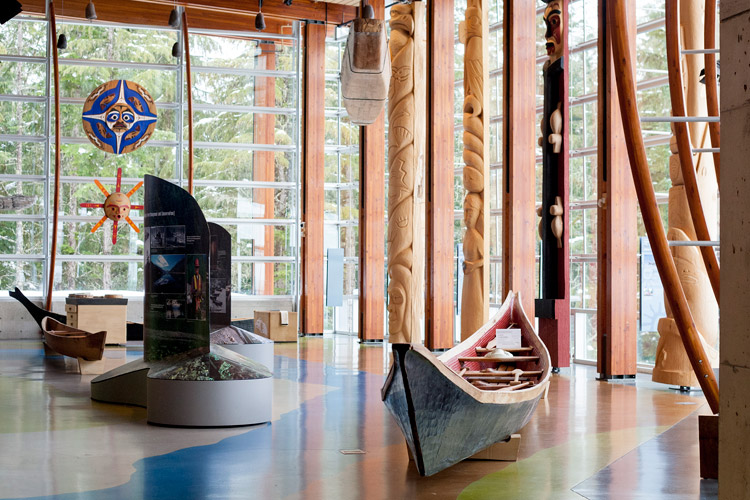 I've had a connection with the SLCC since I was very young. My dad carved one of the canoes that's on display, and we are featured in a video together. When my dad passed away nine years ago, I inherited his knives and since then I've been carving. Some of my family worked at the Centre and suggested it would be a good place for me to sell my art. I started as an Indigenous Youth Ambassador three years ago and ended up becoming a tour guide and singer.
What's it like being a tour guide?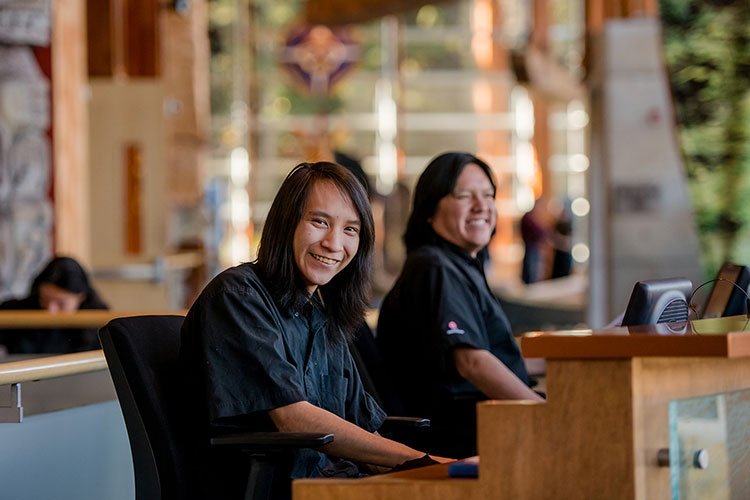 It's incredible, the branches I walked out onto – none of them broke. It's the way of my nation, that if you learn something new you have to pass it on. You have to share what you learn, and in a place like the SLCC I get to do that with everyone that comes in. It feels good, and I can't imagine my life without it.
Older people in my nation weren't allowed to talk about a lot of the things we share now, but I can. It's the way our ancestors would have wanted it.
What's one of the most valuable things you pass on about your culture?
The way we recycle and use everything we come across. When we cut down a tree we use the logs for tools, canoes, and decoration; the bark for clothing, ropes, and hats; the roots for baskets for cooking and carrying things. I think this is an important message for people at this time.
What do you like about singing?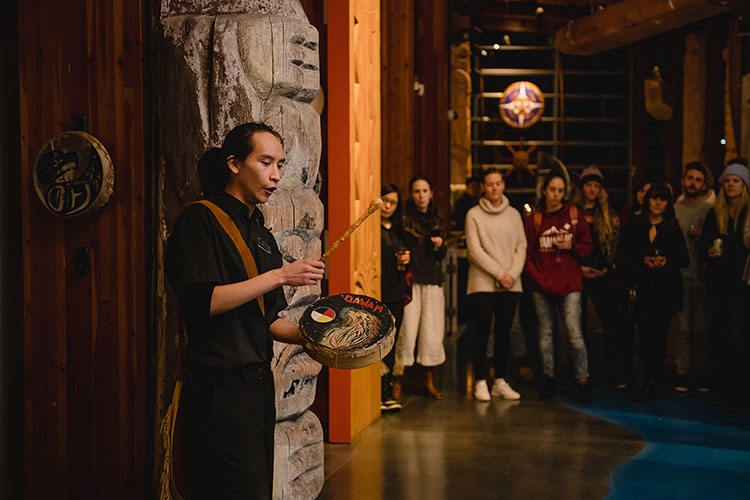 Our nation welcomes anyone to their territory, and we do this with song and dance. Since I was in grade three I've been learning these, perfected using Rock Band, and performing at both the Centre and at events. I like to sing, I like to welcome people, and I like to see peoples faces as we do it. I think it inspires people in our own nation to get up, get out, and recognize their own territory and traditions.
What's been your favourite event you've performed at?
Last year's Redbull Joyride event during Crankworx. I was super stoked to stand where the bikers would ride down and welcome them. I was happy to bless the track some of my favourite riders were going to go down. I felt like, even though they don't know me, I was doing something for them — I didn't need to tell them, I just needed to do it.
How has your carving progressed?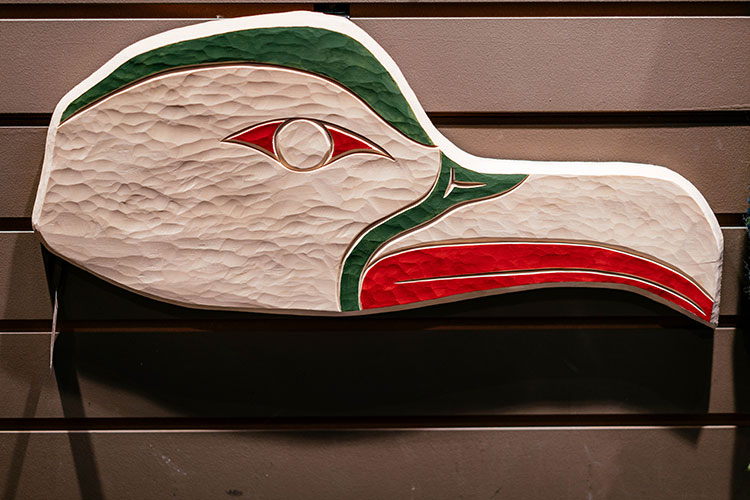 INSIDER TIP: The SLCC has an incredible gift shop packed full of artwork by local indigenous artisans.
I've been doing it for six years, and have learnt that a sharp knife makes things easier! I'm hard on myself and can see any small imperfection. I carve herons and eagles. The heron was my dad's signature carving, and my mom's name means Twin Eagles so I do it for them.
Where do you see yourself in five years' time?
I'm not sure. But whatever I do it will still be with my community. I believe passing on knowledge to the younger generation is important, but to do that you need to go away and learn, so I might need to spend some time doing that.
There are people in my community who know how to live off the land and that's something I'd like to learn how to do. Then I'll come back and pass that on to others.
We're losing some of the cultural protocols we once had. Because we have an oral history it's really important to spend time speaking with people, learning, and getting it right. A dancer can't dance without the song, and if the song isn't right the dancer might not want to perform. You need to learn it properly — it's one of the things I am really passionate about.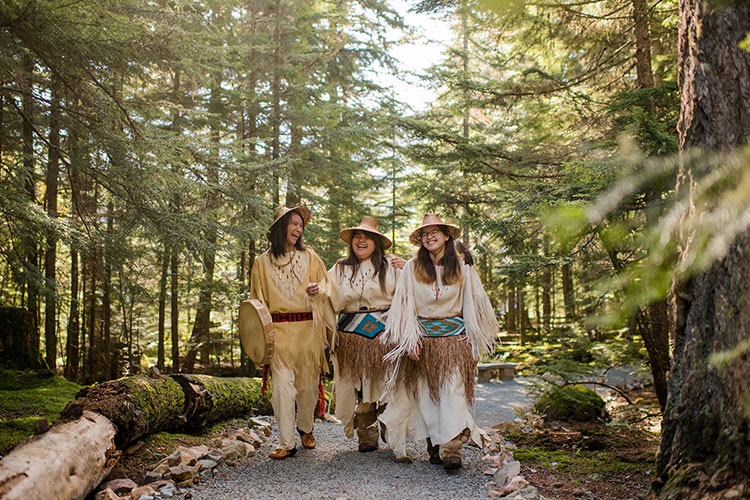 The Squamish Lil'wat Cultural Centre is open Tuesday to Sunday, from 10 AM to 5 PM. Included in your admission is a guided tour (these happen hourly), welcome song, film, and cedar-rope bracelet making activity. Through the displays and interacting with the cultural ambassadors you can expect to learn the meanings behind legends, carvings, art, songs and ceremonies.