Skiing probably isn't the first thing you think of when you're talking about spring, unless you're in Whistler. Boasting one of the longest ski seasons in North America, spring skiing in Whistler is a must-do for anyone looking for smooth runs, bluebird days and sun-soaked après. 
This season you can expect to be hitting the slopes on Whistler Mountain until April 18, and on Blackcomb Mountain up until May 23. Be sure to check the Mountain Hours of Operation page for up-to-date hours.
We spoke with Whistler Blackcomb instructors and seasoned locals to bring you some insider tips for spring skiing and riding in Whistler.
1. Understand Spring Skiing Conditions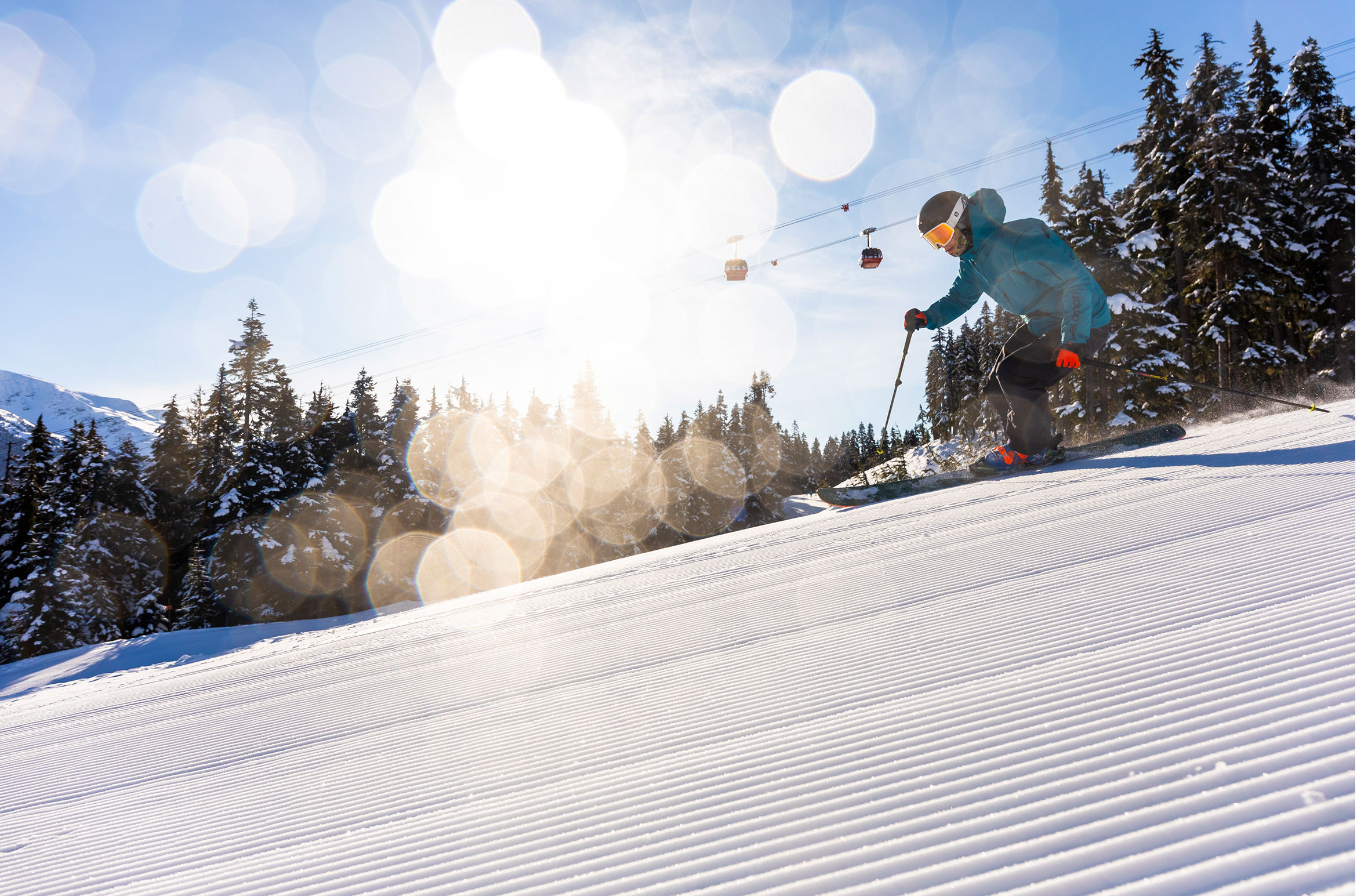 Laura Mackie, a Whistler Blackcomb snowboard instructor with a CASI Snowboard Instructor Level 2, CASI Park Instructor Level 1 and SBINZ Level 2 under her belt reminds us to check the weather before we head out each day in the spring.
"Conditions are variable in the spring. The nights still get cold on the mountain, which will cause the previous day's slush to set and become firm – even after grooming. Anything that sits in the sun throughout the day will soften up, so just chill out and relax if you're looking for that spring slush. If it's fast groomers you're after, then head up in the mornings with sharp edges and enjoy some early morning carves down beautiful pistes." Laura.
Consider downloading the Epic Mix app to see what's been freshly groomed if you're after some fast action first thing.
Expert ski instructors Chris Kaipio and Jeannie Chisholm, who have been instructing at Whistler Blackcomb since 1987 and 2006 respectively, also gave us insight into what type of snow you can expect in spring.
"There are three types of snow that skiers and riders are likely to experience in the spring. Powder, hard-packed / frozen, and slush. Each one of these has a different feel." 
Because conditions can change so quickly, we asked Chris and Jeannie where riders can go on the mountain (and when) to find the best conditions. They suggest heading to Whistler for the morning sun before heading over to Blackcomb for the afternoon rays.
"Runs like Whistler Bowl, Spanky's Ladder or Glacier Bowl are great in the morning, whereas you can save Sun Bowl and the front side of 7th Heaven for the afternoon to get the prime conditions – the snow will be much softer from a full day of sun exposure." Chris and Jeannie.
INSIDER TIP:
Take a read of
Sun-Seeking on Skis
for more suggestions on how to route your ski day on Whistler Blackcomb in the spring.
2. Techniques & Tips for Spring Skiing and Riding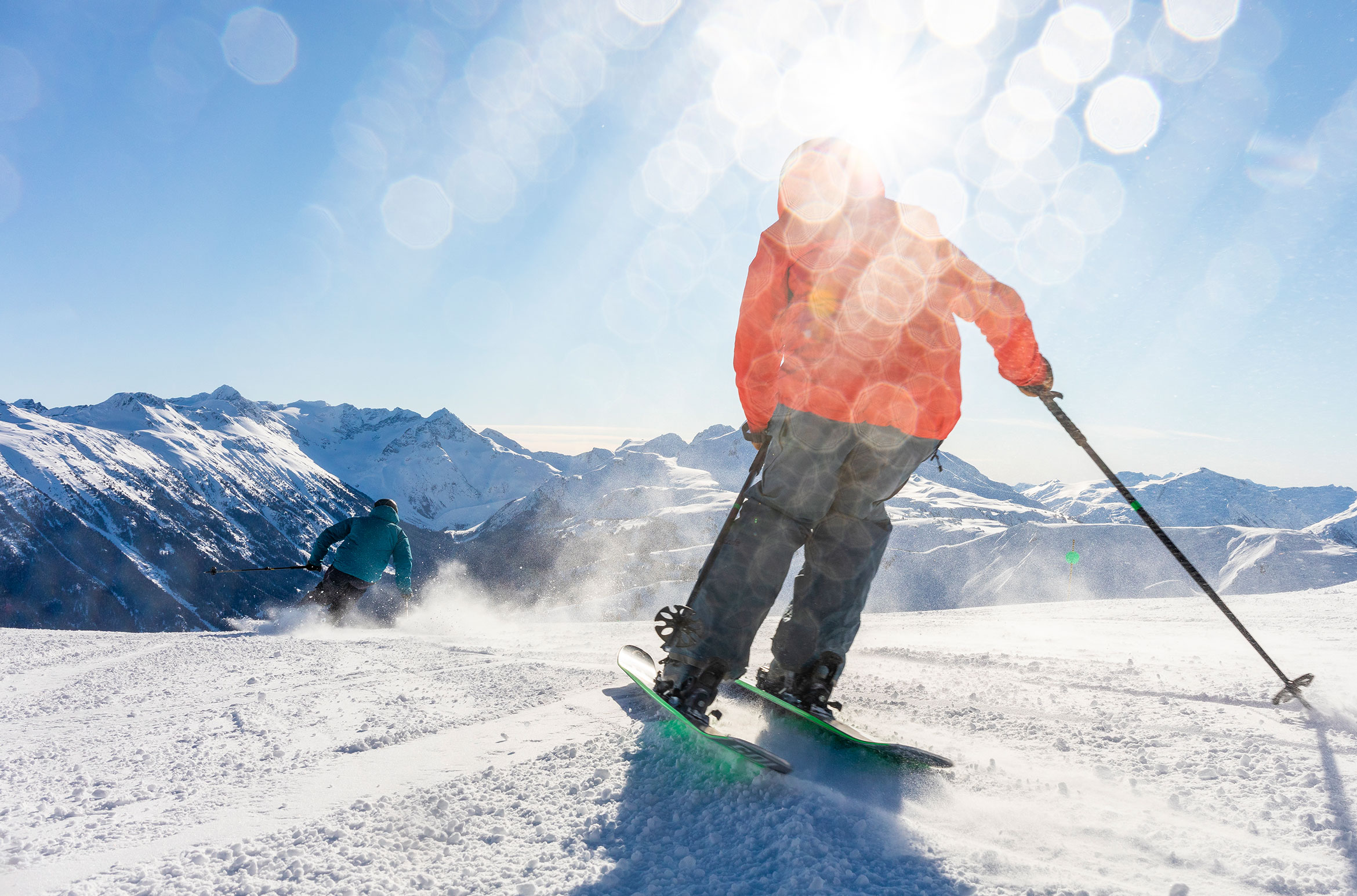 So, what's the best way to ride on conditions that change daily? Chris and Jeannie shared their insider tips you can use to up your game.
"Make sure that your weight is evenly distributed along the downhill ski (or along the inside edge of the snowboard) at the end of the turn. If there is too much weight, too far forward, the back of the downhill ski (or snowboard), can slide out. If you're a skier, make sure you don't have your weight forward at the end of the turn. Instead, what is needed is pressure on all parts of the foot from the toe to the arch, to the heel. This allows the edge to dig in." 
If you're on skis and looking to get a good grip, Chris says to tighten your downhill ankle by rolling inwards (this puts the ski on more of an edge, and tightens your muscles so you have more control). "If the ankle does not tighten through the end of the turn (when the skis are going back across the slope) the lower ski can become a bit floppy."
Powder conditions can be slower and harder to ride through depending on how deep it is. "This can require making bigger, straighter turns," comments Chris. For Jeannie, "The keyword to think of when skiing powder and slush is to always think – power!'" 
"In powder and deeper slush, make sure to push your feet a bit forward through the end of the turn. In deeper snow, it is very common for a skier's feet to slow down due to the increased friction of the snow. The wetter the snow is, the more likely it is for this to happen. This can result in a skier being thrown forward. To counter this, skiers can push their feet forward through the end of the turn.

However, it is important to also push their hands forward as well, otherwise, they will be leaning too far back. This puts extra pressure on the quads. When skiing, we always want our shoulders over our knees. Snowboarders can also accomplish this feeling by pushing the front of the board forward if they feel that their board is being slowed down by the deeper, wetter snow." Jeanine.
3. Debate Beauty Sleep vs. Early Bird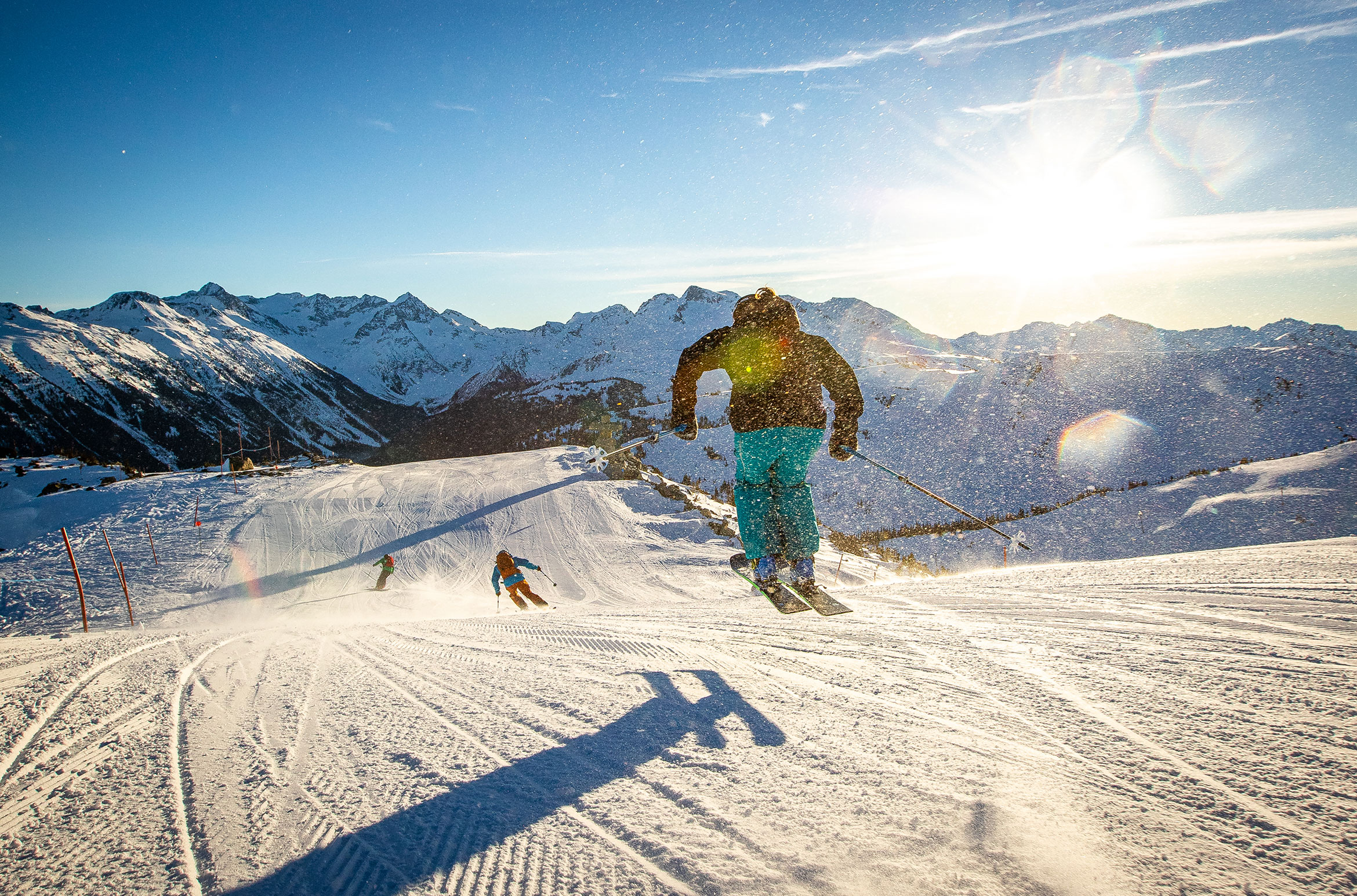 One of the best parts about spring skiing is that you can enjoy a lazy morning and still pack in a full day on the mountain. The lifts are open later in the spring, so no need to worry about reining in your aprés sessions. Plus, going up later means that the snow will have had time to soften in the morning. 
"For Jeannie and I, spring is the best time of the year to ski. The days are longer, the weather is sunnier and warmer, and the corn snow is fantastic," says Chris.
Corn snow is essentially the spring version of winter powder. We asked Ski Patroller Jordan Schraeder to give us some more insight.
"Corn is when the snow melts and refreezes multiple times. It's like crusty and frozen in the morning usually and then slushy when the sun hits it."
Even though we just mentioned beauty sleep, Laura says it's worth it to get up early if you're looking to ride in the park.
"The best time of day to get park laps in is always the morning. You might find a snow school class or two in there, but the vast majority of park riders won't surface until lunchtime. Get up there nice and early for the best conditions on each feature and no queues!" Laura.
4. Get a Wax
The snow softens in the spring and edges are less essential (unless you're going up for those brisk morning carve laps), but you'll definitely want your skis or board to be waxed to avoid getting stuck in slush.
"Keep your board or skis waxed to keep moving! Universal wax is generally all you need on the West Coast, but if a warm wax is available then from the end of March it can be useful to touch up a base with it. A good sign that your equipment is running out of wax (besides not gliding properly anymore) is a white cloudy effect on the edges of the base near the metal – this is where the snow is causing friction burn against the p-tex base. A waxed base is a happy, longer living piece of gear." Laura.
We suggest heading to Underground Tuning (at Summit Lodge), Spicy Sports (Le Chamois and Rainbow Building) and Can-Ski (which has locations at Marketplace, Blackcomb Base, Village, Creekside Base, and inside the Hilton and Westin hotels) for your wax.
5. Tree Runs and Spring Conditions Don't Mix
Whipping through the tree lines may be a great time in the middle of the winter season, but not so much in the spring – why is this? As the snow melts, obstacles can emerge in forested areas (like tree stumps and fallen logs) that are hazardous to skiers and riders as well as damaging to your gear. Tree wells are also a hazard; stay away from the trunks of trees, especially if they have low-hanging branches and ski with a buddy. 
Speaking of spring conditions – as the snow changes from hard and icy to soft and slushy, instructor Jeannie shares some extra tips you can keep in mind to stay safe. 
"Remember that on harder icier snow, everyone will be travelling faster and it takes more time and space to stop. To stay safer, make sure to give everyone lots of space and slow down. Always be respectful in slow zones. It can be harder to anticipate where newer and less confident skiers and snowboarders are going to be travelling. This makes everyone more vulnerable. By slowing down you and keep everyone safer and you can make it more enjoyable for them."
Long story short? Extra caution is always a good thing. 
"The goal of every day should be to make it to the end of the day in better shape than when you started. This might mean going a bit slower, taking fewer risks, especially when the conditions are more difficult or you are tired (like at the end of the day)." Jeannie.
6. Spring Skiing Gear Tips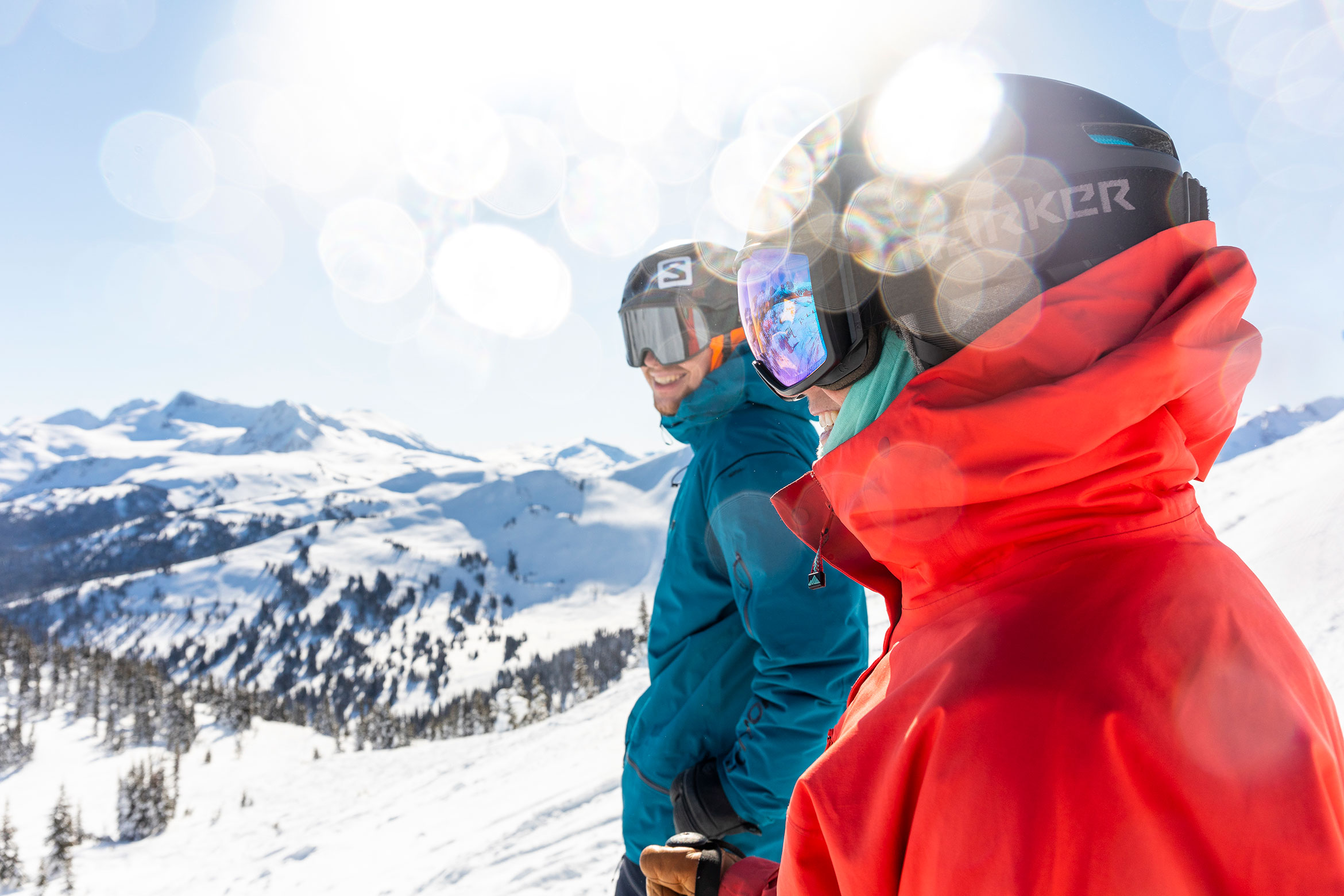 As you ride in and out of the sun the temperature is going to fluctuate and that's where layering comes in. We advise wearing multiple layers made of breathable, quick-drying materials and a waterproof shell.
"If it's expected to be warm and slushy, then I'd recommend bib pants with excellent waterproofing ratings (GOR-TEX if possible). Keep the skin covered to avoid sunburn or rashes in the event of a fall." Laura.
The jury is still out on whether goggle tans are considered cool, but there's no doubt that if you want to avoid a nasty burn, sunscreen is a must. With high altitudes and UV rays reflecting off the snow, it's easier than you may think to get sun damage.
"The sun is stronger the higher up the mountain you go. It can damage your eyes, even on cloudy days, so make sure you and your kids have the right eyewear." Chris and Jeannie. 
A must-have for snowboard instructor Laura? SPF lip balm.
"SPF lip balm is an often overlooked spring essential. They get itchy, cracked and generally painful, but can be completely avoided with a tactical pocket lip balm stick. Most of the stores in town have lip balm sticks at the cash registers; look for one with an SPF rating of 15 or higher."
You're not going to want to head down the mountain every time you need to take off a layer or grab some snacks. Long-time local and manager at Beacon Pub & Eatery, Cora Burgess recommends bringing a small backpack up with you so you can pack water, sunscreen, extra layers and food for a mid-day picnic in the sun.
INSIDER TIP: Spring snow can be on the slushier side, which can lead to wet boots. Laura says that if you want to prevent your boots from smelling like the inside of a moldy fridge, get them on a boot dryer at the end of each day.
Bonus Tip: Downloading is Your Friend
The bottom of the mountain can get quite slushy come late spring and obstacles like rocks and tree branches can start to poke through the snow. Save your skis by taking the gondola down instead of skiing out.
At the end of the day, spring skiing is all about soaking up the last bit of the season and having a great time. Remember to stay hydrated throughout the day so you can take full advantage of the epic, spring apres happening all around the village. There's nothing quite like sitting on a sun-soaked patio with a fresh pint after a long day on the mountain. Cheers!
Fall in Whistler means more, like great value on accommodation with rooms from $135 CAD per night, plus a free $100 CAD Dining Voucher when you book a stay of 3-plus nights. Book in confidence with Whistler.com for Flexible Cancellation and a Price Match Guarantee. If you're dreaming of a trip to Whistler, enter our Find Your Altitude contest for a chance to win a six-night vacation with flights, accommodation and activities (including a heli trip) all covered.