Long days of skiing at North America's largest resort will leave you with sore legs, so rest days are essential for recovery. Maybe the spa isn't your thing or you're looking to try something new – how about ice fishing?
Truth be told, I didn't realize ice fishing could be done in Whistler. The lakes here are plentiful and while they do ice over in the winter, I wasn't sure if the ice could carry the weight of a person and I wasn't about to test it out by myself (cue a vision of a dramatic search and rescue mission). Lo and behold, when I took my first steps onto a frozen lake last March with guide, Matt Prosdocimi from Whistler Year Round Fishing, the ice was solid and I did not fall in – success!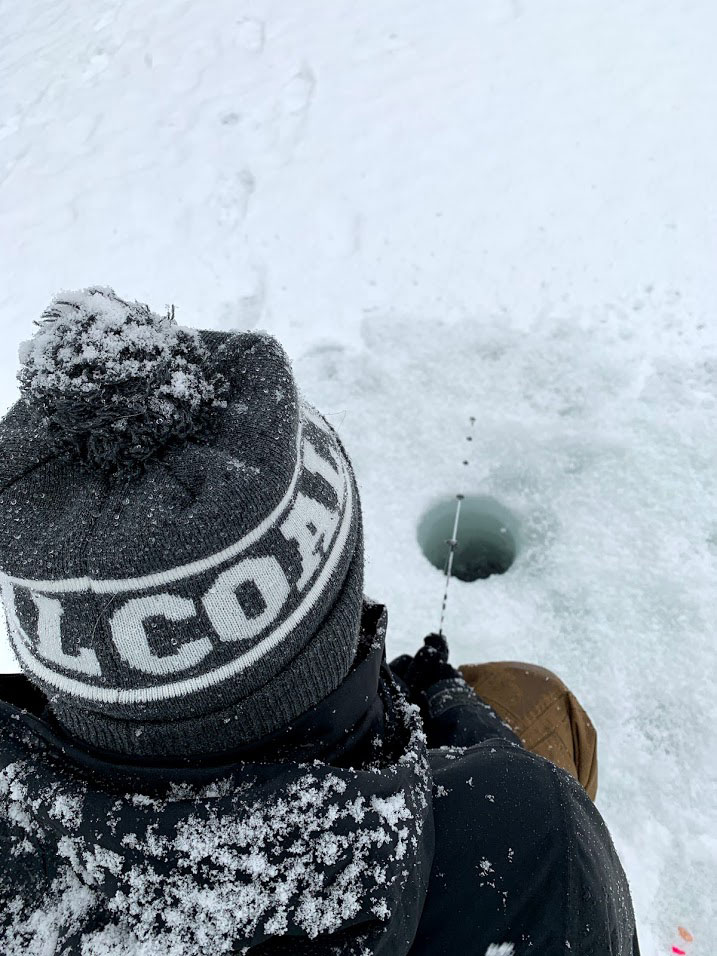 Ice Fishing takes place in and around Whistler from mid-December through March (weather dependent), when the temperatures drop and the ice is thick enough to stand on (at least four inches thick, to be exact). You don't have to be an experienced angler to get out there, in fact, I'd never held a fishing pole until that very day, let alone experienced the thrill of a catch. At this time of year, it's rainbow trout (usually between 10 – 14 inches), that you're fishing for, and it's worth noting that the tour has a catch and release policy.
Matt picked our group up from Whistler Village and within ten minutes, we were kitted out with insulated waterproof boots, complete with ice cleats, and driven to the lake. He quickly and efficiently loaded all the gear into a sled and we were on our way to the desired location on the ice. We opted not to have the insulated shelter with the propane heater as it was a nice day and relatively mild in temperature (but it's there for you in case you're not so lucky). Matt was a man on a mission and was drilling holes using his auger drill, handing out fishing rods and bait, and getting them set up in the water.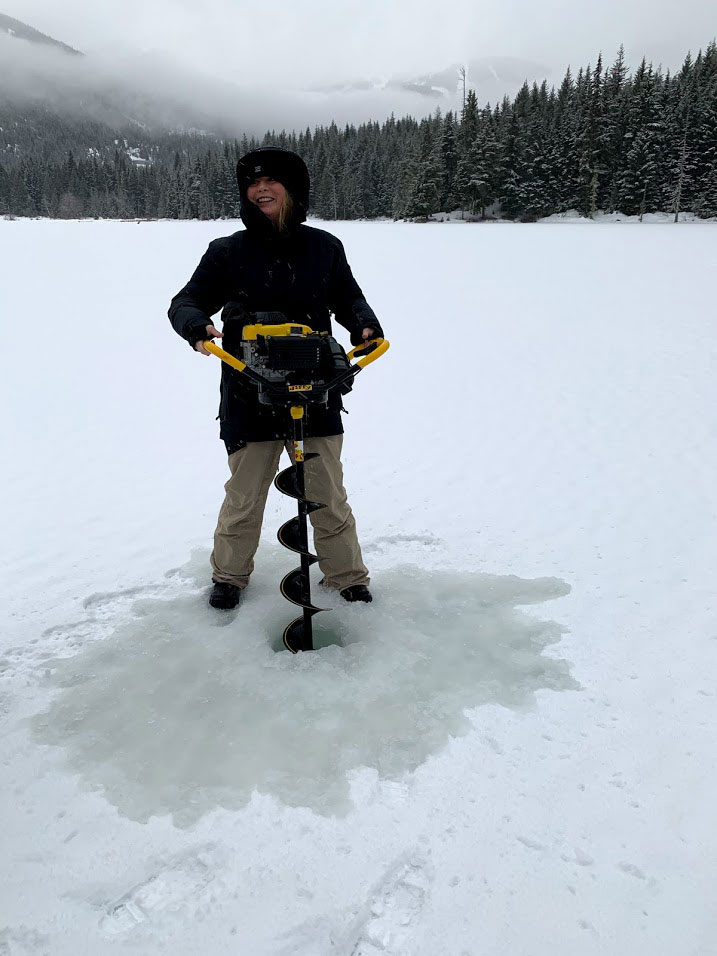 Soon enough, cheers erupted from Sarah and Chris who, within the first few minutes, had tight lines and reeled up some rainbow trout. Matt quickly tended to the fish, carefully removing the hook and releasing them safely back into the lake. Whistler Year Round Fishing has a strict catch and release policy with a focus on teaching, so that there will be fish to catch for future tours.
Encouraged by the early catches, the rest of our group continued to wait patiently; aided by Matt's helpful advice and the use of his handy GPS fish finder. It's almost like Matt has a sixth sense when it comes to fish; predicting their whereabouts using the fish finder and drilling new holes to increase the chance of hooking one. More hoots and hollers from other group members had Matt running over to get them sorted with the catches. By the end of the tour, everyone in the group landed a catch (or more!) and we all managed the quintessential fishing photo showing off our prized possessions.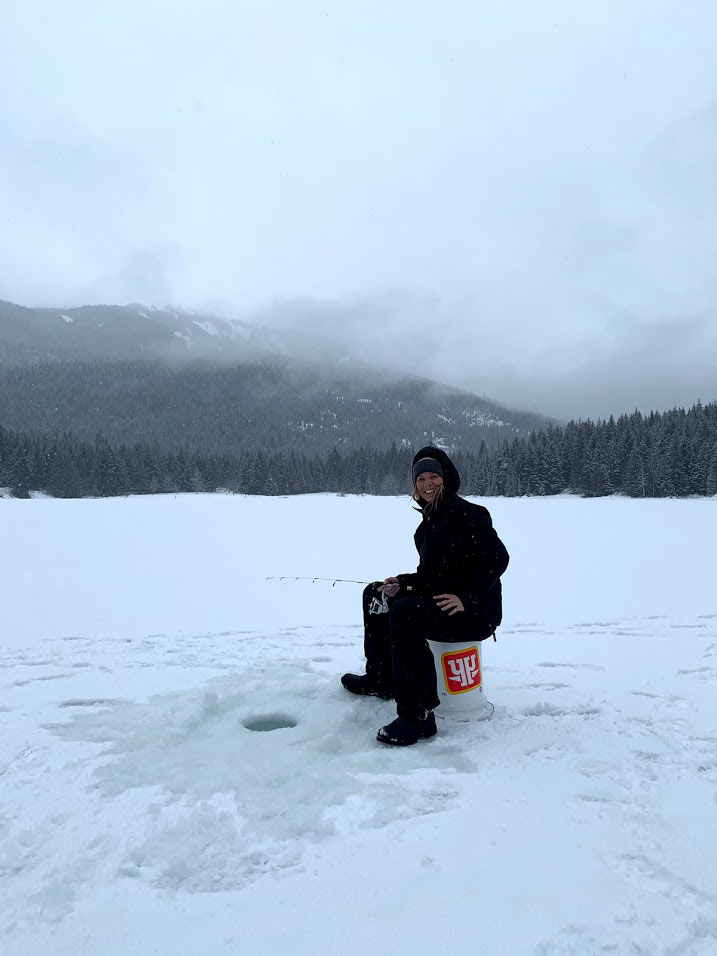 Ice fishing is a relaxing activity, we were out first thing in the morning watching the sunrise over the mountains and we could hear the sounds of the resort prepping for the day echoing from across the valley. Though most in our group were first timers when it came to fishing, there was no shortage of fishing stories from Matt who was dishing out hilarious anecdotes and fishing wisdom from his many years as a guide. You can tell he loves fishing and teaching people how to fish, and your joy is his joy when you land a catch.
Just when you think you've done it all in Whistler, you can find yourself in someone else's shoes (or insulated winter boots) learning a new skill from a seasoned pro. That was definitely a highlight of the tour – sponging knowledge from Matt, someone who has turned his passion for fishing into his career, and laughing at his fish puns. Whether you're a group of friends, a couple, or a family, consider booking an ice fishing tour during your next visit to Whistler.
What to Wear Ice Fishing
Dress as you would for a day on the slopes; ski jacket, ski pants, base layers, mid layers, warm gloves, warm hat and warm socks. Whistler Year Round Fishing provides insulated winter boots with ice cleats on them to keep your feet warm and well-tractioned. They also have an insulated shelter with a propane heater to keep you extra cozy and out of the elements.
What to Bring
A purchased and printed, 1-day basic fishing license, which can be done online ahead of time.
Water and snacks
How to Book an Ice Fishing Tour
The ice fishing season runs from December to March and can be booked online through Whistler.com (best place to check for seasonal discounts) or by calling 1-800-944-7853. Whistler Year Round Fishing and Pemberton Fish Finder are two local companies offering ice fishing tours.
Book your winter trip now to secure up to 25% off lodging, 65% off lift tickets and 45% off rentals. Come experience Whistler Blackcomb's extensive terrain and adventure at every turn to see why we're known as one of the best resorts on the planet. Secure your winter getaway with Whistler.com for Flexible Cancellation and our Price Match Guarantee. Want to win a winter trip for two to Whistler? Check out our Drop In to Winter contest.