I wish I could bottle that tingling feeling, that mix of awe and wonder that happens when you find a place where the only word that could possibly describe it is, magical. Whistler, with its ancient, towering mountains, vast forests laden with snow, electric atmosphere and sparkling festive lights has a touch of the fae about it. 
It's been a year of harsh realities and we could all do with a sprinkling of pixie dust, something that reminds us that there's a world of wonder out there, just waiting. The Insider has curated some of Whistler's most magical spots, in the hopes that they give you the same tingles and sense of awe that we get.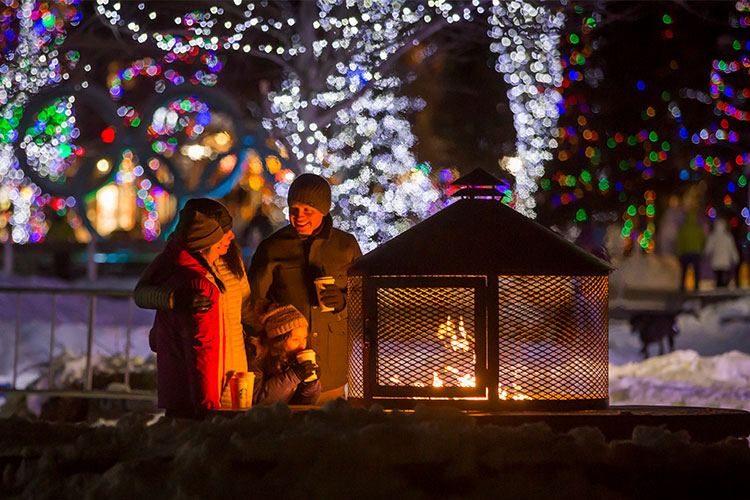 Watch the Clouds Dance
At the top of Symphony Chair on Whistler Blackcomb, there's a raven sculpture. If you stand next to this trickster, you can see Cheakamus Lake and out across to the iconic Black Tusk. The clouds like to dance here. They can completely fill the sky and then within minutes, pull away as rays of light puncture through.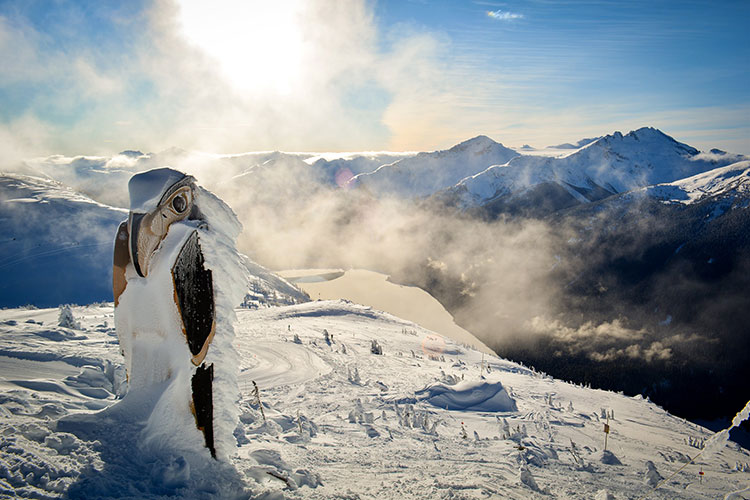 Standing on top of a mountain can really put things into perspective. Take a few moments to breathe deeply and let your mind wander to things beyond the everyday stresses. When ready, strap in and enjoy a dreamy lap down Symphony Bowl. 
Skate Under the Stars
The stars are out and your skates are on. Whistler Olympic Plaza was built for celebration and you can feel that energy as you push out onto the ice. It's been imbued with the cheers of the crowds that gathered during the 2010 Olympic and Paralympic Winter Games, and the music and talent of the orchestras, bands and artists who have played here over the years.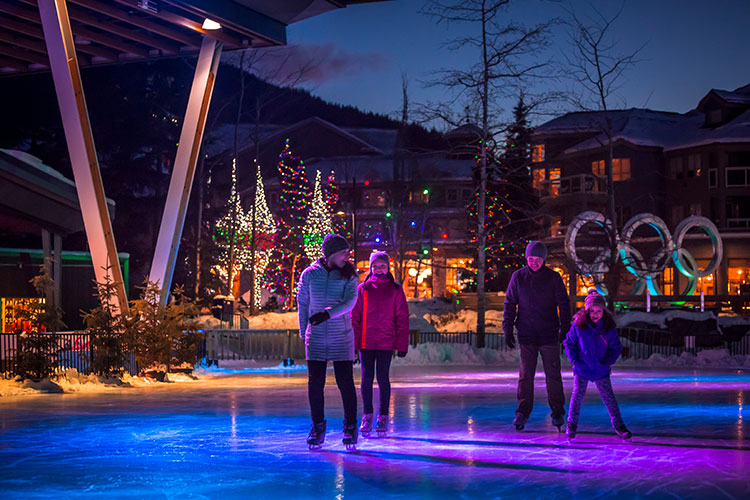 It's also home to the Snow Zone, so grab a toboggan and let that five-year-old spirit run free as you careen down the gentle slopes. The whole place has the movie-magic feel to it, with laughter, sleds, skates and fire pits to keep frosty faces warm.
INSIDER TIP: Skate rentals are available but bring your own if you have them. Remember to dress cozy with a warm jacket, hat and gloves. For little ones just learning, they have balance frames for free use on site.
Find a Hidden Patio Gem
Once upon a time, in a snowy land not too far away, a little camper sits at the bottom of a famous mountain. Amidst fairy lights and the glow of a roaring fire, it lives on the patio of a luxury hotel and pleases everyone who visits with its vintage charm and special power – making the cutest, spiked hot chocolates in the land.
After a day on the slopes, gather your bubble at the Patio Camper at the Four Seasons Whistler, to savour their signature hot chocolate, the Tipsy Snowman (you can choose if you'd like that spiked). For the full campfire experience, make sure to get one of their s'mores kits. If you're travelling with little ones, this spot is a great option for après with the whole family as they have complimentary hot chocolate and cookies available for children from 2 – 4 PM.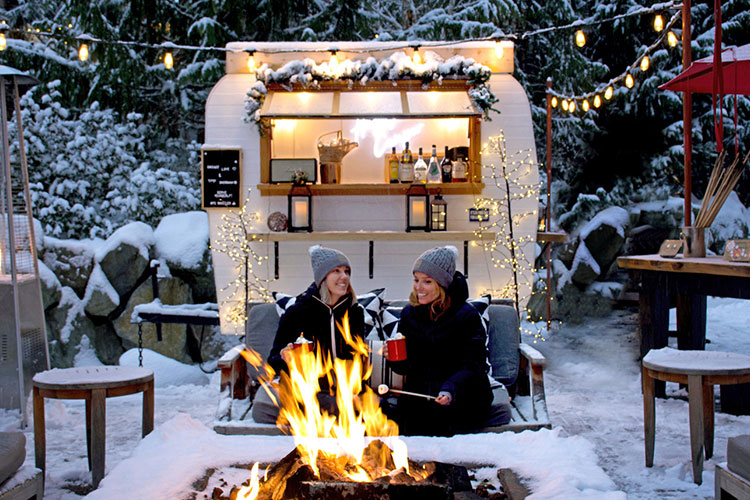 INSIDER TIP: The camper, fire and lights make an amazing backdrop for a cute pic, so wear clothes you want to be photographed in. When you're done roasting marshmallows you can head inside for dinner at the newly renovated Sidecut Modern Steak + Bar, or keep it casual at the new Braidwood Tavern, with its focus on elevated comfort food that's easy to share.
Experience a Nordic Dream
At the edge of an old-growth forest, steam rises through the pine needles and snow crunches underfoot as you make your way along a serene, tree lined path to the Scandinave Spa Whistler.
Masters of the art of hygge, which gives you a sense of wellbeing and contentment, the team at the Scandinave Spa knows how to help you relax. They encourage their guests to try at least three rounds of hydrotherapy, the action of heating and then cooling the body, to invigorate the circulation, promote healing and release endorphins.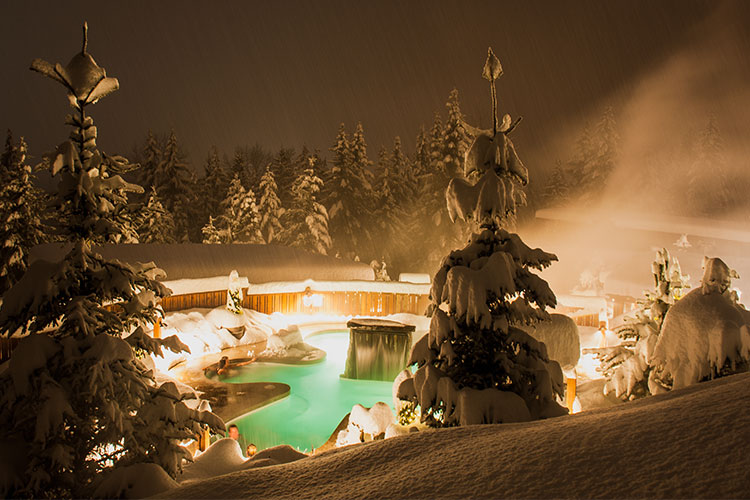 You do this by utilizing the Finnish saunas, hot pools, Eucalyptus steam rooms, Nordic waterfalls, cool plunge baths and relaxing solariums. They also have a silence rule, which means you can let your mind drift and find peace. Open to the elements, there's a touch of magic in the air as a snowflake falls and kisses your cheek before it melts away, along with your tension.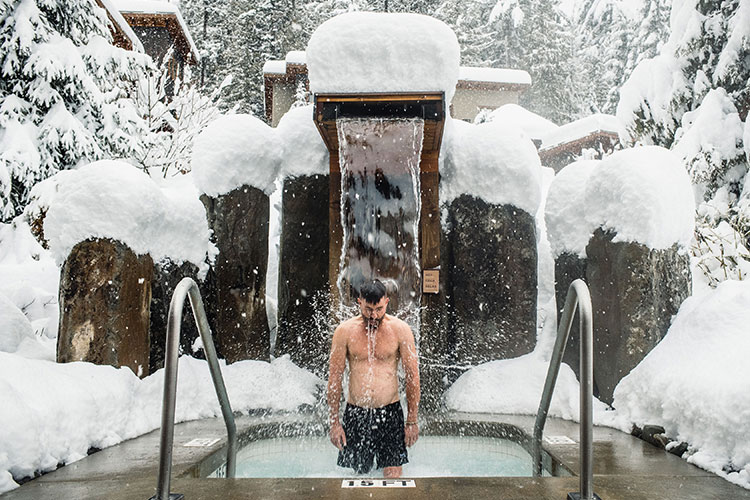 You can find this haven of relaxation on the edges of Lost Lake Park and just minutes from the heart of Whistler. They have limited parking for guests, but recommend taking a cab or walking when possible, which you could do through the forests on snowshoes or along the Valley Trail. 
INSIDER TIP: To take your experience to a deeper level of relaxation we recommend booking a massage. It guarantees your entry time, so you won't have to worry about waiting when you arrive, and it also includes the rental of a fluffy, white bathrobe. Along with your bathing suit and face mask, we'd suggest taking your sandals and a good book. 
Explore Ancient Valleys
It might feel like you journeyed through a Narnia-style wardrobe when you leave Whistler Village's bright light, loveable hubbub and set foot amongst the quiet, vast forests of the Callaghan Valley. Evergreens laden with snow stretch to the horizon and thanks to this white blanket, sound finds it hard to travel in these parts and the result is peaceful wilderness.
It might not be Mr. Tumnus leading the way, but the guides of Canadian Wilderness Adventures (CWA) certainly share his welcoming personality traits as they take you on a snowshoe tour that covers the medicinal properties found amongst the vegetation surrounding you.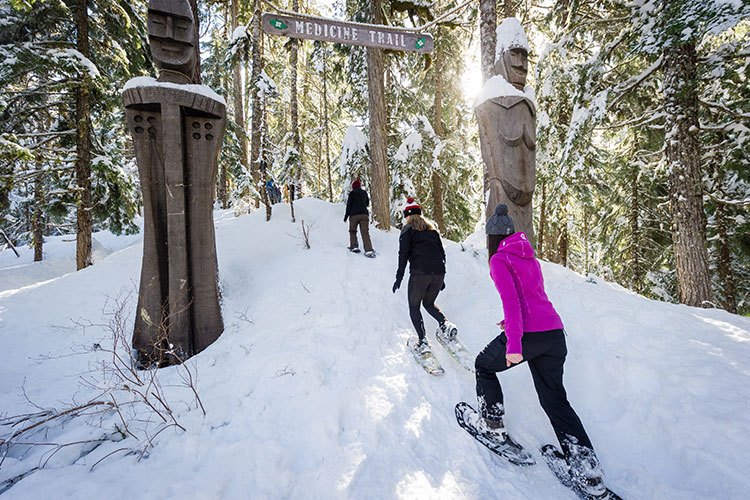 New this year is their Campfire Cookout, which starts with a short snowshoe under the stars as they lead you to a trapper's cabin with a welcoming fire just right for the smokies, chili and s'mores you're ready to devour.
There's something about the glow of a campfire in the wilderness that has that magical element; the mesmerizing power of the flames as they reach for the stars above, and the simple joy of gathering around it to share stories, warm toes and roast marshmallows.
Cross Glowing Bridges
It's still dark. You've risen early to beat the other skiers to the fresh powder and you're excited as you cut a fresh path towards the gondola. You reach a covered bridge. The water below is running, but underneath thick slabs of ice, some of which has formed curled, claw-like sculptures as if trying to catch at the water still in fluid form.
When you glance over the wooden rail, you can see the mountains in the distance, illuminated by the sun that's starting to edge its way into the sky. The lights, hidden in the rafters, change to purple, blue, red, casting colours onto the white snow surrounding it. This unassuming bridge is only a small moment in your day, but it was a little touch of magic, a glowing path connecting you with adventures you've yet to start.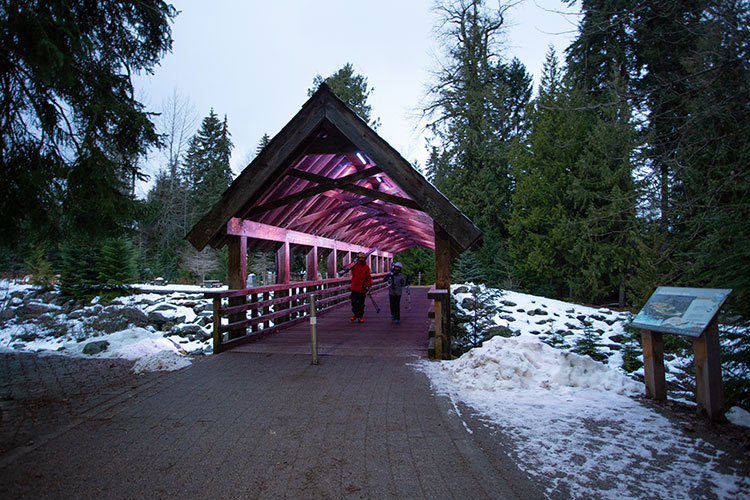 This bridge connects the Village and the Upper Village near Day Lot 1 parking and spans the Fitzsimmons Creek. From the Village, you'll find Rebagliati Park on one side, which is a great spot for building a snowman, and Peace Park on the other, where Jeri, one of James Stewart's sculptures, sits contemplating the mountains before him.
INSIDER TIP:
For lovebirds looking for a romantic place to pop the question, this is a very picturesque spot.
Take a Snow Globe Stroll
Taking a stroll through Whistler Village is like being inside a snow globe scene you can't actually believe is real. Snow falls as you walk down a wide, pedestrianized path that was specifically designed to give you viewpoints of the mountains. Three hundred and fifty thousand bulbs adorn the trees, creating dazzling displays of light that children like to dance in and they're not just up for the festive season – here, twinkle town lasts all winter long.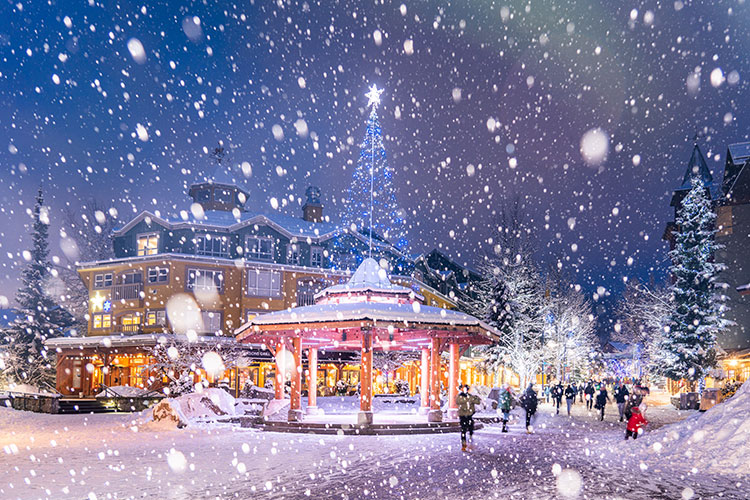 And if you feel the nip of Jack Frost, there's always a warm, glowing shop, cafe, or restaurant door to walk through and find comfort.
Unravel a Mystery
There's a place where the bears are made of starlight, the salmon glow and the trees talk. In the forests of Cougar Mountain there's a one-kilometre, outdoor trail that takes you on a beautiful, multimedia journey following the story of a young girl and her grandfather, who are on the search for stardust. This is Vallea Lumina.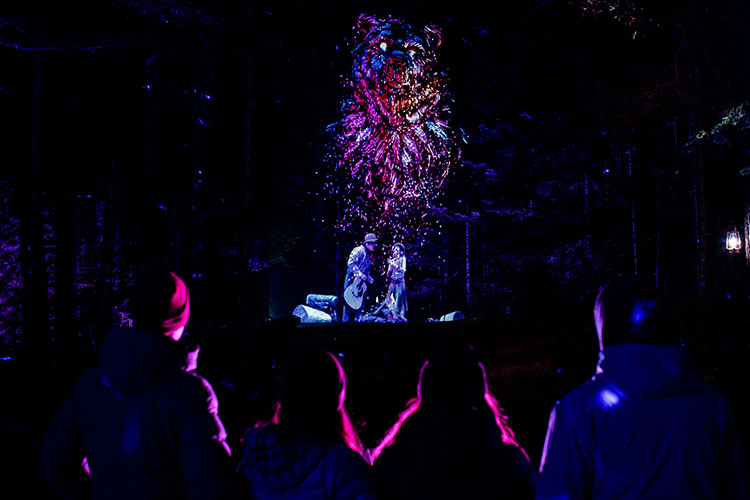 It's like being immersed in a fairy tale as you walk through the woods on your own magical adventure. For more on this experience read Magic in the Mountains: Winter Vallea Lumina.
Like most mystical places, it's usually the story behind them that gives them their significance, and you'll have to visit to write your own. These magical locations and many more are waiting for you. With a flexible cancellation policy and price guarantee, Whistler.com is the easiest and safest way to book your escape to the mountains.