Whistler likes to take things to new levels. Big mountains, big snow, big adventures. And when it can fit an extra pump of adrenaline in, it does. Just take a look at these Whistler adventure dining options with a unique, mountain twist.
Snowmobile-Powered Eats
The early snowmobiler catches the bacon with Canadian Wilderness Adventure's (CWA) Yukon Breakfast. Heading out at 8 AM, this backcountry tour on Sproatt Mountain takes you up to a rustic cabin overlooking a snow-covered lake for a skillet-style breakfast. Sizzling on the wood-fired stove is Canadian back bacon, Yukon gold taters, scrambled eggs with sauteed onions, bell peppers and cheddar cheese melting on top. And don't forget the pancakes with real maple syrup served with cowboy coffee.
This is the snowmobile version of Fresh Tracks (where you head up Whistler Blackcomb early to ski). You get first dibs on any fresh powder, or the first turns on some lovingly groomed corduroy. This tour is for those who like to get up and go, and also enjoy a slap-up brekkie.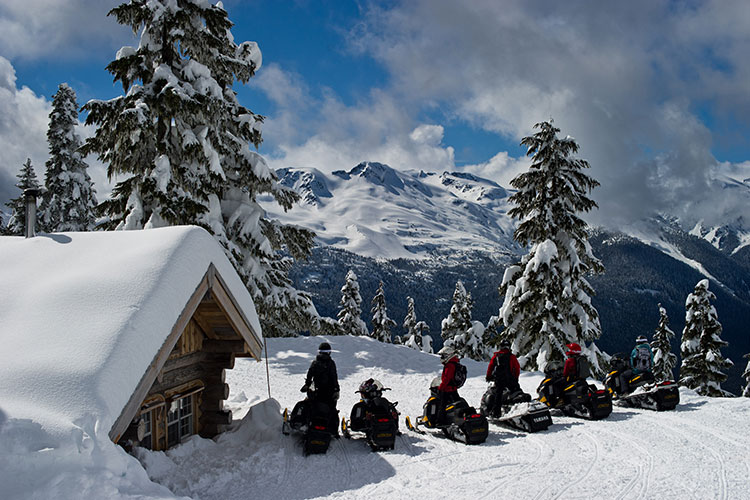 You can also journey up to the cabin on Sproatt at dusk for a decadent, three-course steak dinner prepared by the Bearfoot Bistro and presented by CWA's wilderness chef. Heading out at 5 PM three days a week, you might even catch the alpenglow as you begin your journey. Dinner at the cabin is a warm and cozy affair – they also do private tours for anyone looking to ask any life-changing questions by candle light.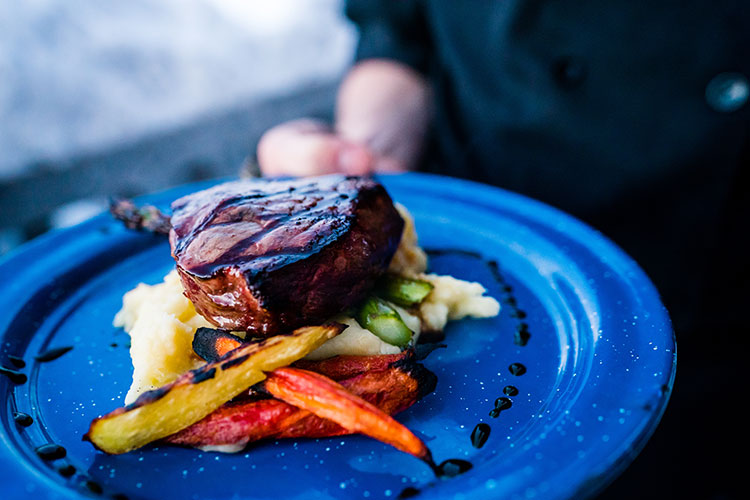 There are two machine-powered fondue tours in Whistler; one goes up Blackcomb Mountain to the Crystal Hut and the other out into the backcountry of the Brandywine Valley. The first offers views of Whistler Village, twinkling 6,000-feet below you as you ascend, while the other offers the serenity of the wilderness – both have incredible fondue menus.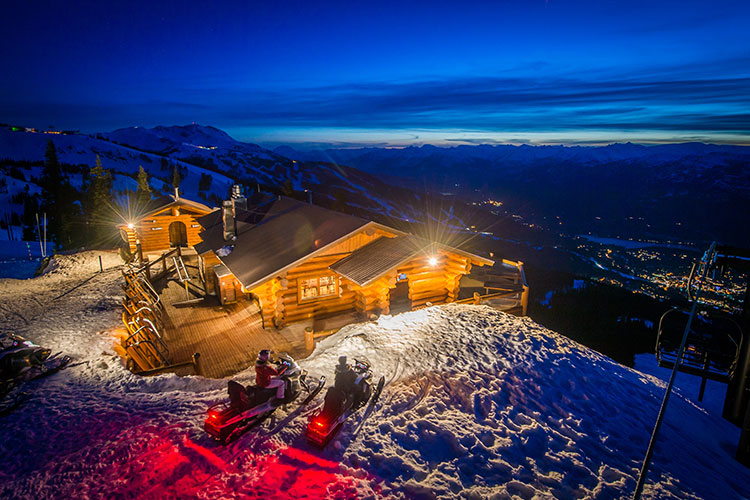 You can also choose whether you head out via snowmobile or snowcat. What's a snowcat? Imagine a small cabin set atop a pair of tracks, the going's slow but it's a novel experience. It's a good option for families, or for those who might struggle with handling a snowmobile.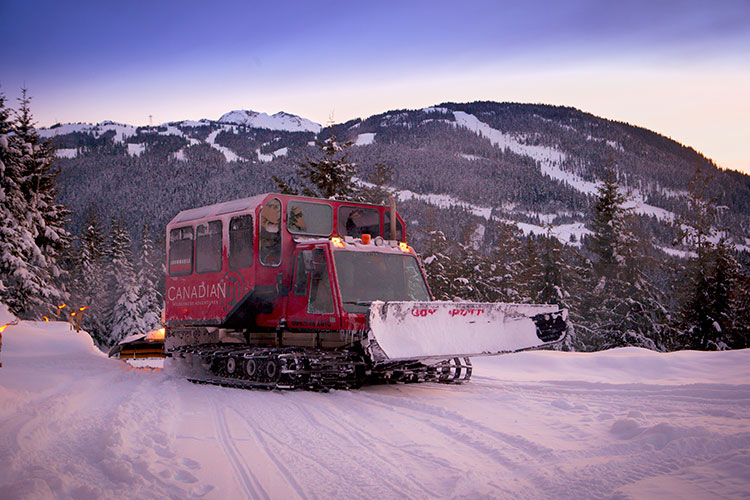 If you're considering these tours with children, just bear in mind the timing, as it means a bit of a later start to dinner (unless you're European, and then it's probably perfect). Blackcomb Snowmobile actually has an early seating that sets off at 4:30 PM, which might be a better option for those with younger kids.
Heli Fresh Tracks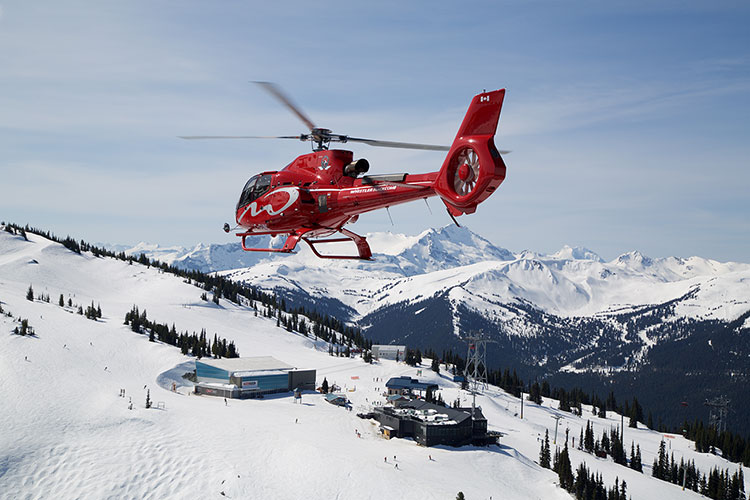 A new, add-on option to private ski lessons on Whistler Blackcomb, the heli whisks you out for an aerial tour of Whistler's mountains and glaciers (approximately 12 minutes of fly-time) before you start your ski day. You beat the gondola lines by being dropped off right at the Roundhouse Lodge on Whistler Mountain where you'll have a reserved table for a Fresh Tracks breakfast. This is a great option for groups of four to five who like an early start (6:45 AM pick up).
Ice Cave Dining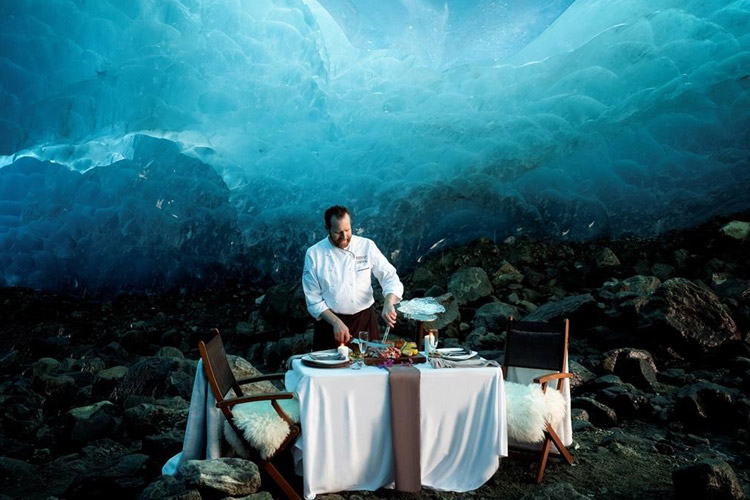 This is insane. Imagine being served Champagne and caviar under the blue hues of the sea, frozen just above you. This tour starts with a helicopter ride that whisks you up to the Headline Holiday base on the Pemberton Ice Cap, soaring over volcanic peaks and vast, old-growth forests. Then you choose your own snow machine adventure from their fleet of snowmobiles, buggies and coaches as you head to the ice caves. After a guided tour of the ancient caves, it's over to the wilderness chef who serves your lunch under a cathedral cave of blue, aptly called "The Blue Room".
Pricing starts at $20,000 for two adults and as it's a very bespoke experience we'd suggest letting the experts at Whistler.com help you set it up. You could also consider a heli-tour with a picnic add-on if the Blue Room is a bit over the top for you!
A First Nations Winter Feast
At the Squamish Lil'wat Cultural Centre (located in Whistler), you can blend an incredible cultural experience with a delicious dinner. As you dine on alder-smoked bison brisket, cedar-roasted wild sockeye salmon, bannock bread and locally-sourced, seasonal vegetables and salads, the Wells Family of the Lil'wat Nation share the stories, music and dances they learned on the Pow Wow Circuit (competitive dancing). Our contributor, Pip Campbell described the evening as a "feast for the senses" in her piece on the summer-version of this experience.
This is a family-friendly dinner option (reduced pricing for children and youth, under 5's free) that happens on Sundays and Thursdays throughout the winter season (December 15, 2019 – March 29, 2020), starting at 5:15 PM.
Lunch with the Eagles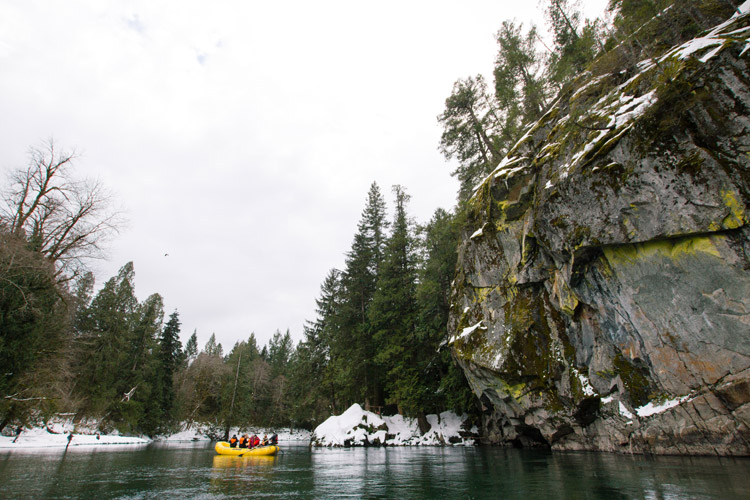 It's a little-known fact that Squamish (58-kilometres south of Whistler) is home to North America's largest wintering population of bald eagles with peak viewing-season being November through February. The eagle float takes place on traditional (and unceded) Squamish Nation territory and in the Sḵwx̱wú7mesh language, the name of the river (Cheakamus) translates to 'fish trap'.
Exploring via water always gives you a different perspective and with frozen waterfalls, old-growth forest and granite rock faces lining the bends it's a visually-dramatic, gentle, nature-focused mode of exploration. The half-day tour departs at 11 AM daily (earlier pick up from Whistler by request) and includes a hearty bowl of chili (veggie options available) and copious hot chocolate. Good for kids five and up, this is a relaxing activity that adds a unique element to your ski trip. Want to know more? Check out Winter Eagle Viewing.
These experiences put a unique spin on the whole "dinner and a show" concept. If you're coming over peak times during winter just be aware that dinner reservations in the Village book out fast. Get in touch with the Whistler.com team if you'd like more advice on how to book your trip to Whistler, and some insider tips on where to eat.