A good set of girl friends can be the best vacation partners you could ask for. Whether you're celebrating a birthday, sending off a bride at her bachelorette, or just getting away for the fun of it (who needs an excuse?), Whistler has all of the elements you need for a great girls' getaway.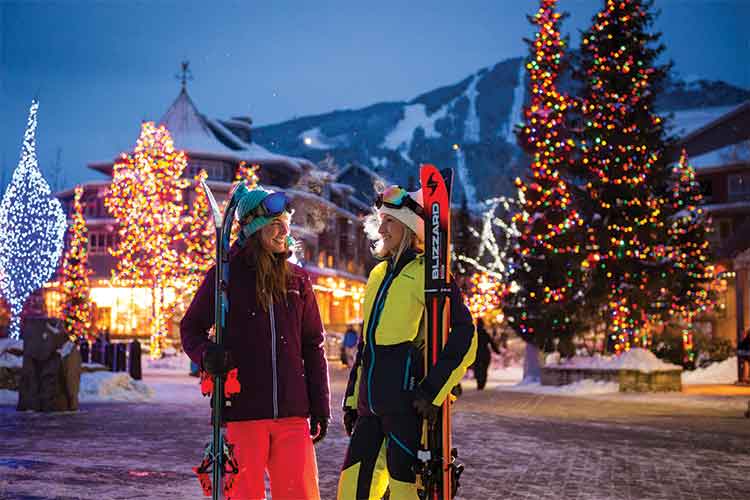 WHERE TO STAY
On a girls' getaway, your accommodation becomes the team's home base. When planning with my girlfriends, our main priorities are a central location, and a good common area to hang out in, so that's what I looked for when compiling these suggestions.
Mountain Luxury
Located right at the base of Blackcomb Mountain, The Fairmont Chateau Whistler has every ingredient you need for a girls' getaway. Their rooms are luxurious, the hot tubs are plentiful, and the Mallard Bar is something right out of a ski movie. Their signature G&T is the best in town, plus they have a chocolate tasting platter — make sure to try the Honeybear Blonde Chocolate, made with honey that comes right from their rooftop beehives!
Space & Convenience
If you're looking for some common space so you can all hang-out together, a condo choice like Glacier's Reach, or Granite Court with an in-unit kitchen could be a good option for you. They also have the added benefit of being just across the road from Marketplace Shopping Centre, home to a liquor and grocery store, making it easy to stock up on supplies.
On a map it can look like you'll be a bit far from the lifts, but it's actually a short walk and there is even a free bus that regularly runs from in front of your accommodation to the base of the lifts.
Lively & Central
To really be immersed in the energy of Whistler Village I recommend staying at a stroll-side hotel. From your room you'll be just steps away from restaurants, bars, activities and shopping in the heart of Whistler.
Look for hotels like The Crystal Lodge, Delta Hotels by Marriott and Summit Lodge that combine a central location, great pools, and cool interiors as ideal options when planning.
REST & RELAX
A getaway with the girls can also be an opportunity for you all to recharge your batteries. These rejuvenating activities will help refresh both your minds and bodies.
Spa Day
It may be cliché, but a spa day with the girls is so good I just couldn't leave it off of this list. You can indulge in classic spa treatments like massages and facials at one of our many local spas, or for a spa experience that's a little outside of the box, I highly recommend a day at the Scandinave Spa. It's a haven of relaxation, complete with hot tubs, eucalyptus steam rooms, saunas, solariums, and outdoor firepits. The hardest part of your day will be not talking, as they ask for quiet on site so you can completely disconnect. If you're particularly chatty by nature, I recommend bringing a book to read to stay quietly occupied.
View this post on Instagram
Yoga Class
Get bendy at one of our yoga studios. Many have early morning classes, so you can start your day on the right note with a class together.
View this post on Instagram
Paint & Sip
Flex your collective creativity, and get in some quality conversation time at a group painting class like Paint Night Whistler. Local artist, Andrea Mueller will guide you step-by-step in creating your very own masterpiece. Enjoy a drink or two from the bar while you paint, and if you want to make it a private session you can do that too! Check out the Whistler.com events calendar to see what other art-based activities are happening while you're here.
EXPLORE
If you're friends are anything like mine, a getaway isn't complete without a little adventure. These ideas will get your hearts pumping and are a sure way to make memories together.
GIRLS' NIGHT OUT
It's hard to imagine a girls' getaway without busting out a few moves on a dance floor. From toe tapping in your ski boots at après, to dancing the night away in one of our thumping clubs, you have plenty of party options.
INSIDER TIP
High heels and winter in Whistler aren't a great mix. A good pair of sensible booties will not only make you more comfortable, but will also help you fit in with our mountain vibe.
Après
In Whistler the party starts as soon as the skis/boards come off. These bars are known for getting pretty rowdy as the sun goes down. Their dress code is pure mountain, so keep those snow pants on and you'll fit in just fine.
INSIDER TIP
Remember to bring a lock so you can party without worrying about losing your skis/board. If your accommodation is close, it can also be worth a quick trip home to tuck your gear away for the night and change into more comfortable shoes.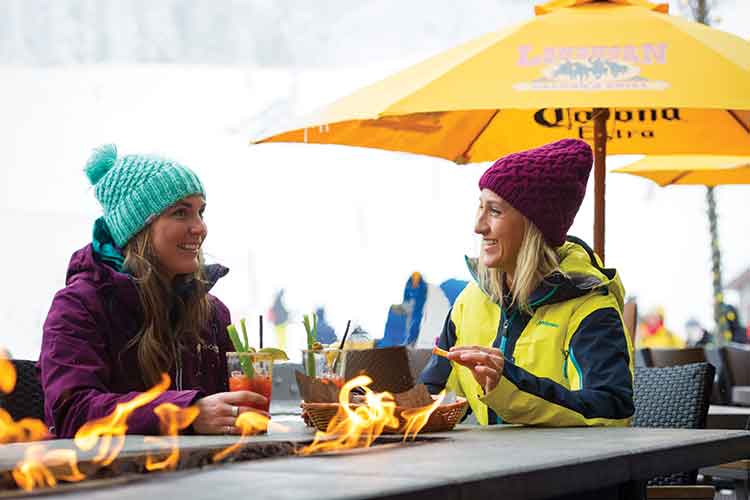 Dance Clubs
While all of our nightlife is consistently good on Friday and Saturdays, locals know that each bar also has a weekday night that is arguably more fun than the weekend. Try branching out from the weekend with these party nights.
View this post on Instagram
LADIES WHO BRUNCH
If you're hurting enough to sleep through breakfast, then you'll definitely need a hearty brunch to bring you all back to life. Order some hair of the dog with a mimosa or Caesar, or cleanse your body with refreshing pressed juice, and fill up on some hearty food.
Purebread
Sometimes the getaway schedule can be so packed with adventure that you just won't have time to laze the morning away. When time is tight, purebread is my go-to spot for brunch on the go. They're a one-stop-shop for both sweet and savoury breakfast treats, and some of the best coffee in town. A favourite with locals is their buckwheat and sour cherry scone — in a word, yum!
View this post on Instagram
BRING THE KIDS/FUR BABIES
It's not always possible to get away on your own. There's no need to miss out on the trip because you can't find a sitter at home. Whistler is well equipped with child and pet care options so you can enjoy quality time with your girls.
If your kids are over three and diaper trained, they can join Snow School for the day. They'll learn new skills, meet new friends, and even have lunch provided. There's also traditional daycare available for those under three.
In the evening, sitters are available to come to your room to watch your little ones while you enjoy some R&R with your girls.
Feeling inspired? Now is the time to start booking if you want the most options and the best deals. Visit Whistler.com to book now.