I dare you to take a look at the Whistler Cornucopia schedule and not salivate. Celebrating food and wine, this festival is all about creative culinary flair, new experiences, and a license to indulge.
Each year the organizers, venues, and partners keep raising the bar and pushing the boundaries, challenging chefs, sommeliers, bartenders, and their teams to put their expertise on show. We've got the inside scoop on what's hot and new for this year's Cornucopia, so let us guide you through what's new and hot at this year's festival…
NEW
The Blue Room: Thursday, November 8 onwards (upon request)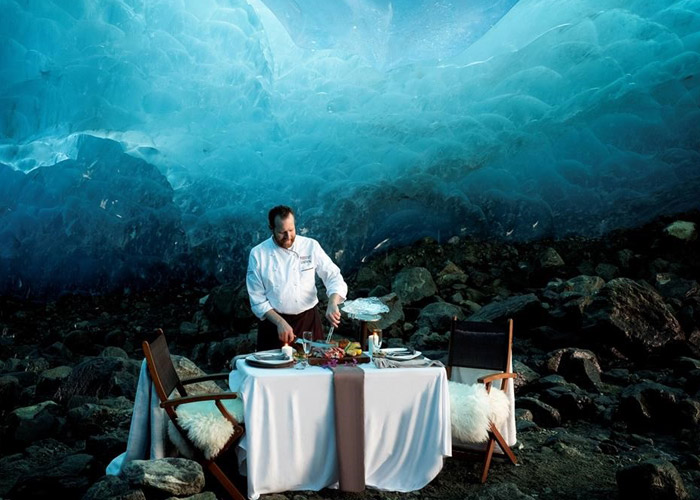 This is a very literal Blue Room, as diners are hosted by Four Seasons Executive Sous Chef, David Baarschers in a secret ice cave. Yes, we said ice cave. The shimmering ceiling of aqua blue ice towers above you like nature's version of a grand hall, with your seats lined with furs and fleece. To get to Canada's largest, southernmost ice field you'll need to take to the air. After a Mercedes limousine transfer to the helipad, you'll be whisked into the alpine in a private helicopter journey with Head-Line Mountain Holidays. You'll pass ancient volcanic peaks, towering old-growth forest and then sit down to a three-course private dining experience with Northern Divine caviar, locally-sourced oysters, grilled long bone and Krug Champagne. It's a casual $20,000 for two people, but hey, you can't take it with you.
Powerhouse Female Chefs at the Bella Wine Collaboration Dinner: Saturday, November 17
It's billed as a show stopper, two award-winning female chefs will be bringing their A-game to the Fairmont's Grill Room restaurant in a collab event that's designed to make your mouth water. Eva Chin, executive chef of Royal Dinette (Vancouver Magazine's Best New Restaurant 2016), and Isabel Chung, executive chef at Fairmont Chateau Whistler (Vancouver Magazine's Best Whistler Restaurant 2018) are joining forces after meeting at the BC Seafood Festival in June and both being featured in the new Vancouver Eats cookbook. Paired with Bella Wines, BC's only winery dedicated exclusively to sparkling wine, it seems like a match made in heaven. An intimate affair with only 16 tickets, this event has already sold out which just shows you can't take too much time salivating, I mean, procrastinating over your event choices.
Abstract Futuristic Party at the Audain Art Museum: Saturday, November 17
This is Cornucopia's newest signature event and I don't need a crystal ball to tell me it's going to be an incredible evening. The running theme is "Abstract", although it will be given a yearly spin, with the inaugural event being "Abstract: Future – From Now to Eternity". Organizers suggest watching the 1968 Barbarella film trailer for inspiration. From this we understand there's a need for feathered wings, leather gloves, astronaut helmets, volumized hair, thigh-high boots, and a mix of Lycra and leather. Or go off-script and come up with your own concept of what the future might hold. If you're in doubt, a little black dress and smart tux just doesn't go out of fashion, right?
The Audain Art Museum will be transformed into an ephemeral space exploring the possibilities of the near and distant future, which sounds very mysterious and already has my head spinning as to what they'll be doing. With food being served by The Westin Resort and Spa, drinks and entertainment this evening goes from 9 PM – 2 AM, so whatever futuristic garb you decide to wear, maybe make it relatively comfortable.
Rooftop Rendezvous at Whistler's Pod Hotel: Thursday, November 15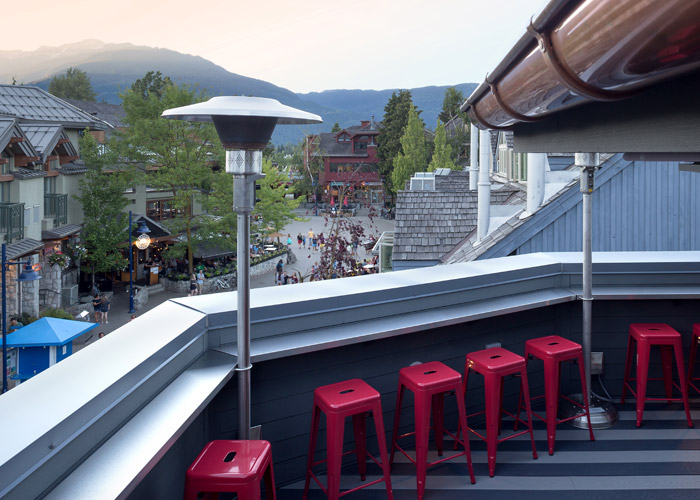 Pangea, Whistler's brand new boutique pod hotel, has made quite a stir since it podded onto the scene earlier this year. Not only is it our only pod-based hotel, but it sports a rooftop deck, which is pretty sweet as a location for a top-floor patio party. Throw in the Sons of Vancouver Distillery who will be crafting some yummy cocktails with their small-batch spirits, bites from The Living Room (Pangea's lounge and cafe) and the vistas of the mountains and you have one epic rooftop shindig.
Downward Dog Your Way to Wine: Saturday, November 17
Feel the need to earn your libations? Then head to Hunter Gather on Main Street for some yoga action followed by multiple hand to mouth movements sampling cheese, charcuterie, and BC wines. Hunter Gather burst onto the Whistler food scene in 2017 with its trendy white-washed walls, communal bench tables, and hidden garden patio. With it's hearty fare and rotating craft beer taps it's become a firm favourite with locals and owners, Hilarie and Grant Cousar, just keep innovating with ideas like this one that keep pushing it to the forefront.
HOT
You Love Gin! You Just Don't Know It Yet: Sunday, November 11
Gin is hot right now, but some people, like Guillaume Noel of the Fairmont's Mallard Lounge, have known that for a while. Check out the video above for how he mixes up their signature G&T and feel inspired to attend the event "You Love Gin! You Just Don't Know It Yet". Kelly Ann Woods of Gillespie's Fine Spirits leads this tasting of top-notch gins that will banish those memories of a supercharged martini or watery G&T. A little earlier this year we did some gin discovery of our own at Bar Oso, check out this post to see how this writer fell in love with a gin described as "kelpy".
Gastown's Wildebeest Comes to Whistler: Sunday, November 11
Set in a luxurious private home in Whistler, this Chef's Luncheon sees Wildebeest's Chef Ian McHale bringing his decadent-yet-simple country cooking to the mountains. He oversees the nose-to-tail butchery program in his Gastown hotspot where he takes great pride in collaborating with local ranchers and farmers to use under-utilized cuts of meat. Each course will be paired with a hand-picked wine by their Wine Director, Justin Everett utilizing an old and new-world list. These are intimate lunches where you can really get a sense of the chef at work and enjoy a meal with other food-focused people who love nothing more than discussing the dish in front of them.
Plant-Based Deliciousness: Saturday, November 10 & Monday, November 12
In this video we see the Bearfoot Bistro's Executive Chef, Melissa Craig wander the stalls at the Whistler Farmer's market picking up fresh, local produce for a vegetarian dish she's whipping up with her step-daughter. This inspired us to take a look through the Cornucopia schedule to dig out events that put vegetables at the centre. Whistler Blackcomb's Executive Chef, Wolfgang Sterr is passionate about plant-based food and healthy eating, and he's sharing that with festival goers in an instructional tasting where he'll be whipping up dishes you can recreate at home. Then on Monday, November 12 nutrition ninja, Dawn Levelton, will be hosting a plant to plate adventure. She'll be creating three dishes that aim to optimize your energy through food, and you get to taste them all!
Bearfoot Tip – Make sure to check out the Bearfoot's Oyster Invitational & Bloody Caesar Battle happening on Sunday, November 18. It's a wild event where you get to witness the knives flying as oysters are shucked against the clock, and a chance to try each Caesar entered into the bloodiest battle of the year.
Cornucopia Signature Events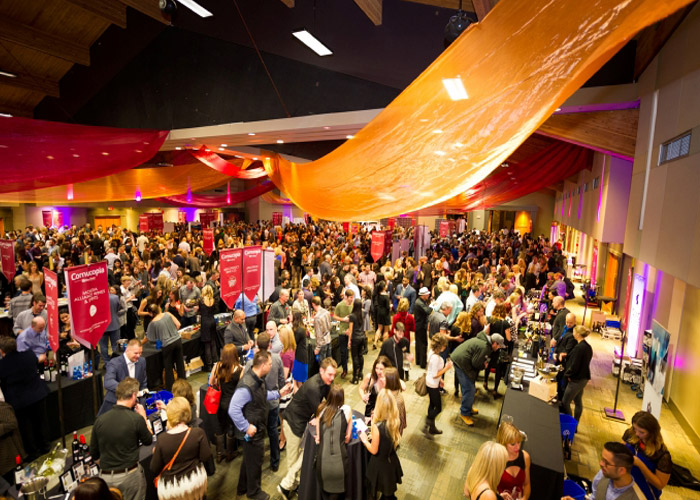 There are definitely some crowd-favourite events that happen each year at Cornucopia. These include the House Party: Best of BC, which showcases BBQ from our backyard with the Four Season's SIDECUT firing up the smoker, home-grown vodka and micro-brewed beer – all from BC's land of plenty. The Crush Grand Tasting has an early bird ticket that's definitely worth contemplating, that way you can be assured your top wine picks are guaranteed. Wineries from BC and all over the world pack the Whistler Conference Centre and it's up to you which wines will grace your glass. Then it's street-style with the Night Market: Taste of the World event, which offers up sweet, spicy, and savoury food paired with wines, beers, and liquors from around the world.
These are only a few of the yummy things happening at this 11-day festival starting November  8. Be sure to take your time looking through the schedule and again, I warn you, you might need a glass of vino as you do! For more information on Cornucopia and staying up in Whistler during the festival visit Whistler.com.