The cooler, damper fall nights can bring hero dirt to the Whistler Mountain Bike Park, and with the kids back in school it's a time for parents to get a few more laps in on their own. Sarah Fenton Tippie, mother of two and wife of the most energetic man in freeride, says she still always looks forward to sneaking in as many uninterrupted park laps as possible to cap off another great season.
"I grew up in Deep Cove," Sarah says. "I think I was 12 when the Cove Bike Shop opened and that's where we hung around. I got my first mountain bike in 1986. I started riding and tried racing not long after."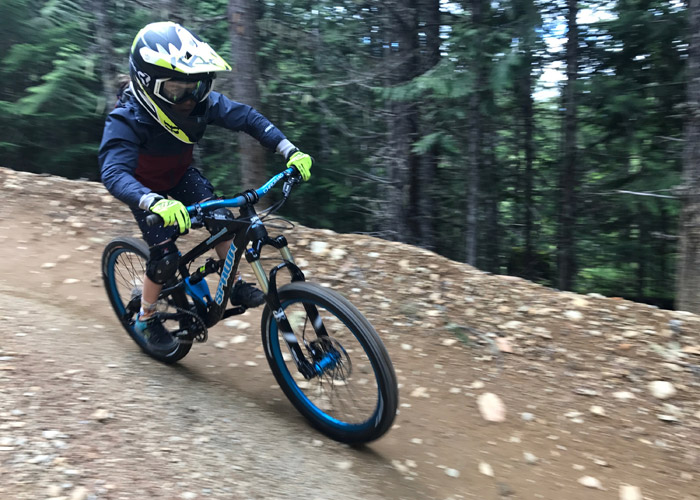 Sarah had been coming to Whistler her whole life to ski and ride XC trails, but by the time the Whistler Mountain Bike Park opened, she'd relocated to Europe to work in the film industry.
"I didn't catch the freeride thing until I came back in 2005," she says. "I had no idea who (freeride pioneer) Brett Tippie was when I met him. My friend Cory Leclerc, from my old riding days, said not knowing who Tippie was like not knowing about Santa Claus."
But along with the good-natured ribbing, Leclerc also lent Sarah his bike for her first foray into this new style of biking. "It felt like it weighed like 60 pounds," she remembers, "but I took it for a spin and was instantly hooked. I was 35 though, so I needed the Bike Park to get my skill set up. I was getting eaten alive by the other freeriders."
Sarah bought her first Bike Park pass in 2005 and has never looked back. "I love the social aspect," she says. "You get to go have fun, be social and high-five friends without going to the bar. Sometimes Brett and I get nostalgic and laugh: our first date was in the bike park. We were up there the whole time we dated and when we had our first daughter, we'd do the baby hand-off every weekend. Alternating laps or doing a morning/afternoon split. Sometimes I'd be feeding and with the baby till noon while Brett did laps, then go find a friend at the GLC (Garibaldi Lift Co.) that we could leave our sleeping baby with and go get one or two laps together. You can't do that on the XC trails in the woods."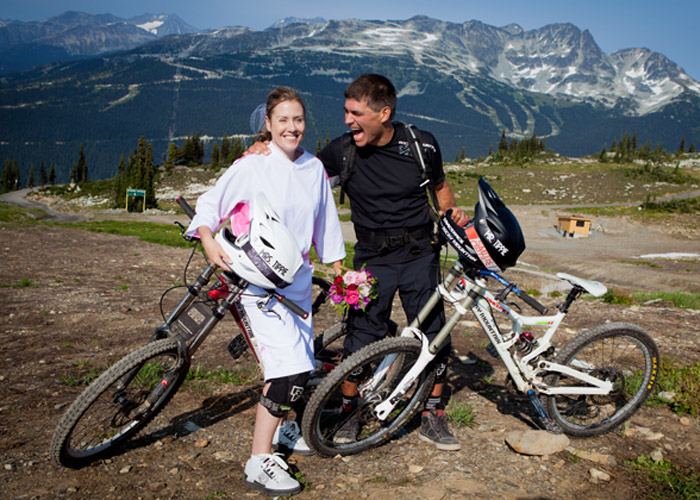 Eventually Sarah and Tippie were even married at the top of the Whistler Mountain Bike Park, leading a 75-rider wedding procession to the bottom afterwards. "We still celebrate every anniversary there."
These days the Bike Park is a family affair for the Tippies. "Our oldest daughter Jessamy is riding it with us now," Sarah says. "It's such a great place for kids. Where else is a kid going to get 5-10 runs a day? No kid is riding uphill for that many runs. In the park, kids get the skills and they can decide to ride more uphill if they want. I'm quietly hatching a plan to get my kids addicted to skiing and mountain biking. The Bike Park is a huge part of that plan. It's a great place for families to play and have fun together."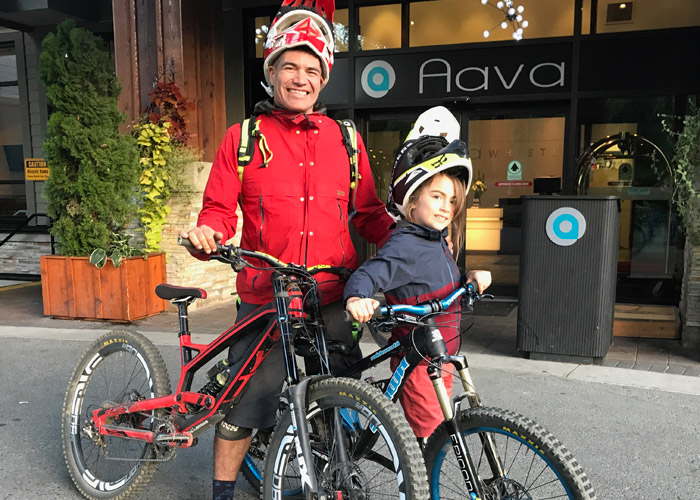 In the autumn, with the kids back in school, Sarah will often sneak up to Whistler from their home base in North Vancouver for a few solo laps with other parents who maybe didn't get as much "adult" riding in as they'd have liked during the summer months.
"Brett is travelling a lot so I will come up and get 8-10 laps with a bunch of different friends then go home. The park is always in perfect shape, especially this time of year. The other day, I got into some fast and flowy blues over in the new Creekside area too. The whole park is just so quick and dirty this time of year. I love it."
The Whistler Mountain Bike Park is open until October 8, 2018 and there is good dirt to be had! Get more info at Whistler.com. Also, check out the first three of our five-part series with local riders Hailey Elise and Ollie Jones; Insider's Guide to Whistler Mountain Bike Trails: Whistler North, Insider's Guide to Whistler Mountain Bike Trails: Blackcomb, and Insider's Guide to Whistler Mountain Bike Trails: Lost Lake.