Updated August, 2023
The gift of having a job where you're able to work from your laptop is a wonderful thing. This allows us lucky ones (yes, I'm one of them) to work remotely from anywhere in the world. In the past, it was harder to take workations or bring work along with you, but these days working while travelling has become a whole lot easier. A change of scenery and routine can help with both productivity and happiness, and Whistler has many inspiring locations to whip open your laptop and hammer out a stream of emails or finish projects.
The following are a few gems that I felt should be shared with the workcationing world – happy working!
Whistler Olympic Plaza
Want snow-capped mountains as your working backdrop? Head to Whistler Olympic Plaza and scan for the new and free Whistler WiFi to connect. This is where the medals were given out for the events that happened locally during the 2010 Winter Olympic and Paralympic Games, and definitely an inspiring place to work from. You can situate yourself under a tree, on the grass, or claim a colourful Adirondack chair. Don't forget to grab a snack from the surrounding cafés before settling in for a session, you've got Blenz, Artigiano and Purebread for coffee and treats. Over the next two years, more hotspot locations will be added through the Village but I personally think they started with the best spot first.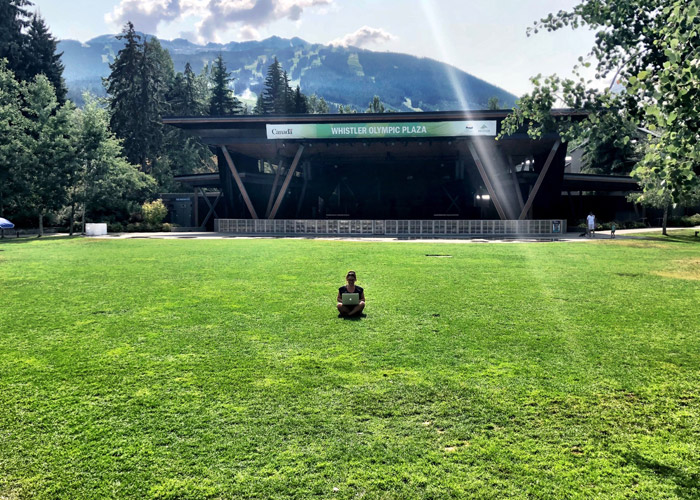 On The Mountain
Whistler Blackcomb has free WiFi in more places than you'd expect. You can connect in the main lodges, like the Roundhouse, Rendezvous and Glacier, in their restaurants and bars, and at certain scenic vistas that are totally Instagrammable. I've worked from the Roundhouse and with its floor-to-ceiling windows overlooking the mountains, it's a pretty special place to set up a remote office. Just be aware that at times it can get busy and the hall-type nature does mean that noise travels so those conference calls are a bit more tricky from up on high. The new Umbrella Bar at the back of the Roundhouse is another top spot for views with the benefit of Caesars! The commute up the gondola is a fun way to start the day and breaks could involve a quick hike, bike ride, or ski depending on the season.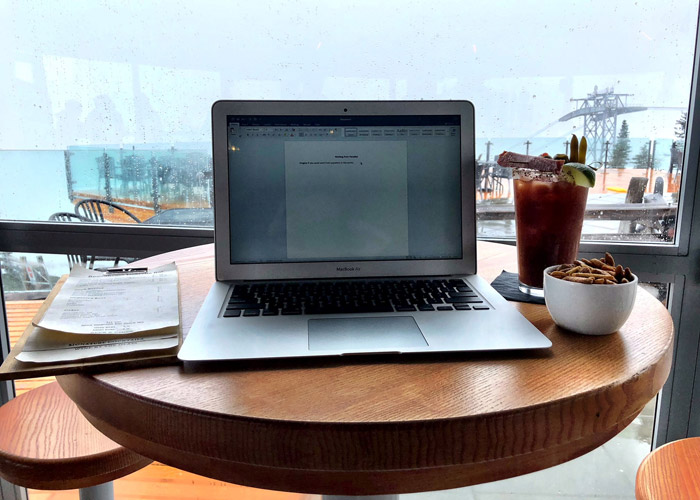 Cure Lounge & Patio
The Cure Lounge & Patio at Nita Lake Lodge in Creekside is a place that really draws me in due to its beautiful surroundings and multiple areas you can tuck yourself into. When the weather is beautiful, their patio makes for the perfect office when working remotely in Whistler. I like to go over lunch because their menu has a plethora of delicious options including small nibbles like their deluxe nuts and salted edamame to hearty soups and giant burgers. If the weather is chilly, they have the tools to keep you warm like fire pits, blankets, and red wine. They also have a funky lounge with a lot of seating options from cozy sofas next to the fireplace to high tops, which you could even use like a stand-up desk. There's also the Fix Cafe, around the front side of the hotel which has a little more hustle and bustle. It's the ideal place for a caffeine boost and a fresh-baked pastry treat when you just hit send on that overdue workpiece. With such stunning surroundings, you may even feel like you are on a vacation from your workcation.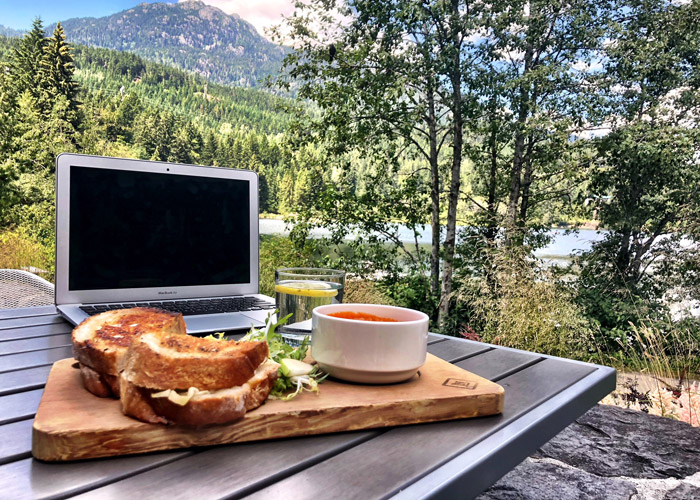 La Cantina
A good friend and I meet once a month for yummy Mexican food and we call it "Tacos and Tech." During these lunch dates we catch up on both work and life. This routine was the beginning of my taco addiction and now, you can often find me at one of Whistler's La Cantina locations (Village or Nesters), usually a few times a week. Both locations have super strong WiFi, the option to sit on the patio or inside, and, of course, amazing Mexican food. The music is often bumping so this might not be the best place to take a conference call, but its lively atmosphere and vibrant décor will inspire you if you have some creative tasks that need to get done.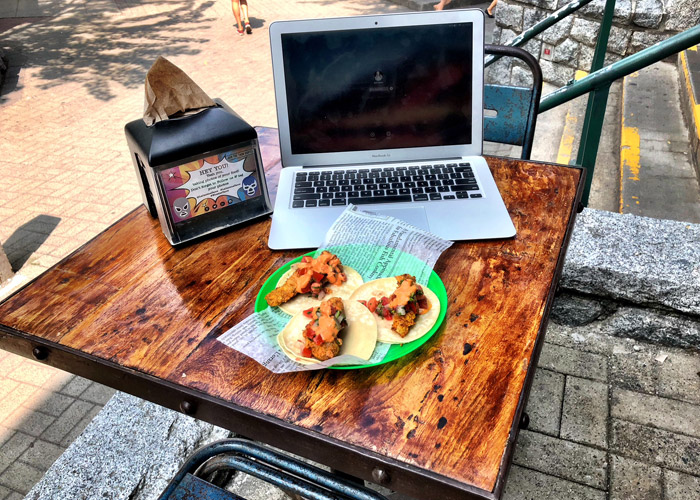 The Whistler Public Library
As a child, I loved going to the library and letting my imagination run wild, and recently I've revived my fondness for hanging out there. The Whistler Public Library is a welcoming space that has many different workstation options from large tables overlooking Florence Petersen Park to a lounge area complete with a fireplace and coffee machine. If you are travelling on a budget and have a fair amount of work you need to do, this is a great place to be. The WiFi is easy to access and a lot of the areas to work have power points nearby and a window with a view. They also have printing and scanning facilities should you need them. Remember, you need to be quiet in there so if you are listening to some sick tunes, don't get carried away and bust out any song lyrics.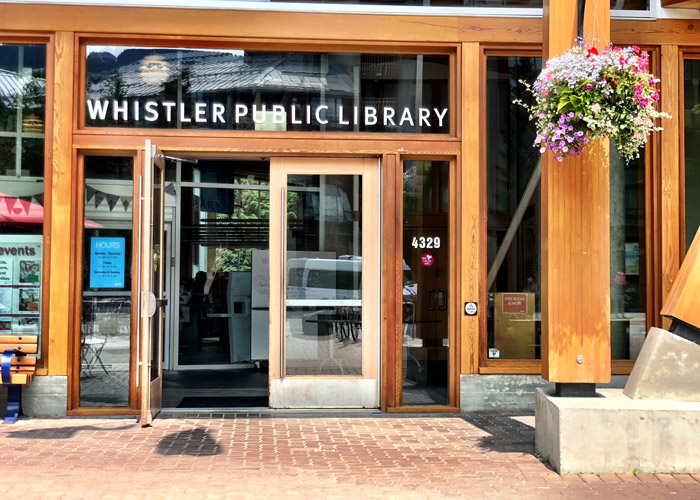 In Your Home Away from Home
When you plan your stay in Whistler check with your accommodation to see if there's a desk in the room or if they have working spots within the property. For example, the Summit Lodge Boutique Hotel has a café and meeting space called EightyOne where you can grab a coffee and get your head down. Many of the hotels have gorgeous cafés and lounges to hole up in for a little while – check out the Insider's guide to Whistler hotel bars for some of our top spots.
Working Remotely in Whistler Etiquette:
Although there's a lot of freedom in working outside of the office, there are still some etiquette tips you might want to consider so that you can keep your mobile habit going:
If you are going to a food or drink establishment, you will need to make a purchase. My rule of thumb is one purchase per hour (at minimum).
If you are going to be working solo, try to take up as little room as possible.
Ensure that if you have to take a call you're not going to disrupt those around you.
Remember your manners. There's a good chance that the staff working at your temporary office of choice are working hard and a "thank you," tip and smile can go a very long way.
It's quite acceptable to brag about your temporary office and how stunning /cool / amazing it is to be living your best life by working remotely from Whistler. And although I know you're here to do some work, remember that it's just as important to play – I believe Einstein said it was the highest form of research.
Add a hike, bike or paddle on to the beginning and end of your workation day to really see the benefit of working remotely in Whistler. For more information on Whistler in any season, visit Whistler.com.