Our connection to the Winter Games is strong, with local athletes training with the hopes to make the Olympic / Paralympic teams, many of whom have sharpened their skills on the Whistler slopes, trails and sliding tracks.
The neat thing about Whistler is you can not only watch the games broadcast, but you can try the very same sports yourself. Here are 12 ways to get into the Winter Games spirit in Whistler:
1. Watch the Winter Games in Whistler
With a ton of fond memories from the party that was the 2010 Winter Games, plus visitors in town from all over the world, Whistler's an ideal place to catch those Olympic vibes. Watch the official Winter Games broadcast on big screens in Whistler Olympic Plaza every day, right by the 2010 Olympic Rings and Paralympic Agitos. Alternately, pop into a bar and do the same. (Insider Tip: all hockey games are sure to draw a crowd, and if USA plays Canada, be there).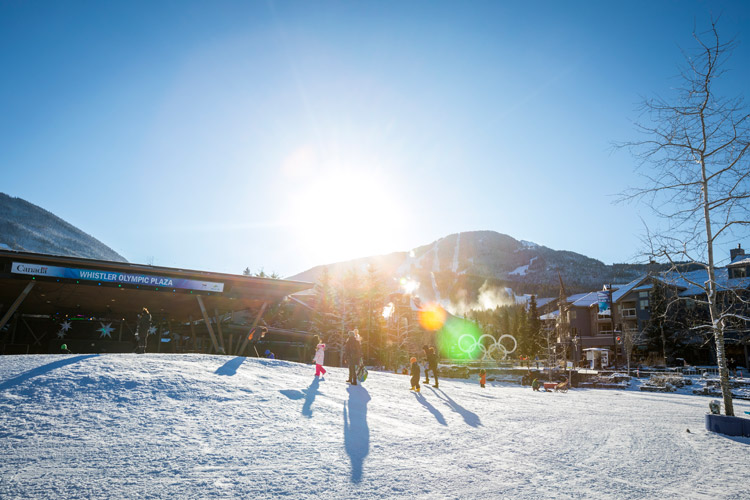 2. Try Biathlon
Biathlon is a fascinating combination of nordic skiing and marksmanship, and thanks to the 2010 Winter Games we have a course at Whistler Olympic Park out in the Callaghan. Whistler Sports Legacies have trained and expert coaches on staff to provide biathlon lessons on both the skiing and rifle skills components, as well as lessons that don't require people to ski at all. Check out our Insider's experience on the biathlon course and book a lesson today.
3. Go Downhill Skiing
If you're up on Whistler Mountain, you can ski the same course as the 2010 athletes on the Dave Murray Downhill ski run (access via Garbanzo Chair or from the Roundhouse – find the trail map here). It's a brilliant early morning groomer/powder run but be warned, the bottom section takes you all the way out to Creekside Base and you may not want to drop that low if the skiing is good. Alternative is take a sunny afternoon lap to Dusty's for a post 'course-inspection' drink. You deserve it.
4. Watch a Giant Giant Slalom Race
If you prefer to see people in action, hang out for the Peak to Valley Race, an event raced by teams of four with a lung-burning descent from the Whistler Saddle to Creekside that takes place in late February. It's been touted as the longest giant slalom (GS) race of its kind in the world – that's worth checking out. It's also worth keeping an eye on the runs above Olympic Station, where up-and-coming ski racers develop new skills.
5. Enter an on-mountain ski or snowboard competition
Prefer to have a go at competing in a ski or snowboard event? The Kokanee Valley Race series is an all-welcome community style race series where you can try your hand at racing in a fun environment – race style changes every time so there's lots of variety to enjoy. If your strength is more in the terrain park like local Olympic athlete Simon d'Artois, then check out the Park Rider Ski and Snowboard Slopestyle.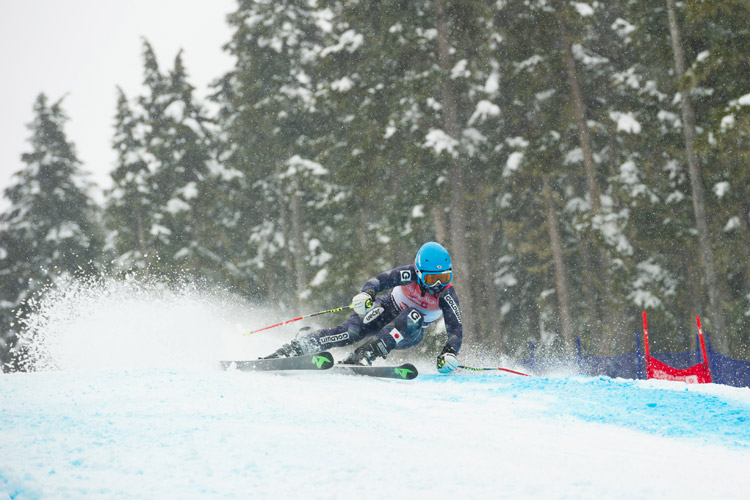 6. Ski or Ride with an Olympian
Nothing better than cruising the runs with a bonafide Olympic athlete. Hook up with a Whistler local who might also happen to have an Olympic medal in their back pocket – you'll learn a ton and get some top notch tips as well as Games-sized stories.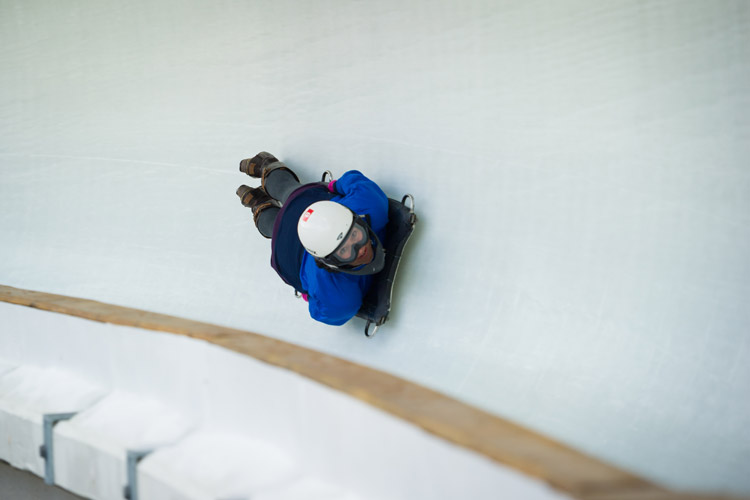 7. Try bobsleigh or skeleton at the Whistler Sliding Centre
Take a ride down the Whistler Sliding Centre track with an experienced bobsleigh driver at the helm to find out how fast the four-person sleds roll. Alternately, go solo on a skeleton experience – head first. Bobsled and skeleton tours are available through winter, with a special bobsleigh on wheels that continues through summer.
8. Catch a sliding event live at the Whistler Sliding Centre
If you prefer to watch, the Whistler Sliding Centre often has the track open for spectators while training and events happen. Standing in Thunderbird Corner to see and feel the speed at which the athletes go past beats any TV broadcast hands down. Check out the This Week on the Track postings for more information.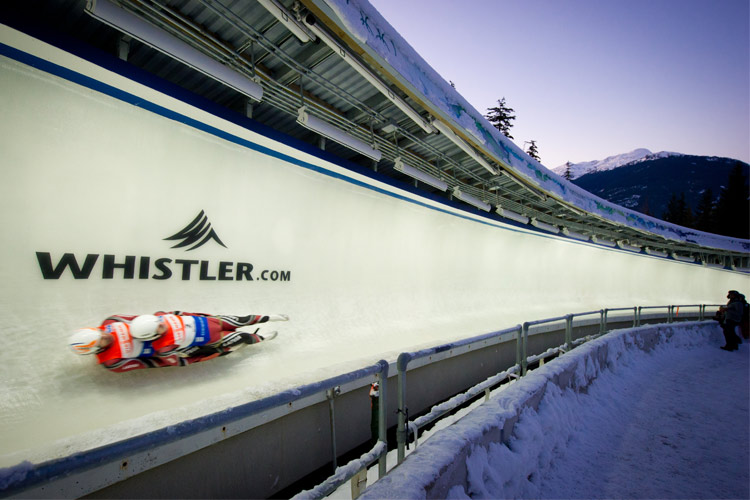 9. Take a photo with the Olympic Rings (can you find them all?)
Thanks to Whistler's status as Host Mountain Resort for the 2010 Olympic and Paralympic Winter Games there are Olympic Rings all over the place, and we even have our very own set of Agitos right in Whistler Olympic Plaza. The ones in Whistler Village are the most accessible and most famous, but have you found the others? (Hint: Look out in Creekside, Whistler Olympic Park and the Roundhouse on Whistler Mountain for a start….)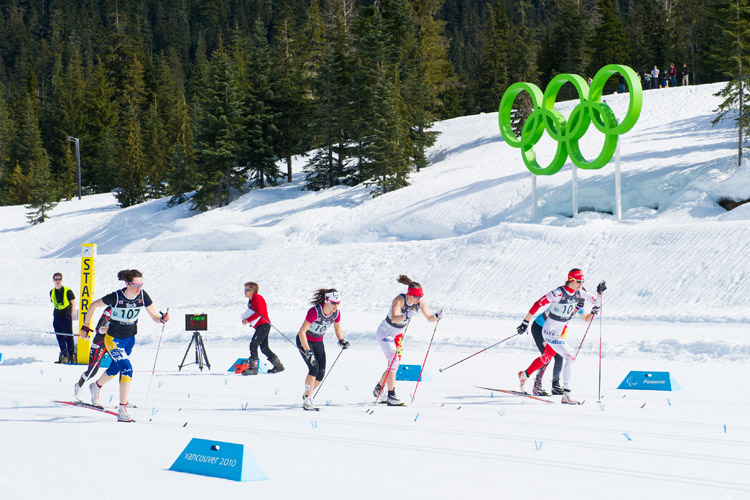 10. Find 2010 Winter Games medals and more on a self-guided tour
The rings are just one little piece of memorabilia left from the 2010 Games…but there's more. Pick up a copy of the Whistler 2010 Games Experience for a self-guided walking tour around some of the top sites in town.  Check out the Hosting the World exhibit at the Whistler Museum for more memories from our very own Winter Games.
11. Watch Ski Jumping at Whistler Olympic Park
Ski jumping has to be the closest humans get to flying without popping on a wingsuit or buying a plane ticket. Do not underestimate the wow factor of watching athlete launch off the ski jumps in real life.
12. Try nordic skiing for the first time – or get a taste of racing
Whistler Olympic Park was the official Nordic venue for the 2010 Winter Games – what better place to learn to xc ski? Sure, xc skiing is a little different to downhill skiing, but skinny ski sessions offer plenty of challenge alongside some major health benefits (hello, cardio). Whistler's nordic skiing venues are a great place to try with both Lost Lake Park and Ski Callaghan offering lessons, rentals and coaching for both skate and classic skiing – you'll be gliding through the forest enjoying the scenery in no time.
If you think you have the moves on xc skis, then why not knock it up a notch and try a race? The Coast Outdoors P'ayakentsut happens in late February, a great chance to compete in the beautiful Callaghan Valley.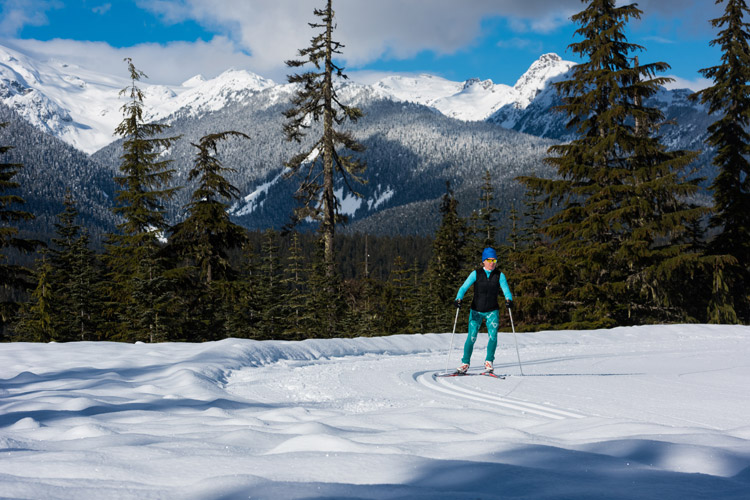 Don't forget your team colours! Go Canada!