Trained as a freestyler, Mike Atkinson was one of the original park and pipe freeskiers to hit the Whistler in the late 1990s (right alongside the New Canadian Airforce). He spent a decade enjoying the local lifestyle and Coastal pow before moving on to become a respected freeskiing judge and announcer. Veteran Insider readers may recognize Mike as our official Olympic correspondent, and he is back this year filing reports from South Korea. Take it away Mikey!
Hello Whistler Insiders!
We are just a day away from the big show getting under way here in South Korea and the flame will soon be lit for the 2018 Winter Games – also known as the "Peace Olympics." I've had the great pleasure of being situated in the Phoenix Snow Park the past few days. Located about a 45-minute drive from the East Coast, the park will play host to Parallel Giant Slalom, Moguls, Aerials, Halfpipe, and Skier/Boarder Cross as well as the first event to drop, the Snowboard Slopestyle.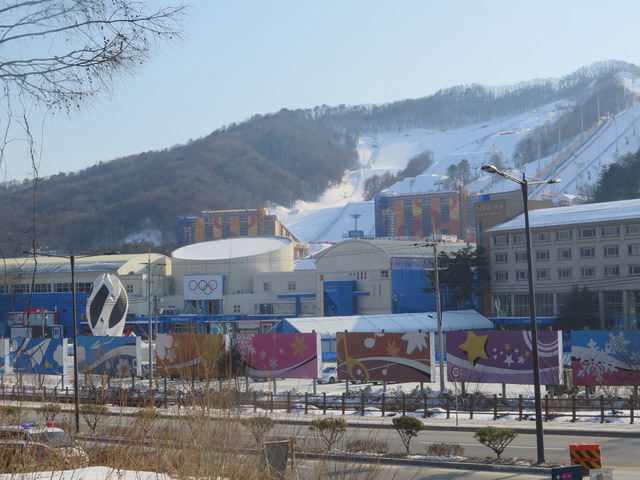 Riding up the chairlift, the slopestyle park certainly looks visually appealing. Three massive and uniquely shaped jumps complete the bottom half of the terrain park while up top a video-game-like rail section welcomes the riders as soon as they drop in. Every piece of snow on this course has been groomed and manicured and while they knocked it out of the park on the aesthetics, the rideability of the course is another issue.
Many of the riders have voiced concerns about the rails and how to get into and out of these giant features without sacrificing flow and rhythm. After they do navigate the top of the course, athletes will be met with smaller than normal features which means we may not see the big tricks we are used to witnessing at an X-games caliber course. With snow and warmer temperatures in the forecast speed could become an issue as well. But everyone has to ride the same course so we will see how it goes.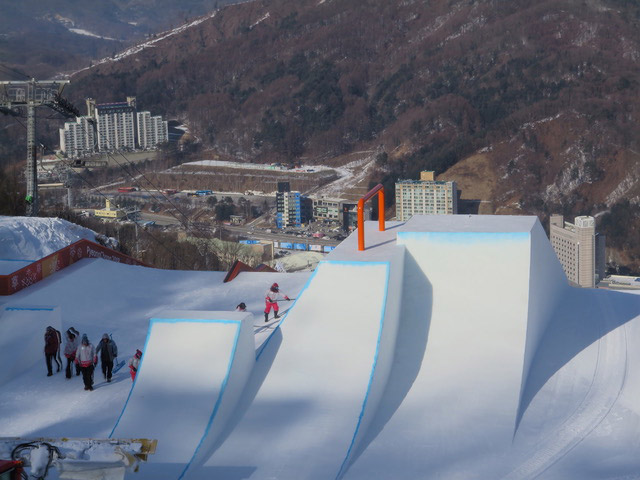 Anyone who remembers the 2010 Games in Whistler and Vancouver will recall the golden antics of local women Ashleigh McIvor and Maëlle Ricker who took top spot in their respective sports of Skier Cross and Snowboard Cross. It will be a slightly different format here in Korea with 6 athletes dropping into this monster of a course (instead of the usual 4).
There are a handful of banked turns in the middle of the course which will provide ample opportunity to pass as well as some crazy large step-ups and rhythm sections designed to throw the athletes off their game. The course is still under construction however, I can see the excavators in the bottom 1/3 of the run. The amount of snow they have made and shaped is downright crazy!
I'm really excited to watch the Canadian Women's Boardercross team, they really seemed to find their groove in the last two World Cups in Bulgaria and Germany just before heading to PyeongChang. Keep your ears open for Zoe Bergerman, Tess Crichlow, Carle Brenneman and Meryeta O'dine. The women all travel together and train together down in North Vancouver when they are in Canada.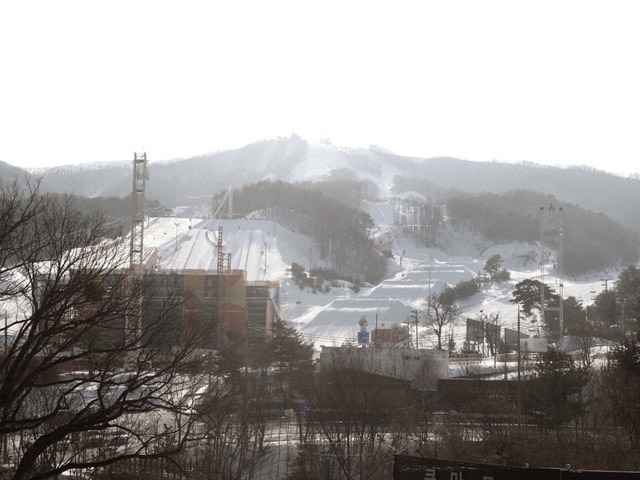 There have been the traditional bumps and bruises that come with organizing an event of this size and Korean teams are working around the clock to cover all the bases.  What has made the biggest impression on me so far is how warm and hospitable the good folks of South Korea have been. Every volunteer, host, security personnel, official has welcomed everyone with a smile, and this has helped build a fun, inclusive and energetic vibe encompassing the games. The way it should be! I will check in again soon.. Peace out from the Peace Olympics.
—

Mike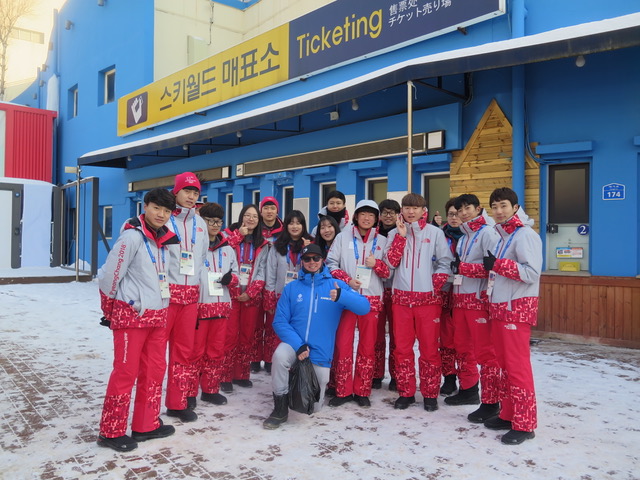 Whistler and Sea to Sky Olympians
The number of local athletes entering this Winter Games is double the last event – these mountains breed talent! Here's some local athletes to keep an eye on this Olympics:
Born and raised Whistler local Simon d'Artois in Ski Halfpipe. Although it's his first Olympics Simon claimed X-Games gold a few years back and has been skiing well this year.
Lifelong Whistler Snowboarder Mercedes Nicoll is another halfpipe athlete, a 17-year veteran of the World Cup circuit (with 8 podiums) this will be Mercedes' fourth time representing Canada on the Olympic stage—wow.
Coming straight out of Pemberton, Yuki Tsubota is back for her second Olympics skiing Womens Slopestyle. Yuki goes big and charges hard, she is always one to watch.
Whistler-based skier Teal Harle is competing in his first Games, but he's coming off a second place finish at the January 21 World Cup Slopestyle in California (his second victory of the season) so lets hope he carries that momentum into Pyeongchang.
Even though she technically spends a lot of her time in North Vancouver we still want to claim Spencer O'Brien as a Sea to Sky local because she is so awesome. With a mittful of X-Games medals and back for her second Olympics, it will be fun to watch Spencer shred the Womens Slopestyle Snowboard course.
Halfpipe skier Cassie Sharpe has been slaying it everything this year and while her listed address is North Van, she's no stranger to Whistler.
Last Olympics saw Whistler's Marielle Thompson capture gold in Womens Ski Cross, and while she was injured early in the season Marielle is in Korea with the team and her event doesn't happen until near the end of the games. Fingers crossed she will be ready to go!
Marielle's younger brother Broderick Thompson is also at the games, competing in the Alpine ski events and hoping to bring some more Olympic hardware home to the Thompson trophy case.
Derek Livingston, an Ontario boy who now calls Whistler home, is competing in his second Olympics representing Canada in the Snowboard Halfpipe. He's a two-time national champion and is known for going big every time he goes.
Alpine ski veteran Manny Osborne-Paradis is a product of the Whistler Mountain Ski Club (WMSC) and you can expect him to charge hard, as he's been doing consistently since his first Games in 2006.
Another WMSC alumnus, 20-year-old Jack Crawford is in Korea for his first shot at Olympic Alping Ski glory after an impressive Nor-Am season this winter.
In Men's Ski Cross, Dave Duncan heads into his second Games feeling confident and strong. Riding Whistler terrain on the regular seems to create strong Ski Cross athletes so keep an eye on Dave.
Daichi Hara is a mogul skier competing for Japan but he graduated from Whistler Secondary School and is an alumni of the local Freestyle program.
And keep an eye out for Reid Watts, the first Olympic Luge athlete to come out of the Whistler Sliding Centre. It's awesome to see how an athlete can excel if they are just given a venue to train in.
Another Sliding Centre veteran, Jane Channel is a Skeleton racer placed second at a race here at home earlier this season and is looking more comfortable on her sled than ever.
Good luck to all the Athletes at the 2018 Olympic Games, have fun!
PS. While there are no NHLers playing Olympic hockey this year, rumour has it the good ol' Canadian hockey game is scheduled to make an appearance in Whistler at the resurrected Skiers vs Snowboarders Hockey Game at the World Ski & Snowboard Festival. That used to be one of the best games of the year so if you do get the opportunity to visit Whistler in April, make sure you put that on your schedule. Until then, enjoy the Games, Go Canada.
Edited February 12, 2018. Cassie Sharpe was wrongly identified as a slopestyle skier when she is competing in the halfpipe.

Edited February 16, 2018 to include Derek Livingston and Daichi Hara. Thanks to our readers for setting us straight.