During the opening night of Audain Art Museum's current exhibition, Flowers from the Wreckage, curator Kiriko Watanabe addressed the attendees, describing the work of Japanese artist Manabu Ikeda. She labelled his art with the bold phrase of Earth-shattering, adding, "I don't use this term lightly." Admittedly, I initially wondered whether anything could truly live up to such a grand claim, but after I'd been through the exhibition myself, I completely agreed.
Tiny Details
I've since returned to the exhibition on two more occasions, not for the last time – anybody who's seen the exceptional detail of Ikeda's drawings will understand why. I'm sure I could return every day until it closes on October 9 and be astonished by something new on every visit. If you're planning to check it out, make sure to either set aside a good amount of time or plan for a repeat visit, as you won't want to rush through this one.
The artist's fascination for the minutiae traces back to his childhood, which was spent outdoors collecting insects and fishing. The tiny details are what captivate him, and this is evident in artwork that draws you in close, magnifying glass in hand (they're supplied throughout the gallery) before stepping back to admire the overall image with a new appreciation of what makes up the whole. 
Amongst the tiny details, Ikeda skillfully uses negative space to depict small white figures throughout many of his works. Like many of the people who find themselves in Whistler, I love skiing, so I was delighted to discover tiny skiers jumping and flipping from the monumental sculpture depicted in his work  Buddha. Drawing is a source of fun for Ikeda, and he enjoys infusing his artwork with other activities which he enjoys, including skiing and rock climbing. 
Catastrophe and Hope
Much of Ikeda's work explores the depths of sorrow caused by both natural and human-made disasters, with an underlying feeling of optimism and healing. This contrast is depicted in what is considered to be his masterpiece, Rebirth. The image portrays an aged tree, encircled by painful scenes of devastation, yet blooming with Japanese cherry blossoms.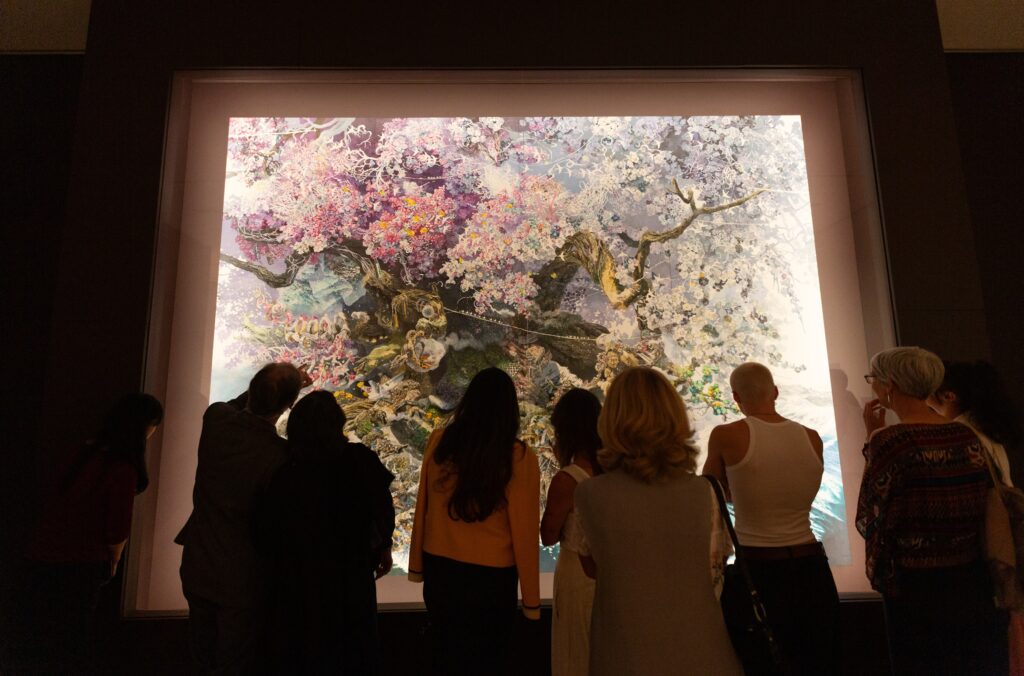 Over the course of three years, while working on the massive four-panel piece, Ikeda experienced several significant life events that are integrated into the artwork. These events included the death of a close friend and the birth of two of his daughters. The central, gnarled tree branch represents Ikeda's dislocated shoulder, a result of a skiing accident that required him to complete part of the piece with his non-dominant hand. The culmination of those three eventful years is a profound work that incorporates Ikeda's experiences into a thought-provoking depiction of damage and recovery.
New Work in Progress
On my second visit to the exhibition, I took the opportunity to observe Ikeda drawing in his public studio located in the upper galleries. As part of the exhibition, visitors are given the unique chance to witness the artist's process firsthand. Ikeda can be viewed in his studio on Thursday, Friday and Saturday afternoons between 3 and 4:30 PM until the end of August. His current work is a portrayal of waves of water and the clouds above them. It was started in 2019 and is set to encompass six panels, surpassing the size of Rebirth.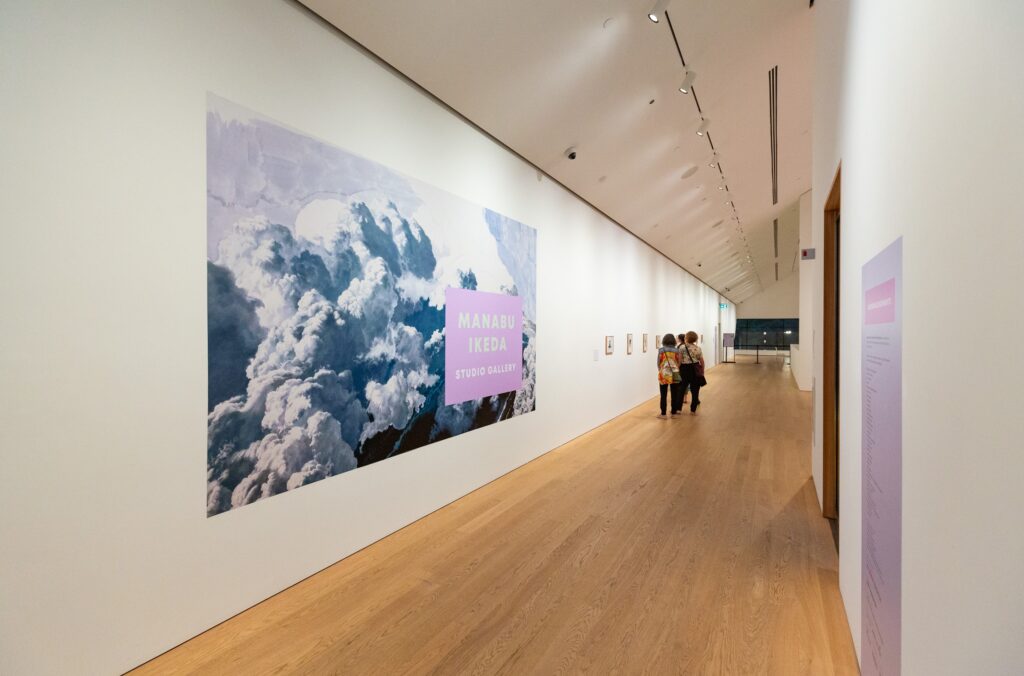 Ikeda finds inspiration in the people who visit to watch him in his studio, expressing that he is touched by the stories of both sadness and hope that each individual carries inside them. When queried about whether he also finds inspiration from the trees swaying outside of his studio window, Ikeda's response was an immediate, "Yes!" He showed how he already incorporated the leaves of the trees into the waves in his current work. When this prompted the question of whether he ever knows what the finished product is going to look like, his answer was a resolute, "No!"
Art-Inspired Dining
During my third visit, I got to attend the Audain Artist Dinner Series. This event is put on over only four evenings this summer, offering guests an incredible dining experience inspired by Ikeda's art and the vibrant spirit of Japanese summer festivals.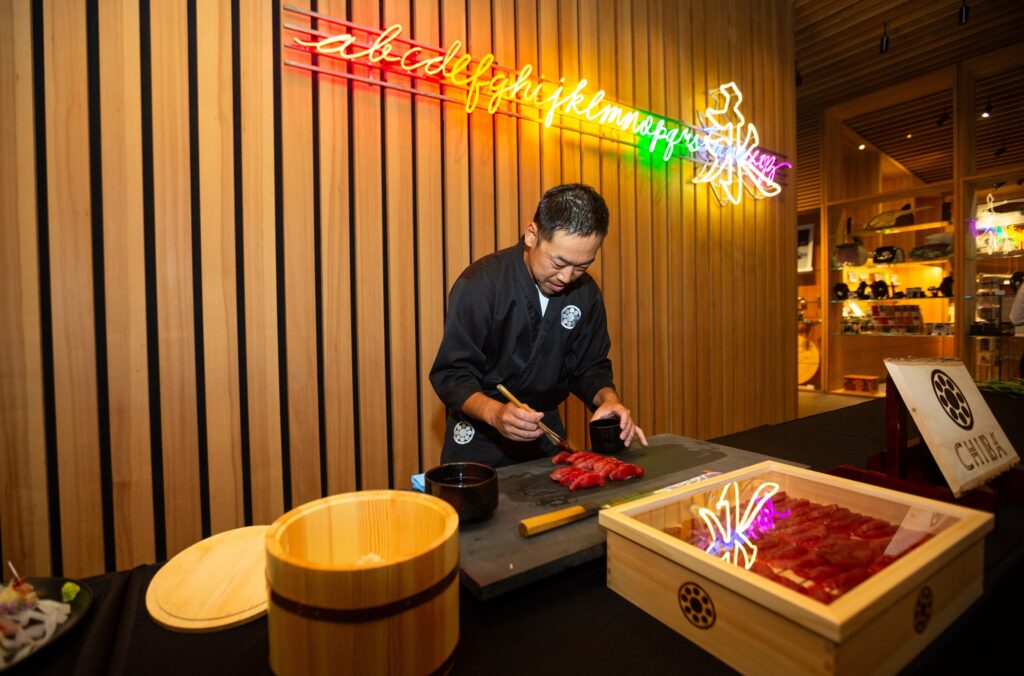 The evening began with a cocktail reception on the museum's scenic front patio, where attendees gathered with matching gin lemonades in hand, sampled canapes and echoed how delicious everything was. Afterwards, we were led through the exhibition by the artist and the museum's curatorial team in small groups. Stationed at key pieces of artwork, Ikeda and the team shared insightful comments and fascinating background information. After the tour, we took our seats at tables adorned with origami and paper lanterns, ready to enjoy the six-course omakase dinner, complete with wine and sake pairings.
Omakase, a Japanese expression that translates to "I trust you, chef," encompasses not only a phrase but also a dining tradition. Throughout the six delicious courses, it quickly became clear that Chef Koji Chiba, a local talent from Whistler, is someone that can be trusted to create a delicious and unique dining and cultural experience. 
Originally from Tokyo, Chef Chiba began his culinary journey at a prestigious five-star hotel, catering to esteemed clientele including the Emperor of Japan and other influential world leaders. He moved from Japan with his family, deciding to live in Whistler to raise his children in nature. Like the artist Ikeda, Chef Chiba enjoys fishing – the two of them have even gone fishing together during Ikeda's time in Whistler.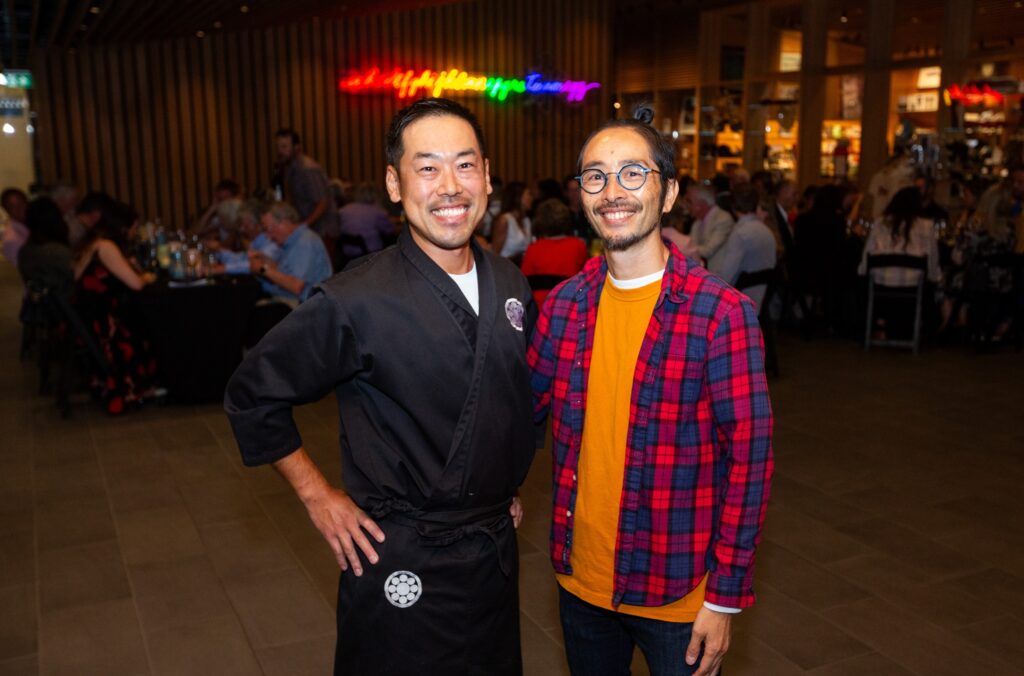 If you'd like to experience this exceptional art and dining event, the dates remaining are July 21 and August 11 and 25. There are limited tickets still available.
If you're planning on visiting the Audain while you're in Whistler, consider getting the Cultural Pass, which gives you access to both the Audain Art Museum and Squamish Lil'wat Cultural Centre at 20% off.  Note that the Audain Art Museum is closed on Tuesdays and Wednesdays and the Squamish Lil'wat Cultural Centre is closed on Mondays. Passes are not dated and can be used at any time.
Fall in Whistler means more, like great value on accommodation with rooms from $135 CAD per night, plus a free $100 CAD Dining Voucher when you book a stay of 3-plus nights. Book in confidence with Whistler.com for Flexible Cancellation and a Price Match Guarantee. If you're dreaming of a trip to Whistler, enter our Find Your Altitude contest for a chance to win a six-night vacation with flights, accommodation and activities (including a heli trip) all covered.