Rotars roaring, the helicopter gracefully settled onto the helipad atop Hidden Peak, an alpine oasis just north of Whistler. Hanging up our headsets, Gavin, from the Alpx team, went into mountain-top valet service mode as he got us and our bikes ready to go. As the helicopter dropped over the ridged horizon, I smiled, heli biking in Whistler is even more blissful than I ever imagined.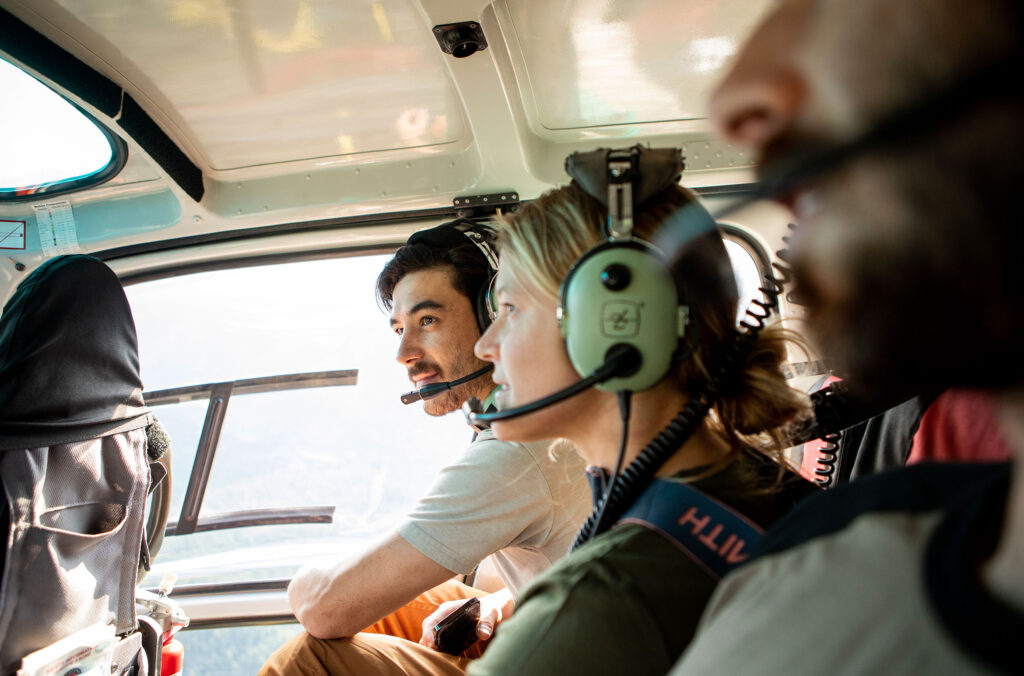 Last winter's snow lingered above us, green lichen clung to rocks, the 360-degree views made us dizzy and the sheer magnitude of the trail before us cried out to be ridden. Built one section at a time the trail weaves together like a beautiful tapestry. Smooth, technical, slabby, tundra lined, lush meadows, cedar groves, countless tarns, wildflowers – oh my, it was everything my mind, and my bike, craved.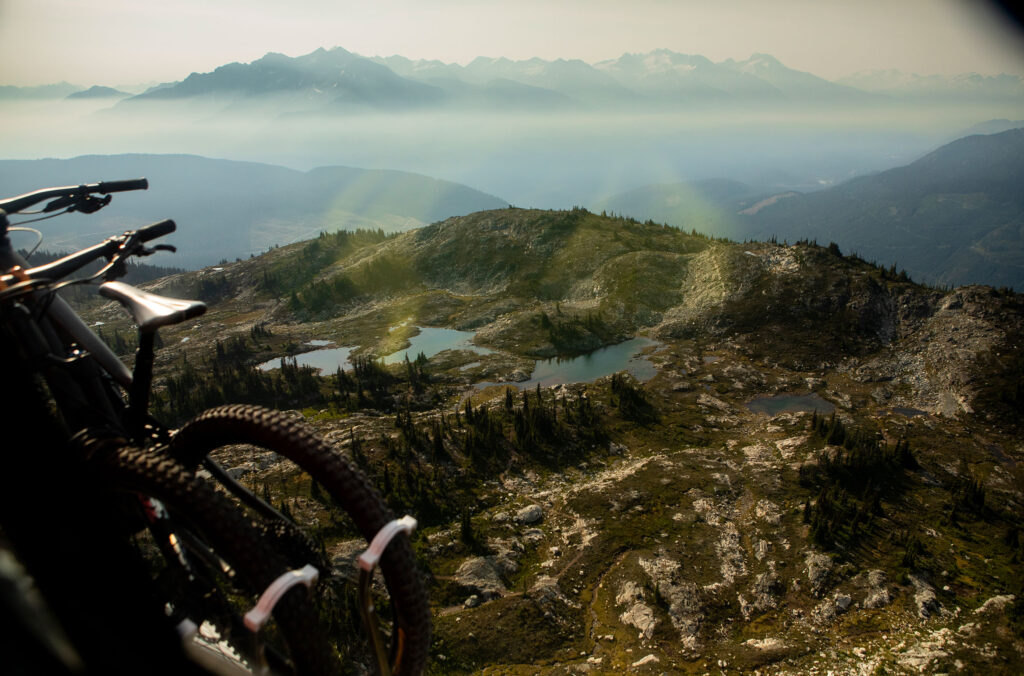 Heli mountain biking is not for the faint of heart or the rush seeker – it's for the experience-driven mountain biker with the skills to back up the adventure. This is one of those once-in-a-lifetime experiences that will be one you talk about for years to come!
Here's the breakdown on Whistler heli biking with Alpx.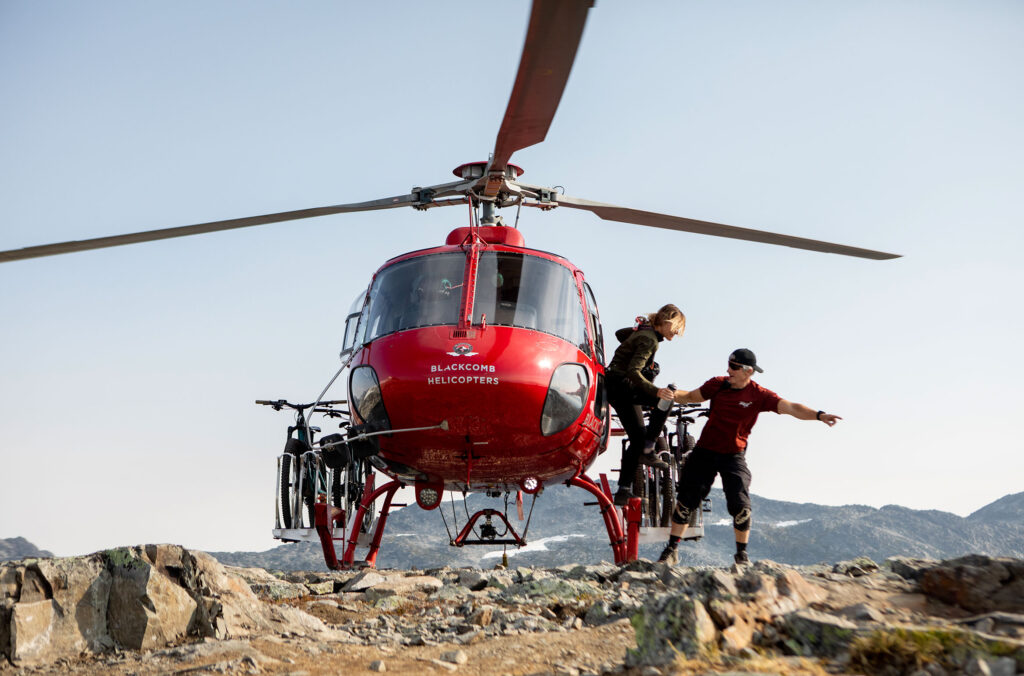 What to Expect: Before You Fly
Whistler Heli Biking Ability Level
There are two options, a black-to-blue trail option or a blue trail (it's a dark blue, not a cruisy blue). Both of the trails are designed for advanced riders, not intermediate. Read on as I dive into more detail below, which will help you decide if this heli-biking adventure is on this summer's wish list or the next.
A Note on Mindset
It's worth noting that while it may be a relatively short heli flight, it's not a short call for help should anything go sideways. From a flat tire to an injury, help isn't on tap – think remote and act accordingly.
The rule of thumb when riding remote is to dial it back to 70 percent. That doesn't mean you can't have 100% fun, it just means it's not the time to try new things or push your skillset. Rather, focus your attention on the experience, the views, the epic trail and the company.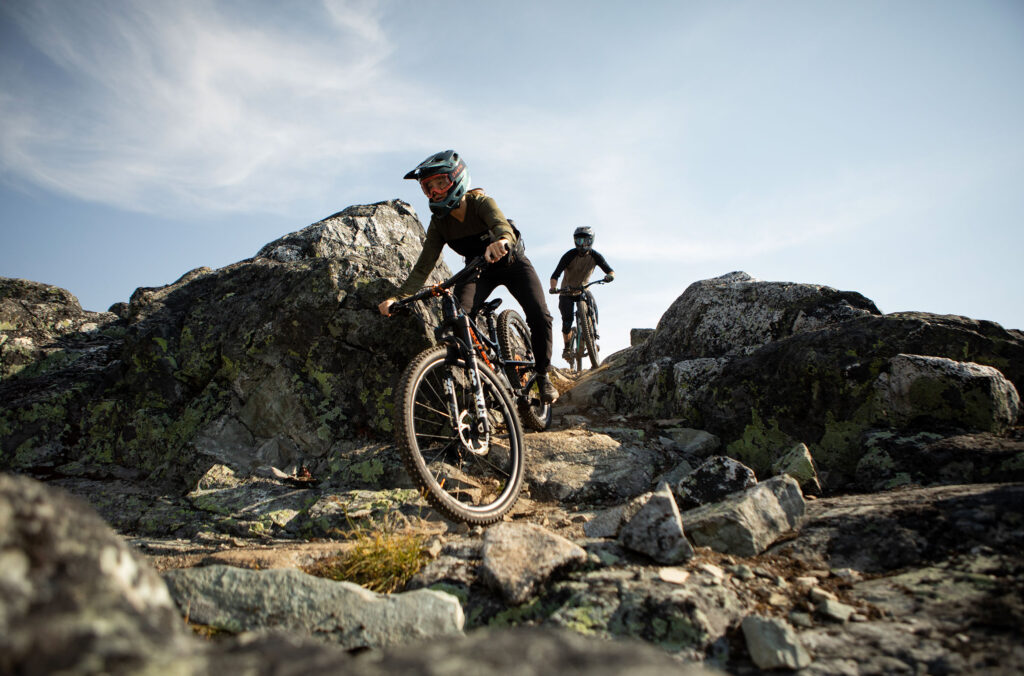 How Long
All Whistler heli-biking flights leave before noon. It generally takes riders two and a half hours to complete the longest trail or one and a half for the shorter trail. This allows ample time to enjoy a picnic, go for a swim and to take your time – it's an experience that shouldn't be rushed.
There will be a final sweep from a bike guide at the end of the day to ensure all riders have made it off the trail safely well before dusk.
What to Bring Heli Biking
A small personal pack or hip belt for the items below listed below with enough space to add a radio that Alpx will lend you for the day.
Helmet (full face recommended)

Eyewear (goggles recommended)

Personal protection (knee pads, elbow pads, gloves, chest protector, mountain bike-specific shoes – think what you'd wear in the bike park)

Water

Snacks

An extra layer (alpine environments can be winder and cooler than the valley)

Sunscreen

Personal repair kit (Allen keys, tire repair kit)

Small first aid kit

Camera/Phone

Swimsuit and towel (optional for a swim) 
How to Prep Your Bike for Heli Biking
In order to fly you must have nothing attached to your bike. Please give it a good look over prior to arriving. This includes tubes, water bottles, GPS devices and any items attached via zip-tie / velcro. Mudguards can only stay on your bike if they're secured with four zip ties and show no sign of wear.
Guided vs Unguided
Book as a private group and you can select to go on a guided tour or to ride the trails unguided. I personally have a lot of experience in remote locations, I have first aid, I'm comfortable changing a bike tire and love to explore sans guide – but that is because of my years of experience.
Having a guide can lighten your pack and your mind as they take care of the logistics. If you don't have a group and want to join in an open helicopter you will have a guide and get to meet some new friends, win-win!
Take a read of AdventureSmart BC's mountain bike page, which walks you through what it takes to be ready for a bike adventure off the beaten path.
Whether you're guided or not, there will be an Alpx employee to greet you at the top of the mountain, help you get out of the helicopter, unload your bikes and answer all your trail-specific questions. They are also reachable via radio (someone in your group will be responsible for one for the duration of your ride) should an emergency situation occur. 
Shuttle or Drive
If you have a vehicle with a capable bike-carrying method it's easy to drive to the staging area indicated by Blackcomb Helicopters; it's roughly 15 minutes north of Whistler Village. If you don't have a car there's a shuttle option which can be discussed when you book.
Time to Ride: Whistler Heli Biking
Hidden Peak Trail ♦
The upper drop known as Hidden Peak is no joke, and definitely won't feel like a warm-up lap. You'll want to have the skills to confidently ride black enduro and technical trails. If you have a chance, try riding Top of the World in the Whistler Mountain Bike Park to see how that feels as it's a good benchmark. 
Length: 13 kilometres / 8 miles
Elevation: 2220 metres (7,283 feet) to 720 metres (2,034 feet)  – 1500 metres (5,249 feet) of descent and 110 metres (360 feet) of climb 
Difficulty: Expert ♦
Riding Style: Enduro / Downhill 
Bike Type: Enduro bike recommended (no e-bikes)
Terrain: Alpine ridge, rock slab, cedar grove, meadows, berms, jumps, flow, climb trail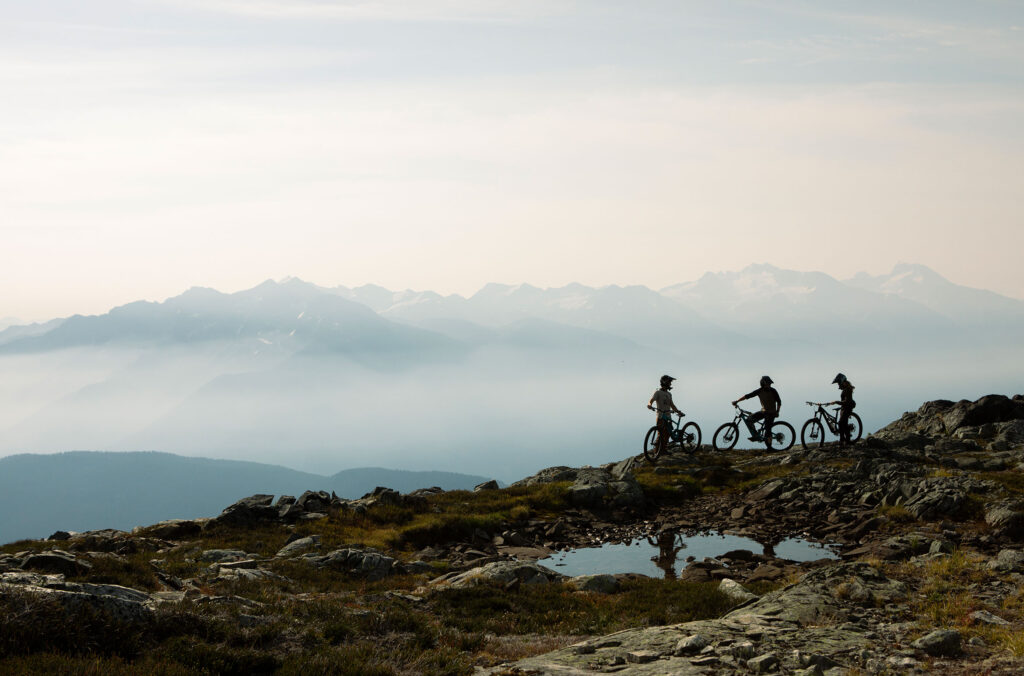 Wow, the drop-off location.
Imagine this view; hanging glaciers overhead, you're at eye level with the magnificent Mount Currie as it reaches for the sky, alpine wildflowers are at your feet, and a deep colourful valley is below with a glistening glacial blue river and glowing green meadows. It's easy to spend a good 15 minutes alone up here just taking in the views, snagging some group photos.
This is also where you'll want to put what you might have taken off your bike back on; your tube, pump, water bottle, etc. Hidden Peak Trail is exactly what you'd dreamed up when you think of biking in the alpine. Rock slabs, on camber steeps, tundra and surprise – little doses of loam-lined berms and flow. The initial length descent weaves through the terrain gracefully, a true trail builders showcase, which delivers you to a collection of tarns (small alpine lakes). These little lakes are beautiful, but they're also a signal of an upcoming climb making this an ideal place to splash water on your face, go for a quick dip, and grab a snack while relishing in the first alpine section of the trail.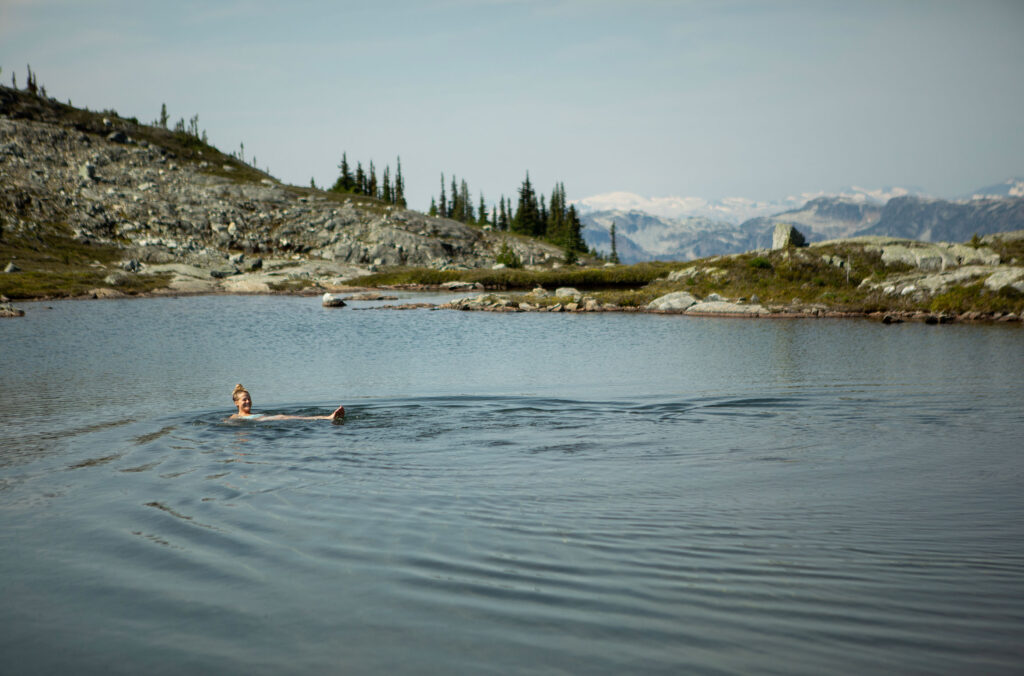 Climbing up 100m elevation over 1.1 km is a bit punchy, but the trail's perfect curvature initiates the flow state for you. From here, you'll be merging onto the Middle Peak trail just below the heli drop location. 
Middle Peak Trail 🟦 / ♦
Middle Peak Trail is a techy blue trail that's relentlessly fun. Whether you've selected this as your start for heli biking or are joining it after completing the Hidden Peak Trail, here's a heads up on what's below. A good skillset test is Original Sin or Angry Pirate in the Whistler Mountain Bike Park. 
Length: 9 kilometres / 5.5 miles
Elevation: 1,920 metres (6,299 feet) to 720 metres (2,034 feet) – 1,300 metres (4,265 feet) of descent
Difficulty: Advanced. You need to be a strong intermediate to expert rider and know that the length of the trail requires strong endurance.
Riding Style: Downhill
Bike Type: Enduro bike recommended (no e-bikes)
Terrain: Alpine single-track, alpine lakes, ridgeline, rock slabs, cedar groves, alpine meadows, old-growth forest, technical sections, berms, jumps, flow
Note: I cannot caution you enough that if you are not an advanced rider then this experience may not be for you just yet. The length of this trail, and the remote backcountry nature add extra levels of difficulty.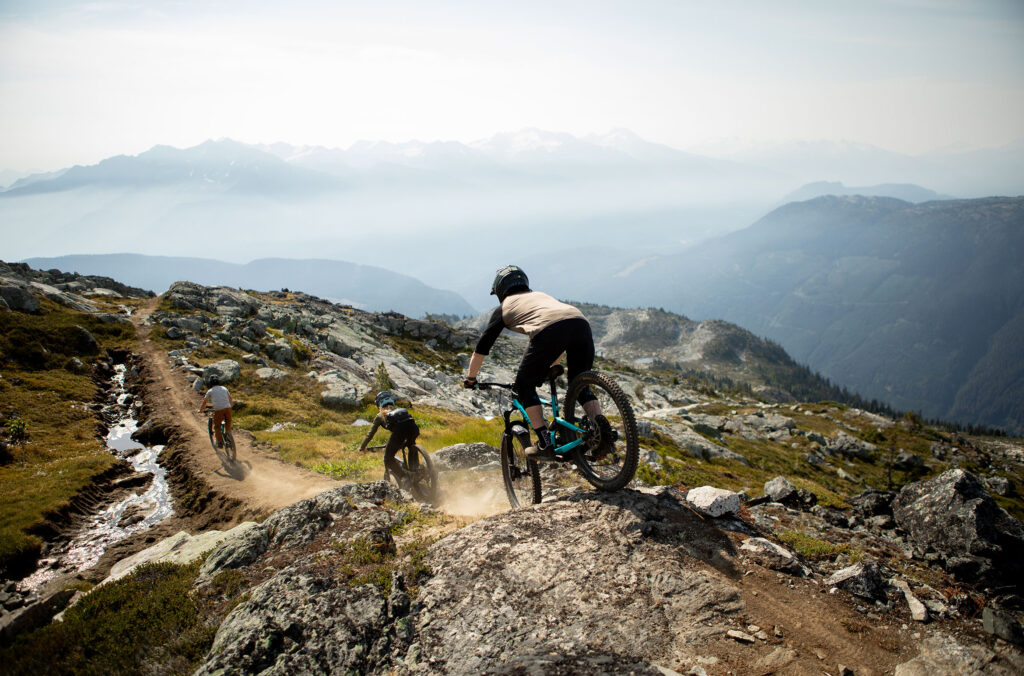 First of all, just because this is a slightly lower drop, it doesn't mean you can't expect the same jaw-dropping views on the flight and upon landing. Undoubtedly we'll be drooling over the epic coast mountains mighty glaciers, vibrant valleys and your picturesque position between it all.
This trail is a journey you take together, from single-track tech to flow to bike park-inspired features, you really get a dose of it all on the Middle Peak Trail. The alpine proper on this trail is limited so embrace those views, cherish those rock rolls, and engage in those talus traverses. Gradually transitioning from single track to machine-built berms, poppers and steeps it feels like a natural progression as the trail enters weaves through old-growth cedars and eventually in and out of a purple flower-infused cut block.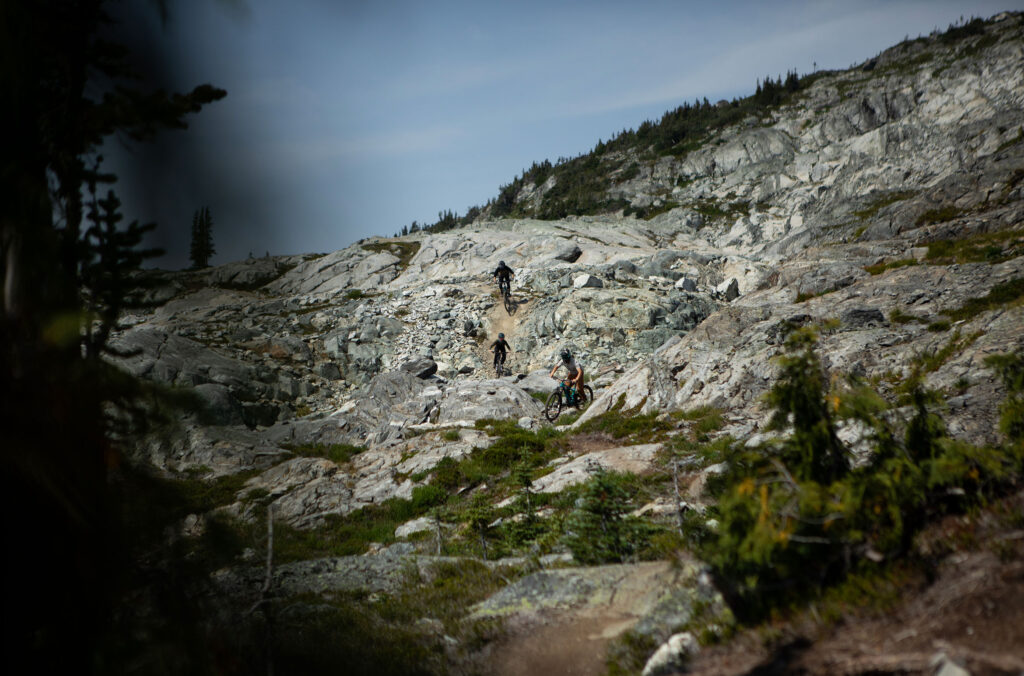 And just when your legs, arms and brake fingers begin to quiver, you'll be on a road commuting back to where you left via helicopter a few, deceivingly short, hours ago. As this is an active forest service road, be sure to switch out of playful bike mode and into road riding mode – stay on the right side, listen for traffic and ride single file. 
Après Heli Bike Ride
Cheers! Back at your vehicle or shuttle pick-up, you'll be greeted by some friendly faces, cold drinks and a merch station for memorabilia. And that my friends, is heli biking in Whistler with Alpx. The smoothest up you'll ever have when bike riding, and guaranteed to be the most scenic.
This experience certainly ticks all the biker's dream boxes and is an experience unrivalled in my many mountain bike travels (so far). 
View this post on Instagram
If you enjoyed this post you might also want to check out our blogs on packaging for a bike trip, Whistler Bike Park 102 and a local rider's top, cross-country bike must-rides.
Book your heli-biking tour through Whistler.com and get expert advice on which accommodation is great for bikers, sort your Whistler Mountain Bike Park tickets, get assistance with rental requirements and get a local's take on what's so good about the biking scene in Whistler. You might also be interested in the Stay & Bike Park Package, which includes two nights and two Adult 2-Day Bike Park Lift Tickets from $169.