The word for the 2023 summer beer scene? Crisp. With summer's arrival, it's time to switch to those refreshing, fruity and easy-drinking sips. With a host of craft breweries throughout the Sea to Sky, and a thirsty, outdoor-loving community, there's no better time to grab your friends and visit a tasting room. But the question is, what to try first?
To find out, we chatted with Kevin Winter, Co-Founder and Brewer at Coast Mountain Brewing; Jennie Kwasnecha, General Manager at Whistler Brewing Company; and Will Miller, Owner of Beer Farmers, about their top picks for Whistler's summer beers, and most importantly, where you can get them. Combined with reviews from a few locals, we've taken the guesswork out of what to drink this summer. 
What's Trending in Summer Beers?
With an ever-changing market, craft breweries have to be ahead of the game. The common trend this year? The wave of low-alcohol beers making its impact.
"You're seeing a move from the craft beer market offering their four-pack of tall cans to smaller cans making a comeback. Within that, there's also a move to lighter alcohol options." – Kevin Winter, Co-Founder and Brewer at Coast Mountain Brewing.
The latter trend is also coming through in the IPA scene, which is traditionally more intense due to the higher alcohol percentage of six or higher. The parameters for an IPA are seemingly ever-changing, from West Coast vs East Coast, hazy vs clear, bitter vs smooth, and now varying alcohol percentages.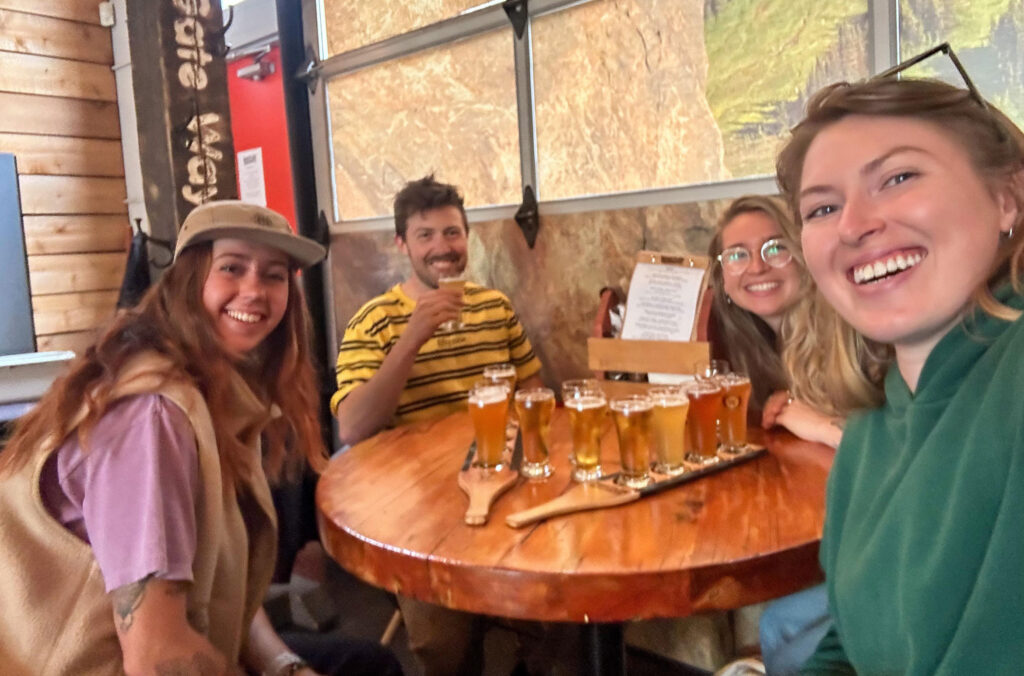 Coast Mountain Brewing's Top Summer Beer Picks
Hyper-local to Whistler and the Sea to Sky, Coast Mountain Brewing is releasing three beers this summer to appeal to the lighter alcohol trend, along with their core bunch of rotators and seasonals. As they turn seven this year, Kevin Winter's goal is for you to enjoy at least one of the 11 beers they have on tap. 
"We have beers that are sweet and almost dessert-ish to dry as a bone, some with champagne characteristics and everything in between. With infused fruits and sours, heavy alcohols to lighter, and flavours of grapefruit, lemon, cherry and strawberry this is an exploration of flavour and colour that should be experienced in the tasting room."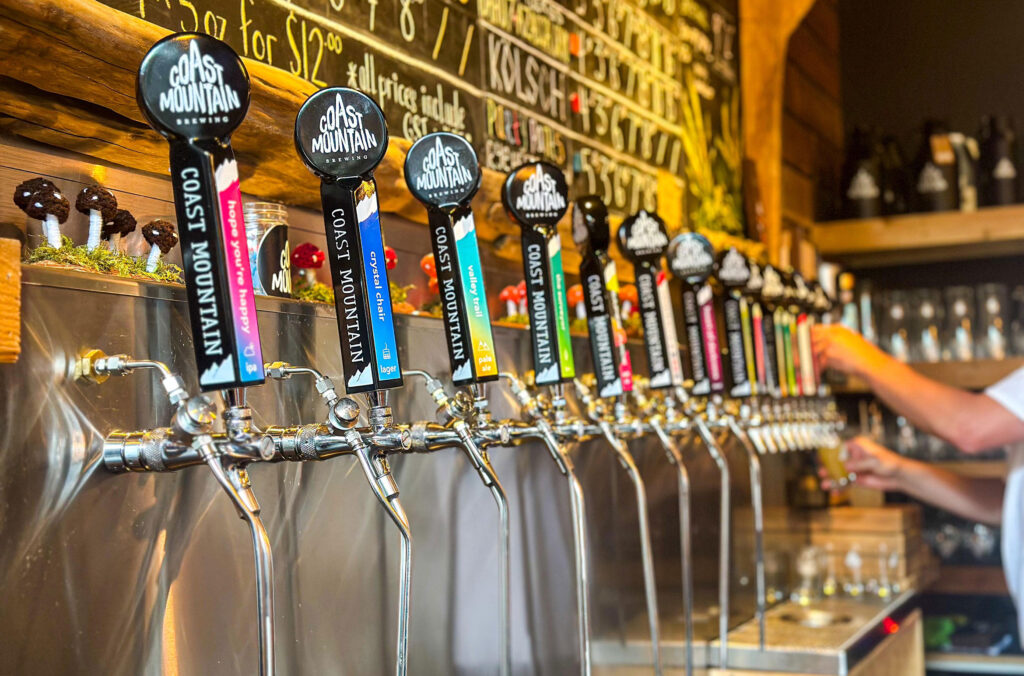 Using sea salt in the boil with an infusion of raspberry puree, the

Raspberry Gose

, 3.4% is a sour ale that's super sessionable. The combination of sweet and salty gives it amazing balance and drinkability, and the colour is gorgeous.

To match the low alcohol trend, Coast Mountain has released a 4% IPA as part of their

Small IPA Series

. It's an exploration of flavour and aroma,

as

every time the brewers go to the kettle they choose different hops to put in. Much like you would at home with your spice cupboard and a dish you love.  

Coast Mountain Light Lager

is a new release from Coast Mountain. At 4%, this beer is all about being crisp, light and refreshing. Brewed repeatedly in small batches with premium, Canadian-grown barley and a select blend of Noble hops, this is Coast Mountain's classic take on a light lager. 
You can find Coast Mountain beers at all the popular local pubs and bars in Whistler, some craft central sites in Vancouver and liquor stores throughout the Sea to Sky region. To get the full experience, head to the tasting room in Function Junction and try a flight of four (five-ounce servings).
Open Sunday to Thursday 11 AM to 8 PM, and Friday & Saturday 11 AM to 10 PM.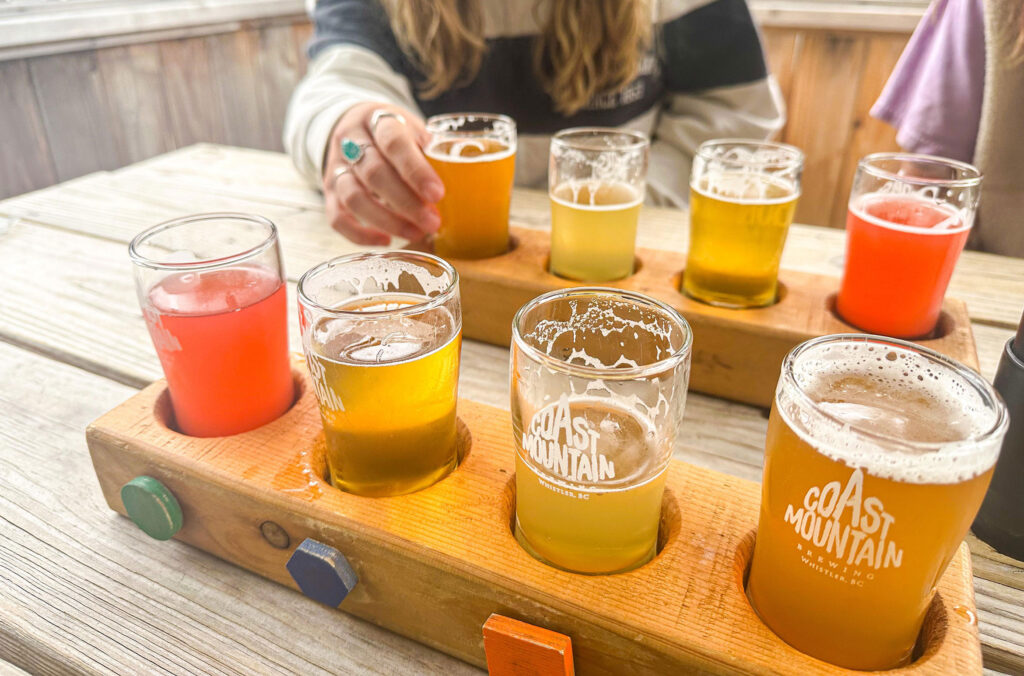 For the full flavour experience, grab a flight and try them all. PHOTO ELLIE WILLIAMS
Whistler Brewing Company's Top Summer Beer Picks
Having taken over an old bus station in Function Junction back in 2009 and turning it into a taphouse, Whistler Brewing is well established in the Sea to Sky. They're keen to give the people what they want, and this year is no different.
"The fruit beers always do well in the summer – they're not going anywhere. But low alcohol, that's what people are leaning towards these days. We're selling more lower alcohol than we ever have in the past." – Jennie Kwasnecha, General Manager at Whistler Brewing Company.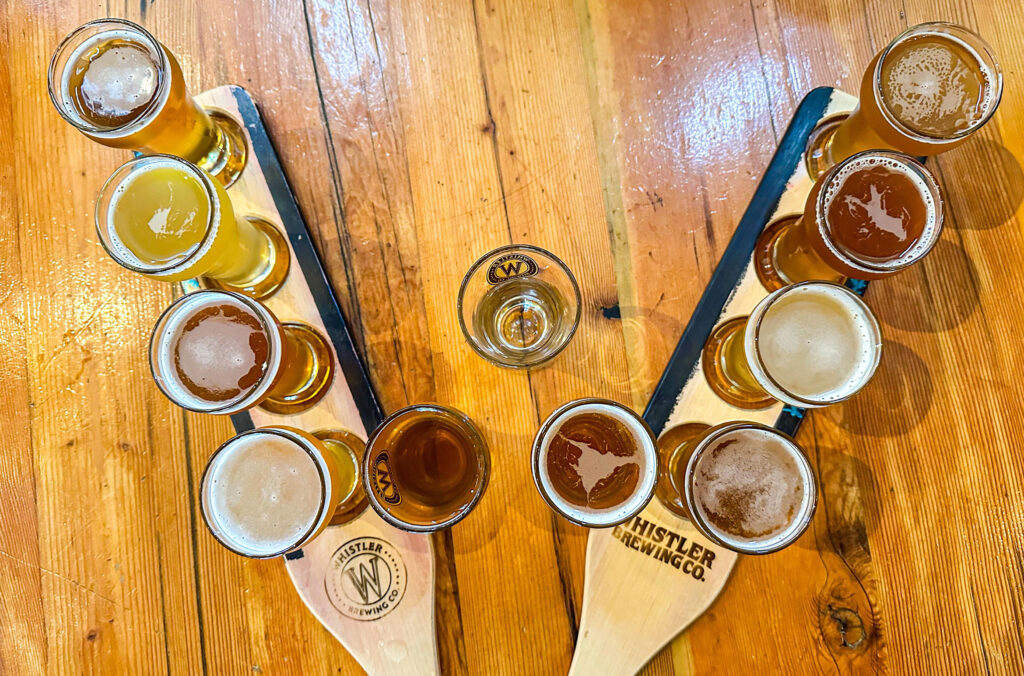 Honed as "Whistler's Mimosa ", their

Grapefruit Ale

is Whistler Brewing's summer seasonal that everyone knows and loves. This 5% has been around for many years. It's full strength, delicious and very popular. 

In its second year,

Hello Limoncello

is a beer that doesn't taste like beer. Incredibly sweet and super fruity with citrus vibes, it will transport you to a sunny, Italian piazza. If sweet is your thing, this beer is your go-to. 

Yet to be released,

PinSeeker

is brand new to the market. As a low-alcohol, session IPA at 4%, PinSeeker is part of Whistler Brewing's "one-time buy" program. As such, once it's gone, it's gone, so best to get your hands on this limited-edition beer asap. 
Whistler Brewing's core repertoire can be enjoyed at most bars in Whistler and across the Sea to Sky. Plus, their beers can be purchased at any of the liquor stores in BC, Alberta and across Canada. PinSeeker is now out in cans and is available on tap from July.
Open Sunday to Thursday 12 PM to 8 PM, and Friday & Saturday 12 PM to 9 PM.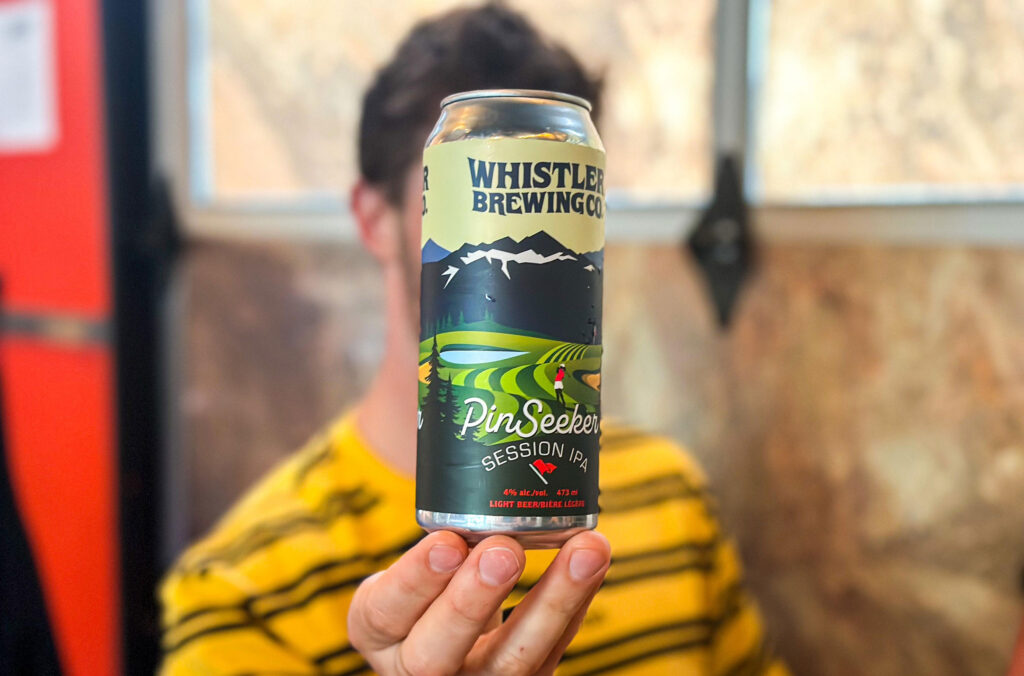 The Beer Farmers' Top Summer Beer Picks
For a truly authentic experience this summer, a visit to Beer Farmers in Pemberton is a must. With the farm established in the 1890s and five years of brewing under their belt, the Miller family is working hard to create a future where their beer is grown and brewed 100% locally. 
Their lineup for the summer has some familiar favourites as well as new tastes with recent crops enhancing the flavours.
View this post on Instagram
At 4.5%, their

Rose & Hibiscus Sour

is a pleasantly pink, sour beer that isn't too tart. Hibiscus and rose petals are steeped in the beer for colour and flavour. 

In need of something light-bodied and refreshing? The

Farmer's Daughter White

, 4.2%, is the perfect patio pleaser for summer. Brewed with coriander and orange peel, this beer was awarded

Gold for Belgian Ales

as well as

Judge's Choice

as the judge's favourite beer out of over 1,000 entries in the 2022 BC BEER AWARDS. 

Golden Strong, 7.5% is very light in colour but strong in ABV. The Belgian yeast mixed with barley grown on their farm in Pemberton gives this beer a burst of refreshing flavour. 
"Our barley crop from summer 2022 has just returned to the brewhouse and the buzz is real.We are excited to brew some unique, specialty brews with it. This deceptively strong and golden beer is one our favourites to brew." – Will Miller, Owner of Beer Farmers.
The Beer Farmer's collection is available at most liquor stores and many draft locations throughout the Sea to Sky. However, as their summer seasonal beers are available mostly at the tasting room, a stop by the farm (about half an hour north of Whistler) this summer is essential to sample and take home a six-pack or two.
Open Monday to Sunday, from 12 PM to 8 PM. Food truck available Thursday to Sunday. 
View this post on Instagram
Local's Thoughts on Whistler's Summer Beers
Nicole: "I like something fruity and refreshing. I really enjoyed the Grapefruit Ale from Whistler Brewing. It's perfectly refreshing for a hot day!"

Liam: "I love beer. I normally go for a lager, IPA, or pale ale. Coast Mountain's brew from the Small IPA Series is really delicious." 

Immy: "I typically go for a sour, classic or citrusy IPA. The Rose and Hibiscus Sour from Beer Farmers is something special and super easy to drink." 

Ellie: "As I don't often drink, I'm excited to see the wave of tasty, light beers make it onto the scene. I really like Coast Mountain's Light Lager. It's simple, clean and crisp."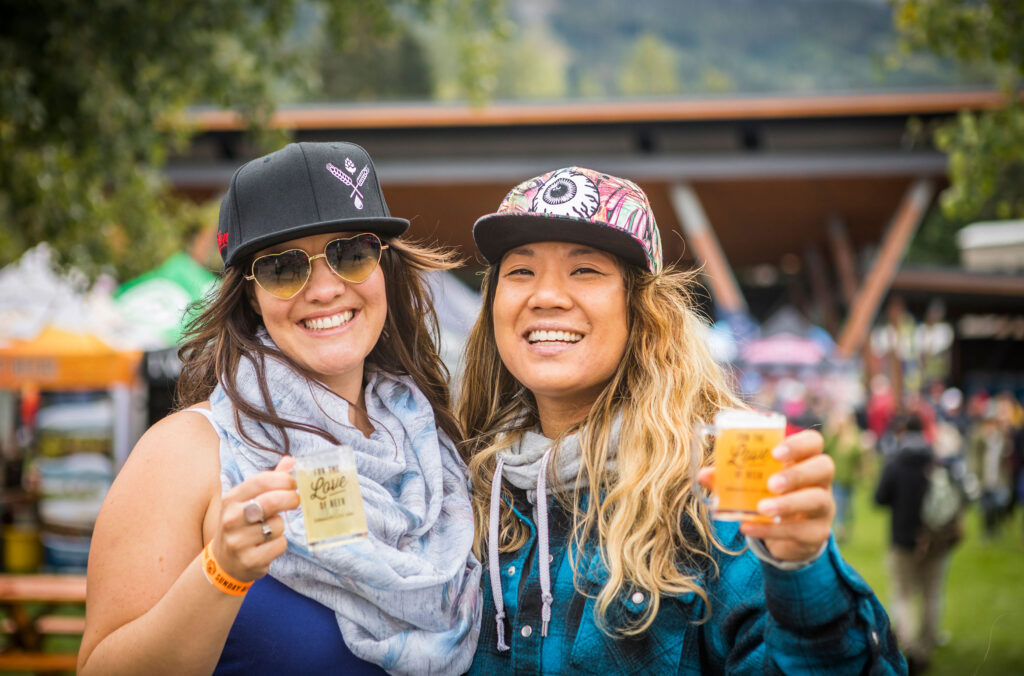 Don't Miss: Whistler Village Beer Festival
The Whistler Village Beer Festival, happening September 11 to 17. The main event is held at Whistler Olympic Plaza and features over 100 varieties of craft beverages including beer, cider, canned cocktails and non-alcoholic options. Plus, enjoy live local music, food trucks, and games.
One for the beer-lovers calendar! We're excited for the summer sips ahead – cheers!