INSIDER TIP:
Whistler Blackcomb is upgrading the Fitzsimmons Express chairlift this summer season, which affects the Bike park. Access will be through the Whistler Village Gondola and Creekside Gondola. Check the
hours of operation page
to make your bike park plan this summer.
Whistler Mountain Bike Park is without a doubt the most famous and popular bike park in the world. Come summer time our social media feeds are full of posts and videos of people tearing up the bike park. Whistler Mountain Bike Park might seem daunting at first glance, but in reality, it's very beginner-friendly. This handy guide covers all the questions a first-time rider might have.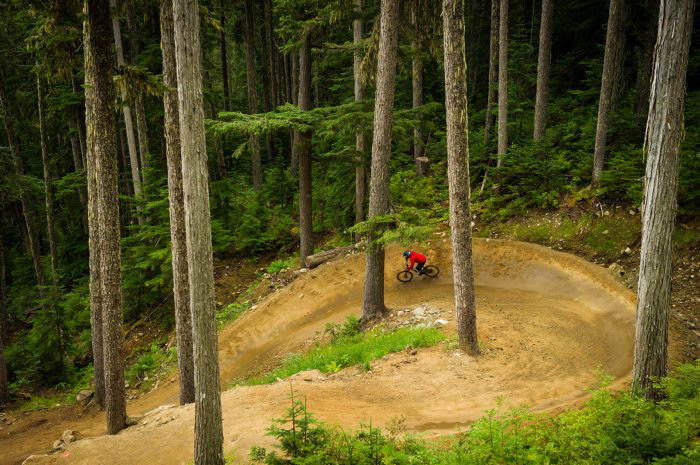 What is a Bike Park?
A bike park is an area of land that has a designated network of interlinked mountain bike trails. Whistler Mountain Bike Park is accessible by chairlift and gondola and is "gravity-fed". Gravity-fed means that there is little to no pedalling involved, gravity does all the work for you.
Where is Whistler Mountain Bike Park?
Whistler Mountain Bike Park is on Whistler Mountain. It can be accessed from Whistler Village via the Fitzsimmons Chair (undergoing repairs in 2023, so not available for this summer), the Whistler Gondola or from Creekside via the Creekside Gondola.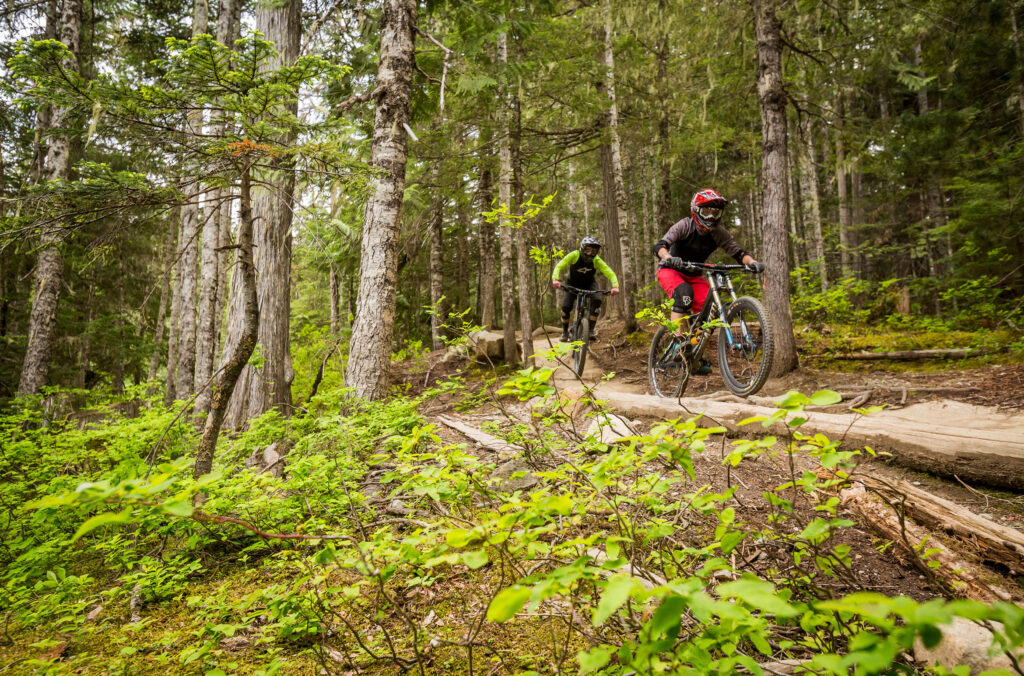 How Big is Whistler Mountain Bike Park?
Whistler Mountain Bike Park is made up of 70 bike trails that span 80 kilometres and 4,900 vertical feet. There are four zones. Take a look at the Whistler Mountain Bike Park trail map as we go through the zones (note, this is the 2022 map, we'll update it as soon as we have the map for 2023).
Fitzsimmons Zone
The "Fitz" zone is the original bike park zone. It has a mix of trail types and is the best place for beginners to learn as it has the most amount of green trails and some easy blue trails. The Fitzsimmons Zone is accessed by uploading on the Fitzsimmons Chair (undergoing repairs in 2023, so not available for this summer) at the base of Whistler Mountain, or via Whistler Gondola. On your first trip to Whistler Mountain Bike Park, this is where you'll spend most of your time. It's the best zone to build confidence and learn how to ride a mountain bike.
Garbanzo Zone
In this zone, you'll find some more challenging trails. The trails generally have more difficult features, such as drops and jumps, and are much longer than the trails in the Fitzsimmons Zone.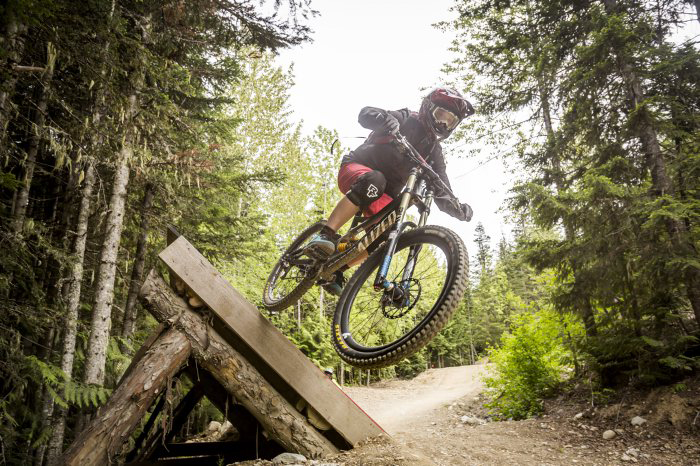 Peak Zone
This is where our Top of The World Trail is. This is a challenging and very long trail. The views are stunning, but this trail is not for first-timers.
Creek Zone
The newest zone in Whistler Mountain Bike Park. These trails are for intermediate and advanced riders only. It's best to spend time honing your skills in Fitzsimmons Zone before riding this zone.
What Do I Need to Ride Whistler Mountain Bike Park?
Mountain Bike
Having an appropriate bike is essential for riding the bike park. For most riders, it is recommended that a downhill mountain bike is used. A modern downhill bike has both front and rear suspension. This suspension soaks up all the bumps on the bike trails and makes them easier to ride. These bikes also have wide, tough tires that increase grip and traction when riding. The bike frame is generally made from durable aluminum or carbon fibre. These bikes are designed to be incredibly sturdy while maximizing the rider's safety.
Downhill mountain bikes can be rented from any of the bike stores in Whistler. Each bike is maintained after it's ridden and the bike mechanic can talk you through the features of the bike when you rent it.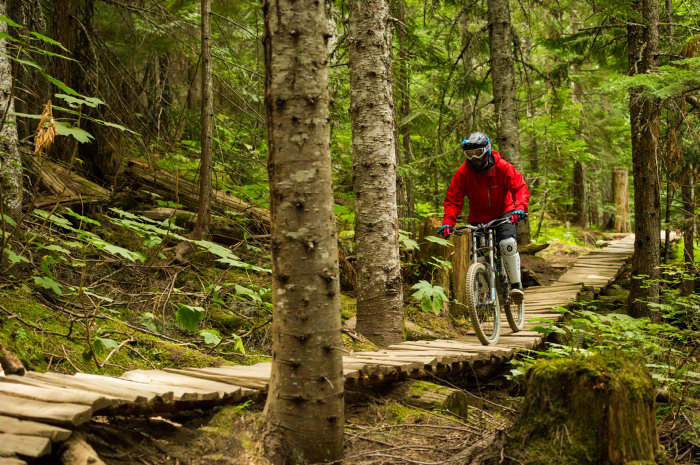 Safety Equipment
As well as renting a downhill mountain bike, you can also rent safety equipment from bike shops in Whistler.
Helmets are mandatory. You will not be allowed on the chairlift or gondola without a helmet. A full-face helmet is highly recommended as it covers your head as well as your lower face and jaw.
Knee pads are another piece of essential gear. Unfortunately from time to time falls can happen in the bike park. Knee pads are the first line of defence against grazed knees and cuts. Make sure you get your correct size and that the pads fit you properly.
Gloves are a nice addition when riding the bike park. Summer days in Whistler can get hot, so a pair of gloves will help to keep your hands dry and make holding on to the handlebars easier.
Elbow pads are another good idea. Working in the same way as knee pads, these pads help save your elbow skin in the case of a fall.
Clothing
What to wear depends on the weather and conditions but generally, you'll see mountain bikers in long shorts and a jersey made for mountain biking.
It's important to wear shorts that you can move well in and that won't rip easily. You might consider finding a pair with padding or wearing a padded liner underneath. If you don't want to buy a jersey straight away or it's a warm day, any shirt you'd be comfortable hiking in (and don't mind getting dirty) will do.
There are mountain biking-specific shoes but to start, you can wear skate or running shoes. If it's a wet day, a light, waterproof or water-resistant jacket is a good idea too.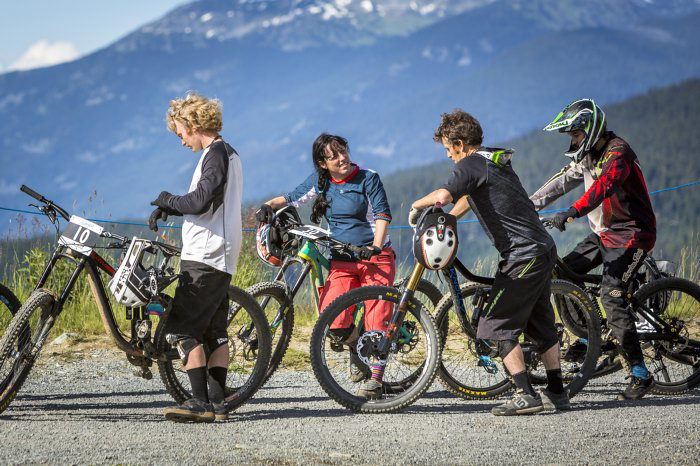 Bike Park Tickets
There are a number of options available to ride the bike park. Day Passes allow you to ride the park for the entirety of that particular day. Season Passes allow you to ride the bike park anytime during opening hours throughout the season. There are 5-Day and 10-Day Park Passes available too, and there's also a Twighlight Pass, which is unlimited riding after 4:30 PM all season long (note that those last three options exclude Top of the Word access). Always check the bike park's hours of operation when you're planning.
What are the Trails Like?
The Whistler Mountain Bike Park trails are classified by how difficult they are. Green trails are for beginners, blue trails are for intermediate riders, black trails are for advanced riders, double black for experts and red for professionals. There are eight green trails in the bike park and thirty-three blue trails.
There are also two categories of trails within the difficulty levels. Flow trails are wide open trails that are generally smooth and feature man-made elements such as jumps, berms, and rollers. Technical trails are tighter and take advantage of natural features such as roots and rocks.
The green trails are designed for people who have never ridden a mountain bike before. They are very wide and quite flat, giving beginners the best opportunity to learn how to ride. You can also hire a guide, join a bike clinic or take a lesson. No matter your level of biking, there is a trail in the Whistler Mountain Bike Park for you.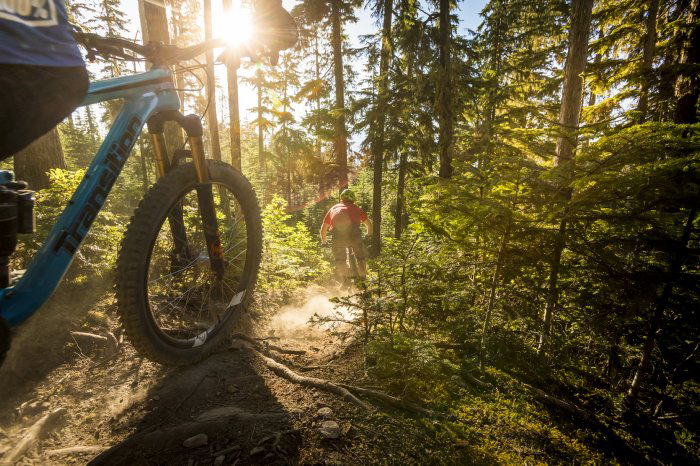 Recommended Lessons
Intro to Bike Park – Perfect for those who are comfortable on a bike but have not ridden in a bike park.
Private Half-Day Bike Park Lessons – A good refresher or opportunity to work on a particular skill.
Private Full-Day Bike Park Lessons – If you have any previous downhill or cross-country biking experience, this lesson will help you gain more confidence and get to know the Whistler Mountain Bike Park trails.
When is Whistler Mountain Bike Park Open?
Whistler Mountain Bike Park typically opens in May and closes in October. Check their opening hours before you make your biking plan.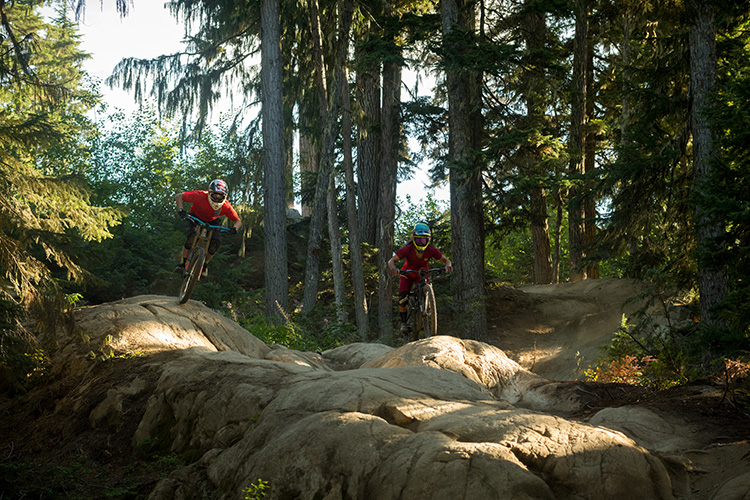 Whistler Biking Scene with Robin O'Neill
Some people move to Whistler to ski, some move here to bike – welcome to the MTB life. Pro photographer Robin O'Neill learned to do both right here, gaining a deep appreciation of the beautiful landscape and the people who live to explore it. Here's her take on Whistler's biking culture in a special Freehub Magazine edit, featuring footage from the Whistler Bike Park and one of our favourite loamy trails – Micro Climate.
Ready for more? Here's Whistler Mountain Bike Park 102: A Beginner to Intermediate Guide
Now you have all the info you need to get started in Whistler Mountain Bike Park! However, the best way to learn is by getting on a bike and riding, let the team here at Whistler.com help with organizing the rest of your trip, so you can focus on mountain biking.
Book your winter trip now to secure up to 25% off lodging, 65% off lift tickets and 45% off rentals. Come experience Whistler Blackcomb's extensive terrain and adventure at every turn to see why we're known as one of the best resorts on the planet. Secure your winter getaway with Whistler.com for Flexible Cancellation and our Price Match Guarantee. Want to win a winter trip for two to Whistler? Check out our Drop In to Winter contest.