Whistler was built on the backs of dreamers. Big thinkers. Hard workers. People who understood that the benefits of working among pristine alpine lakes, and majestic snow-capped mountains, would be well worth their efforts.
The very first tourist operation and year-round settlement was dreamed up by an American couple, Alex and Myrtle Phillip, at the pub they owned in Vancouver, over a pint of beer with a Whistler trapper. Their dream was to own a fishing lodge and the trapper knew the perfect spot.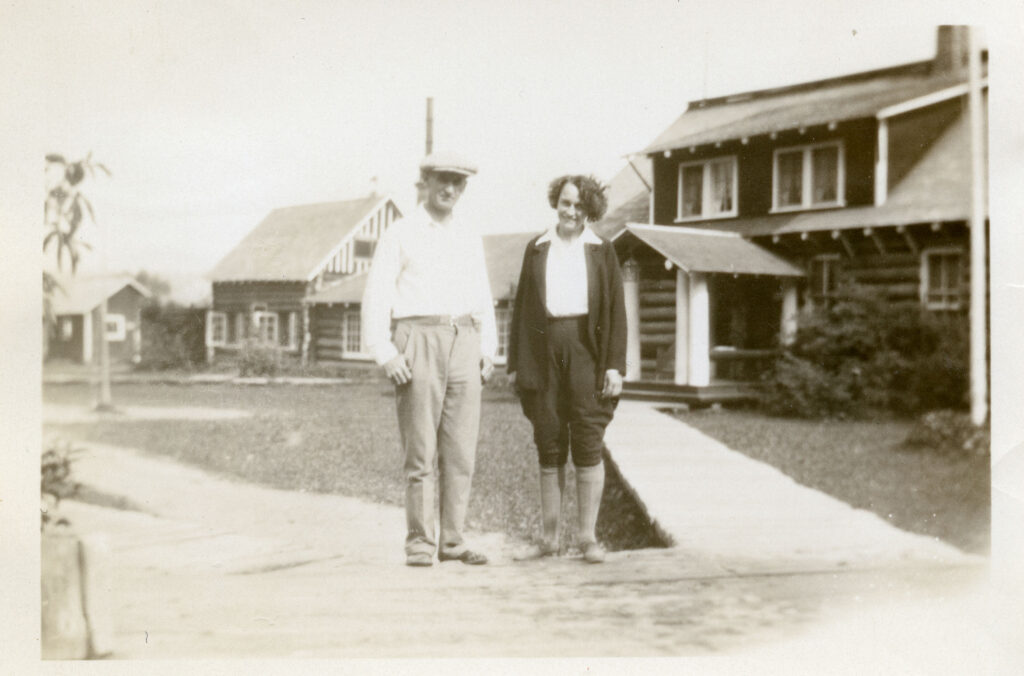 Back in the early twentieth century, Vancouver to Whistler was a multi-day journey by steamship and donkey, but with help from Myrtle's family, Rainbow Lodge was already up and running for the grand opening of the Pacific Great Eastern Railway (PGE). Alex had even convinced the PGE to build a station for the lodge, and offer combo deals for transport and accommodation. 
INSIDER TIP:
Visit the Whistler Museum, located just behind the Whistler Public Library, for more in-depth Whistler history. It's open by donation from 11 AM to 5 PM every day of the week except Wednesday.
In 1960, a group of Vancouver businessmen watched as the Winter Olympics drew worldwide attention to a struggling ski town in California. The benefits were clear, but with one small obstacle; British Columbia had no such ski town. So they made one. They drove up the loose gravel road from Vancouver until they spied a mountain suitable for world-class downhill ski events. Fifty years later, the 2010 Vancouver Winter Olympics were held. Perhaps if those businessmen had been coached by Whistler local Shannon Susko, that half-a-century timeline might have been condensed.

Meet Whistler Local, Shannon Susko
Building up businesses fast is a game Whistler local, Shannon Susko knows well. After moving to Whistler and working the usual tourist jobs as a bartender, hostess, taxi driver, ski instructor, night auditor, "you name it, I did it," Susko realized that if she was going to achieve a work-life balance – to work hard, play hard, and have a family in these beautiful mountain surrounds, she was going to have to make something for herself.
Back in the nineties, Susko drew on her business and computer science background and created a payment platform and fintech (financial technology) company. The dream – to build it up from scratch and sell it in five years. Five years turned into ten, but the lessons she learned the hard way would form the foundations of her three-step Metronomics system. The second business she built and sold in three years. With work-life balance achieved, Susko officially retired twelve years ago. She has now moved into a stage she calls re-priorment. As she explains it:
"My retirement is, I get to choose. I still get to ski, and do all the things I love doing. But, I also get to enable people to continue growing."
Following the release of her third, business strategy book by the same name, the upcoming Metronomics Tip Top Summit embodies everything Susko and her team of coaches believe in while showcasing Whistler as a strategic place to do business. 
I spoke to Susko about the summit, why Whistler is the perfect place for bleisure (a combination of business and leisure) and who will be speaking at her inaugural event this May.
Who is the Metronomics Tip Top Summit for?
It's a balance of team, thought leadership and business strategy – it's for CEOs and their leadership teams. I'm a CEO and leadership team coach. At the summit, the team gets to learn together and I get to learn with them as a coach. There's really nothing better than that.
Teams are coming because they know it's a time that they get to learn, build cohesion and make an action plan. And if there are only one or two leaders that come, or if only the CEO comes, it will be harder to sell that back into the organization. 
Why Whistler?
The fact that we have the opportunity to create this event in Whistler actually highlights the reason why I'm here, mixing the business with the pleasure, and leveraging it for both. For the teams that are coming, this will be an event that they won't forget.
With eight speaker sessions across two days, Whistler will be welcoming some big names this May 16 and 17, 2023. Let's dive into a few of the people who'll be sharing their wisdom at the summit this spring.

Jack Stack – Author of The Great Game of Business, Named Smartest Strategist in America
Susko describes Jack Stack's book, first published in 1992, as foundational to the success of Metronomics.
"We took those mini-games and actually applied them to our businesses," she says. "And now everyone else applies them to their businesses."
Stack can be a hard man to get, but Susko's strategic choice of location worked in her favour.
"I went through a few different people on his team and explained that Jack and I are connected because he loves Whistler. Every time I see him, we talk about Whistler. Jack needs to come."
Stack will be doing a fireside chat and Susko will have the honour of being his interviewee.
"He's up there with the likes of Warren Buffett. The fact he's coming blows me away."

Alex Ostenwalder – Co-Founder of Strategyzer, Inventor of the Business Model Canvas
Currently ranked No. 4 on the Thinkers50 list of management thinkers worldwide, Alex Ostenwalder is best known for his Business Model Canvas, which Susko describes as "really dialled in and easy to use."
Susko describes Ostenwalder as a strategy geek.
"I am too, so I love his work," she says. "It validates strategy, and what we do at Metronomics. I'm really excited to have him here because of his guru-like status."
Arlene Dickinson – Managing General Partner at District Ventures Capital, Dragon on Dragon's Den
A recipient of many business awards, including the Canadian Top 100 Hall of Fame, Arlene Dickinson is perhaps best known for her role on Dragon's Den. In season 8, she chose to invest in the local Whistler business, Love Child Organics.
Local couple John and Leah Garrad-Cole moved to Whistler from London to start a family on Leah's home soil. John was originally an investment banker, but the couple decided the best way to thrive in the tourist town they loved was to start their own business. Conceived and born in Whistler, Love Child Organics is now a widely distributed and successful brand of nutritious baby food products.
Another local business, Nonna Pia's Balsamic Glaze, also had success on Dragon's Den. After starting in their family kitchen and using the Whistler Farmers' Market to promote their versatile dressings, Nonna Pia's secured two investments from dragon David Chilton, who was so impressed with their growth he made the largest reinvestment in Dragon's Den history.
Alison Levine – Captain of the first American Women's Everest Expedition
Alison Levine was the first team captain of an all-female team to climb Everest, an impressive accomplishment that Susko can relate to.
"Most people don't think of it this way," says Susko. "But I've lined it right up with building a business. I've never been a climber, but I'm absolutely fascinated with climbers, so I've read every climbing book, and I just love all the things that go on. From cohesive team building, through to execution, through to working in the environment. It's why we're holding this event in Whistler because we're in the mountains and everyone's climbing their own mountain."
On top of the conference lectures, the Metronomics team has rented space right in the heart of Whistler Village for participants to utilize for in-person coaching sessions. They're also being encouraged to take a look at the plethora of group activities on offer, hence the mention of bleisure.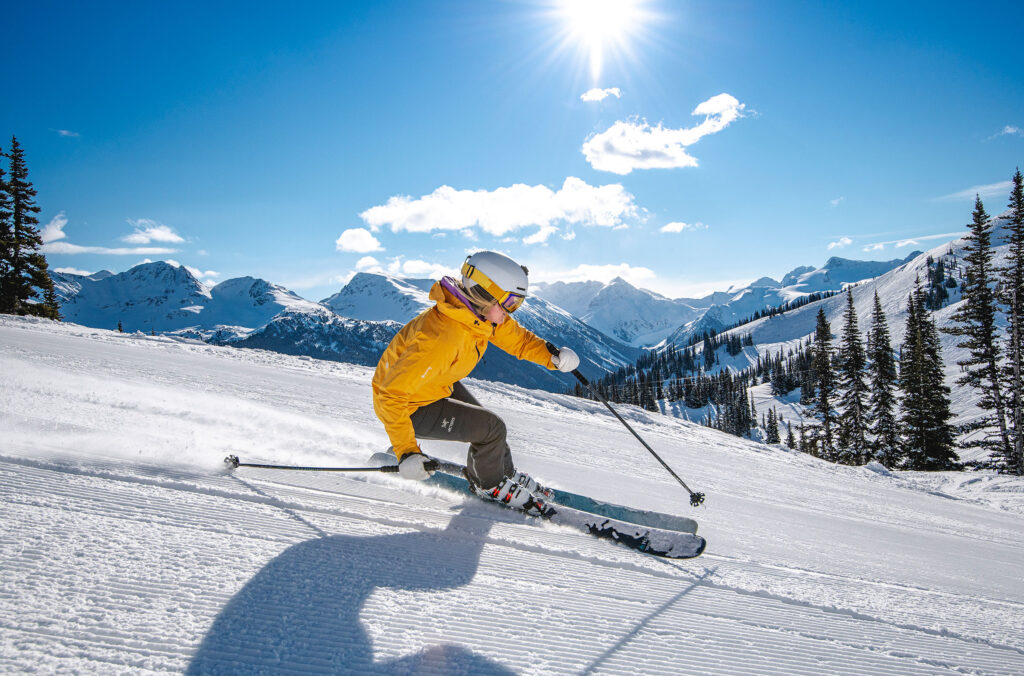 Whistler Bleisure
Adventuring together is a great way to expand on the team cohesion fostered in the conference and coaching sessions. Head out for a late spring ski, zip line, paddle, hike, bike, axe throwing competition, ATV tour and round of golf – to name a few. Take a look at the Whistler.com activity page for more ideas for spring fun in the mountains.
"I get asked if I'll go skiing with their team while they're here and I tell them –it's got to be sunny!" laughs Susko.
To celebrate a day well spent in the mountains, eventgoers can cap the adventures off with a team dinner at one of the resort's award-winning restaurants, which in May, typically have some fantastic multi-course dinner menus on special. 
The Metronomic Tip Top Summit brings global, business thought leaders together in one of the most beautiful and adventurous places in the world. As it's a resort built by entrepreneurs, it's no wonder that it attracts, inspires and breeds them too. If you're looking to take your team and business to the next level, then we look forward to seeing you in May.
For group bookings, look no further than the knowledgeable team at Whistler.com.
Fall in Whistler means more, like great value on accommodation with rooms from $135 CAD per night, plus a free $100 CAD Dining Voucher when you book a stay of 3-plus nights. Book in confidence with Whistler.com for Flexible Cancellation and a Price Match Guarantee. If you're dreaming of a trip to Whistler, enter our Find Your Altitude contest for a chance to win a six-night vacation with flights, accommodation and activities (including a heli trip) all covered.