What's your flavor of cross-country (XC) riding? Do you like technical climbs that provide an adventure? Or maybe you prefer a smooth single track through a spectacular forest? No matter your preference of XC mountain bike trails, there's something for every rider in Whistler, as long as you don't mind a short (or long) pedal!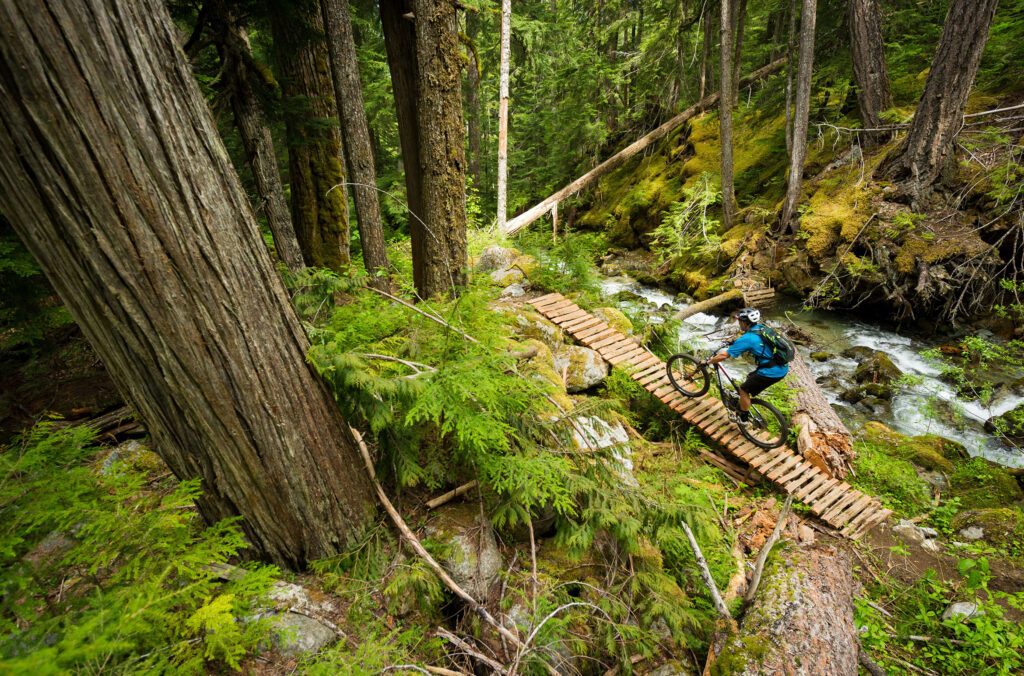 Grabbing your bike and planning a trail route is a wonderful way to explore the valley and the surrounding mountainsides. Find viewpoints less visited, come across hidden lakes and see Whistler from behind your handlebars. There are so many trails to choose from, where do you even start?
To help you plan your XC mountain bike adventure, fitness lap, or first ride outside of the Whistler Mountain Bike Park, we've gathered Whistler's top 10 xc mountain bike trails. Ready, set, ride!
INSIDER TIP:
Travelling light?
Rent your bike
and get expert advice from Whistler bike shops.
Note: All ratings are taken directly from Trailforks. 
1. The Sea To Sky Trail
Rating: Green
The namesake and shining jewel of the Sea to Sky features a trail that can be as long or as short as you'd like! The Sea to Sky Trail begins in Squamish and runs north for 180 kilometres, all throughout the Sea to Sky corridor ending in D'Arcy. This stunning single track can be bitten off in chunks, where you could go to Brandywine Falls or to the Green Lake Lookout, or if your legs are up for the challenge, take on the entirety of the trail.
2. Comfortably Numb
Rating: Black
This writer's personal favourite and a very good fitness lap for those looking for steady uphill. Don't be fooled by the uphill part. An abundance of features including rock rolls, ladder bridges and even skinnies (narrow woodwork) can be found along the way, distracting from the physicality of the trail and making for a very technical ride!
3. Pinocchio's Furniture
Rating: Blue
Ask any local which trail is among their favourites in Lost Lake Park and Pinocchio's Furniture will make the list. Undulating woodwork is the hallmark of this multi-directional single track. Ride it up and then ride it down, don't forget to stop in at Lost Lake for a dip when you're all finished.
4. Beaver Pond
Rating: Blue
Tucked into the Westside woods is a little pond. You won't find it unless you ride the surrounding trail, Beaver Pond. An easy blue and very popular, Beaver Pond is also a great introductory trail to the Westside trail network.
5. Flashback 2
Rating: Blue
Flashback 2 is a new addition to the Cheakamus Trail network. This fun blue will eventually be part of a big blue loop and is being completed by Whistler Off-Road Cycling Association (WORCA).
6. A River Runs Through It
Rating: Black
Built in 1995, this trail has recently seen a lot of work that has turned it into a flowy trail with a variety of different stunts, including jumps and skinnies. If you want a sampling of Whistler's history mixed with a good time, this trail is for you.
7. Parkhurst Ghost Town Loop
Rating: Blue
Bet you didn't think you could combine seeing a ghost town with an XC ride did ya? With the Parkhurst Trail, you can! Cruise by the remnants of the 1960s logging town Parkhurst while on this flowy, blue trail.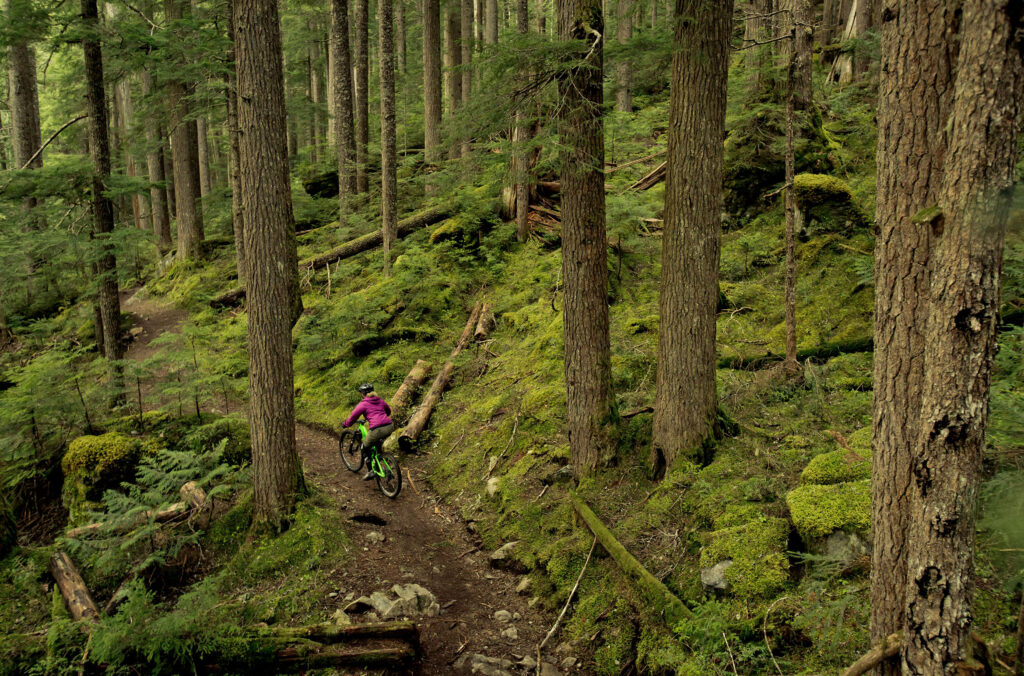 8. Kill Me Thrill Me
Rating: Black
If up and down is something that floats your boat, Kill Me Thrill Me is a classic with natural features that get the blood as well as the brain going.
9. Zoot Allures
Rating: Blue
Another classic, Zoot Allures is arguably one of the best descents in the Lost Lake trail network. A bit of woodwork and some easy tech makes for a lively trail found close to the village.
10. Hind Sight
Rating: Black
Formally Tunnel Vision, Hind Sight is the new update that saw the previous trail moved from the old road into the woods. The result? A flowy and fast pumptrack-esque trail that is a ton of fun and worth lapping.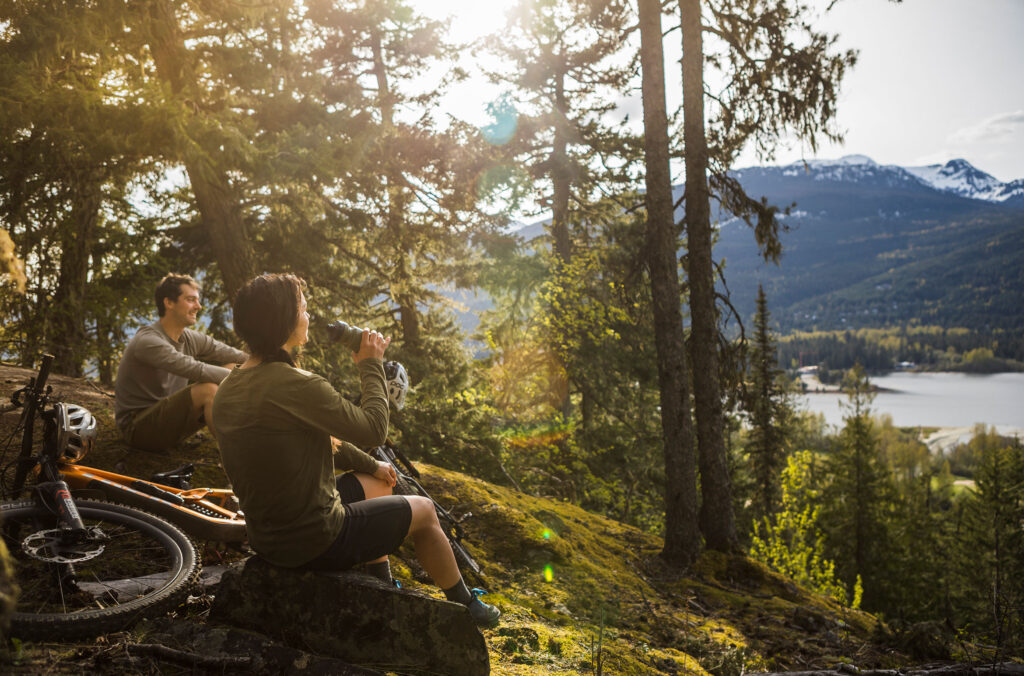 These Trails Don't Build Themselves – How to Get Involved
Regardless of whether you believe in trail fairies or trail builders, the mountain bike trails around Whistler didn't magically appear. In fact, hundreds of hours go into building and maintaining the trails each year.
Learn more about how you can support the Whistler trails, get the latest trail updates and connect with the biking community over at Whistler Off-Road Cycling Association (WORCA).
For more Whistler, XC mountain bike trail options take a read of our Insider's Guide: Cross-Country Biking in Whistler. You'll see a side of Whistler that only those who venture out on two wheels get to see. Want to know what to pack? We have that guide too, Planning and Packing for a Whistler Bike Trip – The Whistler Insider.
Stay safe, make sure to AdventureSmart and have fun on the trails!
If you're interested in the Whistler Mountain Bike Park, take a look at the Stay & Bike Park Package, which includes 2 nights and 2 x adult 2-Day Bike Park Lift Tickets from $159 CAD.