When I was a new wheelchair user, I asked some friends on wheels where my husband and I should escape to for a weekend getaway. The idea of travelling with wheelchair accessibility in mind was something we were still wrapping our minds around and we didn't know where to start. To my surprise, many suggested Whistler.
Maybe it was just me, but a mountain resort didn't exactly scream wheelchair friendly. I was envisioning a place where everything is flat and paved. However, with many assurances and a few tips and tricks, we booked a hotel and headed to the mountains.
That was in 2016. Since then, Whistler has become one of our favourite, accessible destinations to visit as a family – especially in the summer. Being on the trails as the sun breaks through the trees, the afternoons spent lakeside and the evenings wandering through Whistler Village to the sounds of people simply enjoying life – none of it ever gets old. And how could it? Whistler is somewhere we can be spoiled by both natural and manmade experiences. It is the best of summer and we're always grateful to go back.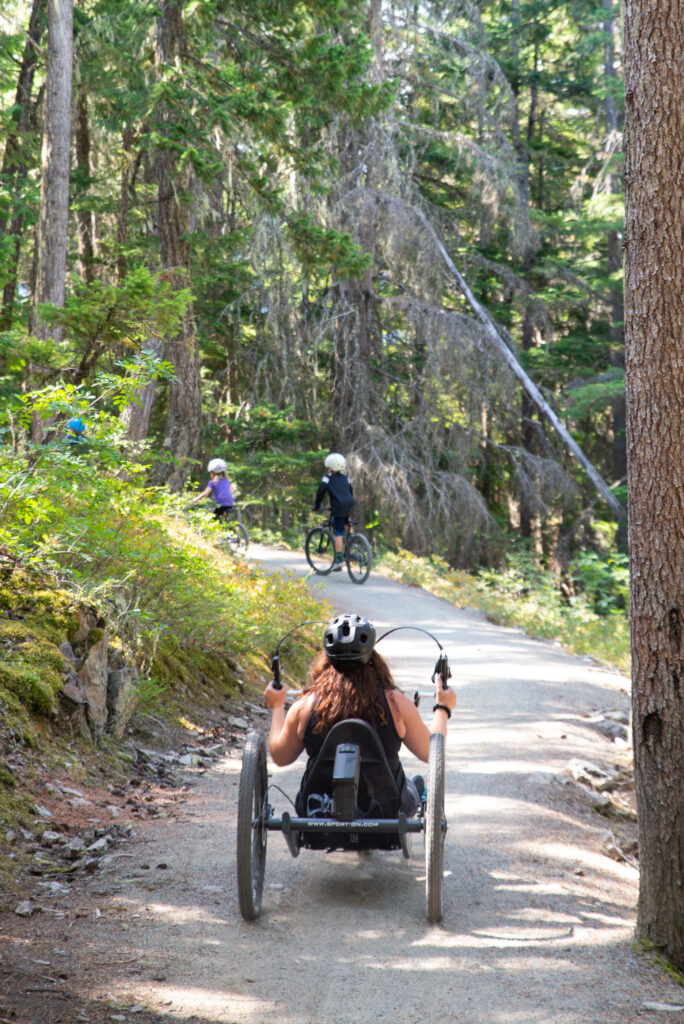 However, mistakes have been made over the years. Most notably was a poorly researched route from our vacation rental to Whistler Village that had me attempting to wheel down the face of Blackcomb Mountain. Although I'm sure it was most entertaining to the many onlookers sipping their drinks on the patios below, it is not something I suggest repeating. Since then, we've refined our tactics. Benefit from what we've learned and discover how we do Whistler with a wheelchair.
Whistler Village
Whistler Village is the picturesque town in a Hallmark movie mixed with the shopping and dining experiences of your favourite downtown street. But even when it's bustling with people, it feels miles away from ordinary, as the overall vibe of this car-free village is that of enjoyment, adventure and relaxation.
Accessibility wise, Whistler Village is great. As a manual wheelchair user, I like to bring my power assist device with me, but I have seen many people muscle it up the hills. Ramps and elevators are always there, even if they're around a corner. Keep a look out for the standard blue wheelchair signs posted around the village, they often point in the direction of access.
INSIDER TIP:
For a comprehensive map of Whistler Village showing parking spaces, barrier-free routes, slopes with gradients and accessible washrooms take a look at the
Access Whistler map
.
The playground, located at the north end of the Village, is a highlight for families. It is the kind of accessible play space that assures no child or parent feels left out of the action. Beyond that, we love to settle into the various patios, the people-watching, the souvenir shops, and the breathtaking views of mountain peaks that rise up on all sides, holding the village between them.
PEAK 2 PEAK Gondola
We first spotted the cars of the PEAK 2 PEAK Gondola as we sat in the Village eating ice cream cones. They appeared to be hanging in mid-air, as if by magic. After assuring the children (and maybe myself) that there were in fact strong cables securing the cars safely in place, we went to check it out for ourselves.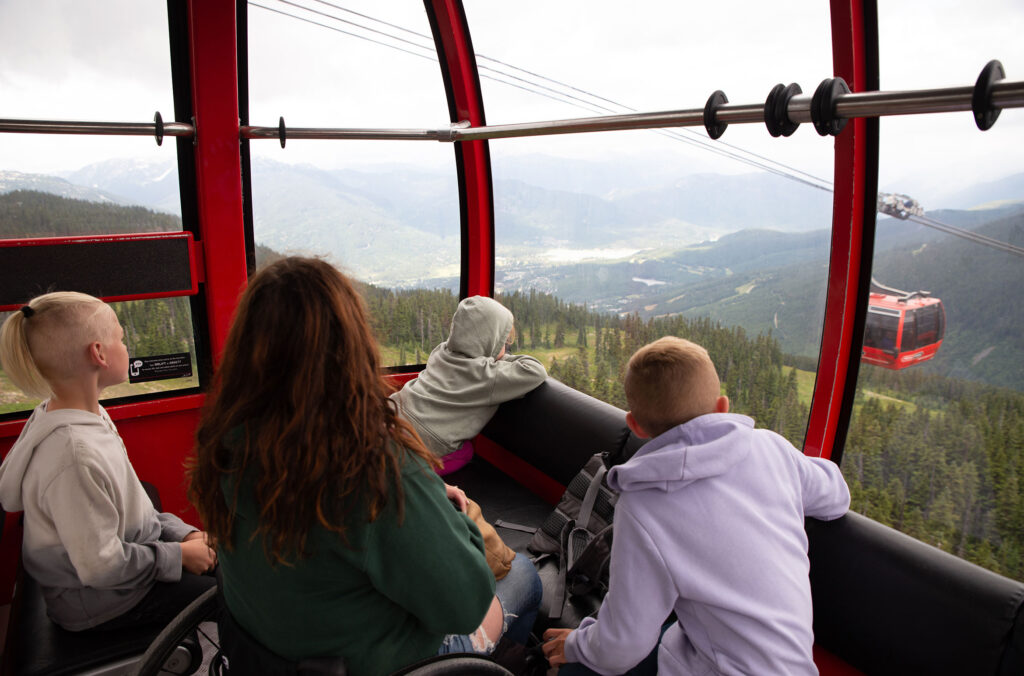 The gondola slowed as it approached the loading area making it simple to maneuver the barrier-free entrance. Inside, we were pleased to see there was plenty of room for our entire family. As we left the station, a blanket of treetops sprawled out far below us, making the giant trees on the valley floor – 436 metres down – seem miniature. The four-and-a-half-kilometre ride between the peaks of Whistler and Blackcomb mountains took 11 minutes and managed to accomplish one very surprising thing: silence from my children. So, while the gondola may not run on magic, there was certainly something magical about it.
INSIDER TIP:
Whistler Adaptive Sports
is able to provide an Accompany Ticket for persons with a disability requiring assistance, guides, carers, or other personal support to access Whistler Blackcomb.  The Accompany Ticket product is generously provided by the Epic Promise Foundation and Vail Resorts.
Accompany Tickets are available for summer and winter sightseeing, bike park, tube park, and skiing and snowboarding.  The donation is capped to a certain number of tickets for each product, so we encourage you to plan your trip at least 72 hours ahead of time. Tickets can be requested at Whistler Blackcomb's Guest Relations for last-minute visits. Accompany Tickets are provided on a one-to-one ratio with a paying pass holder and / or ticket holder.
Squamish Lil'wat Cultural Centre
Enjoying Whistler means taking time to acknowledge that it is located on the traditional and unceded territory of the Squamish and Lil'wat Nations. As we strive to better understand the roots of our country, we couldn't pass up the opportunity to visit the cultural centre for an inside look at the rich, Indigenous history that surrounded us.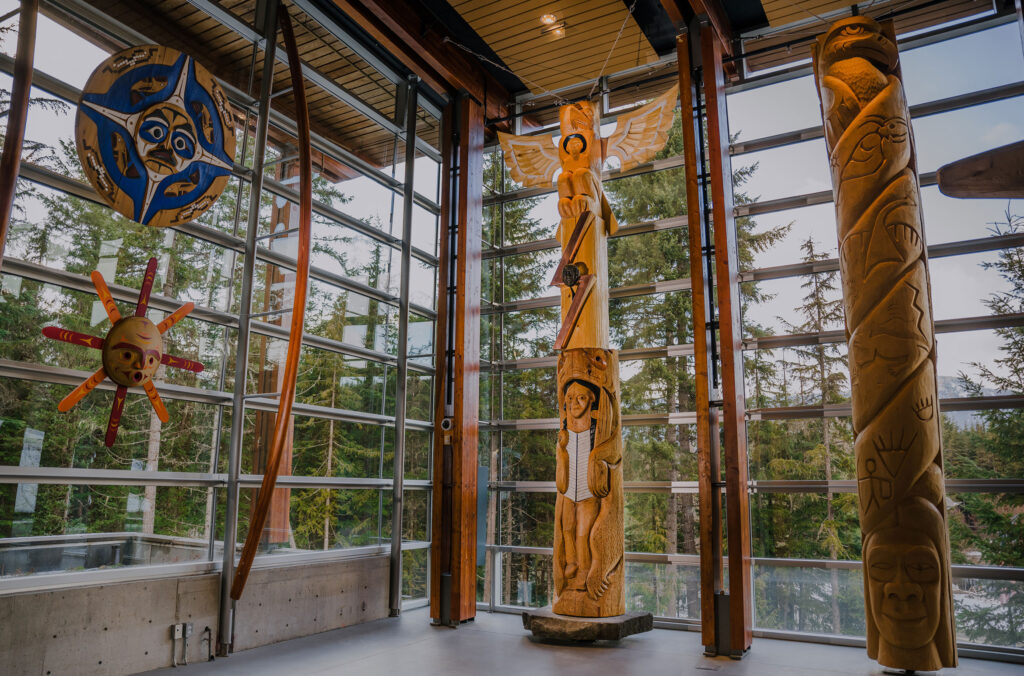 A 45-minute guided tour started with a traditional welcome song. The tour gave us a glimpse into the art and traditions of the two distinct cultures that share the land, as well as how they work to integrate old customs in a new world. It is a beautiful, informative and worthwhile attraction for anyone's Whistler itinerary.
Whistler Valley Trail
The Whistler Valley Trail is a wheelchair user's dream in the sense that it is a fully paved, car-free trail that creates an accessible path to all things Whistler. From the village to outer neighbourhoods and golf courses to mountain bike trails, the Valley Trail takes you there.
But, while it is paved, it is not flat. If, like me, you want to preserve a shred of your arm muscles for other activities, you may want a power assist if you're going to try and explore it in your manual chair. Or you may want to get a bit more adventurous and try out an adapted bike.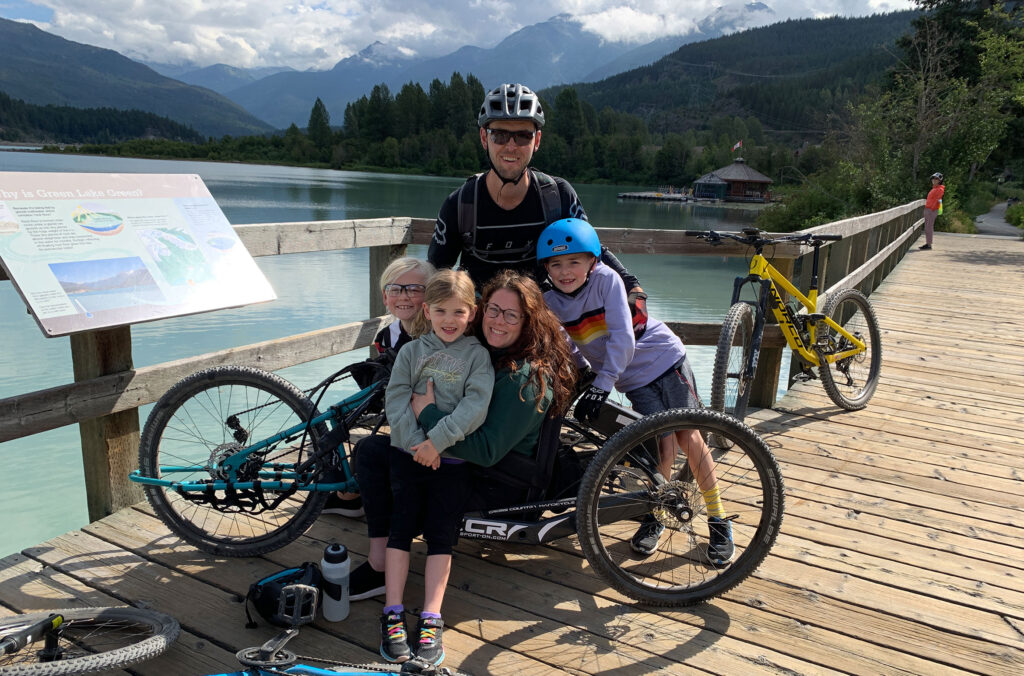 Biking
We fell in love with Whistler for many reasons and biking was not one of them. But once I got an inside look at the mountain on an adaptive mountain bike, we had an entirely new reason to keep coming back. Now, you won't find us driving up to Whistler without five bikes secured to the back of the truck.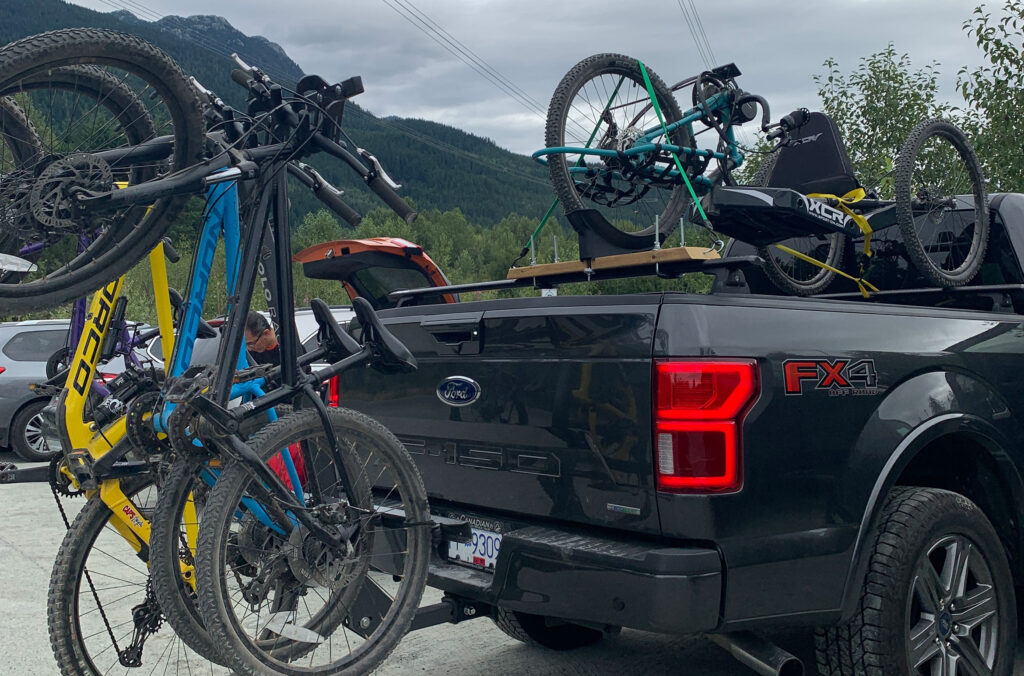 The Whistler Valley Trail is a beautiful and easy way to explore Whistler by bike. But if you're ready for a bit of off-road action, Whistler's vast trail network has you covered. From beginners to experts, there is an adventure to suit everybody's comfort level.
Whether you go for a gentle ride around the Lost Lake Loop or want to try a bit of climbing and downhill action on the cross-country trails just above it, or you're a pro and head to the Whistler Bike Park, getting up close and personal with the forest is possible if you have the right equipment.
If adapted mountain biking is something you've never tried, I highly recommend reaching out to Whistler Adaptive Sports and asking about their equipment and programs.
Accommodations
Even though finding good wheelchair-accessible accommodation is never a simple task, we have had many great stays throughout Whistler. However, it was our most recent accommodations, at the Hilton Whistler Resort & Spa, where we felt as though we hit the jackpot.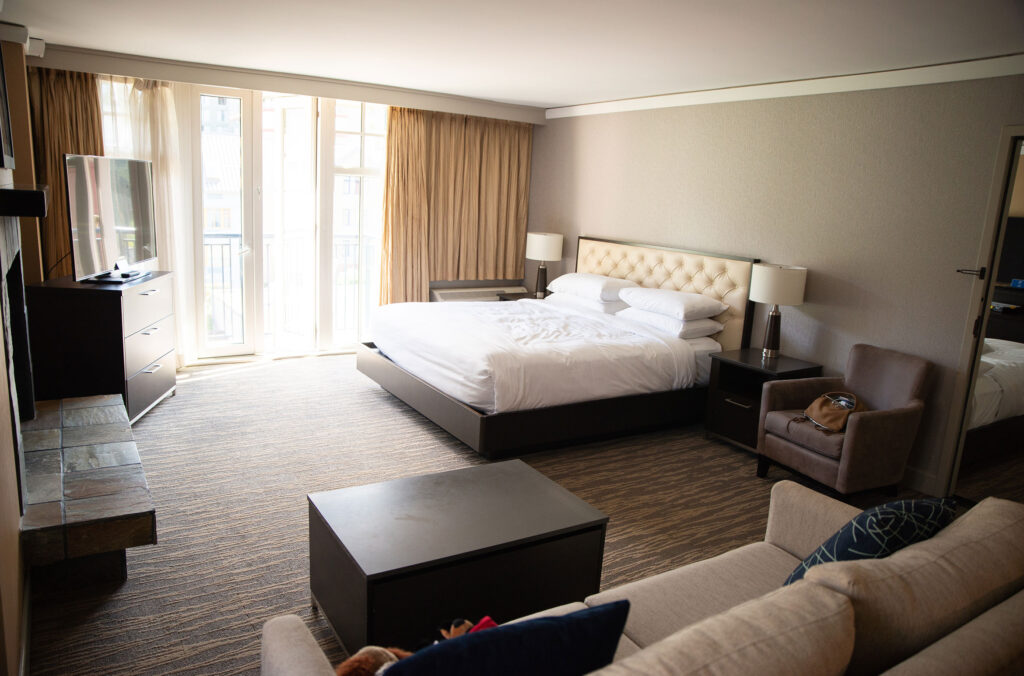 We checked into the Hilton Family Combo which joined a Premier Studio room to a Hilton Superior Double room. Both rooms were accessible, including the kitchen which had a roll-under counter. My only word of warning is that there is no oven. Plan accordingly.
No matter where you find a place to call your temporary home, this wheelchair user suggests you stay in, or very close to, the Village if you're hoping to spend a lot of time there.
INSIDER TIP:
Whistler has a wide range of places to stay in and around the Village. Chat to the Whistler.com local, travel consultants directly at
1.800.944.7853
so they can assist you in finding accommodation that suits your needs.
Whistler is Waiting for You
If you take anything away from this article, I hope it is the knowledge that Whistler is ready to accommodate people of all abilities. Whether you're looking for relaxation, adventure, or a mix of both, it is all possible. With that, I suppose I just have one question. How will you do Whistler?
For a full list of the Resort Municipality of Whistler's (RMOW) accessibility initiatives for residents and visitors of different abilities, visit the RMOW website. There is a free, pedal wheelchair available for use for people with balance or mobility, rehabilitating from surgery, stroke or injury through the RMOW. For details call the Meadow Park Trainers Desk on 604-935-8363 (note that this is a specific number and not the front desk number).
Fall in Whistler means more, like great value on accommodation with rooms from $135 CAD per night, plus a free $100 CAD Dining Voucher when you book a stay of 3-plus nights. Book in confidence with Whistler.com for Flexible Cancellation and a Price Match Guarantee. If you're dreaming of a trip to Whistler, enter our Find Your Altitude contest for a chance to win a six-night vacation with flights, accommodation and activities (including a heli trip) all covered.