You live here? Like, actually live in Whistler? All year round? Yep.
Whistler is a destination that people dream about visiting and for some lucky people, myself included, when we wake up, the dream doesn't end. We get to shred pow before work, use a gondola for our morning commute, hang out with people who understand the 20 centimetre rule, learn from a passionate community of likeminded, mountain explorers and weave the magnetic pull of the mountains into our own lives, in whatever form that takes.
Like a lot of people who now call Whistler home, I came for the winter and stayed for the summer – that was 15 years ago. While my friends had the latest bands on their walls at university, I had snowboarder Travis Rice making a perfect, carved turn into fresh snow, which reflected the purple hues of the alpenglow. I didn't grow up skiing or snowboarding, but one lucky school trip to the French Alps sealed my fate – there was no way I could have a life without some mountain time.
After university, I did a season in the French Alps, met the guy who is now my husband, and then together we travelled to Whistler for one last season; famous last words. My story is a common one here in Whistler, where adventure seekers and outdoor lovers from all over the world come to play in the vastness of the Coast Mountains and then find it mighty hard to leave.
But don't just take my word for it, check out our 10-part video series Why Whistler? for a deep dive into why people have made this mountain valley their home. But if you're after something a little more succinct, here are five reasons that will push you off that fence, and into some fresh pow should you decide to live, work and play with us!
Why Live, Work & Play in Whistler?
1. Unlimited Access to the Great Outdoors
Nature and adventure are quite literally on your doorstep in Whistler. In the winter, there's skiing, snowboarding, cross-country skiing, snowshoeing, ice climbing; you can even learn how to pilot a bobsleigh – the list goes on. It's quite common to spend your day off ziplining over the valley, taking an avalanche training course, or bungee jumping over a glacially-fed river.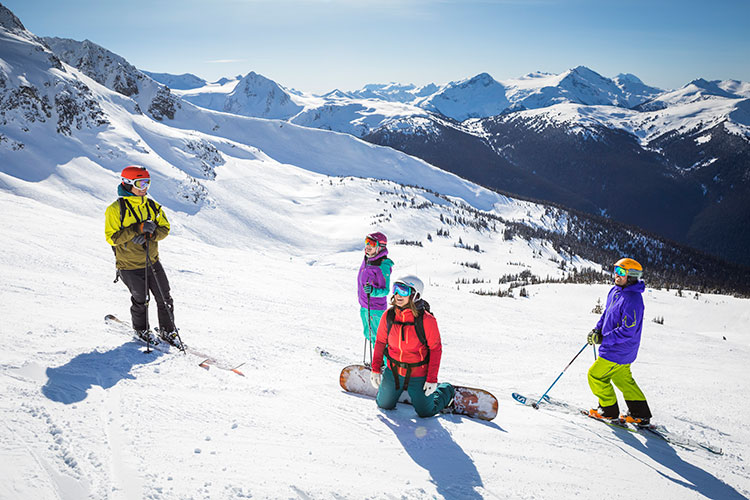 "What brought me up to Whistler in the first place was my love of snowboarding. Love for the mountains. To be humbled by something greater than yourself is a beautiful experience." – Siginaak (Blackbird in the Anishinaabemowin language), Court Larabee, Indigenous Relations Specialist at Vail Resorts and Executive Director of Indigenous Life Sport Academy
In the summer, Whistler converts to a biking Mecca, with hundreds of kilometres of cross-country trails and the Whistler Mountain Bike Park. Lake life is a big part of Whistler's summer culture, whether you like to hit the volleyball courts, dive off the docks, or paddle the glacially fed waters. There are also four championship golf courses, alpine hikes and whitewater rafting to tick off the summer bucket list. It's like living in an adult playground, where you get to play choose your own adventure every day.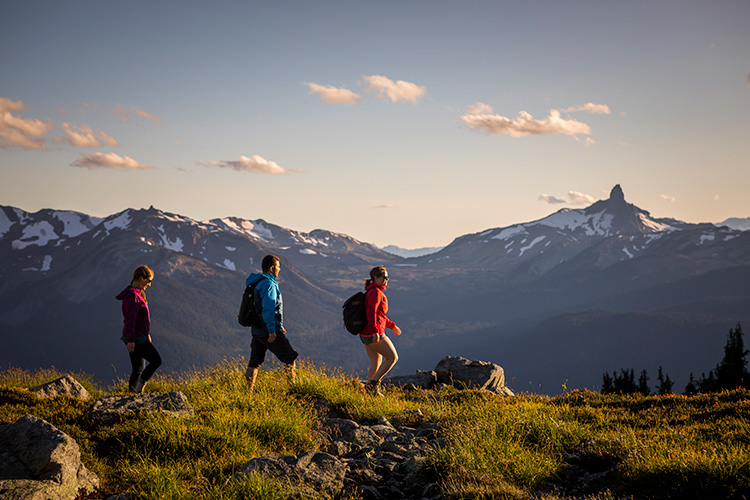 2. Likeminded, Adventurous People
Whistler attracts the kind of person that revels in the great outdoors, so even if you're rolling solo when you first arrive here, we doubt you'll stay that way. Whistler attracts people from all over the world and having that international flavour shines through in the workforce, the festivals and events that happen throughout the year, and the variety of cuisines available in the resort.
"Everyone is coming here for the same reasons; just being outside, enjoying all the sports and playing outside." – Mohammad Aljamous, Syria, Senior Guide, Ziptrek EcoTours
Work colleagues and teams quickly become family here as you experience life in Whistler together. Shared adventures have a way of bonding people together for life, and if a few go back home, the silver lining is that you now have friends all over the world.
"For anyone that moves away from home and to another country so far from home, it's nice to have a group of people you can call your family. I found mine here." – Cliodhna Minihane, Ireland, Night Manager, Earls Whistler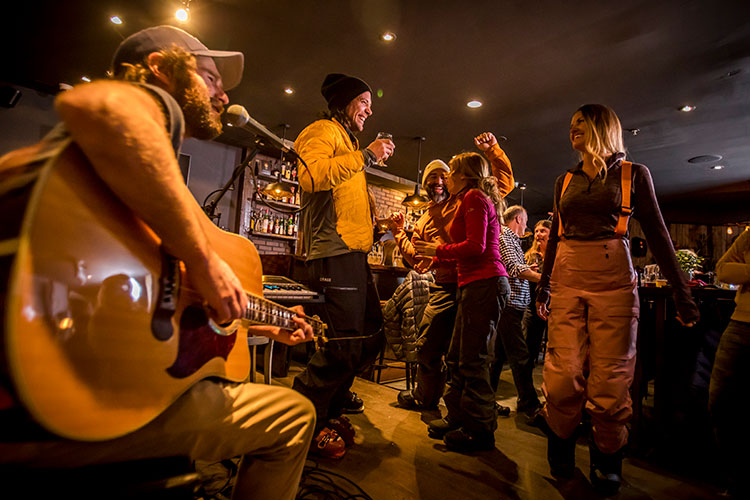 3. Vibrant Village: City & Small Town Life
Whistler is a bit of a paradox; on one hand, it's small and quaint, but on the other, it has the buzz and vibrancy that cities are typically known for. I believe this happens because the people that typically come here have an innate sense of adventure. Combine that with the splicing of cultures from our international workers and visitors, and then throw in the fact that Whistler attracts some big-name music acts, artists and celebs, and you've got an exciting mix, set in one of the most stunning places on earth.
"One reason I love living in Whistler is because you get the city life and the small-town life. There's music, culture, arts, the mountains – it's the best of both worlds." – Chelsea Mcrostie, Australia, Wellness Navigator Supervisor, Employee Housing at Whistler Blackcomb
Although we're known for adrenaline-based sports like skiing, snowboarding and mountain biking, Whistler is home to a large number of artists and artisans. You can see this from the art hanging on the walls of galleries, shops and cafes, hear it at live music nights and jam sessions, taste it when you take a sip of locally crafted beer, and feel it when you watch a ski movie premiere that sends the audience wild.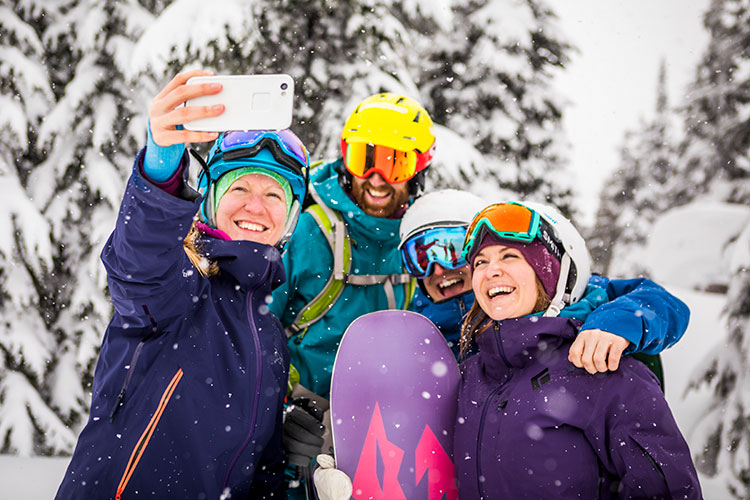 Whistler's event scene is huge, whether you want to learn about backcountry safety, find a knitting group, jam the night away, take on a new language, protect our natural environment, or perhaps you're a movie buff or book lover – there's a group for you here. Whistler's Public Library is a good hub for events, as is Arts Whistler, and many of our bars and nightclubs host jam nights, quiz and games evenings, and pool and dart tournaments.
Whistler's got some other logistical things going for it too, with the closeness to Vancouver and a huge international airport, and the fact that it's not far from the US border if you did fancy a road trip into the states.
4. Exciting Jobs with Perks
Imagine your morning commute involving riding a gondola up a mountain and then skiing to a cozy hut in the alpine to get the coffee and waffles on for hungry skiers. Or maybe it's your job to show a family how to zipline across the valley, guide them into the wilderness on a snowmobile tour or teach them how to perfect their turns on the slopes.
"I went from working a nine-to-five office job with a forty-five-minute bus commute to catching a gondola in the mountains to my office." – Chelsea Mcrostie, Australia, Wellness Navigator Supervisor, Employee Housing at Whistler Blackcomb
Whistler has some exciting job opportunities for those willing to add a sense of adventure to their career choices. Other perks that some employers offer in Whistler are guaranteed housing, a season pass for skiing and snowboarding, discounts or staff rates, and a flexible work schedule so you can combine work and play, and enjoy more of your passions.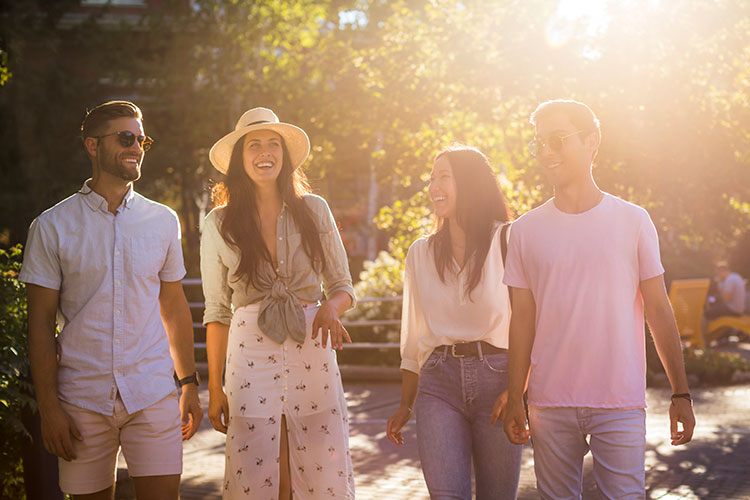 5. Work & Play Balance
Whistler businesses and employers know that their teams are here to experience all the mountains have to offer, because that's why they're here too. Because of this, many of Whistler's jobs are flexible so that you can get that much-coveted time outdoors.
"What I like about working in the housekeeping department of a hotel in Whistler is that it's a team environment filled with a lot of like-minded people who all came here for the same reason. We love to ski, we all love to be outdoors, it's very easy to make friends. Depending on your role in the department, there is opportunity for flexible hours to allow for lots of time to ride." – James Logan, New Brunswick, Housekeeping Supervisor at The Crystal Lodge
For example, if you opt for a serving job that starts later in the day, you've got the whole day to play before you head into work. Or, you can flip that and start early, shifting your fun time to the afternoon and evenings (ice skating under the stars anyone?), and some people work 10-hour days, in order to get three days off.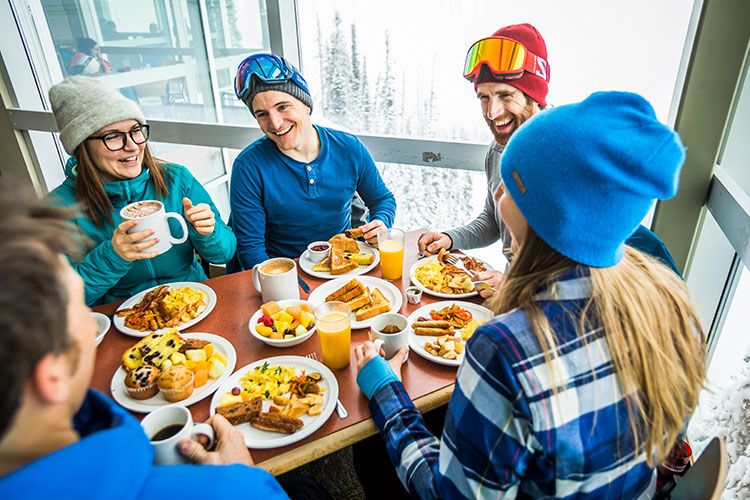 Want to Work in Whistler? Here's How.
Take a look at the Whistler Chamber of Commerce website for the resources on how you can begin your journey to Whistler. They have a great job board, which will give you an idea of what kind of roles are waiting for you here in the mountains.
One thing's for certain, if you come to Whistler, you won't regret it.