Editor's note: The Alta + Audain Fine Dining Art Experience is no longer running. Explore our annual events calendar to discover more delicious, inspiring things to do. 
All around us are slight indicators that things are returning to normal, little by little, after more than a year of lockdowns and quarantines. For a foodie like me, this time has been exciting in my own kitchen but not without sadness. I've missed the friends I love to share tables with. I've missed the restaurants, cafes, and bistros that inspire me. And I've missed the magic that comes when an experience is uncommon, irregular and special in a way that is best described as – you just had to be there.
Such was the case last Friday when I excitedly made the short drive from Vancouver to Whistler to attend the fine-dining art experience put on by Alta Bistro and the Audain Art Museum.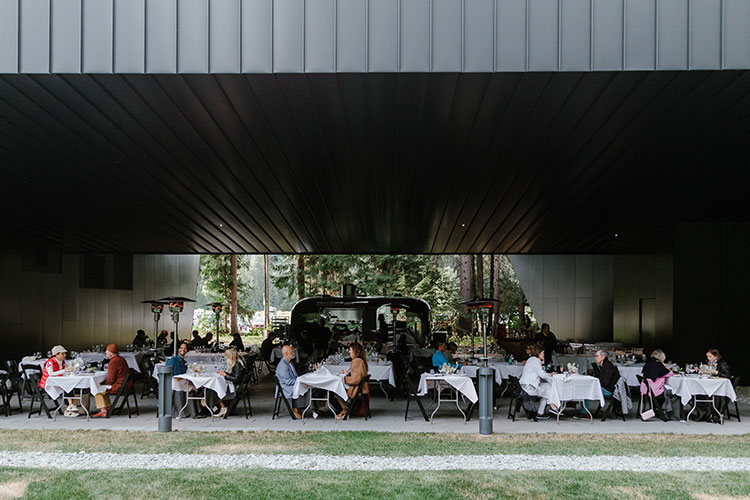 Alta Bistro has long been a favourite of mine when I make my way to Whistler. Whether enjoying the ski season or summer fare, I can be sure that Alta's chefs and staff will be on-point and deliver an exceptional meal. Alta Bistro's food focuses on modern, seasonal, alpine cuisine that not only brings exceptional flavour but is visually stunning on the plate. I like to visit the Audain Art Museum at least once or twice a year to see my favorite permanent exhibits and whatever temporary exhibits are currently on display. The idea that the two would come together for a special dining experience?  Sign me up.
After arriving for this particular evening, guests toured the galleries, which include some of British Columbia's most celebrated artists including Emily Carr and Jack Shadbolt, with artwork spanning the 18th century to present day.  Having a guide further explain the various stories of each piece allows you to appreciate the art on a deeper level.  It was interesting to learn, for example, that in 1988 Carr became the first woman to be named a member of the Royal Canadian Academy of Arts since its founding in 1880.
When the tour was over we found our seats at gorgeously appointed tables outside, under the museum building, and were greeted with a cocktail. Dinner came in the form of four courses, each one inspired by an iconic artist.  There was a tomato dish inspired by Andy Warhol's famous Campbell's Soup Cans, which included a tomato Panzanella salad with gazpacho dressing, followed by a halibut and octopus dish inspired by Pablo Picasso's earlier works. My personal favorite? Dessert of course! An imagining of Jackson Pollock's Convergence resulted in a rich dish of dark chocolate, orange, caramel, cashew and coconut. If you really want to get the full experience on the palate, then I'd fully recommend the wine pairing which includes a selection of delicious BC wines carefully curated to enhance the flavors of each bite.
The other guests I spoke with were equally excited, as I was, to be experiencing something unique and new in the vibrant Canadian summer while enjoying in-person conversation.  It was wonderful to see how so many of my favorite things – Whistler in the summer, great food, a reminder of our great Canadian culture – come together for a night that truly was to remember. I cannot recommend the Alta + Audain collaboration enough. This particular event runs on Fridays until September 3rd, so don't wait too long to grab tickets and see what the fuss is about for yourself.
This summer, we're learning to adventure differently. Know before you go and use our Doors Open Directory for up-to-date information about which businesses are open and how they're upholding COVID-19 precautions for the health and safety of all.
When you book to come to Whistler, you should know that the longer you stay, the more you save with room rates dropping as you book more nights (7 nights from $109 CAD per night). You will also receive a free adventure voucher, which gets you up to $100 off a Whistler activity.
Gallery photos by Thea VanHerwaarden, header and feature photos by Audain Art Museum /  Mirae Campbell.