Editor's note: Whistler's chairlift art has all been auctioned off for charity and removed. However, you can discover more beautiful arts in Whistler here. 
When a beloved chairlift reaches its time for retirement, it's bittersweet. Yes, maybe it's time, and the replacement will be faster and more efficient, but it won't be the same chair that took you up the mountain for adventure after adventure as you found your ski legs on Whistler Blackcomb. These chairs hold memories, and in a mountain town like Whistler, we find it so hard to say goodbye, so the team at Arts Whistler came up with a new way to incorporate them into our lives with stunning chairlift art.
"The LIFTing the Community art project was created to enhance the sense of belonging in Whistler and the Sea to Sky. Whether Whistler is home for a season or a lifetime, a sense of belonging benefits us all," explains Maureen Douglas, Executive Director of Arts Whistler. "In our ever-growing and changing community, wellness, connection and a sense of home needs to be fostered, practiced, discussed and experienced by our community."
LIFTing the Community
The chairs of the old Catskinner ski lift, which was retired in 2019 from Blackcomb Mountain, have had a facelift and been given a new role to play this summer. Over the winter months, 18 Sea to Sky artists, paired with local charities and community partners, worked on giving 15 chairs a new lease of life. Working in the lofty space of the Whistler Conference Centre, the artists were given the theme of belonging as the starting point for their creation and let loose.
You can now see these chairs dotted around Whistler Village and take a self-guided tour to see them until the end of the summer when they are being auctioned off with the proceeds going to the charities involved. Old chairs and gondolas can be seen in many Whistlerites homes as unique garden furniture pieces and even saundolas (gondolas converted into saunas), so if you see something you like place a bid when the auction goes live from August 1 to September 7.
The Artists Behind the Chairs
We wanted to better understand how the artists projected their ideas of belonging onto these precious pieces of Whistler ski history, so we caught up with a few of them to see what they had to say about the project and how they hope people will connect with their artwork.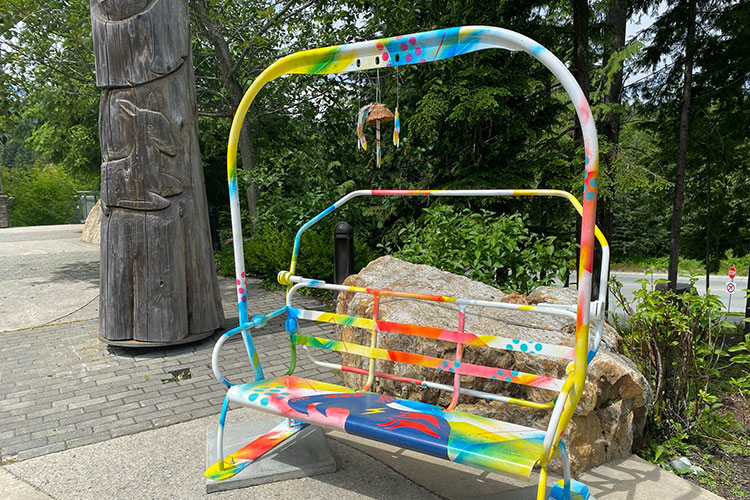 "Catskinner was an most energetic and notorious chair in Whistler as it ran over the Terrain Park. I have so many good memories on the chair. I met so many cool, new friends on the chair since the first day I came to Canada from Japan. I'm so stoked to be a part of this great project, to make art on this cool chair, and feel so honored to contribute to the community." Taka Sudo
Born and raised in Tokyo, long-time Whistlerite Taka Sudo takes influences from these totally different environments to create his unique style of artworks. Tsawaysia, Dominique Nahanee of the Squamish Nation is an SLCC Cultural Ambassador and artist; she shares songs and dances of the Squamish Nation and works in contemporary Salish designs and abstract art.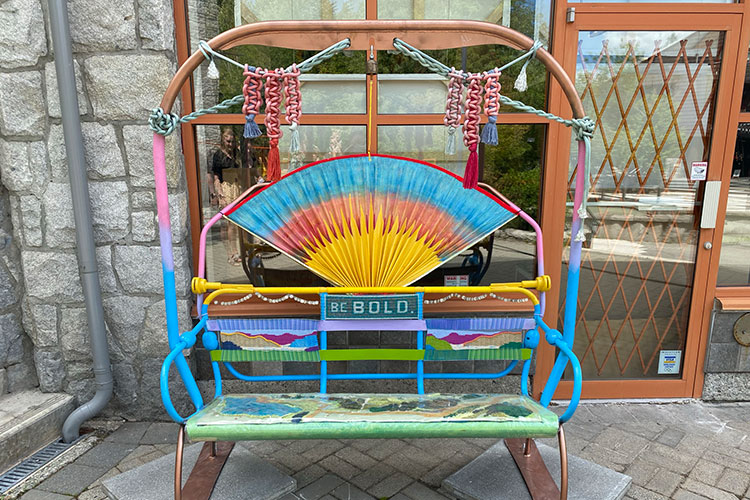 "A sense of belonging, can give you the confidence to be yourself, to take new paths and try new things. When looking for inspiration for my design, I came across the Arts Whistler core value "Be Bold" and it kick started the design of my chair. All the elements of the design can be separated out and appreciated individually, from weaving to beading to painting, but when you bring them all together you see a bigger picture, the landscape that we live and flourish in, here in Whistler, BC." Anna Lynch
A self-declared British craft nerd, Anna Lynch has made Whistler her home since 2010. With a focus on tactile artworks, Anna primarily uses textile mediums such as weaving, felting, knitting, and beading together with painted canvas.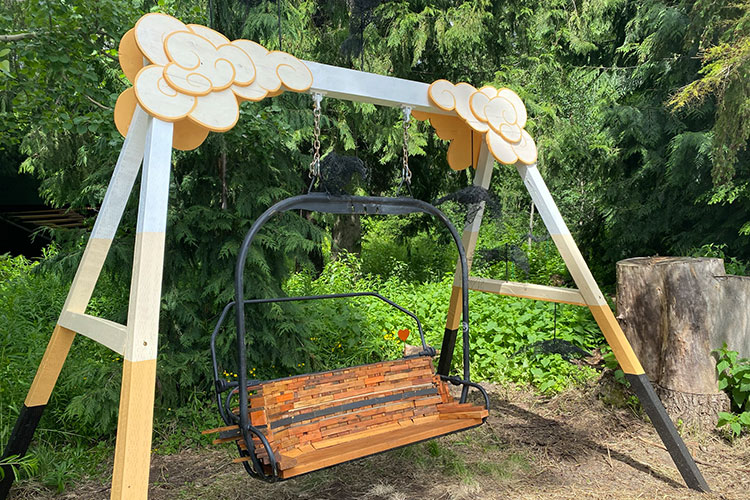 "We wanted to convey the meaning of belonging in a way that was unique to this resort. Whether it's skiing, biking, paddling or climbing, most of us are here because we view nature as a gateway to recreation. We value experiences that invite us to look beyond our day-to-day responsibilities, where we can lose ourselves in the moment and truly feel free. To play, feel joy and regularly connect to our inner child is fundamental to our wellness. In fact, it's fundamental to being human! Everyone deserves to be included in Whistler's recreational culture and it's our collective responsibility to tear down the barriers that exist in preventing anyone from feeling they don't or can't belong." Dave Petko & Liz Thompson
Dave Petko and Liz Thompson have collaborated on large scale art installations around North America for festivals including Tortuga Music Festival, Pemberton Music Festival, Lost Lands Music Festival and Bass Coast Music Festival. They use recycled and upcycled materials in their art.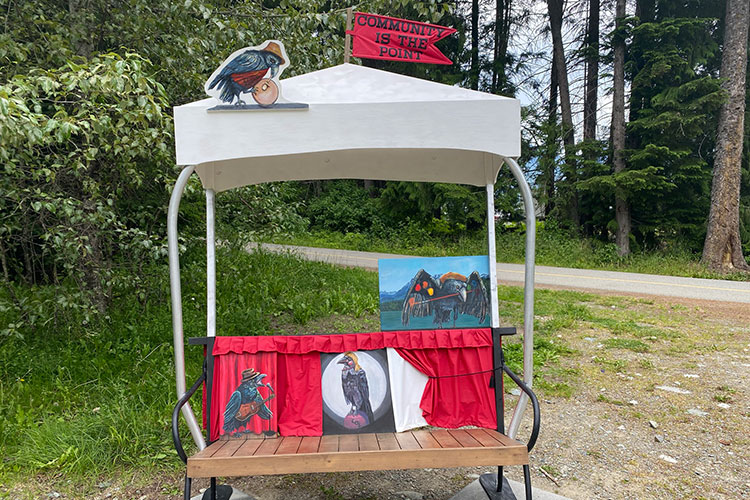 "It feels great to be involved in this project. It in itself uplifts the artists, the non profit groups and hopefully will bring some joy to the community of Whistler and our visitors." Sherry Klassen
Sherry Klassen is an emerging artist who paints primarily in acrylic. She is inspired by all things west coast, in particular birds and animals. She chooses to paint images that bring a bit of happiness or humor to add a little joy to the world.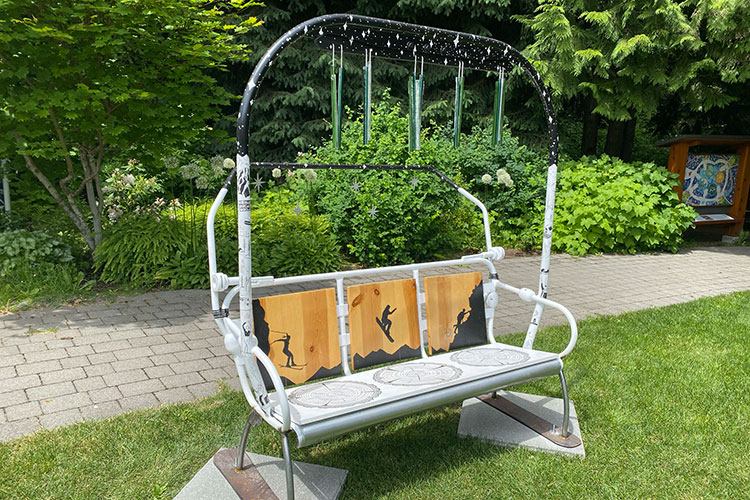 "It's been a tough year, the kind of year where it's been hard to find optimism at times. Throwing myself into a large project that would benefit the community seemed like a beautiful way to spread optimism and joy to the community through art. Keeping the chair still feeling like the Catskinner chair was important to me and I would like sitting on it to still evoke memories of taking it up the mountain. The vast starry sky with the Northern Lights is meant to bring a sense of awe and magic, like the one I felt it when I first moved to Whistler. I still pause sometimes to feel that way again when I look at the stars in this valley." Alyssa Brujins
Alyssa Bruijns is a Canadian adventurer who brings stunning natural landscapes to the world of pen and ink through her work under the name Snowline Art.
You can pick up a map from the Arts Centre or at one of the Village Host booths, or follow along online using the Go Whistler Tours app, which is free to download. You can sit on the chairs but please be kind to them, and if you're taking photos add #liftingthecommunity to add your image to the collection.
Special thanks to the team at Arts Whistler and the partners that helped make this project happen which include Vail Resort's Epic Promise fund, the Whistler Blackcomb Foundation, Resort Municipality of Whistler and Tourism Whistler.