They might be a little later than planned, but the Tokyo 2020 Olympic Games kick off on July 23, 2021, and Whistler will be watching. 371 Canadians are competing, the largest team Canada has sent to a Summer Olympics since 1984, and it includes 40 athletes already holding Olympic medals and 95 competitors from British Columbia.
Whistler is no stranger to cheering on Olympians as we played host to the Vancouver 2010 Olympic and Paralympic Winter Games and you can connect with Whistler's Olympic legacy in several different ways this summer.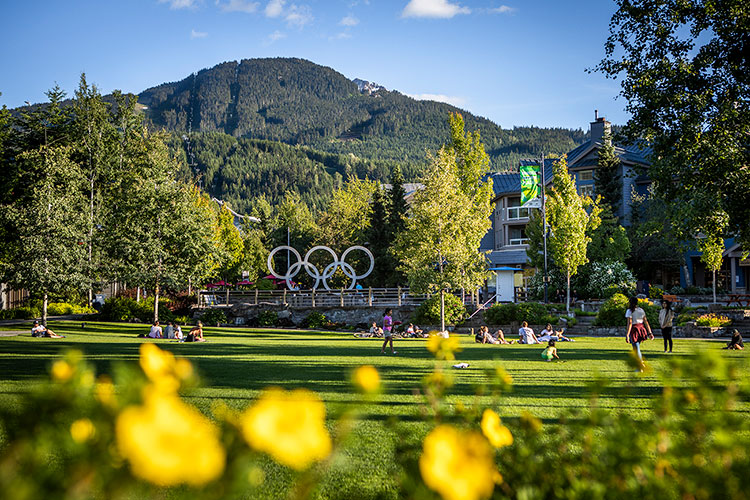 Watch the Olympics in Olympic Plaza
The lush, green grasses of Whistler Olympic Plaza are a great place to watch the sporting drama unfold this summer with the 2020 Tokyo Olympics featuring 339 events across 33 sports and 50 disciplines (July 23 to Aug 3, 2021). CBC News reported that the headliners from Canada are sprint star Andre De Grasse, multi-medallist swimmer Penny Oleksiak, champion wrestler Erica Wiebe, two-time trampoline gold medallist Rosie MacLennan, golfer Brooke Henderson and soccer player Christine Sinclair.
The Whistler Olympic Plaza was where the medal ceremonies were held back in 2010 for the Whistler-based, Olympic events. It's continued to be a place of celebration with concerts and festivals being hosted here in the summer months, and an outdoor skating rink and sledding area make it a winter wonderland when the snow starts to fall.
The Resort Municipality of Whistler (RMOW) will be setting up large screens featuring highlights and replay coverage of the Summer Games starting on Friday, July 23. So grab some take-out from the surrounding restaurants, bakeries and coffee shops and find your spot on the grass.
Summer Bobsleigh on an Olympic Track
Switching out runners for wheels, Rolling Thunder is a summer bobsleigh experience at the Whistler Sliding Centre, where an experienced pilot takes you on a ride down the Olympic track (the fastest in the world). You'll really enjoy this if you have a need for speed as you can clock 90 kilometres per hour when you fly around the final corner.
Read more about it in Rolling Thunder: Whistler's Summer Bobsleigh Experience. Some physical requirements do apply, so we suggest talking to the team at Whistler.com and booking in advance (Rolling Thunder runs until September 5, 2021).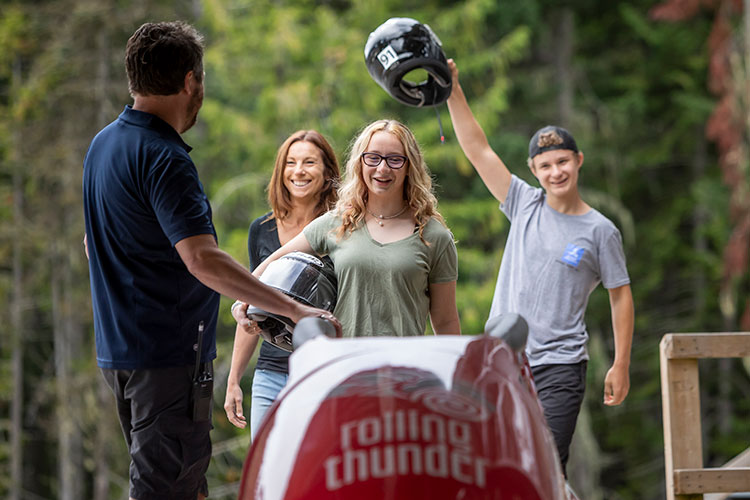 Even if you're not a speed demon you can visit the Whistler Sliding Centre (open 9 AM to 4 PM daily). It's free to do a self-guided tour and you can pick up a track map from the Guest Services building when you get there.
INSIDER TIP:
Youth (12 to 18) go FREE with a paying adult, which makes
Rolling Thunder
a great family activity.
Follow in the Footsteps of Olympians
The easiest way to view Whistler's Olympic legacies is via a guided, sightseeing tour of Whistler. For a tour option that takes you all over Whistler Valley, hop in a minivan with Whistler Valley Tours. The fully-guided tour goes north to Green Lake, where you can glimpse Whistler's very own ghost town, before you head on to some picturesque mountain and lake viewpoints that only a local would know about, and then down to Function Junction, where Whistler's two local breweries reside. In terms of Olympic stop-offs, they go to the Whistler Sliding Centre, the Olympic Rings in Creekside, which can be seen from the bottom of the Dave Murray Downhill, the site of the alpine skiing events, and the Whistler Athletes Centre.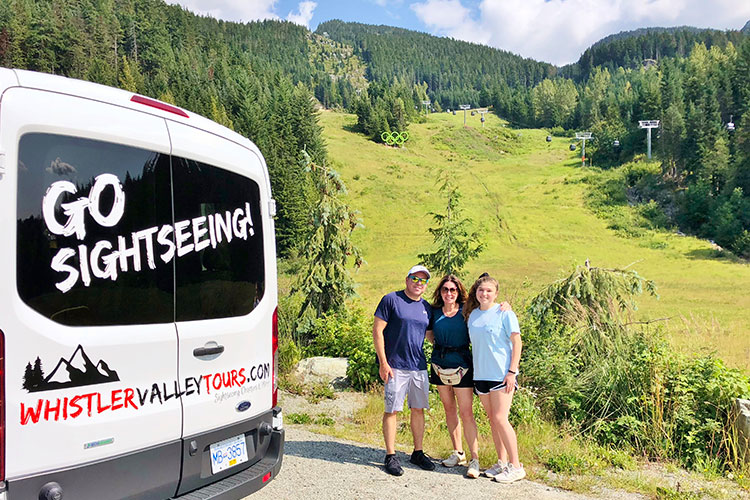 Another option is to go on a Whistler Olympic Park Combo Sightseeing Tour. The combo part refers to bear viewing as well as Olympic sightseeing as Whistler Photo Safaris has exclusive access to areas of Whistler Olympic Park where our iconic furry friends like to roam. A little trivia for you – Whistler Olympic Park was the first Olympic Nordic venue to include all three traditional Nordic sport stadiums on one site: cross-country, ski jumping and biathlon.
Dive Into Olympic History
Visit the Whistler Museum, located behind the library, for a deep dive into Whistler's Olympic history. Spoiler alert – we tried a couple of times before we were actually awarded The Games!

Last year, the Insider caught up with our local Olympic stars to see how they felt a decade on from competing in their own backyard; read about it in 2010 Recollections: Local Olympians Remember the Winter Games. Thinking forward, we have more local talent training at another legacy facility, the Whistler Athlete's Centre, getting ready for the 2022 Winter Olympic Games, hosted in Beijing (watch this space).
Chug a Beer Like an Olympian
After winning a gold medal for Canada in Skeleton, Jon Montgomery is remembered fondly for chugging a beer in Whistler Village. Although we might not suggest the chugging part, we can definitely point you in the direction of some great, local brews that can be found on most taps around Whistler Village.
View this post on Instagram
Look out for Whistler Brewing Co. and Coast Mountain Brewing, these two breweries can be found in Function Junction, a ten-minute drive south of Whistler Village, but their beers can be located all over Whistler's bar and restaurants scene – cheers! If you fancy something cold with your Olympic Games, the places that have sport on their screens include Tapley's Neighbourhood Pub, Cinnamon Bear Bar & Grille (Hilton), Braidwood Tavern (Four Seasons) and Roland's Pub (Creekside).
INSIDER TIP:
If you like your brews, you should consider visiting Whistler for
Craft Beer Month
in October!
This summer, the longer you stay, the more you save with room rates dropping as you book more nights (7 nights from $109 CAD per night). You will also receive a free adventure voucher, which gets you up to $100 off a Whistler activity.