A guide to quite literally elevating your summer picnics with a little help from Whistler Blackcomb. Sightseeing and hiking in Whistler are always memorable experiences, but you know what could make them even better? A delicious feast with an epic view of course!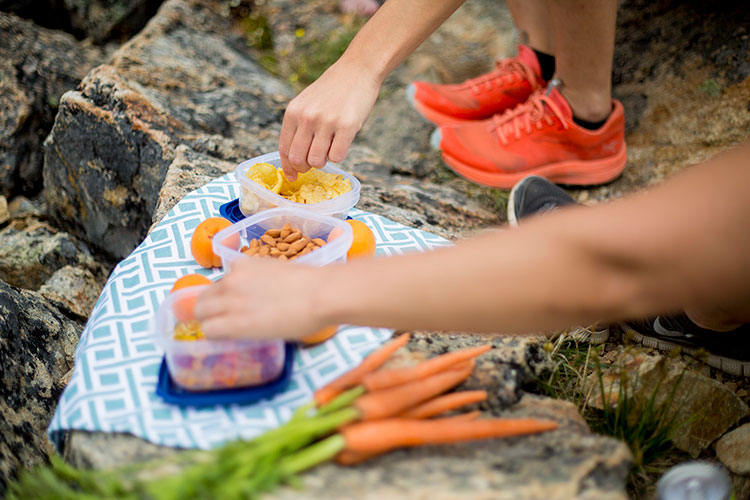 With this in mind, we collected some of our favourite lift-accessed, walk-to and hike-to picnic spots on Whistler Blackcomb. Whether you're ready to earn your eats or would rather access an iconic view with ease, this list will give you an appetite for picnicking with altitude.
INSIDER TIP: Hikers and sightseers are asked to use Blackcomb Gondola this summer, while the bikers head up Whistler Gondola to access the bike park. With 50+ kilometres of trails available on Whistler Blackcomb, this is definitely not an up and down, once and done, kind of experience. From ice walls to wildflowers, glaciers to alpine lakes, there's lots to explore.
Lakeside Loop, Blackcomb Mountain
The beautiful turquoise water of Blackcomb Lake makes for a picturesque picnic backdrop. Spread your nibbles on one of the many big flat rocks lining the water's edge, kick your hiking boots off and slip your toes into the refreshing water. Feeling brave? Take a quick dip for the ultimate refresher (be warned, it's cold). The eye-level views of Overlord Glacier create a unique infinity pool perspective from the western shore; a perfect place to picnic in the heat of summer.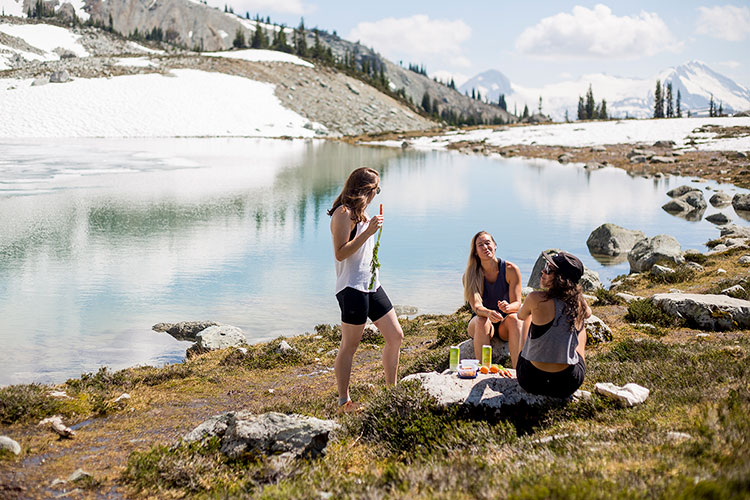 How to Get There
Upload via the Blackcomb Gondola, and when you exit you'll spot the trailhead just to the north of the PEAK 2 PEAK building entrance. Start on the Alpine Loop, follow the signs for the Overlord Trail, and then head onto Lakeside Loop. The whole hike will take you approximately two hours and is rated as moderate. More details on this hike can be found in, Adventure Differently: Hike in Whistler This Summer.
Ascent Trail, Blackcomb Mountain
Craving a hike but also wanting to dodge the sun? The Ascent Trail is the answer. The ever-changing ecosystem provides wonderful tree coverage and entertaining surroundings. It's got many rest areas, some with benches near trickling streams and others in open meadows, which are perfect for wildflower season (typically late July and early August).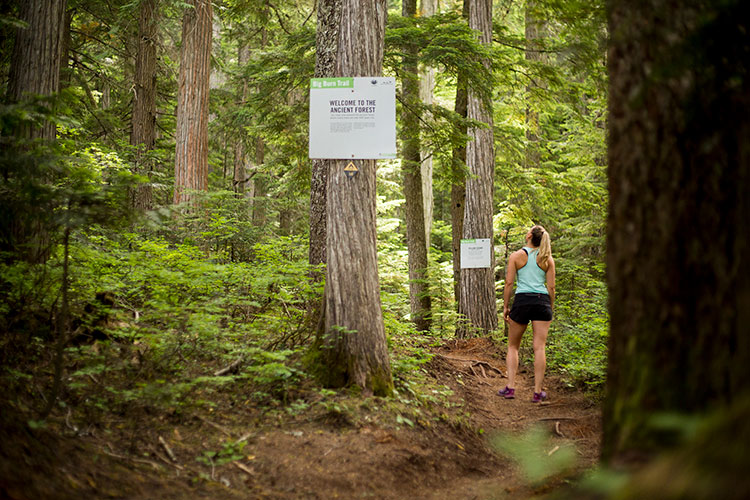 There is no perfect picnic spot on the Ascent Trail because there are so many idyllic areas to choose from. Let the weather and your energy level determine where the best place for your well-earned picnic is.
How to Get There
Starting from Blackcomb Base, you'll see a large arch marked Ascent Trail, lookers right of the Blackcomb Gondola. There are three parts of the Ascent Trail, Little Burn, Big Burn and Heart Burn, which means you can choose how far you want to go. If you do all three you will have travelled a total of 6.2 kilometres with 1,176 metres in elevation gain when you reach the end of the trail at the Rendezvous Lodge.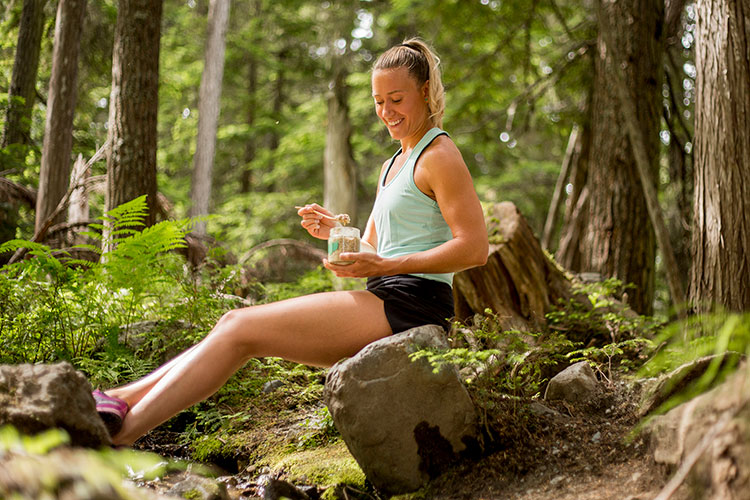 Luckily, you don't have to go down the way you came up as it's a mandatory gondola download from here. Read more in Blackcomb Ascent Hiking Trail: Time to Burn.
Roundhouse Terrace, Whistler Mountain
The dining options at the Roundhouse Lodge on Whistler Mountain are limited this summer season, but it's still a great place to stop if you forgot your picnic or need a cup of java before you go exploring. Head up the stairs inside the lodge, cross the room to the back and you'll find a spacious patio area and the famous Umbrella Bar (great for après hike Caesars). You can also bring your own picnic and snacks to this outdoor area, but the smell of freshly-baked cinnamon buns is quite tempting!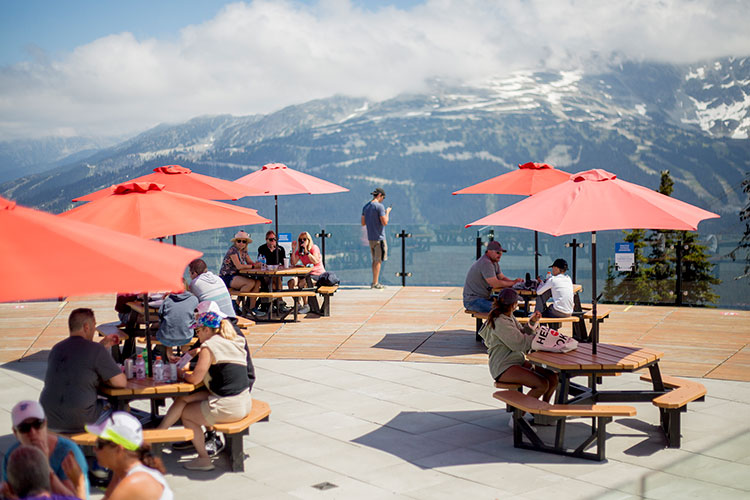 The main deck is covered in picnic tables with umbrellas for shade. From here, you can soak in incredible views spanning the whole Whistler Valley and the centrefold, sprawling Rainbow Mountain. Seated on the upper terrace you'll be looking at the stunning Whistler Peak – the shale, basalt and lingering snow provide a mesmerizing contrast. 
How to Get There
Upload in the Blackcomb Gondola and head across the PEAK 2 PEAK, to arrive on Whistler Mountain. The Roundhouse Lodge will be on your right when you exit the gondola building.
Top of the World, Whistler Mountain
The peak of Whistler Mountain is an epic viewpoint that requires minimal effort to get to as it can be accessed by a chair lift, aptly called Peak Chair. When you're at the summit, take your time wandering around for different viewpoints of the surrounding Coast Mountains and pick your own perch for that picnic (munch off the main trail as it's a popular spot).
You can also access the Raven's Eye Cliff Walk, which gives you incredible 360-degree views of the mountains, but the Cloudraker Suspension Bridge is currently closed for this summer season. 
How to Get There
Upload on the Blackcomb Gondola and take the PEAK 2 PEAK across to Whistler Mountain. It's a short hike to the Peak Chair, but while this isn't much in terms of distance, good footwear is required as the terrain is steep in areas, rocky and uneven (it's like that at the top too). 
For an extra-long, adventurous return, take the Highnote Trail to peer over Cheakamus Lake and experience the wildflowers (typically out in late July and early August). This trail is another epic area for a picnic, but don't take it on a whim as it's a long trail you'll want to be prepared for. 
Harmony Lake, Whistler Mountain
A meandering boardwalk and vivid wildflowers line the edges of Harmony Lake, which has captivating views of Blackcomb Mountain. The ecosystem in this area is as sensitive as it is beautiful, so please picnic wisely by only going off the trail when it is marked okay to do so and when there is a wide enough area for your picnic crew.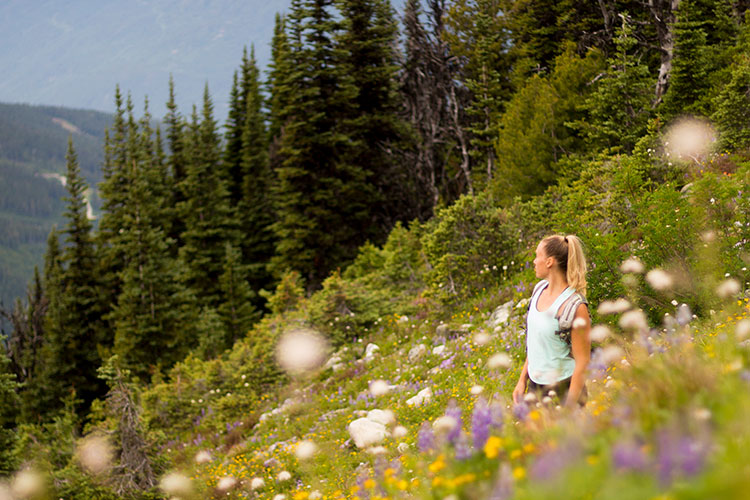 How to Get There
When you arrive disembark the PEAK 2 PEAK from Blackcomb Mountain you will see signage for the Spearhead Loop, an easy 1.2-kilometre trail. Midway along you'll come to the turn-off for the Harmony Lake Loop, an intermediate hike that is 1.9 kilometres, and the route you need to take to get to Harmony Lake. On the way back, you can continue along the Spearhead Loop.
Picnic Etiquette
Respect the sensitive alpine environment and always stay on the marked trails

Only picnic in designated areas and wide areas such as marked viewpoints

Don't block the path with your picnic

Let's keep the wild, wild by not letting them pinch any of our picnics

Pack out what you pack in

Whistler's Fire Danger Rating is currently extreme, report wildfires by calling 9-1-1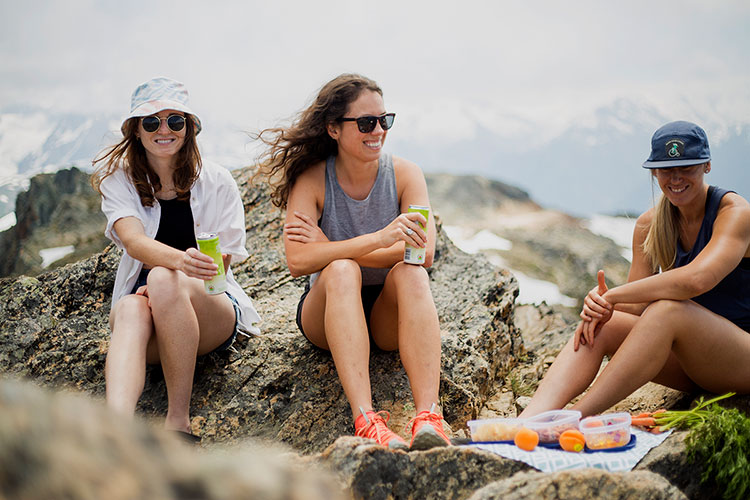 Elevate your picnicking game this summer with a trip to Whistler Blackcomb and support local while you're here by gathering your picnic items in Whistler. You'll find a large section of to-go items at Fresh St. Market, you could opt for some baked goodies from purebread or BReD (Creekside), load up on sandwiches from the The Corner Deli or Moguls Coffee House, or splash out on charcuterie-style items from Hunter Gather or Picnic Whistler. 
This summer, the longer you stay, the more you save with room rates dropping as you book more nights (7 nights from $109 CAD per night). You will also receive a free adventure voucher, which gets you up to $100 off a Whistler activity.